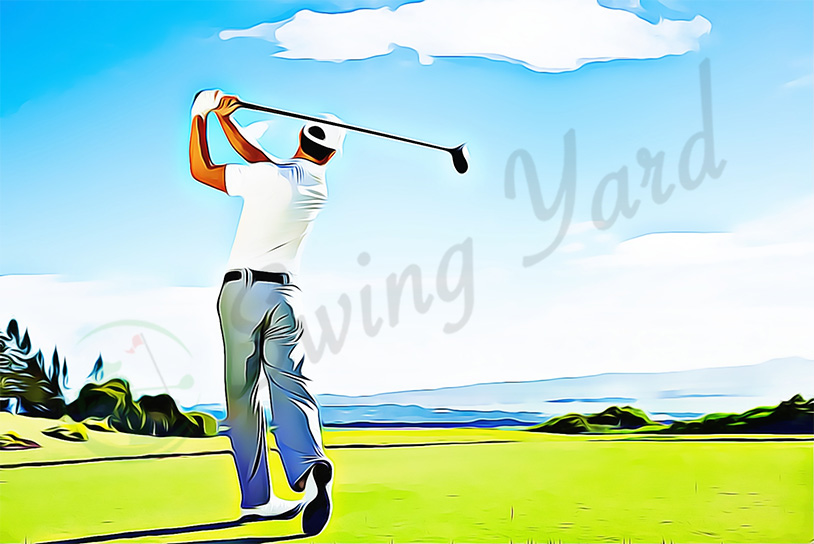 Author: Jamie Lewis – PGA Teaching Professional
I've hit almost every new driver since 1997… being a professional golf tester has its perks!
With technology advancing almost daily, I think we have the best all-around class of drivers in years.
>> Click here to jump to conclusion <<
Caution – If you're a BEGINNER, these drivers are NOT for you!  Check out our list of best beginner drivers here.
Our Criteria for this Golf Driver Comparison Test:
I have narrowed my search based on the following criteria:
Feel – overall weight, swing weight, and feel at impact
Ball Flight – using a standard stock shaft
Distance – carry and roll
Accuracy – percent of fairways hit
Miss Hit Results – how far offline and how far did the misses travel
Launch Monitor Numbers – spin rate, ball speed, swing speed, smash factor, launch angle
Aesthetics – it has to look good
Sound – hearing the right sound at impact is very important to me when choosing a driver
Best Golf Driver Reviews and Ratings for 2023
1. TaylorMade Stealth Plus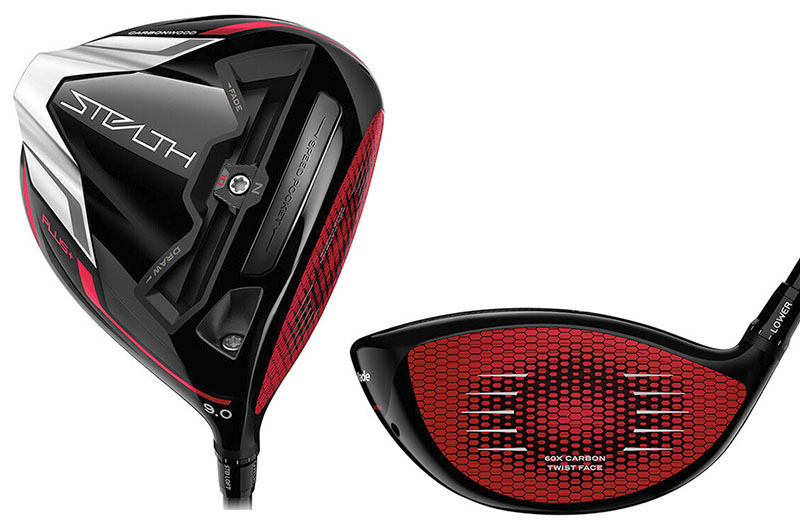 Top Pros Playing It:  Dustin Johnson, Collin Morikawa, Rory McIlroy, Tiger Woods
My Recommended Handicap range: 10 and under
Loft Options: 8°,9°, 10.5°
Launch: Low
Spin: Low
Adjustable Hosel: Yes
(our full review with test results of this club is here)
The hype train has arrived. Carbon fiber face. Bright red no less. This club certainly has the look of new aged tech.
I was expecting the red face to be distracting at address, but it was a non issue. Consistently impressive ball speeds, aggressive low launch, and low spin rates generated fantastic numbers.
With a carbon face, I was expecting a strange sound at impact, but TaylorMade used a titanium sole and internal sound ribs to give the Stealth Plus an incredible sound. Traditional metallic, but with a twist.
The feel at impact is different, but not bad. I didn't feel that pop off the face like I do on a traditional titanium face. This impact is more like a smooth "hot knife through butter" type feeling. Rewarding in its own right, and seemingly a positive impact in numbers.
The workability of this club seems to be the highest I have seen in a while. For a long time, OEMs have discovered many great forgiveness improvements, but forgiveness and workability tend to butt heads.
However, the nano-texture cover across the face gives you a little more friction, allowing you to work the ball left and right.
Stealth is the perfect name for this club. The TaylorMade Stealth Plus, with its matte crown and slick looks, is a thief in the night. Effortless power, and impressive numbers across the face. Mishit numbers are the most impressive in the 2023 lineup too… Could carbon be the answer?
Pros
Square at address
Consistent ball speeds across the face
Sleek matte crown
Sliding weight
Great workability
Cons
Red face might be distracting for some
Face durability is a question
The Bottom Line
So much to unpack here. Boy oh boy, this club is head turning. Different. Once you get past seeing a red face, and the thought "wait, that's not titanium" you get yourself impressive results!
I saw more ball speed and distance than any other driver in the 2023 lineup. The low trajectory and workability make this a top contender.
When arguably the best to ever play the game, Tiger Woods, says this club is "truly an amazing product" you have to wonder how good this club really is.
Dustin Johnson and Rory McIlroy were quick to make the jump to Stealth too. I love this club, and the performance it provides. Winner winner, chicken dinner.
2. Callaway Rogue ST Max LS
Top Pros Playing It:  John Rahm, Phil Mickelson, Xander Schauffele, Abraham Ancer
My Recommended Handicap range: 10 and under
Loft Options: 9°, 10.5°
Launch: Low
Spin: Low-Mid
Adjustable Hosel: Yes
(full test and review of the Callaway Rogue ST Max LS here)
The Rogue ST Max LS had a tough follow behind the impressive Epic Max LS. Although, thanks to the utilization of A.I. technology, Callaway was able to raise the bar yet again. I personally enjoy the new matte crown at address. It provides a premium look and stable feel at address.
The 23 gram Tungsten Speed Cartridge gives this club the highest MOI Callaway has ever achieved, and it provides increased speed and forgiveness, even on strikes that don't find center face. This backs up that stable look you get at address.
Sound is a key sense of feedback for me. The Rogue ST Max LS has a real muted sound at impact. Compared to a higher pitched "ting" with some drivers, I think it delivers more control and power through the swing. A real confidence builder throughout the round!
A.I. Speed Frame and Flash Face deliver so much consistency, feel, and distance, it's incredible! I love the power you feel at impact, and putting up numbers that rival any option on the racks today.
With the world number one, a bonafide hall of famer, two of the best young players on tour, and many others putting this club in their bag… it poses the question; is there a better option out there?!
Pros
Strong and powerful look
Consistent distance
Stable sound and feel
Incredible ball speeds
Cons
Not as low spin as most low spin options
Minimal feedback on off center strikes
The Bottom Line
What a fantastic club! I am hard pressed to find anything bad to say! I would like to see a little more feedback on an off center strike for a player's driver, but that is nit-picky.
I was impressed with the consistency in ball speed and accuracy across the face. It's hard to hit a bad shot with this club. Couple the no frills, matte black finish crown, with the tech packed in… this club will be hard to beat as top driver this year.
3. Cobra LTDx LS
>> Click here to check price on blue/red version <<
Top Pros Playing It:  Bryson DeChambeau, Rickie Fowler, Jason Dufner, Kyle Berkshire (Long Drive Champion)
My Recommended Handicap range:  12 and under
Loft Options: 9°, 10.5°
Launch: Low
Spin: Low
Adjustable Hosel: Yes
(check out our full review and my personal experience testing this driver over here)
LTD standing for "Longest Total Distance" really put the bar high for this club. It certainly felt hotter off the face for me, compared to last year's offering. COBRA used multiple materials to construct this beauty, and used that saved weight wisely.
They repositioned weight low and forward for the fastest possible ball speeds, and lowest possible spin.
A feature I found incredible is the 10g and 3g weights. You can put the heavy weight in the heel for a soft fade, or move it to the toe for even more fade bias.
I was really impressed with the forgiveness on off-center strikes. Most likely the best in class. The new HOT face keeps spin low, but doesn't sacrifice ball speed. Pretty impressive!
The look of this driver is one of my favorites. I love the matte crown and gloss bottom. The milled infinity face spilling into the matte crown gives you a natural alignment, and a lot of confidence at address. The angular orange/yellow graphics drive home that LTD name. You have to look fast too, right?!
Overall I got consistent results, and a sturdy sound and feel. If distance is what you want, you can't count out COBRA.
With Bryson DeChambeau and Kyle Birkshire choosing this as their weapon of choice, then you know distance is what you get with the LTDx LS. Bryson even hit 220 mph ball speed with this club, which has been a goal of his from the start of his distance journey.
Pros
Powerful looking
Strong feel and sound
Very consistent ball speed off-center
Adjustable weight system
Longest hitters pick this club
Cons
Workability is lacking
Looks a lot like RADSPEED
The Bottom Line
COBRA delivers exactly what this club is said to do. Good ball speed, great forgiveness, and lots of distance. Using computer based intelligence to create the new HOT face gives it the boost to really compete with the Callaways and TaylorMades.
The LTDx LS is likely the most forgiving low spin driver on the market, which is impressive. However, if you are looking to be able to work the ball around with the driver off the tee, this might not be your best option.
However, if you want consistency off the face, a strong feel, and impressive distance, this is the big gun for you.
COBRA really took a step forward with this club, and all the R&D that went into it shows in performance. If there is any question, the 220 ball speed Bryson reached should answer it!
4. Ping G425 LST Driver
(check out our full review and write on the LST here)
Top Pros Playing It: Victor Hovland, Tony Finau, Cameron Champ, Corey Conners, Bubba Watson
My Recommended Handicap range: 0-7
Loft Options: 9°, 10.5°
Launch: Low
Spin: Low
Adjustable Hosel: Yes
Alt Colors: "Bubba" custom black/pink
Compared to the others in its class, this is the most like a player's driver.
At 445 cc's this driver is a little smaller than the others. Due to its size and aerodynamics, it produces fewer rpm's… translating to a lower ball flight.
This works well for high swing speeds and low handicap players.
It has a CG shifter that can be set to draw, neutral, and fade, so there's a little wiggle room in playability.
I hit some beautiful drives with this club, but I didn't enjoy my miss hits.
But compared to my current driver, this would still replace it with ease and why it's in my top 5.
Note – if you're a beginner, or simply a higher handicap golfer, you'll want to check out the more forgiving Ping G425 MAX.
Pros
Great look
Excellent for high swing speeds
Lower trajectory
Cons
Not quite as much distance as competitors
Not as forgiving as competition
Sort of in the low spin drivers category, limiting customer skill level
The Bottom Line
I loved the classic pear shape and weight of this driver. It's also fun to hit lower boring shots, especially if you play courses where the wind is always a factor.
There are still plenty of reasons to love this club, so please make sure you keep it on your list… and if you think it may be too much club, go for the Ping G425 MAX.
5. Titleist TSi3 Driver
Top Pros Playing It: Justin Thomas, Jordan Spieth, Patrick Cantlay, Webb Simpson
My Recommended Handicap range: 0-12
Loft Options: 8°, 9°, 10°, 11°     (11° is only available in the right handed version)
Launch: Mid
Spin: Low
Adjustable Hosel: Yes
(our full review and test of the Titleist TSi3 Driver is here)
Golf and Titleist go hand in hand. They are at the top of the food chain in this industry and never put out a lousy product.
They're using a new ATI425 aerospace titanium face for increased ball speed. It's made in Pittsburgh, and they're the only ones in the business who have it.
The results are long drives with a loud booming sound at impact.
It has the adjustable sure fit hosel and sure fit adjustable weight to make minor adjustments to the club's overall performance.
I just love the look of this driver! It produced plenty of distance and accuracy on miss hits, and the club's feel was as good as any.
The sound the club made was a little different on miss hits, which surprised me a bit, but overall it's at the top of its class and must be included in my top 5.
Note – If you have a higher handicap you may want to check out the Titleist TSi2 or even the TSi3.
Pros
Miss hit distance and accuracy was good
Love the look
Great feel
The sound was perfect when hit in the sweet spot
Cons
The sound was muffled at impact on miss hits
The Bottom Line
An all around excellent driver. Love the look of this club, and for some of us, sometimes looking down at a club that reminds us of our drivers when we were kids will somehow increase the value of a club.
It has tremendous distance, and the accuracy is above average. When compared to its competition, it's right at the top… so it's another must "add to the list" driver.
And the Winner for the Best Golf Driver of 2023 is…
I can't think of a more fun time in a golf season outside of testing the new drivers! The looks, the feel, the dream of finding incredible gains, and hitting bombs! This year came with some heavy hitters from all the big guys.
With the amount of tech packed into these clubs, it is hard to make a bad pick. All five of these drivers have something for everyone. One HAS to be the best though right?
(for those female golfers out there, you may want to check out our ranking of the best women's drivers)
Best Overall
For me, the choice was clear. The TaylorMade Stealth Plus simply outperformed the rest of the field. A few extra miles an hour ball speed equates to more yardage.
More yardage off the tee puts a better scoring club in my hand, and that is the goal right? Scoring.
The workability with the nanotexture cover on the face is just an added bonus. I agree with the GOAT that this is truly an amazing product.
Runner Up
A really close second is the Callaway Rogue ST Max LS. The improved aesthetics, along with the impressive Callaway feel and sound, make this driver a top performer for anyone.
Real solid pop off the face, great forgiveness, and decent workability make this golf club an all around performer.
Best Value Pick
COBRA often holds the crown of best value due to the lower price tag, but this time around I see more out of COBRA.
I see distance and dispersion rates matching that of Callaway and TaylorMade.
The power and stability I felt swinging this club was really something to behold. COBRA took the best from their previous version and made the rest better. Therefore there isn't a better value than the COBRA LTDx LS.
---
The Ultimate Buying Guide – What should I look for when buying a new golf driver?
You might have read through all the reviews above, but are still asking the all important question… what driver do I need? Emphasis on the "I"! Well I've put together the ultimate guide to help YOU through the process.
Be sure to analyze each category to determine which criteria are most important to you, and ultimately help you get the absolute BEST driver for you and your needs.
Lifespan of a Driver and When to Buy a New One
Most people ask themselves if their driver is still good enough, almost daily, after hitting a terrible drive into the hazard.
What I can tell you is that if your driver is more than 3 years old, you'll want to consider getting a new one. PGA tour professionals change their driver yearly. If they don't, the competition will pass them by.
Each year manufacturers release a new driver. It will be a little more accurate and travel a little further than the previous year's.
PGA tour professionals also change drivers yearly because they "hit out" of them. The lifespan of a PGA tour driver is less than 2 years, and for average golfers, it's 2-4 years.
This means the club loses distance and accuracy due to hitting it so often.
Because of this, you should feel comfortable knowing that purchasing a new driver every few years is very common, especially if you play any sort of competitive golf, whether against friends or in tournaments.
Price
Like any purchase, what's your price range?
The best new golf drivers are over $500. If this is out of your price range, you need to know this before evening going down this road.
Your high end manufacturers will be out of your price range. If $500+ is within your budget, the sky's the limit, and you'll be able to buy the latest and greatest driver on the market.
There are some good options below $500 as well, including the Cobra Radspeed series I evaluated in this "best golf drivers" review.
Distance vs Accuracy
We all want distance… but most of the time, it comes at a price. If you find a driver that goes 280 yards, but it's 20 yards into the trees, is it really a suitable driver for you?
What if you find a driver that goes 260 yards, but it's in the fairway more often? Shouldn't that driver be considered a better, more practical purchase?
Try to find the driver that maximizes distance without giving up too much accuracy. Know the difference, be honest with yourself, and know what's best for your golf game.
Swing Speed – From Youngsters to Seniors
Know your swing speed. There's nothing more frustrating than spending $500 for a club that doesn't fit your swing.
Don't assume because you've played a stiff shaft your entire life that you're going to buy a stiff shaft. A regular shaft may be what you need.
Make sure you know what it is going into the purchase. If you're in the senior golfers category, or you simply like to swing the club smoother and slower, check out our review on the best drivers for seniors.
Handicap – Are you a Beginner, a High Handicapper, or a Seasoned Veteran?
Today, most drivers are built with average golfers in mind, but if you're a beginner or high handicapper, the club you see Dustin Johnson playing probably won't be the club for you.
One of the biggest mistakes higher handicap golfers, and the general golf fan, makes is buying equipment because their favorite golfers play it.
Make sure you look at drivers geared towards your handicap… give our review of the best driver for high handicap a read.
Forgiveness
Some drivers will be more forgiving than others. That doesn't always mean it's better or worse however. What is best for you will be determined by how well you can consistently hit the sweet spot of the driver.
By either using impact tape, or the foot spray method, determine how well you're actually hitting the center of the face. If it's not that consistent, consider a more forgiving driver.
By using a driver with a lot of forgiveness, your misshits (off center hits) will go much further AND not as far offline (left or right). The sacrifice though is overall control and distance in general, and if you're trying to shape a lot of shots.
Shot Shape – Are you Battling the Dreaded Driver Slice?
Whether you're an avid shot shaper, or fighting the common slice, shot shape is definitely something to consider in a new driver purchase.
There are 'draw based' drivers that have slightly more offset, and a slightly rotated closed face (in relation to the hosel), that in some cases, can fix your wicked banana slice instantly. We have an entire guide reviewing these offset drivers if you feel this option might fit you best.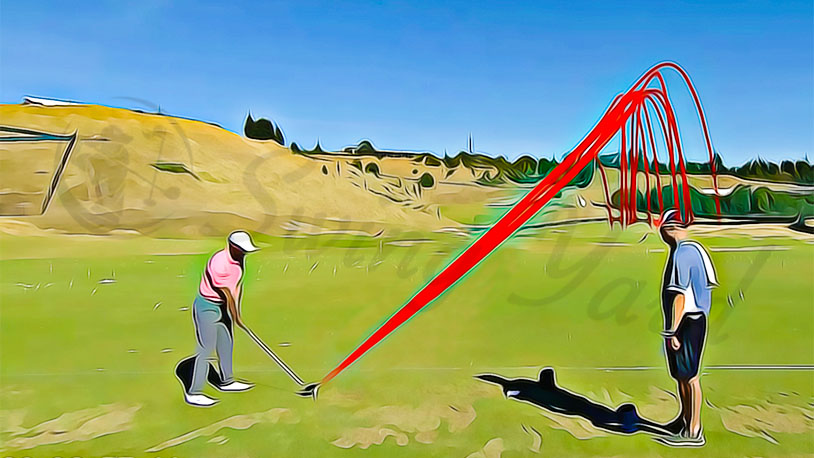 If you're someone that has good control of your shot shape, and you even go as far as to change your shape from hole to hole, then a driver without draw bias is going to be a better fit for you.
Look and Size
Most golf drivers today are 460cc's, but you can find some smaller ones.
Some look like spaceships, some have a more classical pear shape. I've always grabbed a driver, put it on the ground, and looked down at it. If it looked good, I kept it in the "possible purchase" pile.
If I didn't like the looks of it, it immediately went back on the shelf.
You won't be able to confidently hit a driver if you don't like how it looks. You have to be comfortable and even excited to hit this club, and that's not possible if you don't like how it looks.
Driver Loft
This isn't just about how high or low you WANT to hit it. There are consequences to consider with driver loft.
Lower lofted drivers are harder to hit. 8° & 9° drivers will have less curvature from heel to toe, causing more miss hits and more shots traveling offline.
Most lower lofted drivers are geared towards lower handicap golfers due to their higher swing speeds, ball speed, and RPMs.
Most average to higher handicappers will start at 10° and go up from there due to a more forgiving face.
The more loft you add to a club, the easier it is to hit. Pay attention to the loft and if you're one of the higher handicap golfers, start with 10° and go up from there.
Here's our extensive write up on exactly what loft should my driver be, if you want to check that out?
You can change the shaft if you want to play with ball flight.
Shafts
Shafts are the most critical part of the driver.
Knowing your swing speed will help determine the flex of the shaft, but there are other things to consider as well.
The first is steel vs graphite. This isn't much of a debate anymore as most drivers are built with graphite shafts. The reason is graphite is much lighter. This will help you swing the club faster, so a graphite shaft is really the only logical choice these days.
Next question, do you like the club to feel heavy or light? I look in the 65g+ range when looking at shafts, but some people like lighter because they can swing it faster. These golfers will look closer to 55g+ shafts, so check the weight of the shaft and try different weights to feel what works best for you.
Shafts are also built to help you hit it lower or higher. Higher kick points keep the ball a little lower, and lower kick points help the ball go a little higher.
If you like the feel of a driver and you like that it's 10° but wish it went a little lower, just change the shaft to a higher kick point, and the problem is solved. No need to try and hit a 9° driver that is harder to hit. Change the shaft, and you're all set.
There's also torque to consider. Lower torque shafts will feel firmer and will rotate less at impact. They'll feel stiffer vs a higher torque shaft that will feel whippier and rotate more at impact.
There are so many options with shafts, so make sure you understand these basics before making your next driver purchase.
Standard Driver Length
The standard driver length today is between 45 and 47 inches. The rules allow for up to 48″ in length. The longer the driver, the more club head speed it will produce.
More club head speed theoretically equals more distance, right? This is only true if you hit the sweet spot. Bryson DeChambeau has been talking about going to a 48″ driver since the start of the 2020 season… but still hasn't! The reason is the loss of accuracy. The longer a golf club is, the less accurate it will be.
Tiger Woods played a 43.5″ driver so he could keep the ball in the fairway. The average tour player plays a 44.5″ driver.
Tinker with the length of the club to see the differences. You may find that a 45″ driver is way less accurate than a 44″ driver, and in turn, you'll actually hit the ball straighter and further because you're hitting the sweet spot more often.
Adjustable Weight Drivers
With technology today, it's no wonder the manufacturers figured out how to accurately put adjustable swing weights on the bottom of drivers.
These weights will alter the club at impact and basically help put bandaids on our swings. These swing weights are very common today with most major manufacturers having at least one weight.
They can be adjusted for a draw, fade, or neutral bias. Some will change the Center of Gravity (COG) by allowing you to move a weight forwards or backwards to help hit it higher or lower.
Adjustable weights are very common today but don't expect them to fix your swing. Leave that to the golf teaching professionals, but a little help is always welcomed.
Driver Buying Guide Wrap Up
Please use this knowledge to help you pick the very best golf drivers for your swing. What works for you will only work for you!
Don't try to buy a driver your friend has. Buy a driver that fits you and your swing (using all the criteria I discussed above).
If you pick the correct driver, you will positively see an increase in distance… accuracy… and most of all… enjoyment!
---
FAQ
Note – Some of these FAQs were covered throughout the article, but I still get these questions a lot… so here is the "short and sweet" answers to the most common questions:
What is the best golf driver on the market?
The best golf driver on the market for 2023 in my opinion is the TaylorMade Stealth Plus because when I tested these driver, it simply outperformed all the other drivers in the field in total yardage, AND in workability.
What is the lifespan of a golf driver?
The lifespan of a golf driver is typically 2-4 years for an amateur golfer. But if you're a range rat, it may be even soon.
How do you hit a driver?
A few quick tips for hitting the driver are:
Ball teed up more forward in your stance (just off the left heel)
Slightly wider stance than normal
Practice contacting the ball on the UP party of your swing (conversely, you should be hitting your irons while you're still on the down part of your swing)
Slightly more shoulder tilt towards your rear side than normal
Check out our full instructional article on how to hit a driver if you need help with this one.
Do golf drivers lose distance?
Golf drivers do lose distance over time. Ultimately the more balls that are hit, and especially the more balls that are struck outside the sweet spot, the quicker the driver will lose it's "pop"… and your drives will gradually get shorter and shorter.
How often should you replace your golf driver?
You should replace your driver every 2-4 years if you're serious about your game. If you hit a ton of balls at the range, every other year may be normal.
What driver should I buy?
You should buy the golf driver that best aligns with your current handicap, your swing speed, and rather you want to gain more distance vs accuracy.
What should I look for when buying a new golf driver?
You should look at the loft, length of the shaft, forgiveness, and adjustability when buying a new golf driver.
How do I choose the best driver for me?
To choose the best driver for you, you need to evaluate what your strengths and weaknesses are in your current swing. Combine that with your swing speed, handicap, and what specifically you want to improve in order to choose the best driver for you.
The ultimate guide above goes into great detail on how to choose the best driver for you and your current capabilities.
---
Discount Section – Best Golf Driver for 2021
1. Callaway Epic Speed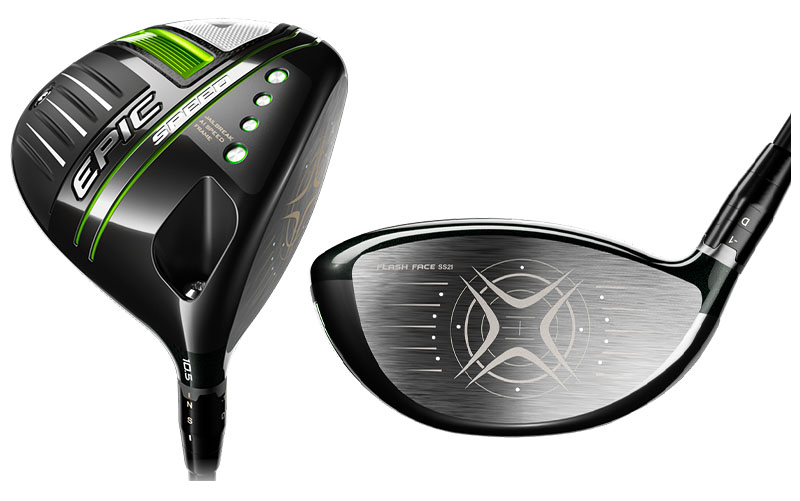 Top Pros Playing It: Jon Rahm, Xander Schauffle, Phil Mickelson, and 10 other PGA Tour players to start the 2021 season
My Recommended Handicap range: 0-15
Loft Options: 9°, 10.5°, 12°
Launch: Mid
Spin: Low-Mid
Adjustable Hosel: Yes
I haven't had this much excitement over a driver in a very long time!
When you have golfers like John Rahm switching to Callaway because of this driver and Phil Mickelson winning a major with it this summer, it's hard to argue its success already.
It has a new Jailbreak Speed Frame which provides optimal ball speed and more stability during miss-hits. The results are simple… longer and straighter drives.
The frame also has vertical stability bars to increase the sweet spot. This results in more distance and accuracy on miss-hits.
This driver had the best disbursement rate of any I tried.
Callaway also has their AI supercomputer running thousands of simulations daily. It finds the perfect design elements and uses them in their clubs, so Callaway has left no stone unturned on this driver… it's definitely one of the best drivers on the market today.
Note – for the higher handicap golfer, you'll probably be looking at the Callaway Epic MAX for more forgiveness, or the Callaway Epic MAX LS as one of the lower spin drivers, and thus, a lower launch angle.
Pros
Tremendous distance and accuracy
Excellent feel
Miss hit distance and accuracy
Classic pear shape
High ball speed
Cons
The sound at impact is softer or quieter than its competition
The Bottom Line
I think the most telling information I got with this driver was the launch monitor numbers on miss-hits.
When you hit it in the middle of the club face, they all work great, but how does it perform on miss-hits?
I found this driver to be better than the competition and something everyone should pay attention to.
When I did hit it on the sweet spot, I loved the ball flight and carry distance. It was exactly what I was looking for and why I highly recommend adding this to your final list of 2021 drivers… you won't be disappointed.
If you want to know even more about this club, read our full Callaway Epic Speed review.
2. TaylorMade SIM2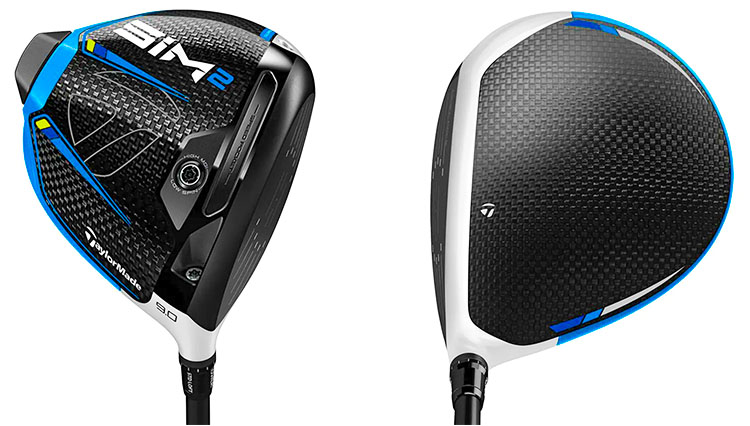 Top Pros Playing It: Dustin Johnson, Rory McIlroy, Collin Morikawa, and Tiger Woods before his accident
My Recommended Handicap range: 0-12
Loft Options: 8°, 9°, 10.5°     (8° is only available in the right handed version)
Launch: Low
Spin: Low
Adjustable Hosel: Yes
Colors: All have the black base, but you can change the blue trim to Chrome, Orange, Gold, Red, Black, Green, Light Blue
I have loved TaylorMade golf clubs since I saw Tiger Woods hitting a Burner plus 3 wood with a flex twist shaft back in 1993. I had one and loved it, so I always include TaylorMade products when testing for a "best golf drivers" review article.
Once I got over the white driver of the TaylorMade M series a few years ago, I started to like the drivers a little more. I think the M series was TaylorMade 's breakthrough driver, and they haven't slowed down with the SIM driver and SIM2 driver series.
They're marketing their new forged ring technology as the breakthrough for distance and accuracy. It has a 9 layer Inertia generator sole which increases speed at the bottom of the swing.
Combine these features with a 16g steel weight at the back of the club, and you have a driver with increased MOI… producing VERY long and accurate drives.
Looking down at the SIM driver is still a little weird to me, even with the SIM 2. It's no longer all white but a black sole and face with a white head, so you actually see both the black and white while looking down.
Note – if you're a bit of a higher handicap golfer, you'll want to check out the TaylorMade SIM2 MAX as it's a bit more forgiving. Read our full write up of the entire TaylorMade SIM 2 driver review series.
Pros
Ball jumps off the club
Tremendous distance
Excellent feel
Miss hit distance
Cons
The look is still a soft spot for me
Lacked miss hit accuracy
The Bottom Line
Another long driver from TaylorMade. Not only will the carry distance impress you, but the accuracy will too. It has an all around excellent feel and sound.
When I hit the TaylorMade SIM 2 solid, it has eye opening distance. I'm not sure I've ever hit a golf ball this far, but my misses flew offline more than I'd like. I'm just creating so much ball speed, it's insane!
This club is a go big or go home type club! When you hit it right, you will love it. Off centered hits were a bit off, but it was clear this driver is a must try and at the top of the class.
3. Cobra Radspeed
Top Pros Playing It: Bryson DeChambeau, Rickie Fowler, Jason Duffner, Greg Norman
My Recommended Handicap range: 0-18
Loft Options: 9°, 10.5°
Launch: Low
Spin: Ultra Low
Lie Angle: 57.5°, 58.5°, 59.9°
Adjustable Hosel: Yes
Colors: Standard is Black with green trim, Alternate is Navy with Red trim
I always see Cobra as the younger sibling to the bigger four listed above. That's not the case with the Radspeed. Its performance can compete with all of them.
With Bryson hitting 350+ yard drives, it's a club I had to test, and I'm glad I did!
I was impressed with the look, the feel, the sound… its distance and accuracy could compete with the others.
Cobra uses both front weight (28g-16g fixed, 12 adjustable) to cut spin rates and increase ball speed… and back weight (12g-8 fixed, 4 adjustable) to increase the MOI.
That, along with the T bar speed chassis and a lighter crown for more stability, and you have a very long, accurate, and playable driver for many types of golfers.
When you see what you get for the money (about $100 cheaper than the competitors), to me, Cobra should no longer be viewed as a secondary option but a primary choice for many.
Pros
Great look
Excellent sound
Exceptional distance
Price tag
High ball speed
Cons
Miss hit distance and accuracy
The Bottom Line
The price tag for what you get is one reason why this is a top 5 driver. The other, of course, is its performance.
It's a comparable driver in terms of launch monitor numbers to the competition, so when you hit something this good and then see the price tag, you will want to purchase it.
(by the way, our full review of this club is right here)
I've only had a few Cobra products in my bag over the years, and after hitting this driver, I will definitely experiment with more of their equipment in the future.
---
And the Winner for the Best Golf Driver of 2021 is…
This is a great year to purchase a driver. All of these top 5 will fit into your bag and replace your older model. Honestly, these are all really good golf drivers.
But what is the best driver in golf? When testing and writing up this "best golf drivers" review, I found all five drivers to outperform my current driver, proving that these manufacturers use newer and newer technology every day to create the perfect golf drivers.
Best Overall – 2021
With that all being said, I had a clear cut winner… the Callaway Epic Speed. Not only did I like the look and feel of this driver, but the launch monitor numbers were better than the rest.
I was averaging 4-6 yards carry further than the next closest club. What struck me the most was how far and accurate my miss hits were.
I was overly impressed when I missed a shot and looked up to see where it went. To realize that it only missed by a few yards and only lost 10-12 yards of carry was eye opening.
Runner Up – 2021
The runner up would have to be the Titleist TSi3. I went back and forth between the Callaway and Titleist just last night to make sure the numbers were still accurate.
The Titleist performed almost equal to the Callaway. The carry distance was within 2-3 yards, and my miss hits were not as bad as the competition.
I love classic pear shaped drivers, so this was at the top of my list before a single ball was struck. After seeing the results, it vaulted to the top of the list with only one other driver. It was an easy runner up for me.
Best Value Pick – 2021
The value pick is the Cobra Radspeed without a doubt. When you are trying drivers and can't decide between 2 or 3, you will most likely go with the one a little less expensive.
That's where I see this driver. It's a five star driver at a four star price. It will perform better than what you have now, and no doubt exceed your expectations.
It will come down to different things for different people, but this may be the driver for you when you compare prices to the others.