By Coach Erik Schjolberg – Mar 21, 2022
Get off your knees and stop begging for forgiveness!
After countless hours of research and hundreds (more like thousands) of balls hit, we've put together a list of THE most forgiving drivers for golfers of all styles and abilities. Some of our choices may surprise you!
Our Picks – Most Forgiving Golf Driver of 2023
Most Forgiving Driver – Ping G425 Max (or LST)
Runner Up – Callaway Rogue ST Max
Most Distance – TaylorMade Stealth Plus
Best for High/Low Misses – Mizuno ST-Z 220
Best Value Pick – Tour Edge C722 (or E722)
---
What to Consider When Looking for a Driver with Maximum Forgiveness
>> Click here to jump to the reviews <<
Forgiveness
This one should be obvious, but what we mean by "forgiveness" is how well it performs when the golf ball is struck outside of the sweet spot (outside the center of the face).  Another way to think about it is, how big is the sweet spot?
For maximum forgiveness, you'll want a driver that maintains a relatively straight and a relatively long hit ball on off center hits.
Spin
A lot of newer golfers think that spin is referring to side spin (like a slice), and therefore go for a Low Spin driver. This is completely wrong! Better players are usually the ones who should be hitting Low Spin clubs.
Why? The spin we're talking about here is what's creating LIFT in the golf ball. If you have a very fast swing speed, you're going to get too much spin and lift on the ball… it will go too high, and you won't maximize your distance.
Faster swingers (105+ MPH with driver) should opt for Low Spin options
Slow swing speed golfers should go for the "regular" or non low spin option
Ball Speeds
This is a layman's measurement of how "hot" a driver is, or a quantifiable number to determine the return of energy from your swing to the ball.
Smash Factor
Ball speed divided by swing speed – it's really that simple. Although this doesn't necessarily correlate to distance (and has no bearing on accuracy), it helps quantify how well you're hitting the ball off the face.
A more forgiving driver will make it easier to achieve a high smash factor.
(Courtesy to Trackman for the above graphic)
Adjustability
Sometimes you're just not feeling it and need a little extra help – sometimes the wind is howling, and you need to rely on roll-out. The ability to adjust a degree up, down, or to "draw" in a pinch can be a big help.
Looks and Feel
This one is purely psychological – but I always say, if you love the look and feel of your clubs, you'll feel a lot better hitting them. After all, golf is said to be more of a mental game than anything else.
---
Benefits Of Using Forgiving Drivers
Help on mishits – especially important around hazards
Ball flight control
Peace of mind – less wild shots
Allows you to swing a bit harder while keeping your confidence up
I can smash a ball 300+ yards and occasionally even carry a ball past 290y. Some of our readers can attest to that from our launch monitor numbers, and people are always impressed when I rip one off the tee – bear with me, this isn't a humble brag, there's a point!
Would you believe me if I said some of the best golf I ever played was while recovering from an injury and reviewing a "max" sized head?
Unable to swing at my normal speed, I used the technology in the club to my advantage and drove the ball just over 250y. I hit a WHOPPING 70% of fairways with the outliers less than 10 yards off the fringe. It changed my future equipment choices forever.
Finding the fairway is ESSENTIAL to playing better golf. Those magical 300y drives are akin to a flashy party-trick unless you can reliably find the fairway – something that becomes exceedingly difficult the further you hit the ball.
Landing in the rough, behind a tree, in a pond, or even the highway is a recipe for frustration. Re-teeing at three on a par 4 can easily tank your round or kill your mood for the next few holes.
Forgiveness is not about hitting the ball under perfect conditions, it's about being human, making mistakes, and still being able to play out the hole comfortably.
---
Our Reviews – The Most Forgiving Drivers
#1. Ping G425 Max
🏆 Most Forgiving Driver 🥇
My Suggested Handicap:
10+
Loft Options:
9°, 10.5°, 12°
Launch:
High
Spin:
Mid
Adjustable Hosel:
Yes
Pros:
Stealthy looks!
Stability is excellent even on off-center hits
Ample Tungsten situated low and to the back of the driver
Consistency is among the best for the drivers we demoed
Super easy to replicate swing speed, ball speed, spin, and launch
Cons:
Holy cow, it's loud—avoid indoor range sessions!
"Exotic" shaft options come at a premium
Spin can dial up. Combined with a high launch, this could limit distance
We earn commission if you make a purchase, at no additional cost to you.
My Experience (with pictures):
(our full length review of this club can be found here)
Yep, you knew this bad boy was going to be on the list. The Ping G425 MAX does a little bit of everything well and is a point-and-shoot guru.
As we noted in our PRIOR REVIEW of this beautiful head, the MAX places a premium on MOI and stability with 26 grams of tungsten located low and at the back of the head. This weight is moveable, to an extent, to promote or correct the shot shape of your choice.
Ping continues to refine its proprietary "Dragonfly" webbing technology through the crown which strengthens the head and keeps it stable on impact.
Ping also continues to deploy the turbulator fins on top of the driver that help frame the ball for setup and cut through the air on your swing.
Consistency is the name of the game with this driver and while it won't be the longest option available, it will likely be the easiest to dial in and maintain. Stability is top notch with this head and it's a welcome update to Ping's already legendary forgiving line.
The Bottom Line
I play with several sub-5 HCP golfers that swing the G400 line even today.
Why is that relevant? The G400 line was launched in 2004!!! That alone is a pure testament to just how good this driver series is year after year.
The G425 MAX carries that legacy and is the most forgiving driver I've hit yet.
Coupled with the LST (Low Spin) version, Ping wins the award for the best pick up, point, and swing options on the market. Truly, this driver fits in anyone's hands, and whether you bag it comes down to looks, the sound, and the feel — which are all unique to Ping.
Along with the Callaway Rogue ST MAX, this is the first suggestion I make when asked for driver options.
We earn commission if you make a purchase, at no additional cost to you.
#2. Callaway Rogue ST Max
🏆 Runner Up 🥇
My Suggested Handicap:
12+
Loft Options:
9°, 10.5°, 12°
Launch:
High
Spin:
Mid
Adjustable Hosel:
Yes
Pros:
Forgiveness in spades!! ♠♠♠
Solid feel and pleasant sound
Consistent, repeatable results
Absent any major swing quirks, it's hard to miss your target
Off center hits didn't stray far offline, and maintained pretty good distance
Cons:
On the expensive side of drivers
Spin creep can be an issue (MAX LS nukes spin numbers)
Faster swinging players may want to look at the LS option
We earn commission if you make a purchase, at no additional cost to you.
My Experience (with pictures):
(full test results of the Callaway Rogue ST Max driver are in this post)
The Rogue ST line is by far one of the most accurate series of golf drivers I've had the luxury of reviewing. If you need lower spin or have a higher swing speed, the MAX LS is neck-and-neck with the MAX regular.
Callaway really dug deep and worked with their proprietary AI technology to tweak both the Jailbreak stabilization (two structural stabilization bars that sit behind the face of the club to frame the sweet spot) and the design of the flash face, to produce a consistently high ball speed off the face that feel solid on every stroke.
The club does everything well and inspires confidence in any swing. Callaway delved into the numbers to refine what was already an excellent driver platform, and make it supremely accessible to players of all ranges of handicaps.
In the MAX version specifically, Callaway employs a 26g tungsten weight positioned low at the back of the club (this is what makes it so forgiving!) for a high MOI design that works well with a unibody (single piece frame for those of us who cut through the fluff).
This all translates to keeping the club head steady upon deflection so that if you can replicate your swing, you'll get the same, consistent results every time.
The Bottom Line
I love what Callaway did with both the Epic and Rogue ST line of drivers. The Epic MAX LS was one of my top 3 drivers reviewed last year, and the ST manages to refine an already excellent design.
The MAX is the go-to-every-day driver that I can comfortably recommend to any player as a starting point, and more often than not, ends up in their bag. It does everything well, looks good, and doesn't disappoint. It's easily one of the best drivers for forgiveness in 2023.
We earn commission if you make a purchase, at no additional cost to you.
#3. TaylorMade Stealth Plus
🏆 Most Distance 🥇
My Suggested Handicap:
6-14+
Loft Options:
8°, 9°, 10.5°
Launch:
Mid
Spin:
Low
Adjustable Hosel:
Yes
Pros:
It's fast. Holy cow it's fast. Ball Speed is EXCELLENT
Feel and sound are unique, but very satisfying
Large face despite a normal sized head inspires confidence.
Cons:
LOUD colors are not for everyone
Yikes, it's expensive ($599)
"Fliers"—sometimes the face can get too hot (irony at its finest). If you're looking to play a specific number to avoid hazards, you may want to use your 3W
We earn commission if you make a purchase, at no additional cost to you.
My Experience (with pictures):
(our full review with test results of this club can be found over here)
Distance, Distance, Distance… did I Mention Distance?
The Stealth Plus+ is considered the low spin version of the Stealth family, but don't let that dissuade you from this club.
Technically the Stealth (non +) version of this driver is marketed as the most forgiving driver of the family, but with mid-high swing speeds, the Plus takes the cake in my opinion.
The pink (red?) elephant in the room is TaylorMade's new 60x carbonwood face. For the layman, this represents a 40% weight reduction over the equivalent in pure titanium.TM has also designed the Stealth face to be 20% larger than its predecessor offering more real-estate to propel the ball forward. This ultimately translates to a bigger sweet spot and faster ball speed across the board. We tend to agree.
In particular, the Stealth Plus produced the fastest ball speed off the face, and some of the longest total carries of our testing.
For this reason alone, the Stealth Plus edges out the Stealth (non plus) as our selection for the most forgiving driver of the TaylorMade family. Your ball is primed to go far whether it's on carry, or by roll-out.
TaylorMade calls their new line the "stealth", but there's nothing subtle about this driver.
The Bottom Line
Carbonwood is not a new concept, but in this case TM did an excellent job re-inventing the wheel and offering players something outside the box.
The Stealth drivers as a family are fast off the face and are designed for distance despite their inconspicuous name.
In this case, the combination of low spin and fast ball speed produces a driver that will result in favorable numbers in most players' hands. This driver will cater to players that are looking to go big off the tee and extend their reach with some extra carry and roll-out.
We earn commission if you make a purchase, at no additional cost to you.
#4. Mizuno ST-Z 220
🏆 Best for High/Low Misses 🥇
My Suggested Handicap:
8-15+
Loft Options:
9.5°, 10.5°
Launch:
Mid to High
Spin:
Mid
Adjustable Hosel:
Yes
Pros:
One of the best drivers I've hit for consistency on high/low misses
I love the black and blue aesthetic
Controllable spin — this is not a low-spin version to eke out distance
Very predictable and consistent face
Longevity
Cons:
Not the best driver for slower swing speeds
Not as distance friendly
We earn commission if you make a purchase, at no additional cost to you.
My Experience (with pictures):
Stability is the name of the game with the latest edition of this Mizuno driver, but it doesn't place the focus in the most conventional way…
Mizuno starts with a premium material "Beta Titanium CoreTech face" that promotes strength and flexibility in the face allowing for faster ball speed and longevity over time.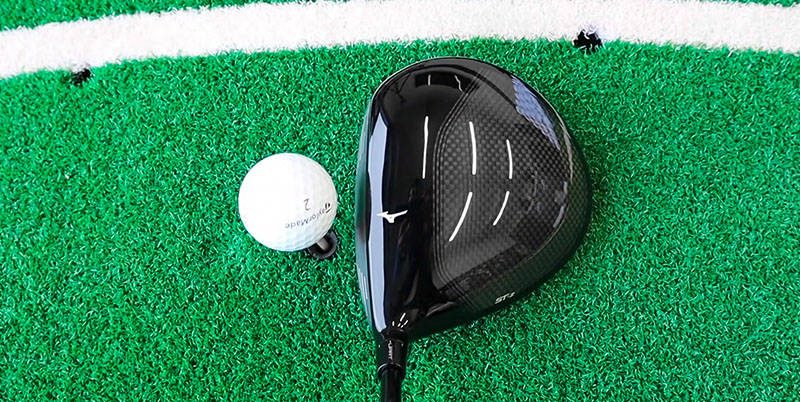 This driver is designed to be used, abused, and practiced with… while producing consistent results through the years. You'll be hard-pressed to find a driver that feels "hit out" even 5 years down the road.
Mizuno went out of their way to redesign the term "stability" with a focus on the horizontal plane from crown-to-heel instead of hosel-to-toe.
Instead of shaving weight off the top of the club like many other manufacturers, Mizuno engineers took an opposite approach and thinned out the sole with 40% more carbon fiber allowing weight to be positioned low and back.
Overall this driver promotes a sleek and understated look with a slight pear aesthetic. We found it to be wonderfully stable and very easy to hit the fairway for players that are a bit more advanced and routinely pull out their driver to shoot the distance off the tee.
The Bottom Line
This driver is one of the most friendly vertical-axis-miss drivers I've played and it shows up when you try to elevate the ball for extra launch. It fits perfectly on our list of most forgiving drivers.
Mizuno makes a product that appeals to a player that has developed their swing and isn't afraid to go after it when the situation calls for it. It won't be the longest driver on the rack, especially since the stock length is 45", but it will serve you well for a long time.
We earn commission if you make a purchase, at no additional cost to you.
#5. TourEdge C722
🏆 Best Value 🥇
My Suggested Handicap:
5-15+
Loft Options:
9.5°, 10.5°
Launch:
High
Spin:
Low
Adjustable Hosel:
Yes
Pros:
Price point!
Stock shaft options are curated and excellent
Smallest head size of 2023 without being a "Pro" model!
Lower spin driver with the forgiveness and launch of a "Max" head
Cons:
Smaller head may be intimidating for some
Slower swingers can opt for the E722 though
A decent club head speed is necessary to benefit from the technology (95+mph)
Brand recognition — people haven't figured out that TE metal woods are elite (yet)
We earn commission if you make a purchase, at no additional cost to you.
My Experience (with pictures):
Carbon fiber, high center of gravity placement, moveable weights, and a diamond face? All at a price that won't break the bank? Yes please!
The Tour Edge C722 is in my top 3 favorite drivers this year for both the ease of use, and the price.
I was a big fan of the C721 series as a natural low-spin driver, and the C722 carries the day with a 20% thinner Ridgeback Spine (center crown support) than its predecessor, with the same or better stability.
The Carbon wrap technology in the head/crown of the driver adds 26% more carbon fiber to promote flex from the C721 and to reduce weight even further. This allows the driver head to be faster, flex more for high ball speed, and launch higher.
The C-series specifically is an eye-opener and earns a spot in our most forgiving drivers because it is the smallest volume driver head on the list at 445cc and still produces numbers akin to a 460cc driver. That's truly impressive.
Paired with premium shaft options, you can't go wrong. I specifically chose the C-series driver instead of the E-series because of spin characteristics.
In my testing, I found the E722 to have anywhere from 350-500 rpm's more backspin than the C722. While that is ideal for those that are seeking a fairway finder and can shape shots, players that are prone to aggressive shot shapes (slices) may not appreciate the extra spin in the E model.
The Bottom Line
This is a premium driver with top-of-the-line components.
At $429.99 brand new, there is no better value/performance driver on the market. Period!
The driver looks good, feels good, and sounds good, so long as you can get past the fact that it doesn't have a big-box name stamped on it.
Anyone looking for a naturally lower-spin driver, or a more compact head should give one a rip. Let's keep this secret between us so that TE doesn't blow up and hike the price tag!!!
We earn commission if you make a purchase, at no additional cost to you.
And the Winner for the Most Forgiving Driver is…
You were expecting to see the "MAX" version of every manufacturer on this list, weren't you? Are you surprised? Does this inspire you to reach outside your comfort zone? We hope so!
We've hit a ton of shots, switched shafts, balls, players, and conditions to try to bring you a spread of the most forgiving golf drivers from both our personal experience, as well as the fitting experiences of the players we work with.
The "MAX" version doesn't always fit the bill. In this case, there are several drivers on our list that are "designed" one way but fill multiple roles.
When you take all things considered — ball speed, carry, launch, and spin, this is what we came up with!
Best Forgiving Driver
Ping G425 MAX/ LST –  If you don't mind the sound and feel of the driver, the G425 line is by far one of the best pick-up-and-play drivers out there.
It may not be the longest, but it's so easy to hit and score with for the full range of handicaps. It's easily the most forgiving driver I've ever hit.
I've added the LST in the mix because it cuts the spin down for those that swing fast while still offering supreme playability. The LST is still one of the best drivers for forgiveness.
Best Driver for Forgiveness – Runner Up
Callaway Rogue ST Max – If Ping is the champ, the Callaway Rogue ST line is its kissing cousin (Sorry West Virginia!). For those that don't like the proprietary sound and feel of the G425 line, the Rogue ST is your weapon of choice.
Boasting more traditional looks and feel, the Rogue ST Max is the most accurate driver I've hit of the new releases!
The club is stable, it's easy to swing, and the numbers produced are very repeatable. Last year the Epic MAX was in the running for my top three — this year, it's hard to pick just one head from the Callaway line. Definitely one of the best best driver for forgiveness.
Best Value Pick
Tour Edge C722 – I can't wait to do a full review for readers of this driver (It's coming, I promise). This is a premium head that offers the most recent technology at more than $100 less than some of the other drivers on this list.
Once you get past the name, this driver will not disappoint. Buy one, then buy a nice shiny wedge with your savings since you'll be in position to pitch and putt!
---
FAQ
Note – Some of these FAQs were covered throughout the article, but I still get these questions a lot… so here are the "short and sweet" answers to the most common questions:
What is the most forgiving golf driver on the market?
The most forgiving driver on the market is the Ping G425 Max in our opinion. From our test results, it has the straightest and longest results on mishit shots.
What driver has the biggest sweet spot?
The TaylorMade Stealth Plus is the driver with the biggest sweet spot. The new 60x carbonwood face is 20% larger than its predecessor, allowing for an even larger sweet spot than before.
Is a higher loft driver more forgiving?
Typically a higher loft driver is a bit more forgiving than a lower loft driver. The higher lofted drivers are designed overall for more forgiveness because the type of players that need extra loft also need extra forgiveness.
Check this article out for more info on what loft driver to use.
Are some drivers more forgiving?
Yes, some drivers are more forgiving than others. A driver with a higher Moment of Inertia (MOI) will by design be the most forgiving driver on miss hits. Drivers that are less forgiving offer more control on shot shaping, so it depends what your ability level is and if you need help striking the ball in the center of the club face.
Will a more forgiving driver fix my slice?
A more forgiving driver can help with a slice somewhat, BUT a specific draw bias driver would be a better choice for golfers struggling with a slice.
Not looking for a forgiving driver?
Then check out our list of the best 2023 golf driver reviews.