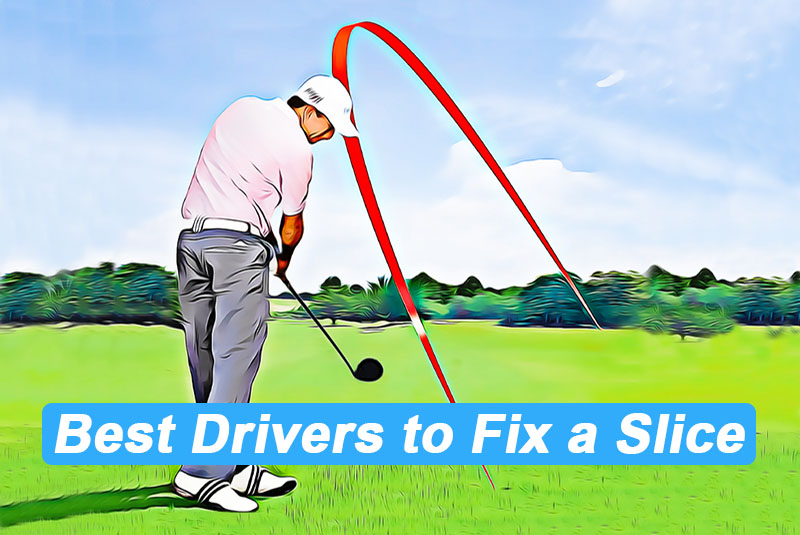 Author: Jamie Lewis – PGA Teaching Professional
If you're one of those golfers thinking, "I hit the ball 250 alright… 220 out with 30 yards of slice curve right into the bunker, pond, trees… house", then read on because one of the drivers reviewed here may be absolutely perfect for you and your slice.
Each is billed by its manufacturer to mitigate against the slice, while still providing plenty of forgiveness… something usually sacrificed in past year's draw drivers.
And they definitely do the trick!
>> Click here to jump to conclusion <<
Our Reviews – Best Driver to fix a Slice (Draw Bias and Offset Golf Drivers)
1. TaylorMade Stealth HD (High Draw)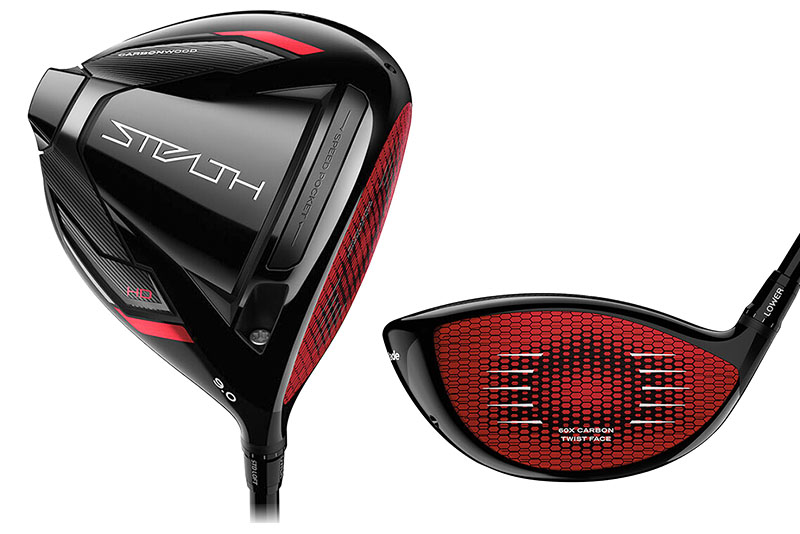 My Recommended Handicap Range: 12 and up
Lofts Available: 9°, 10.5°, and 12°
Launch: High
Spin: Mid
Adjustable Hosel: Yes
Draw Bias: Yes
Offset: No
(our full review with test results of this club are right here)
The TaylorMade Stealth HD ("High Draw") boasts that it's the most forgiving draw bias driver available. I saw first hand that this claim might be true.
To generate draw spin, a draw bias club generally has a raised center of gravity. But CG and MOI work against each other, meaning if the CG goes up, the MOI goes down. Lower the MOI, and you see less forgiveness.
The Stealth HD was able to shift weight to the heel for draw bias, but maintain a high MOI. The highest of any Stealth model. I could FEEL the engineering that went into making this happen. Beautiful, high, right to left flight that will help fight any slice.
The saved weight from using a carbon face, compared to a heavier titanium, is how TaylorMade was able to position the weight to deliver a slice fighting, forgiving, LONG driver. The sound and feel were so impressive, and really set it apart from the competition.
Why is it one of the best drivers to fix a slice??
The TaylorMade Stealth HD is the perfect weapon against a slice. The saved weight by using carbon on the face gave TaylorMade the ability to position weight just right to give the perfect blend of forgiveness and draw bias.
Pros
Love the red face!
Most forgiving club tested
Consistent draw shape
High ball flight
Not too spin-y
Cons
No adjustable weight
On the lower end of draw bias in testing
Face durability in question
The Bottom Line
A slice can be a round killer. Sending your ball far offline, or even out of play. Depending on the severity of your slice, the Stealth HD is a great option. Although it doesn't offer the most shot correction, it is certainly the most forgiving.
I love the ball flight on center strikes, and am very pleased with off center strikes as well. The forgiveness is truly a marvel. The matte crown and red face really make this club a show stopper. All in all, the Stealth HD is a true gem!
2. Callaway Rogue ST Max D
My Recommended Handicap Range: 12 and up
Lofts Available: °9°, 10.5°, and 12°
Launch: High
Spin: Mid
Adjustable Hosel: Yes
Draw Bias: Yes
Offset: No
(our full test results and review of the Callaway Rogue ST Max D driver is here)
The Callaway Rogue ST Max D is a mouth full, but each part put together is a slice killing machine. ST stands for "Speed Tuned"… and this long stick is FAST. Max, for maximum forgiveness. Last but not least, D for draw.
The draw biased weighting, face progression, and a more upright lie, all force a draw on your swing, regardless of how far over the top you are coming. Even trying to fade, I was seeing a bit of a draw.
The feel is premium, slick, and reliable. Ball speeds were stable all over the face, likely due to the A.I designed Flash Face. The 20g weight at the rear keeps the MOI high, maintaining great forgiveness.
Along with the internal and external draw bias pieces, the OptiFit Hosel allows you to change the loft and lie even more to maximize a right to left shot shape. Say goodbye to bananas off the tee!
Why is it one of the best drivers to fix a slice??
The Callaway Rogue ST Max D contains the most shot correction features amongst the bunch. If a slice is your main concern, this 1 wood can put your mind at ease. The Rogue ST Max D pulls out all the stops to battle a slice.
Pros
Reduced face progression
Impressive forgiveness
Great right-to-left ball flight
Design and color scheme
OptiFit Hosel can be adjusted to favor even more draw
Cons
Other than hosel, no adjustability
OptiFit Hosel wrench not included
The Bottom Line
The Callaway Rogue ST family has an option fit for every type of golfer. For the slicer, the Rogue ST Max D is a perfect fit. Weighting is set perfect to influence a draw, and the OptiFit Hosel can be adjusted to a draw setting to further push the ball left.
I fell in love with the sound at impact. It's truly powerful. Seeing a power draw shot after shot was also a powerful feeling. If you're tired of the bananas putting you in the woods, the Rogue ST Max D, and all of its technology, will do its best to keep you in the short grass!
3. Cleveland Launcher XL Lite Draw Driver
My Recommended Handicap Range: 10 and up
Lofts Available: 10.5°, 12°
Launch: High
Spin: Mid
Adjustable Hosel: No
Draw Bias: Yes
Offset: No
Cleveland brought the heat with this driver! The Cleveland Launcher XL Lite Draw is top to bottom, grip to sole, designed to take on a slice.
Cleveland is the only manufacturer whose driver lineup is 100% geared towards game improvement. What does that mean? They do it right!
The XL should be the XXL, because it's BIG! How big? The maximum USGA measurement big. Which is a good thing! More face area to connect with, more mass low and back, and strategic weight to favor a draw. They managed all this while making it lighter!
I was amazed at the ease of swing, and the explosion off the face. This club carries a lot of distance and forgiveness in such a light package. The counterbalance weight in the grip kept my swing balanced, and stable.
The draw bias fights strongly against a swing over the top, and the light weight keeps swing speeds high. I'm hard pressed to say anything bad about this big boy!
Why is it one of the best drivers to fix a slice??
The Cleveland Launcher XL Lite Draw Driver shows no mercy to a slice. Lighter weight, draw bias setup, and large footprint come together to provide distance, anti-slice, and forgiveness. This was the longest club of the slice fighting variety, which is worth noting.
Pros
Love the color scheme
Huge face
One of the most forgiving of the clubs tested
Longest club tested (in distance)
Counterbalanced weighting
Cons
No adjustability
Might be too loud for some
Least amount of shot correction of drivers tested
The Bottom Line
The Cleveland Launcher XL Lite Draw was a really fun club to test out! Big, loud, and long.
When it comes down to it though, this club finds fairways, and does so with ease. With it being the longest and one of the most forgiving options, this'll be the first choice for many golfers fighting a slice.
However, if your slice is really bad, there are other options that offer more shot correction than this club. But if you want to stave off a left to right path, and want distance and forgiveness, this club is for you.
4. Cobra Air-X Offset Driver
My Recommended Handicap Range: 14 and up
Lofts Available: 9°, 10.5°, 12°
Launch: High
Spin: Mid
Adjustable Hosel: No
Draw Bias: Yes
Offset: Yes
(click for our full review of the Cobra Air X Driver)
I was skeptical of the COBRA Air-X Offset at first. Lightweight and offset is meant for senior players, not someone struggling with a slice. Right?
Wrong! The lightweight design is effortless to swing, thus faster speeds, and more distance.
COBRA saved weight everywhere with the Air-X from the head construction, lightweight shaft, and even the grip! This allowed them to put some weight low and towards the heel, giving a nice draw bias. I was pleasantly surprised with the amount of forgiveness away from the center of the face.
The offset is clean and not distracting, and it helps fight the slice. Giving the face a little more time to come square before impact. Say goodbye to the right rough with this lightweight killer.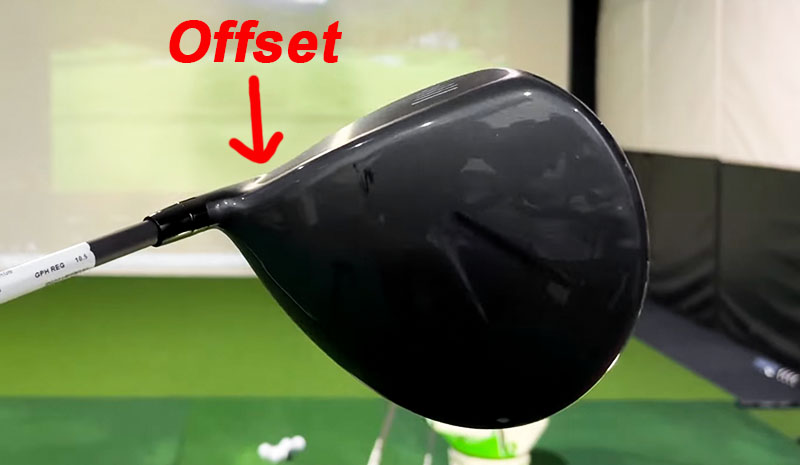 Why is it one of the best drivers to fix a slice??
The COBRA Air-X Offset Driver will battle your slice in a few ways, the offset is the main weapon. The increased 20% more offset isn't noticeable to the eye, but very much so in gains. This helps you square the clubface at impact.
Pros
Easy to hit
Clean offset
Light as a feather
Looks and sounds premium
Faster club speed
Cons
No adjustability
Can be too light for some faster swingers
The Bottom Line
The COBRA Air-X Offset really impressed me on many levels. A true slice killing machine. The lightweight design makes this club one of the easiest ones to swing. Don't sleep on this driver, because it's a true competitor.
I loved the pop off the face, forgiveness off center, and stability… especially considering how light it feels. When the goal is to carry a club that will compensate for a slice, the COBRA Air-X Offset will offer you that.
5. Ping G425 SFT Driver
(check out our full review of the Ping G425 SFT driver here)
My Recommended Handicap Range: 10+ (or anyone who struggles with a slice)
Lofts Available: 10.5°
Launch: High
Spin: Mid
Adjustable Hosel: Yes
Draw Bias: Yes
Offset: No
Ping's "ultra thin crown" surrounds an "internal dragonfly."
The claim here is that this design feature increases MOI. Higher MOI equals bigger sweet spot, greater forgiveness, and Ping is regularly towards the top of the (Moment of Inertia) numbers.
Also hidden inside the club head is the internal ribbing structure for improved sound and feel.
They first replaced the D for draw designation with its SFT (straight flight technology) designation in its iconic G30 driver back in 2014.
Like others, weight is shifted to the heel of the club, which along with other mitigation factors, including a lighter swing weight, creates a claimed 25 yard right-to-left bias over the G 425 Max version. That's a BIG claim for anti slice drivers!
1.5 degrees of adjustability means a driver that might play at 9 to 12 degrees of loft. There are also choices to flatten the lie settings, although this may not benefit a player looking for a draw bias.
No review of a Ping Driver would be complete without mentioning the turbulators. Muted somewhat since introduced in the G30, these design features are supposed to create an aerodynamic shape for faster clubhead speed, and thus, faster ball speed.
I've gamed the G30, G400 LST, and G410 max… and I can say that while distracting for some, the turbulators did give the club head an appealing look for me.
Overall, I was pleased with the performance of the G30 and G400 LST in the past, and this holds true with the G425 MAX SFT.
Why is it one of the best drivers to fix a slice??
A whopping 25 yard right-to-left bias over their regular G425 Max version. Do I need to say anything else?!
Pros
23 gram tungsten back/heel center of gravity weighting – the most of any driver reviewed
Extreme Adjustability – For proper launch and ball flight
Light Swing weight – Easy to close the clubface
3 shaft options – including two at 45.25
Lots of internal tech – Visually appealing clubhead
Cons
Only available in one loft
Sound/feel not optimal for some
The Bottom Line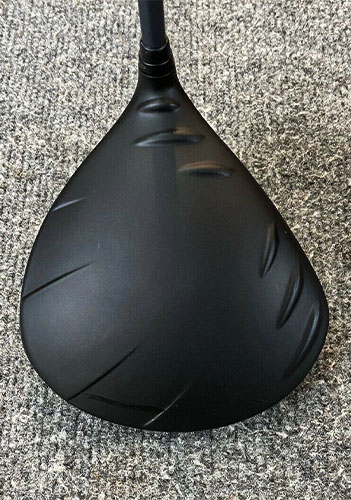 Ping has been viewed as an industry leader in the area of technological innovation and game improvement for over 40 years. Nothing shouts game improvement like a "draw" driver, as it has the potential to benefit 80 percent of all golfers.
If additional heel weight and lighter swing weight helps to reduce a slice and produce a draw, and they do, then this club starts out as a winner.
In fact, their line of G drivers has become so successful that they have abandoned any other designation. The SFT segment of that line provides an outstanding option for a golfer looking to straighten their shot shape.
---
And the Winner for the Best Anti Slice Driver is…
I went into this testing cycle looking for the best club to fight the dreaded over the top, left to right, rough finding, tree catching slice. There are plenty of options to choose from, and they are all good, but which one is best?
After some careful consideration, and sending lots of balls down range, there were some standouts from the pack. Rest assured, if you are looking for a new big stick to straighten your ball flight, you can find it. Here is what I found to be best…
Best Overall
This was a close race, but TaylorMade really brought the heat! The draw bias, high ball flight, and amazing forgiveness of the TaylorMade Stealth HD make it top of the class.
The red carbon fiber face certainly makes it best overall in looks! Not only was this the most anticipated club to test, it was the best performing slice killer.
Runner Up
Callaway continues to put out premium clubs for all golfer types. This year is no different. Adjustability, high ball flight, draw bias, forgiving, long, strong, stable, good looks… the list goes on. Anyone who goes with the Callaway Rogue ST Max D will be a happy camper!
Best Value Pick
This club could have easily won runner up, or even best overall. It has all the tools to help against a slice, and offers extreme distance.
An easy pick for best value, coming in at nearly 40% less cost than most of the competition, with all it has to offer, it's hard not to say that the Cleveland Launcher XL Lite Draw fits every slicer's bag, game, and wallet. Bravo Cleveland!
---
Final Thoughts – Best Drivers for a Slice Reviews
I hope you've enjoyed the read. More importantly, I hope that you find a driver in this group that allows you to enjoy the game, hit straighter shots, find more fairways… and ultimately have the most fun ever on the golf course for the rest of this season and beyond!
Best Golf Drivers Review
If you're NOT one of those golfers who slice the ball off every tee, and you want to step your game and gear up to the next level… we do have a review of the best drivers you need to check out.
I'll caution you though, these drivers are for the more advanced golfer with a lower handicap typically in the single digits.
---
BONUS – Stop Slicing Driver – what the tech ACTUALLY does
"Draw Bias" – What does it mean?
The main reason most people slice the golf ball is pretty simple… You aren't getting the club face back to square at impact (meaning, you're leaving it open).
There's actually several reasons this can happen.
One reason is just the fact that you're swinging too damn hard! That's fine, but for this type of slicer, a driver with more weight in the heel, less spin overall, and a heavier shaft option is PERFECT for fixing your slice.
THAT is the first thing that is meant by 'draw bias' – more heel weight in the club.
But, simply adding more weight to the heel introduces other problems. Typically, it shrinks the sweet spot, reducing forgiveness. And in general, hitting the ball with a slightly closed clubface reduces loft and even more forgiveness.
So, to complete the 'draw bias' technology, most manufacturers are using several different methods to add loft, produce a higher launch, increase the sweet spot, and increase forgiveness.
Each manufacturer has its own way of doing it, but usually more forgiveness comes from more weight in the rear of the club (among other new tech ways to increase ball speed across the face).
I hope that helps you understand what is meant by a draw bias or anti slice driver.
"Offset Driver" – What does it mean?
An offset club in general is a specific way some manufacturers are trying to help certain golfers square the clubface at impact. This method is different from those I talked about in the previous section for "draw bias" drivers, but can be used in combination with those techniques as well.
So what is it? Basically, there is an offset between the shaft and the front of the clubface. Check out the pictures below and you'll see what I'm talking about:
This offset allows you slightly more time to close or square the clubface just before impact… helping to prevent a tendency to slice.
So if you're lagging the clubface behind, OR you're simply just not able to square it up, the offset DELAYS the impact timing within your swing… thus, fixing your slice or helping you hit a draw (depending on your swing type).
---
FAQ – Best Driver to Correct a Slice
Note – Some of these FAQs were covered throughout the article, but I still get these questions a lot… so here are the "short and sweet" answers to the most common questions:
How to Fix a Slice in General?
If you're looking to work on your swing and fix the dreaded slice once and for all (with the driver or with anything else), then you may want to give this article a read.
Do draw drivers fix a slice?
Yes, in my opinion, draw drivers do help fix a slice. A draw biased golf driver simply means that it is designed to make you strike the ball with a more closed face. For guys who slice, the face will be more square… producing straighter shots. For slight faders or straight hitters, it will be more closed… producing a draw (right to left) shot shape.
Which driver is best for a slice?
The TaylorMade SIM 2 Max D is the best driver for slice because it has a draw bias, massive sweet spot, lots of forgiveness, high launch, adjustable hosel, and plenty of loft options. If you slice the ball off every tee, this is a great option for you!
Will the draw setting on driver help my slice?
If you have an adjustable golf driver, setting it to the draw setting will indeed help your slice. Otherwise, what's the point of having this setting?
Why do I slice my driver but not my irons?
A LOT of golfers slice their driver but not their irons because of a few reasons:
The driver is longer – so it's harder to "turn over", or square the club face at impact.
Faster swing speed – rather you're trying to swing harder to bomb it down the fairway, or you're just simply getting a higher swing speed due to the longer shaft, the bottom line is that a faster swing is more prone to lagging the club head behind, and ultimately leaving the face open… creating the slice.
Lower loft – it's much easier to put left or right spin on the golf ball with a "flatter" club. With drivers ranging between 9 and 12 degrees typically, it's your lowest lofted club in the bag. So a slight error in the club face angle at impact will put MUCH more spin on the ball compared to a less "flat" club with more loft such as a 7 iron. It's even harder to shape left or right with a wedge.
Longer ball flight distance – the error you'll notice in your ball flight will be MUCH more obvious and detrimental the longer the ball is traveling though the air.
Will a low spin driver help with a slice?
Be careful with this one. A low spin golf driver does NOT help with a slice. A low spin driver is referring to the overall rpm's of the golf ball's spin, and that is MOSTLY an upward lifting type stat. So low spin drivers are for golfers who have a very high swing speed and can produce enough spin to create optimum launch (basically height).
It's actually better for a slice to get a higher spin driver (basically just designated without the 'low spin' tag) with built in draw bias due to the fact that the closed face angle technology is naturally going to reduce spin (again, spin here is referring to loft and launch).
If you're looking for an in depth write up on exactly what type of spin you need, what loft driver you should use, and the relationship between launch angle and spin rate… check this article out right here.
Do offset drivers help with slice?
Yes, offset drivers help with fixing your slice. It's one method some manufacturers are using to help some golfers close the club face at impact, reducing the slice.
Why do I slice my driver but not my 3 wood?
Similar to the golf driver vs irons question, the 3 wood is a shorter club, higher loft, less golf ball travel distance, and ultimately will result in slightly less swing speed – thus, making it easier to square the club face and produce straighter drives than the driver.
Do pros use offset drivers?
No, pros don't typically use offset drivers. They have ironed out all the swing flaws you typically see with the amatuer or slice golfer.
What is the difference between a driver and an offset driver?
The difference between a driver and an offset driver is that the clubhead on the offset driver is a little further back from the shaft. This delays the impact point to be slightly later in the swing, thus allowing for a more closed or square club face angle at impact – ultimately curing your slice.
---
Discount Section – Our 2021 Draw Biased Driver Reviews
1. TaylorMade SIM2 Max D Driver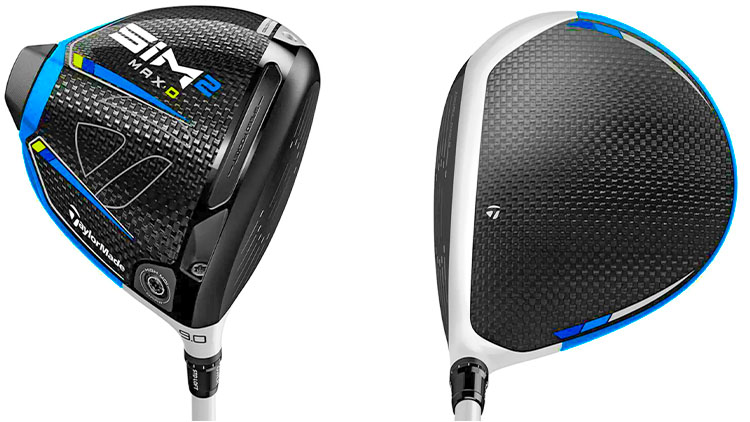 My Recommended Handicap Range: 14 and up
Lofts Available: 9°, 10.5°, and 12°     (Left Hand – 9° and 10.5° only)
Adjustable Hosel: Yes
Draw Bias: Yes
Offset: No
Average Cost New: $529.99
This driver is full of new tech. A draw driver of the past would have often sacrificed lots of forgiveness to produce a right to left (or a draw) ball flight (for a right handed golfer).
But we're not living in the past anymore!
High tech phrases like SIM Inertia Generator, Speed Injected Twist Face Technology,
Thru-Slot Speed Pocket, and Split Mass Weighting do all kinds of great things.
But, specifically for the Draw version of the TaylorMade SIM2 Max driver:  TaylorMade has moved the placement of the Sim Inertia Generator, an odd looking bit of tungsten that extends from the rear of the club, from the center on the SIM2 Max, towards the heel of the club on the draw version (effectively moving the center of gravity).
According to TaylorMade, and the laws of physics, this promotes a draw bias ball flight, while still preserving forgiveness! Effectively curing your slice.
In addition, the stock lightweight (mid 40's gram, depending on flex) Fujikura Air Speeder shaft is designed to produce a higher launch and peak ball flight, while enhancing spin rates.
Pros
Speed Injected Twist Face Technology produces maximum allowable golf ball speed
Thru-Slot Speed Pocket provides large sweet spot with more forgiveness on LOW face hits (for those of us that tend to stand up early through the release)
Great Sound and Feel
Fun to hit
Surprisingly VERY forgiving
Cons
Lack of movable weights
It looks weird at first glance, especially with the color scheme
Price is at the higher end for this category
No lefty 12° loft option
If you really like the TaylorMade SIM 2 series, but you don't feel like the draw version is for you… check out our in depth review of the entire series line over here. We go into great detail about each of the models in this family and why each one is good/bad for certain players.
The Bottom Line
I went to a TaylorMade fitting day at my club last Spring with the idea of finding a 3 wood. No luck! But the fitter said, "We have time, why not try a driver?" I said why not?
While there are a lot of custom options, I'm an average sized guy, so the stock model fit me fine…
I had a new one in my bag by the week's end!!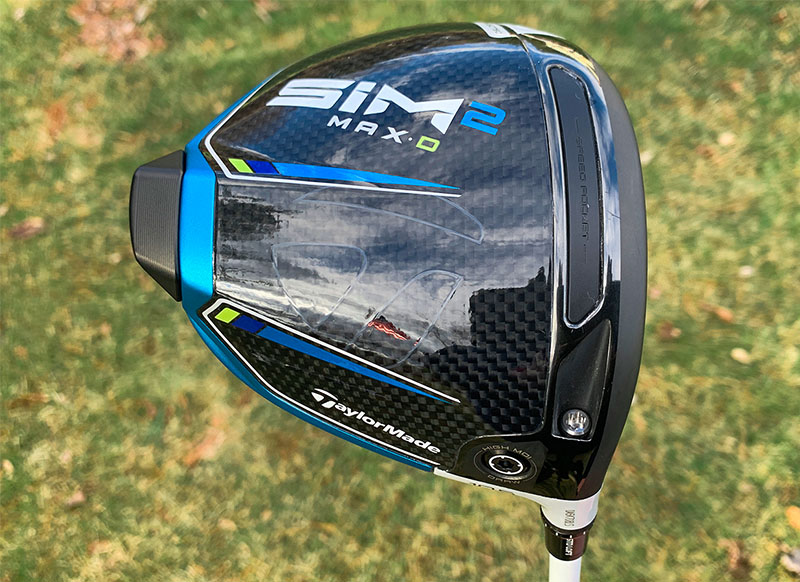 Fun to hit would best characterize this club. Imagine pulling driver from the bag and rather than being concerned about losing the ball in the woods, instead thinking, "I can't wait to hit this!"
Sounds good, feels good, goes far, MUCH more forgiving than more recent drivers offered by TaylorMade. The SIM 2 Max D is a winner and definitely one of the best drivers for a slice for 2021, bottom line.
2. Callaway Epic Max Driver
My Recommended Handicap Range: 10 and up
Lofts Available: °9°, 10.5°, and 12°
Adjustable Hosel: Yes
Draw Bias: Not stock, but can be adjusted to be draw biased
Offset: No
Average Cost New: $529.99
Although not a "draw-biased" driver per se, the Callaway Epic Max is billed by Callaway as their "most forgiving Epic ever." Combine that with the adjustable moment of inertia weight (in the draw position of course), and you have the perfect combination to fix your slice… and yes, hit draws!
Callaway uses a combination of artificial intelligence and their famous Jailbreak technology to create a nice combination of distance and forgiveness (with a massive sweet spot).
They use a special triaxle carbon material vs titanium to save weight in the club head, over 17 grams worth. That mass is then redistributed to promote a high launch angle and more forgiveness.
A common theme among this year's outstanding crop of draw biased drivers is the claim that they are more forgiving than in year's past. Again, in the past, typically adding in a draw bias would sacrifice forgiveness.
A large part of the way that Callaway accomplishes that goal is by providing a 16 gm, sliding rear weight, moving the center of gravity towards the heel, which leads to 20 yards of sideways adjustability in the club.
There are three shaft options that weigh between 40 and 70 grams, as well as three lofts to choose from. The stock length is 45.75 inches long. This is a bit of a concern as the longer the shaft, typically the more difficult it becomes to actually hit a draw.
Still, there is tremendous flexibility in this club because of the combination of an adjustable club head, sliding weights, and shaft options. These factors can definitely combine to make it easier to straighten out that slice.
Pros
AI – computer designed data feedback design to promote draws
Triaxle Carbon – lighter equals larger sweet spot with more forgiveness
Sliding rear weights – creates a large variable shot shape pattern
Jailbreak speed frame – Callaway 's secret long distance sauce
Several shaft options – able to fit many players and swing types
Cons
45.75" long shaft  – makes it tougher to draw
Price – Top end of the price point
The Bottom Line
There's a reason why Callaway is a leader in the golf equipment industry. Their fantastic R and D department knows the market needs well, and is always seeking to produce a product that perfectly fills those needs.
With the Epic Max, they have undoubtedly produced a driver that covers on two of the tech methods that help promote a draw shot shape:
The center of gravity is moved back produce a higher launch
The movable rear weight allows a player to move the center of gravity towards the heel of the club, helping a player close the face and produce a straighter or even draw shot shape
Players looking to reduce or even get rid of their slice should strongly consider taking advantage of Callaway 's customization options by shortening the shaft a bit.
Also, loft is often the friend of a person wanting to hit a draw. Setting the adjustable hosel to a higher loft will close the face, promoting a draw as well.
Finding the proper blend between shaft length, loft, and weight distribution in the rear of the club will give a player a great chance to hit the ball longer, with more accuracy, and straighter drives.
The Callaway Epic Max is a driver for a slice, and allows for that possibility to become reality!
If you're looking for even more info on the Callaway Epic Max driver, check out our full review right here.
3. Cobra Radspeed XD Driver
My Recommended Handicap Range: 10 – 25
Lofts Available: 10.5°, 12°     (Left Hand – 10.5° only)
Adjustable Hosel: Yes
Draw Bias: Yes
Offset: No
Average Cost New: $449
(click to check out our full review of the Radspeed XD)
The technical story of the Cobra Radspeed XD, short for "XTREME Draw", is much the same as the other drivers in this review.
However, there is one big difference… its CNC Milled Infinity Face. Cobra claims that this increases ball speed across the club face, leading to even greater forgiveness.
The T-bar Speed chassis (lots of race car type terminology being employed in golf these days) creates greater speed.
Its Thin-Ply Carbon Wrap Crown is lighter, allowing for more discretionary mass in other spots… spots that will help mitigate a slice, or for some, produce a draw.
Predictably, these spots are in the heel (10 gram), and the back (14 gram). Weight in the heel helps close the face, and weight in the rear increases MOI, leading to a greater sweet spot (more forgiveness!).
The shaft options for this driver are outstanding. I've gamed the Fujikura Motore, and know first hand that it's a fairway finder. And by all accounts, the other option, the Project X Even Flow Riptide, is a bomber.
They come in weights from 45 to 70 gram. But once again, they are surprisingly long, 45.75". It will sound like a broken record, but if you're struggling with a slice, then going shorter and adding loft are the best ways to mitigate.
Pros
CNC Milled Infinity Face – Greater ball speeds across the face
T-Bar Speed Chassis – Faster, longer
Thin-Ply Carbon Wrap Crown – Lighter, more discretionary weight elsewhere
Shaft choices – High quality and multiple options
Mid-price point
Cons
10 gram heel weight – less than other OEM's
No sliding back weight
45.75" Shaft length – Not helpful for a slice golfer
The Bottom Line
Perhaps the first word that comes to mind when thinking Cobra is COOL. It always seems as if their pros are the young hipsters, and that's who they market towards.
Those young hipsters need to acknowledge that while they may be fit, they don't have the time to work on their game like a Bryson or Ricky. The faster clubhead speed that their athleticism allows for often produce wild slices.
This makes the Radspeed XD an IDEAL driver for that type of player, or for that matter, anyone who struggles with a slice.
With so much adjustability, plus two great shafts options, you just have such an array of combination possibilities.
This iteration of the Radspeed is a needed option for the player that struggles with a slice is at a great price point for this category of "best drivers for a slice".
4. Cobra F-Max Airspeed Offset Driver
My Recommended Handicap Range: 12 and up
Lofts Available: 9.5°, 10.5°, 11.5°     (Left Hand – 10.5° only)
Adjustable Hosel: No
Draw Bias: No, not on the face angle, but does have an offset
Offset: Yes
Average Cost New: $329
While not specifically marketed as a draw driver, the Cobra F-Max offset claims to be for slower swingers. A good deal of its tech would benefit a slice golfer though.
There is the typical low back weighting for maximum MOI, back heel weight to help close the face, and the offset that makes a closed alignment at address and delivery far easier.
As we've seen throughout our review series the additional rear weight is found by building the crown of the club head out of lighter carbon fiber material.
The F-Max offset has a fixed head. What will set it apart from the group though, is its weight. At between 270 and 290 grams, it's 50 grams lighter (over 15%) than any of the other Cobra offerings.
The lighter weight comes not only from the crown, but the Airspeed shaft (specifically designed for Cobra)… 5 grams less than normal at whatever flex selected. And also a grip which weighs in at 41 grams as opposed to the normal 50 plus.
Beyond a doubt, the tech in this driver is set up to help a slower swinger, particularly a senior, swing it much faster. Once more though, the shaft is long at 46 inches. This may help with speed but might hurt in regards to catching the ball consistently in the center of the golf club.
Pros
Light overall weight – adds swing speed
Back heel weighting – helps reduce slice
Offset – helps to square (or even close) the club face at impact
Price – very nice value
Cons
Fixed head – lack of adjustability
No center of gravity adjustment weight (but this is basically built into the driver already for a draw-bias)
Loft options – great for righties, not lefties
The Bottom Line
The Cobra F-Max is an interesting option in our category of best driver for slicers.
Its tech sets up well, as long as the player understands what kind of slice he struggles with. For example, I used to play a lot of golf with a guy who was a solid 4 handicap. He hit low fades with every golf club in his bag and had a swing speed with the driver well north of 100.
This driver would not be for him.
However, for the Senior golfer who swings in the low 80's swing speed, and can't afford even the 5 yards he loses from curving the golf ball right… this driver could be a GOD-SEND!
In fact, there is also an option for the slower swinging player who hits a draw, as Cobra will build this driver without the offset for those who prefer that look.
If you're a player getting long in the tooth who has lost a bit "off the fastball", this one could be just the thing to revive your game, make the course shorter, and enhance the fun.
Like other offerings, the shaft length is a concern, but a slower swinger is exactly the type of player who should consider a longer shaft setup. But still one of the best drivers for a slice on our list.
5. Tour Edge Hot Launch E521 Driver
My Recommended Handicap Range: 10+
Lofts Available: 10.5°, 12°, and 15°
Adjustable Hosel: No
Draw Bias: Yes
Offset: Yes
Average Cost New: $229.99
For a measly $229 retail, this driver packs a lot of tech. It comes with the Houdini sole that "moves weight low and deep for the easiest possible launch" and, wait for it… yes by now you know, "a large sweet spot with the most forgiveness possible".
As with all of the drivers to help mitigate against a slice, this one also has heel sole weighting that makes it far easier to square the club face.
While this is another fixed head design, the offset works in "conjunction with heel weight to close the face at impact." There is a shallow face, and the driver itself comes in higher loft… so it's actually set up much more like a 2 wood than a traditional driver.
Throw in a shorter lighter shaft, and that observation rings true. This tech does everything possible to produce a draw.
Pros
Sole – CG is low making high launch possible
Heal sole weight – helpful for a slicer
Super Shallow Face – Confidence instilling
More loft / less shaft – Ideal combination for a slicer
Price point – great value
Cons
Fixed sole – what do you expect for $229?
Considering the category, I can't find another con haha
The Bottom Line
"Experience the magic of the easiest driver you will ever hit" states David Gold, President, Founder, and Master Club Designer at Tour Edge.
Normally I'd say this is a bunch of hype, but not this time. Tour Edge is a sleeper OEM. They build clubs suited for the average player, and yet good enough to be used by guys on the Champions Tour.
The tech shouts… slice golfers, slow swingers, come play with me and start knocking it past your buddies, oh and in the fairway, too.
If you struggle with a slice, the Tour Edge Hot launch E521 is an absolute must finalist on your list, especially if you're an older player or someone with modest, sub 90 mph swing speed.
Maybe "the driver for slice"… For many, this one will be the best in show, and at $229 it is an absolute steal.
---
And the 2021 Winner was…
As I began the process of writing these reviews, I had my thoughts on what driver or drivers would be the best choice.
As I worked through the process though, I quickly realized that there are a variety of slicers, and thus there are reasons why each one of these might be the best choice for different golfers.
Best Draw Bias Driver
With all that being said, the winner for Best Draw Biased Driver is… the TaylorMade SIM 2 Max D.
This driver is just so much fun to hit and I get such high ball speeds! That's due to the Speed Injected Twist Face Technology, the overall light weight of the golf club, and the Thru-Slot Speed Pocket's extra forgiveness.
You've got all the different loft options, the adjustable hosel, and of course the draw biased tech.
AND, most importantly, it actually delivers by creating that "oh so desired" right to left draw shot shape! I literally have to TRY extra hard to make this one even fade.
If you're struggling with the driver slice, and you're constantly missing fairways to the right, I believe this is the absolute best draw driver available to date for you and your swing type.
Best Offset Driver
If we're strictly talking offset drivers, I really do like the Cobra F-Max Offset.
It's not marketed as a "draw bias" driver, but everything about it and it's tech definitely help produce the right to left shot shape.
The overall light weight helps produce higher swing speeds. You got the extra weight in the heel to reduce slice spin.
And of course, the offset club head… making is ridiculously easy to square, or even close, the club face at impact.
I really love this golf driver for what it does… fix the dreadful slice! Not a bad price either.
Best Value Pick
Don't let the word 'value' scare you. It doesn't mean it's an inferior product. In fact it means the exact opposite. It means you're getting PERFORMANCE at a discount!
For this one, I'm going to have to go with the Tour Edge Hot Launch E521.
Yes, it lacks the adjustable hosel and may not be the "premium brand" you're used to. But it really is a great driver, especially for curing your driver slice… and at $229, you really can't go wrong honestly.