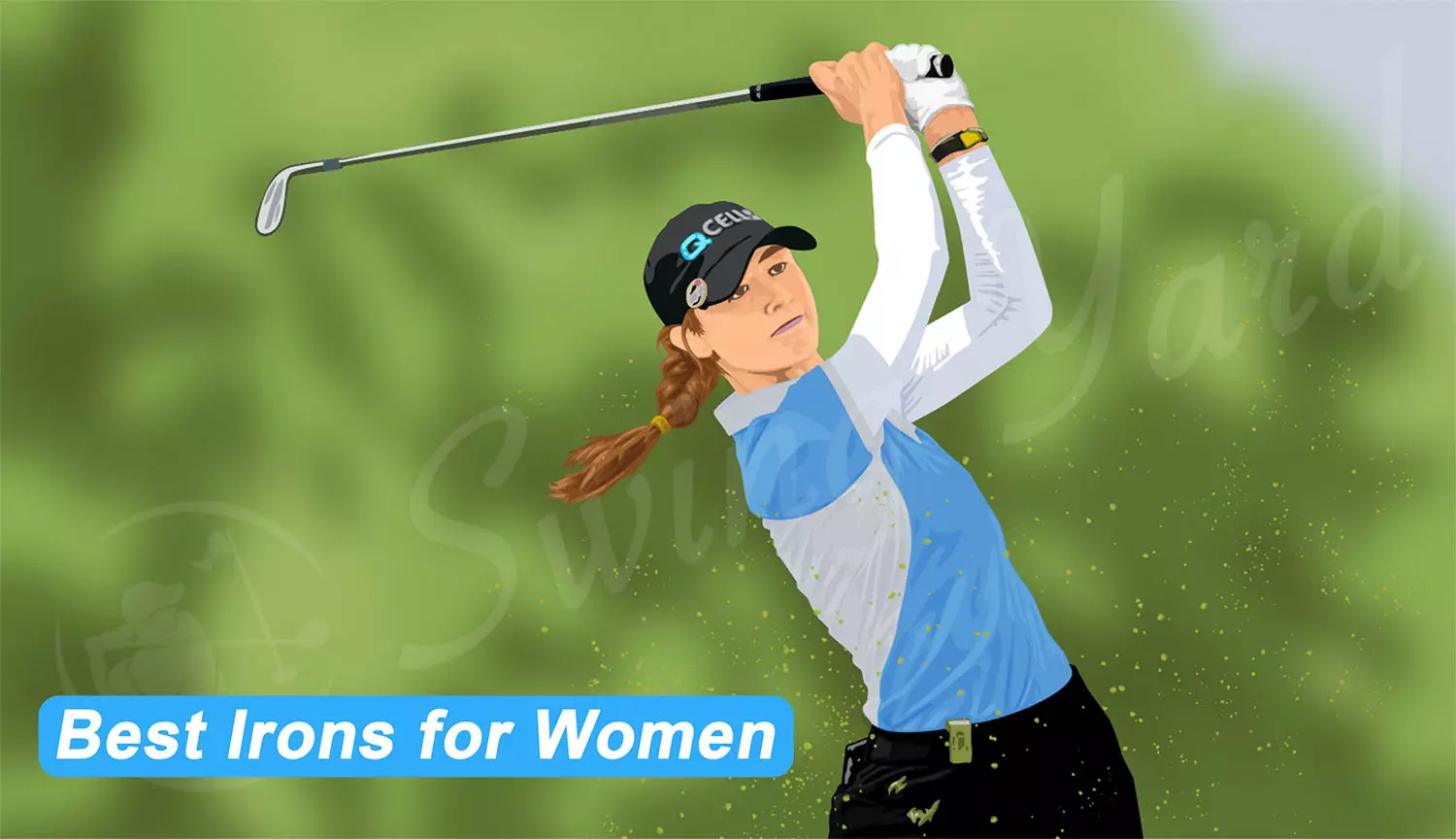 By Britt Olizarowicz – Oct 3, 2023
(Reviewed by Coach Erik Schjolberg)
Key Takeaways
Match your skill level with the iron set (this is important)
You only need a 6-PW or 7-PW (get hybrids/wedges separately)
Slower to average swing speed – get a lightweight graphite shaft
Faster swingers – you can get men's shafted irons
Sole width – wider is easier, narrow is more advanced
For most women golfers, the irons make up the majority of the golf club set. Even if you have a few extra hybrids or wedges, you need golf irons that have great feel, precision, distance, and accuracy. I've tested a lot of women's golf irons and selected a few that I think are the best.
Our Picks – Best Women's Irons
The best irons for women are often made specifically for the woman golfer in mind; however, that is not always the case. I'll show you how to make sure you have the best women's irons for your game, regardless of budget and playing ability.
---
Best Golf Irons for Women – My Test Results and Rankings:
#1. Callaway Paradym X Ladies Iron Set
🏆 Best Overall Women's Iron 🥇
My Suggested Handicap:
 5 to 20
Pros:
Great performance attacking greens
Lots of distance
High ball flight
Cons:
Wide soles aren't best for low handicap players
Expensive with graphite shafts
We earn commission if you make a purchase, at no additional cost to you.
My Experience (with pictures):
Both the Callaway Paradym and the Callaway Paradym X deserve a spot at the top of this list. I tried both golf irons for women and found:
The Paradym X is just a little more consistent and forgiving, so it earned the top spot.
If you're on the lower end of my suggested handicap range, try the standard Paradym as well.
The great thing about the Paradym women's golf irons is that they take all of the impressive technology from Rogue and Mavrik and put it into one – you get the Urethane Microspheres for a soft feel, and a forged face.
In addition, each face was optimized for better speed and high launch.
Women golfers often struggle with control of their golf iron. I'm impressed with the ability to hit the Paradym X high enough to get it to stop on the green. These are game improvement irons where feel was not overlooked.
The Bottom Line
If you want something that looks clean, has plenty of distance, and also performs well around the green – give the Paradym X a try.
We earn commission if you make a purchase, at no additional cost to you.
#2. TaylorMade Ladies Stealth HD
🏆 Best For Beginners 🥇
My Suggested Handicap:
 17+
Pros:
Really easy to hit these clubs!
Lots of distance, even on miss hits
Launches the ball quite high, even out of the rough
Perfect for beginners and those struggling to hit the ball off the ground
Cons:
Shaping of the head is not standard
Not much workability for advanced players
We earn commission if you make a purchase, at no additional cost to you.
My Experience (with pictures):
The Ladies Stealth HD is a very forgiving iron set, certainly built as one of the best women's golf irons for forgiveness.
When I first tried this club, I didn't think I would like it because of the look. It's a very unique-looking clubhead with a long blade length and almost a hybrid type thickness to it.
But if you can get past the design being a bit different, you'll benefit from incredibly easy-to-hit womens irons.
I liked the Ladies Stealth HD because the ECHO Damping technology helps to:
Minimize vibrations at impact
And improve feel
However, the technology that stands out the most in this iron is forgiveness. The center of gravity is positioned very low to increase launch and ball speed even when you miss the center.
The Bottom Line
If you're a higher handicap woman golfer looking for a club that goes high and long, the TaylorMade Stealth HD is a great choice.
We earn commission if you make a purchase, at no additional cost to you.
#3. Cobra Ladies AeroJet Womens Iron Set
🏆 Best Feel/Lightweight Combo 🥇
My Suggested Handicap:
 10 to 25
Pros:
Comes with hybrids and irons in the set
Best for lightweight and lightweight combo
Lightweight KBS PGI Graphite shafts
Improved sound/feel with new bridge weighting
Cons:
Club head not specifically designed for women
Best for mid to slow-swing-speed golfers, not faster swing speed
We earn commission if you make a purchase, at no additional cost to you.
My Experience (with pictures):
Cobra always does a great job making ladies iron sets that have plenty of forgiveness built in. In addition, most of the Cobra ladies irons are sold as combo sets.
The irons transition well into the hybrids, making them a great choice for all-around game improvement.
I played with Cobra irons for quite a few years, and I was always impressed with the feel they offered. The new Cobra Ladies Aerojet has H.O.T. Face Technology which is Cobra's version of AI in a clubhead.
In my test, I found that combining the H.O.T. face with the PWRSHELL Face Insert really helped improve:
Ball speed
Consistency
Overall feel
Cobra in the past lacked when it came to distance in womens iron sets for quite a few years. However, with the latest releases, the distance in these clubs will compete with any of the best irons in the game.
The Bottom Line
The Cobra Ladies Aerojet is an all-around good iron choice that can help women golfers increase club head speed (to hit it further), and improve accuracy of your golf shots.
We earn commission if you make a purchase, at no additional cost to you.
#4. Ping GLe 2 Womens Golf Irons
🏆 Best for Intermediates 🥇
My Suggested Handicap:
 10+
Pros:
Lots of distance and higher ball speed
Impressive feel with co-molded cavity back
Cleaner top-down look
Cons:
Not quite as much distance as Callaway Paradym irons
Thick sole doesn't inspire confidence for beginners
We earn commission if you make a purchase, at no additional cost to you.
My Experience (with pictures):
I always like to try the Ping ladies' golf clubs simply because they are known for a great feel. When hitting iron shots, feel is so important from an accuracy standpoint.
A women's golf iron has to give you confidence but, at the same time, feedback to hit it close:
The Ping GLe 2 was my favorite of all the ladies' golf irons I tested when it came to feel.
Even though this club has a light swing weight and a game improvement iron, it has some impressive speed and playability.
In addition, the top-down look of the club head is just a little cleaner than other irons made for female golfers. I know a wider sole helps with forgiveness and turf interaction, but whenever the top line can be just a little thinner, it makes for better looking golf clubs.
I like this Ping iron for golfers in the mid-handicap range that care about:
Hitting precise shots
Getting the ball up a little higher in the air
And increasing overall speed (more distance)
The Bottom Line
If you have played golf for many years, you know what good feel is – and it's worth investing the money into women's golf clubs with a good feel.
We earn commission if you make a purchase, at no additional cost to you.
#5. TaylorMade Kalea Premier
🏆 Best Value Women's Iron Set 🥇
My Suggested Handicap:
 15+
Pros:
High ball speed (more distance)
Extra forgiveness from previous Kalea models
Better feel and more stability at impact than other golf irons in the price category
Cons:
Won't have the feel of forged golf irons
Very lightweight, better for slower swing speed players
We earn commission if you make a purchase, at no additional cost to you.
My Experience (with pictures):
If you asked me a few years ago what I thought about the Women's Kalea game improvement irons, I would have told you to look for an alternative golf club. I felt like the original version of these irons was made with value in mind, but the rest of the performance was not great.
I was reluctant to even try the Kalea Premier or put them on this list… but I'm glad I did.
I think when it comes to value, especially for the newer (or more occasional) golfer, the Kalea Premier is a great solution.
The cap back design has impressive forgiveness and a solid feel at impact. In addition, the Kalea Premier 40 Graphite Shaft has a soft but responsive feel, ideal for irons for women.
This set does not come with long irons, and that is not a bad thing!
Consider adding a few hybrids in to complete your golf club set makeup.
TaylorMade kept the technology simple in the Kalea, it's not quite like a Stealth, but I don't think that's a bad thing.
The Bottom Line
TaylorMade did a great job with the new Kalea irons for those with slightly slower speeds that are seeking forgiveness and higher launch. If you don't want to break the bank but also want to increase confidence, this is a club to try.
We earn commission if you make a purchase, at no additional cost to you.
And the Winners are…
When choosing irons for women this year, make sure you're also considering clubheads that are not necessarily made for women golfers. Something like the Aerojet and even the Paradym X are made for all golfers, and they have shaft customizations to work for women.
Best Overall Womens Irons
The best irons for women are the Callaway Paradym X. IF you have not updated your golf irons in the last few years, the technology in this clubhead will impress you. It's got a high and quick launch and enough spin to actually control your shots on the green.
Best Women's Irons for Beginners
I found the TaylorMade Ladies Stealth HD the best choice for beginner ladies. This newer option will make learning the golf game that much easier. Expect the ball to launch high and be really easy to get out of the rough.
Best Value Women's Irons
The best value women's golf irons are the TaylorMade Women's Kalea Premier. Pricing on these remains fair, about feel forgiveness and overall distance technology is still quite good.
---
How To Choose the Best Ladies Iron Sets for You
The best women's golf irons come in a variety of options, and women can even play with men's irons. Here is how I suggest finding something that is the right choice for your golf game.
#1 What Clubs Do You Really Need?
Most women's golf irons come in a set of 6-Pw or 7-PW
Finding something with a 4-PW for a female golfer is rare (and usually unnecessary)
With the average swing speed of female golfers being lower than that of male golfers, choosing a more lofted set of irons that transitions into hybrids is a better decision. For an average swing speed woman golfer, I recommend a set makeup similar to this:
5 Hybrid
6 Hybrid
7 Iron
8 Iron
9 Iron
Pitching Wedge
Gap Wedge
Sand Wedge
Here's an example of the difference between a women's iron and a hybrid or wood (the iron is on the right):
#2 Loft and Launch Angle
Modern golf irons are made with lower lofts and a more centralized center of gravity. If you're a female golfer struggling to stop a ball on a green, choose a golf iron with a lightweight shaft and enough loft.
Something like the Paradym X (my #1 pick in this article) is a strong lofted golf iron, and has Tungsten material built into the head to help get the ball up off the ground.
The key is to choose something that gives you distance, but doesn't take away your ability to control your shots.
#3 Sole Width
The wider the sole width, the easier it is to get the golf ball up in the air. A standard women's golf iron will have a wide sole that improves launch, especially out of the rough.
If you're a golfer that stands over an iron shot and lacks confidence, the wider sole width is a good decision.
If you're a player that is looking for playability and workability, the wide sole width can present a problem.
Be aware of this when shopping for golf irons for women because it tends to be a trend that is continuing.
#4 Shaft Selection
There's really only two choices:
Lightweight graphite shaft – Almost all golf irons for women come stock with this. To be honest, this is what most women golfers need.
Men's regular shaft – if you're a faster swing speed player, you may need a men's regular graphite or maybe even a men's steel golf shaft.
Try taking some swings with your driver and record the speed. If you're getting closer to the 80 or 90-mph range, don't get stuck with women's graphite shafts in your irons. Instead, consider a men's golf shaft.
Key tip: A senior golf shaft is longer than a woman's golf shaft, but it is typically the same flex. Don't switch to senior if you have extra speed; it will be too long.
---
Final Thoughts – Womens Iron Set
Hopefully, you now feel as though you can pick a golf iron with full confidence. The Callaway Paradym X was my favorite choice, but the Cobra Ladies Aerojet and Ping GLe 2 also stood out.
I encourage you to look at new technology if you have been playing with your current clubs for five years or more. In addition, if your golf game is struggling, don't count out your equipment as the culprit.
---
FAQ
Hopefully, I've covered most of what you need to know about the best womens irons on the market this year. Here are a few questions I'm often asked about the best golf irons for women.
What are the most forgiving womens irons?
From a forgiveness aspect, I like the TaylorMade Ladies Stealth HD. The iron performs like a mix between a hybrid and an iron, something that higher handicap women golfers will greatly benefit from. 
Which iron (in your bag) is most forgiving?
Most women golfers find that the short irons and wedges are more forgiving than the longer irons. The short irons are slightly shorter in length, and because of that, it's easier to release these clubs and hit a controlled shot.
Are women's irons different than men's?
Womens golf irons are different than men's in the following ways: more flexible shaft, shorter length, lighter overall, smaller/thinner grips, and may have more "girly" color options like pink and purple.