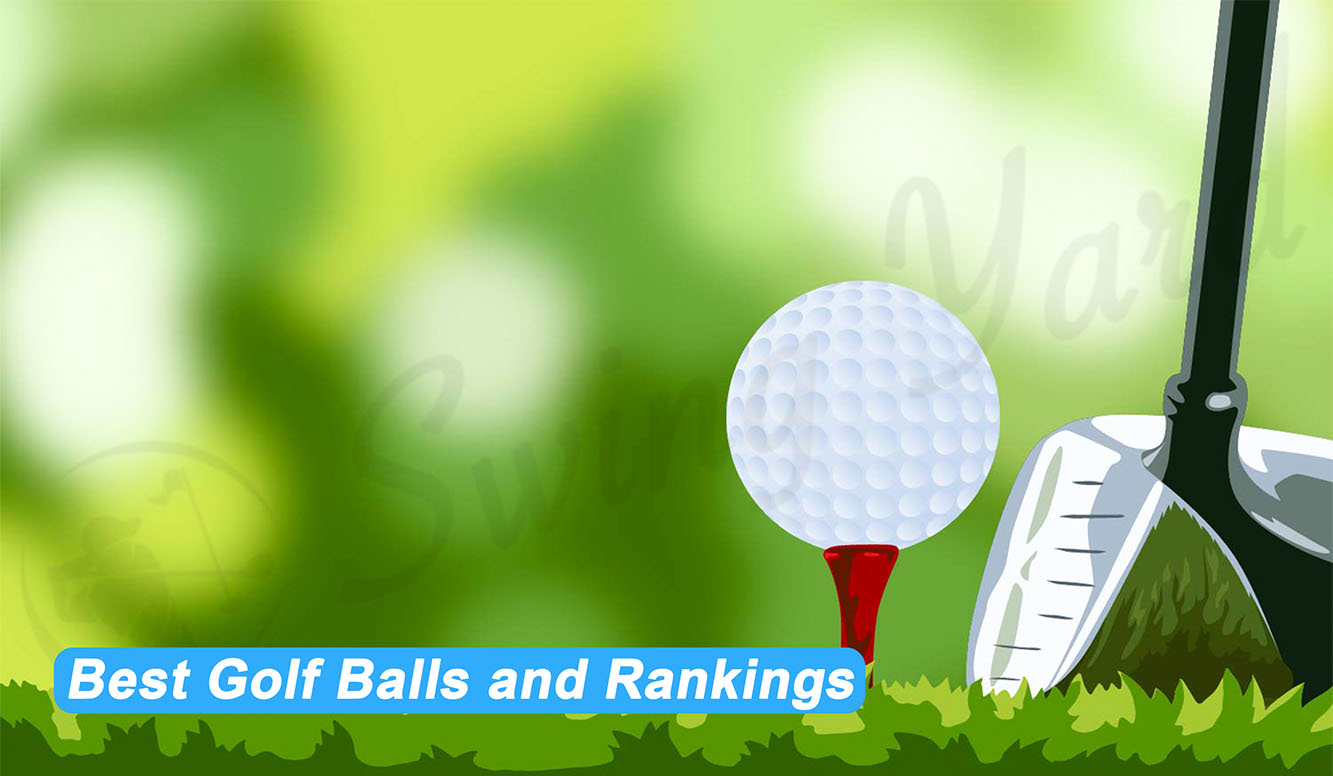 Author: Matt Callcott-Stevens - Matt first picked up a golf club in 1994 and has never stopped swinging. As a junior, he played competitively and eventually represented his school and Country at the 2007 World Schools Golf Challenge in Christchurch, New Zealand.
I put numerous golf balls to the test to find the products that produce the best overall performance from tee to green.
Naturally, most of these golf balls are premium products, consisting of several layers. The inner core and mantle boost ball speed and reduce spin, while the urethane cover amplifies greenside backspin.
However, hidden among these works of art are a few affordable performers that are worthwhile for the average golfer as well.
---
Test Results and Reviews – The Best Golf Balls Ranked:
1. Wilson Staff Model R
Shocked to see Wilson at the top of our list!?!
Me too!
But Wilson has upped their game in recent years, shifting from their repertoire of rock-hard distance golf balls.
I noticed that the Wilson Staff model felt soft and performed optimally from tee to green. The V-COR Advanced Performance core amplified the transfer of energy at impact, generating explosive velocity and optimal distance.
I was pleasantly surprised by the effects of the unpainted urethane ball, as it produced a low and straight trajectory for improved accuracy. Conversely, it gripped into the grooves of my wedges and helped produce sensational greenside spin.
Despite its all-around performance, there is a catch – the Wilson Staff Model R carries a compression rating of 100, which is built for faster swing speeds. Therefore, I've found that golfers with moderate to slow driver swing speed will struggle to get this ball in the air.
The Bottom Line
Wilson claims that the Model R is their longest golf ball with a driver, which I can believe if you possess the necessary swing speed.
What impressed me the most during testing was the straight ball flight this unpainted urethane ball produced. Based on my experience, I recommend players with faster swing speeds try this impressive 4-piece urethane construction.
---
2. Srixon Z-Star
My initial reaction when testing this golf ball is that it is a well-rounded construction, creating a balance between distance, spin, and consistency. I noticed that it produces rapid velocity and minimal spin on long shots and high spin on approach. This helps you maximize long game distance and enhance control on approach.
The 338-speed dimple pattern helped the ball cut through the air and reduce the impact of an oncoming breeze. In addition, the slits minimize drag and boost flight to maximize carry distance.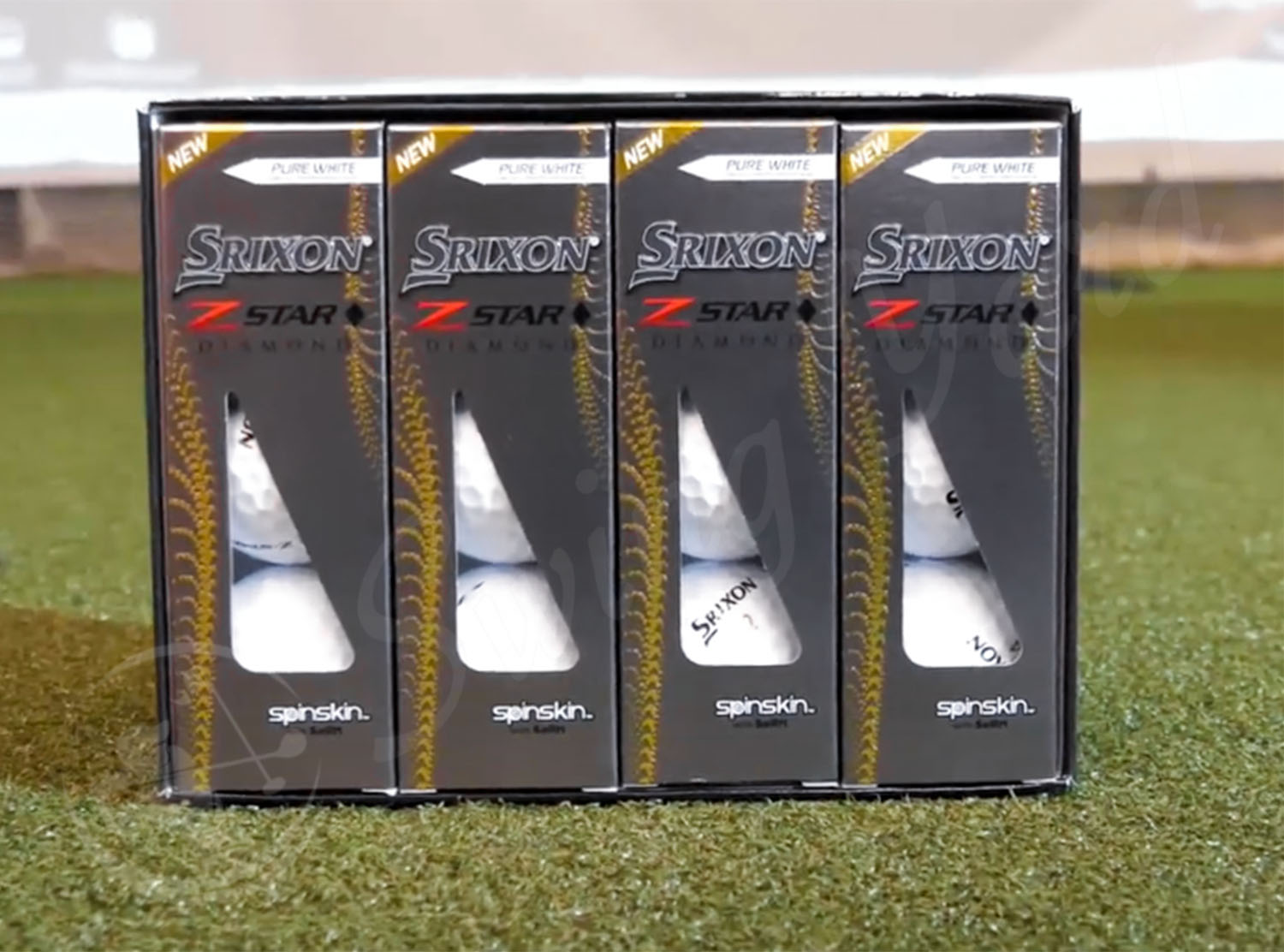 The engine of this golf ball is the Fast Layer core which is responsible for exploding ball pace and softening the feel. The soft center mutes the feel while the firmer edges ensure rapid velocity.
Finally, I appreciated the SeRM Spin Skin cover, a thick thermoplastic urethane cover. It bit into the grooves of my wedges and short irons to amplify spin on approach.
The Bottom Line
I have always enjoyed Srixon golf balls for their performance, and value for money. Although the Z-Star is a premium golf ball, it offers excellent value for money to faster swingers. You'll find it lowers spin and increases zip on long shots while spinning hard around the green.
---
3. TaylorMade Tour Response
The TaylorMade Tour Response is a suitable golf ball for mid to low handicappers seeking distance off the tee and spin around the green. I noticed that these fetch roughly $10 less per box than the TaylorMade TP5x, but it delivers the all-around performance of its famous relative.
I appreciated the inclusion of the High Spring Core, which possesses a compression rating of 40. This optimized rebound off the driver for explosive zip, launch, and distance. The core is supported by the Speedmantle HFM which is positioned to ramp up speed.
Contrary to distance and speed, the golf ball's urethane cover bites aggressively into your wedge grooves, prompting exceptional spin. You'll notice when playing these dimples that you produce optimal results off the tee, on approach, and around the green.
The Bottom Line
After taking the Tour Response for a spin, I believe it is a suitable choice for mid and low-handicappers looking to lower their expenses on urethane products. You'll find that this golf ball helps you improve your ball speed, distance, and spin for consistent results.
---
4. Titleist Pro V1
Titleist Pro V1 is arguably (but who is really arguing?) the most famous premium ball in golf.
But although every golfer desires to play these modern golf balls, I've found that they best suit faster swing speeds. The high compression rating does not suit slower swingers (unless you really know how to compress a golf ball well).
The combination of a 2.0 ZG Process Core and High-flex ionomer casing delivers exceptional long-game results.
I noticed that the core boosted the energy transfer, accelerating ball zip. In addition, the ionomer casing aided my velocity and reduced spin. Together, these components produce impressive yardage off the tee and on long approach shots.
Unlike distance balls, the cast urethane cover on the Pro V1 promotes rampant greenside spin for superb control around the dancefloor. You'll notice it features a 388 tetrahedral dimple design that encourages penetrating trajectory for added carry distance.
The Bottom Line
There is no doubt that the Pro V1 is a work of art. It delivers speed and low spin for distance gains, while boosting backspin for short game control.
Despite these mouthwatering features, it is not suited to slow swingers AT ALL. Therefore, it is the right golf ball for fast-swinging golfers who can handle a high compression construction.
---
5. Bridgestone Tour B X
Bridgestone, like Titleist, is one of the oldest golf ball manufacturers on the planet. The rubber experts have constructed quality premium balls since 1935, and the Tour B X is proof they aren't done innovating. I loved the Reactiv iQ Urethane cover because it adapted to varying impact forces.
When you strike this golf ball,  I've found that it rebounds excessively off your driver, fairway woods, and long iron strikes. In this instance, the Gradational compression core supports the cover, accelerating ball velocity and restricting spin on high-impact strikes.
On the contrary, I found that the softness of the urethane cover stuck to my wedges and short grooves for longer. That caused my ball to produce optimal backspin rpm to stop rapidly near the flag stick.
The Bottom Line
You'll find that the Bridgestone Tour B X provides exceptional all-around performance from tee to green. The soft urethane cover rebounds rapidly on tee shots and stays on the face for longer with wedges and short irons.
While this is all well and good, you best possess a swing speed above 105 mph for optimal results.
---
6. TaylorMade TP5X
The TP5X is the faster relative of the TP5, the arch nemesis of the Titleist Pro V1. The previous balls on this best golf balls list are popular among tour pros and low handicap amateurs. I find this high compression urethane cover ball maintains pace on drives and long iron shots while spinning superbly around the green.
You'll notice that these complex five-piece constructions are driven by a Large Reactive Core, an HFM Speed Layer system, and the urethane cover. The large core stores and exerts energy when required to produce explosive zip and impressive distance numbers.
I found the HFM Speed Layer supported the core to ensure I generated adequate speed and low spin on long shots. On the contrary, the soft urethane cover bites into your grooves on low-impact shots producing escalated spin on approach.
The Bottom Line
It feels soft, launches high, and provides ample spin to help you stop your golf ball rapidly on approach. The TaylorMade TP5X offers all the features you need to excel on the golf course; the only catch is that its high compression rating is best for fast swing speeds.
---
7. Titleist AVX
The Titleist AVX is a premium golf ball built for the average golfer seeking all-around performance. I found I delivered consistent ball flight and improved carry distance, thanks to its 348 catenary dimple pattern.
Before the ball took flight, the reformulated core and high flex ionomer casing layer enhanced velocity and minimized spin for impeccable distance.
(If you're looking for pure distance balls, then find out what is the best golf ball for distance)
On the contrary, the urethane cover sprung into action on low-impact strikes to produce shot stopping spin on approach. This helped me get my ball up to the cup and stop it immediately, a trait I find helpful on well-manicured golf courses.
The Bottom Line 
The AVX contains a moderate compression rating, making it ideal for mid to fast swing speeds. The three-piece ball restricts spin and accelerates ball speed in your long game while boosting rotation with your wedges.
This all-around golf ball does what you need, but that level of obedience comes at a premium.
---
8. Callaway Chrome Soft X LS
Along with the Callaway Chrome Soft X, the X LS golf balls produce the fastest ball speed in the range. During testing, it became evident that the Hyper-Elastic SoftFast Core worked wonders for lower spin and rapid pace. I produced satisfactory results on long game shots thanks to this design.
You'll find that once you launch your golf ball, the Tour Aero dimples kick in for an uninterrupted flight and exceptional carry distance.
Besides boosting your yardage, the Callaway Chrome Soft X LS contains a soft urethane cover, which improves short-game spin. This enhances your control and performance around the green for more up and downs.
The Bottom Line
Those able to generate explosive clubhead speed and handle a high-compression golf ball should test the Callaway Chrome Soft X LS balls. I've found that it flies long, spins hard, and is surprisingly a very forgiving golf ball.
---
9. Srixon Q-Star Tour
Out of all the golf balls I tested for this review, the Q-Star Tour was the one best golf balls suited to my swing speed. I swing around 85 mph on an average day. I found that this golf ball delivered what I asked for.
The FastLayer Core stood out for me as it amplified energy transfer between clubface and ball at contact, prompting impressive pace.
After producing ample velocity, the Speed Dimple Pattern stepped in to reduce drag, boost lift and ensure penetrating ball flight. On long shots, I found that it restricted sidespin and promoted straighter carry.
The final piece of the Q-Star Tour is the Spin Skin SeRM cover. Its urethane coating contains molecular bonds enabling the surface to etch into your grooves on less powerful strikes. This produces unrestrained spin.
The Bottom Line
Of all the best golf balls in 2023, the Srixon Q-Star Tour is my preferred option for medium swing speeds. Its moderate compression rating makes it easier for the average golfer to strike and send airborne, while the soft urethane cover controls your short game results.
Finally, it is an affordable option for the average golfer to enjoy.
---
10. Bridgestone Tour B XS
The Bridgestone Tour B XS was crafted in collaboration with Tiger Woods to provide an all-around performance from the tee box to the green.
I did feel the effects of the Reactiv iQ urethane cover, which rapidly rebounded off the clubface on long shots. Unfortunately, my moderate swing speed was insufficient to achieve the desired results.
Besides its ball speed and distance performance, I enjoyed how the ball gripped to the grooves of short irons and wedges to produce ample spin. This was arguably my favorite feature of the golf ball.
The Dual Dimple technology helped the golf ball produce efficient trajectory and limited drag. However, I sacrificed yards because of my slower swing speed. Despite shaving distance from my long game, I also noticed that this ball rolled further than most of our test subjects.
The Bottom Line 
If you produce over 105 mph clubhead velocity with a driver, you will enjoy the all-around features of these soft golf balls. The intense spring off the clubface on long shots produces exceptional ball velocity for greater length.
In addition, I found that it grips to my wedge grooves very well, generating elevated spin levels around the green.
---
And the Winner for Best Golf Ball of 2023 is…
When I undertook this task, I put together a breakdown of the core elements of the best golf balls and graded each product accordingly. To whittle down the list to a top ten, I selected the golf balls that produced exceptional velocity and low spin on long shots while elevating greenside spin.
While most balls on this best golf balls list are outstanding performers, I will save you time and reveal my three top golf ball picks for 2023.
Caveat – if you're playing golf in the winter or cold weather, check out this list here instead.
Best Golf Ball Overall
The winner of our best golf ball reviews in 2023 is the Wilson Model R.
Surprised this is our winner?! Me too!
But the 4-piece construction enhanced energy transfer at impact for accelerated velocity and optimal distance. I also appreciated how the unpainted urethane cover enhanced stability and balance for straighter flight.
Top Golf Balls for Moderate Swing Speed
Most golf balls on this list are high compression constructions built for accelerated zip. However, as a moderate swinger, I am pleased to select the Srixon Q-Star Tour as the best for the average swinging golfer.
This mid-compression ball provided penetrating flight and insane greenside spin. Plus, it is more affordable than most urethane golf balls.
Top Rated Golf Balls for Fast Swingers
Tour golf balls deliver a combination of reduced spin and explosive pace on long shots while boosting spin with your wedge. These features are best suited to faster swingers looking for all-around performance.
The best performer for me in this area was the Titleist Pro V1. This soft feel golf ball provides optimal spin, velocity, and a penetrating flight.
But you may want to check out our complete list of the best golf balls for high swing speeds if you're a golfer in this category.
---
How We Chose The Best Golf Balls of 2023
#1 Low Long Game Spin
The first element I examined during testing was reduced long game spin. Reduced spin off the face lowers your trajectory and amplifies forward roll for maximum distance off the tee.
Increased long game spin sends your golf ball higher and hampers forward momentum. As a result, your golf ball descends from a steep angle and stops dead in its tracks. You'll find that this restricts forward roll and total distance gained.
The best golf balls contain an ionomer mantle that restricts driver spin to lengthen yardage with your woods, hybrids, and long irons.
#2 Rapid Ball Speed
Reduced long game spin is insufficient to propel your golf ball farther because it needs the assistance of accelerated velocity.
The combination of explosive pace and reduced spin improves your ability to produce increased yardage in your long game. The less ball speed that you deliver, the more yards you stand to lose.
The best golf balls on the market feature reactive cores that enhance energy transfer from the clubface to dimples at contact. In addition, you'll notice that such golf balls are fitted with a flexible ionomer casing layer which further accelerates velocity.
#3 Ball Trajectory
Unlike entry-level distance golf balls, the best designs produce consistent trajectory for improved control and increased carry distance. You'll notice that top dimple designs reduce drag, boost lift, and encourage workable flight. This enables superior golfers to shape their shots around the links.
#4 Playability
Although some top balls promote straight flying golf ball trajectory, most are designed to encourage workable shots. This means they produce escalated spin to enable you to induce a draw or fade for added control around the course.
#5 High Short Game Spin
Contrary to low long game spin, the best golf balls 2023 boost spin on greenside and low impact shots. This ramps up the backspin rpm and helps you to attack the pin and stop your ball without trouble.
The presence of this quantity of spin means you enjoy the best of both worlds. In other words, minimal spin off the tee and increased levels around the dancefloor.
---
FAQ – Top Golf Ball Rankings
What is the best golf ball on the market?
After completing our tests, the Wilson Model R Range is the best golf ball on the market this year. The unique unpainted urethane cover bolsters stability and balance for low spin, long game distance, and high wedge spin.
But, if you're a female golfer, then check out our best women's golf balls list.
What is the best golf ball for an average player?
The moderate compression, forgiveness, distance, and spin of the Srixon Q-Star Tour make it the best golf ball for an average golfer in 2023. Plus, it carries a more affordable price tag than the other options featured on our list.
What is the number one golf ball in the world?
Titleist brands the Pro V1 as "the number one ball in golf", which is hard to argue with. These golf balls carry a soft feel, produce exceptional long game distance, and spin high around the green. The only potential risk of these exceptional creations is their higher compression, which suits faster swingers. Check this out for our ranking of the best BRAND of golf balls.