About Us
As golf obsessed patrons ourselves, we are a passionate team of professional instructors and equipment testers who have collaborated here at Swing Yard!
Our Mission
We want to provide the absolute BEST golf instruction available on the web so you can get your game to the next level… possibly in your very next round.
Simply put, we want to help you get better at golf!
In addition… we want to help you pick the very BEST equipment for your game and your current golfing goals.
---
What We Do Here at Swing Yard
Professional-Based Golf Instruction
Our head instructor and writer, Coach Erik Schjolberg of EJS Golf, is a PGA certified professional golf coach. He actually coaches several current PGA tour players, as well as many junior golfers who are on the path to scholarship college golf.
-check out his online coaching program here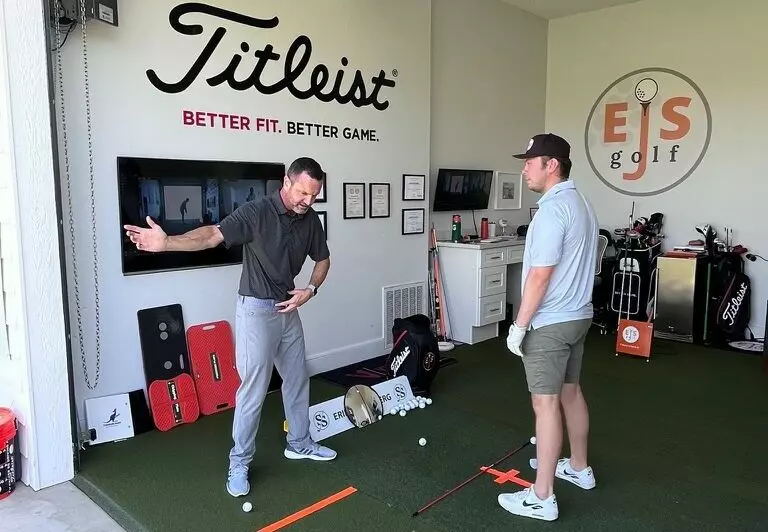 We have partnered with Erik to provide the absolute best instructional content articles to help you with not only a specific issue you may be dealing with currently, but also a PATH for you to follow in your progression to figuring out this fun (but sometimes frustrating) game of golf.
Sometimes golfers just don't know WHAT to work on… we're here to help you with that and lead you down the road to success.
Product Testing and Evaluation
Erik and the rest of our equipment testers team are fortunate enough to have access to most of the latest golf equipment available to date.
We don't write reviews for anything we haven't tested ourselves.  We provide unique, un-biased, original test review write-ups so that you can get honest feedback about the newest gear, AND how it applies to certain golfers (and how it may or may not apply to you and where you're currently at in your game).
You pretty much can't "go wrong" with any of the new big name brand equipment out there, BUT certain clubs, gear, accessories, etc will work better for players of different tendencies and skill levels… so THAT'S what we want to help you out with, understanding WHY a certain piece of equipment will fit into your game, how it can help you, and why other pieces of equipment may NOT be for you and where you're at right now.
---
Our Team
Erik Schjolberg
Head Golf Instructor and Writer Here at Swing Yard
PGA Certified Teaching Professional for 20+ Years
Owner of EJS Golf Academy
Voted the

"#1 Golf Coach in Scottsdale"
Actively coaches several PGA Tour Professionals (yes, you read that correctly)
Erik coaches many junior golfers who are aspiring to play scholarship college golf – including both in the local Scottsdale area, as well as juniors across the US and world.
Erik has also expanded his teachings beyond professionals/juniors to the rest of us via his EJS Golf Academy and Online Golf School.
For more info on Erik and his golf school, check out his full author bio.
---
Britt Olizarowicz
PGA Teaching Professional / Former College Golfer – Writer
Britt Olizarowicz first picked up a golf club at the age of 7.  Now almost 30 years later, she has been a Division 1 college golfer, golf teaching professional, membership director, and golf writer.
Britt loves teaching the game and currently holds a +1 handicap. Britt lives in Savannah, GA, and enjoys playing golf a few days a week with her husband and two young children.
Check out Britt's full author bio here.
What's in the bag:
Driver: Callaway Mavrik
Fairway Woods: Callaway Epic Speed and Titleist TSR2
Irons: Callaway APEX DCB
Wedges: Blue Tees 52° 56° 60°
Putter: Scotty Cameron Newport 2
---
James Hunt
Avid Golfer Seeking Scratch – Writer
James first started playing golf at age 11, hitting the links with Dad on the weekends and a summer youth golf league. Relocating to sunny Myrtle Beach turned golf into a passion (obsession) for him.
If he is not at home with his family, you will find him at the range or on course perfecting his game and testing out the newest offerings from a variety of different golf brands. Sporting a 10.6 handicap, his quest to scratch has a ways to go, but a big milestone of single digit is right around the corner!
Check out James's full author bio here.
What's in the bag:
Driver: Callaway Epic Max 9°
Fairway Woods: Callaway Rogue 15°
Hybrid: Cobra LTDx 3
Irons: TaylorMade P790 4-AW
Wedges: TaylorMade Milled Grind 54° 58°
Putter: Odyssey O-Works Black Marxman
---
Questions, Concerns, and Contact Info
Feel free to ask us any questions, suggest article ideas, provide feedback, collaborate… or anything else via our Contact Page.
Please enjoy the website and may your next round filled with straighter shots, more birdies, and lower scores!
Cheers!!
Mailing Address:  1810 Margaret St., Austin, TX 78704
Phone Number:   931-537-8983
---
Swing Yard Social Media Links
Facebook – https://www.facebook.com/swingyard/
Twitter – https://twitter.com/_swingyard_
Pinterest – https://www.pinterest.com/Swingyard/blog/
Youtube – https://www.youtube.com/channel/UCjT3UiJflw60ZD31-6yC4mA
Instagram – https://www.instagram.com/_swingyard_/
LinkedIn – https://www.linkedin.com/in/swingyard/
Tumblr – https://swingyard.tumblr.com/