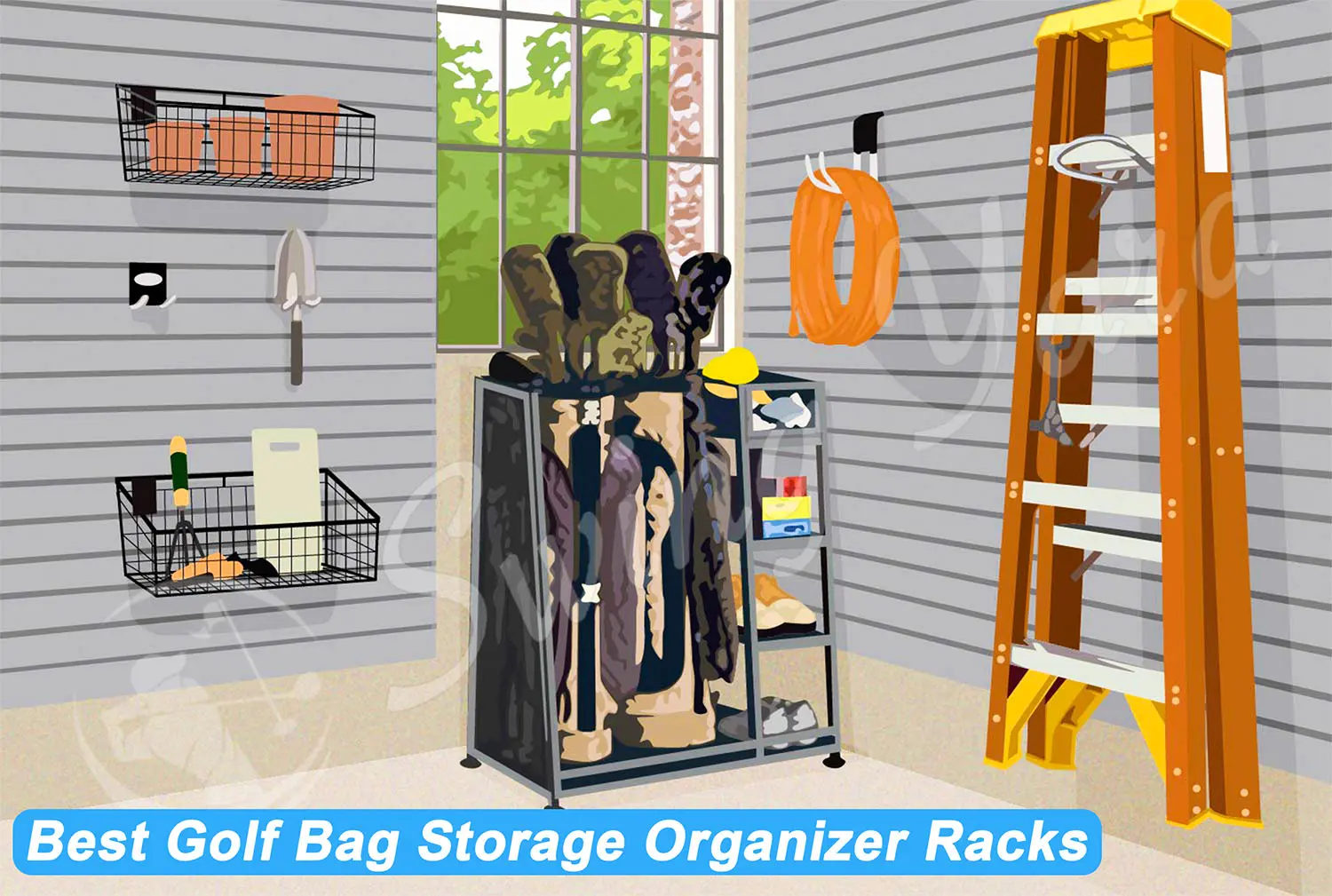 Author: Matt Callcott-Stevens - Matt first picked up a golf club in 1994 and has never stopped swinging. As a junior, he played competitively and eventually represented his school and Country at the 2007 World Schools Golf Challenge in Christchurch, New Zealand.
That was me before I became structured and snapped up the best golf bag storage organizer I could find.
These were my findings from my search for the best golf bag storage organizer in 2023 to help you source the correct item for your home. You'll notice that I have featured stand-alone steel organizers and a wall mount to cater to every golfer's taste and budget.
---
My Experience and Rankings of the Best Garage Golf Club Storage Racks
1. PLKOW Large Golf Bag Storage Rack
Best Overall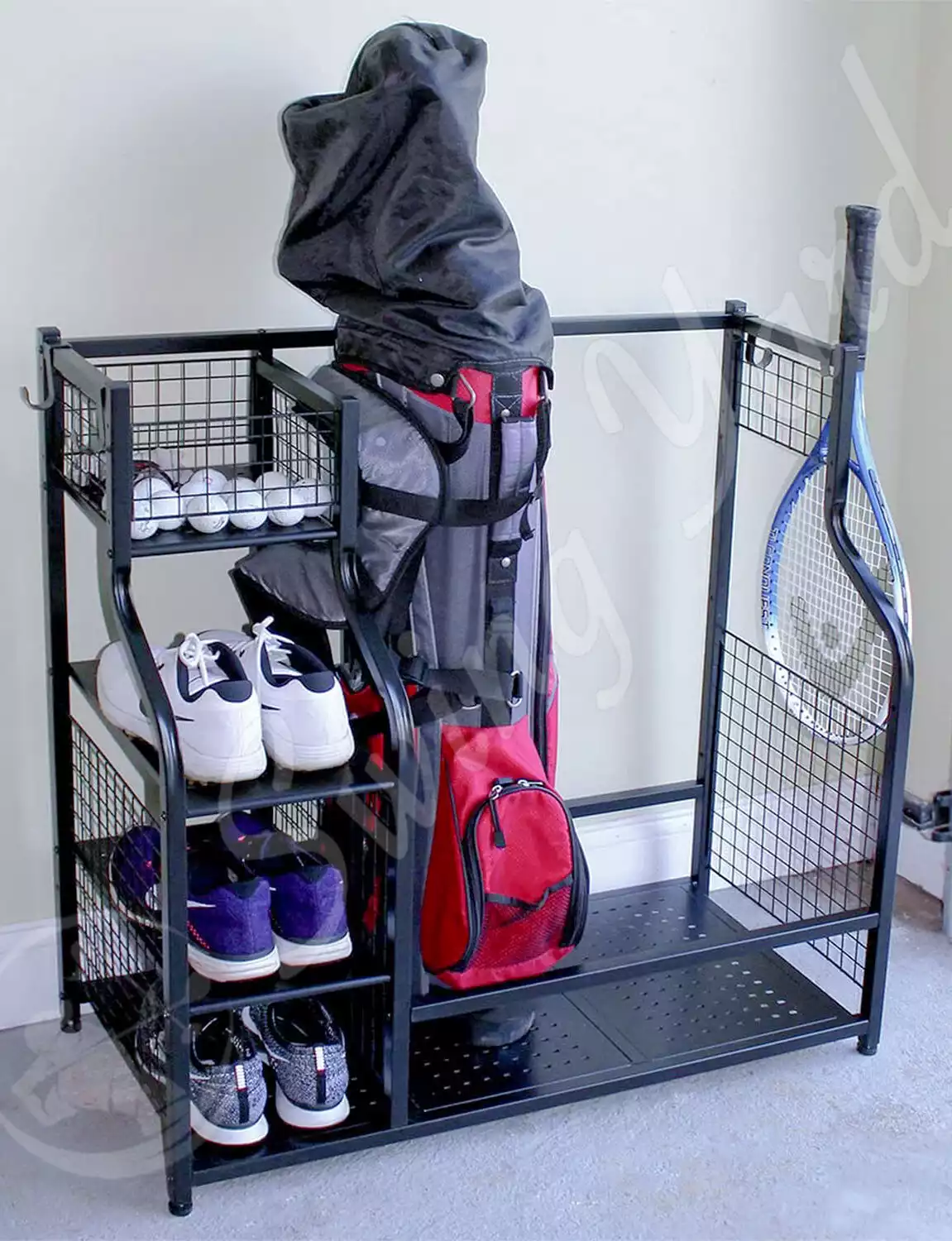 PLKOW Golf Bag Storage Rack
Type: Stand
Dimensions (inches): 37.6(W) x 15.8(D) x 34.3(H)
Golf Bag Capacity: 2
Shelves: 4
Wheels: No
Pros:
Easy to assemble

Includes 4 shelves to store your apparel

Adjustable feet for enhanced stability
Cons:
Expensive compared to other storage racks

May struggle to fit two cart or staff bags
CHECK FOR LOWEST PRICE »
My Experience:
The PLKOW Large golf bag rack is a premium organizing setup that provides ample storage for your golf bags, apparel, and footwear. I found that it easily fit two golf bags and left extra space to store your fishing rods and skis. In addition, the rack includes four external hooks to hang your tennis or squash racquets and hunting rifle.
You'll notice that the PLKOW contains 4 shelves leaving enough room to keep your other equipment, such as caps, golf shoes, shirts, and shorts. It also offers a single closed shelf which I find handy for stashing golf balls and tees.
I noticed that the adjustable feet on this golf rack worked wonders for balance in the garage. Following the assembly instructions, I initiated a few twists and had the rack firmly positioned. My final takeaway was that it was easy to install, and I struggled through technical drawing in high school.
The Bottom Line
The PLKOW is a premium, durable golf storage organizer that helps you keep all your golf equipment neat and organized. In addition, it provides exterior hooks to hang your other outdoor sports gear. Finally, it offers sturdy feet to keep the rack firmly in place for your safety.
---
2. Safe Racks Deluxe Golf Bag Rack
Most Storage
SafeRacks Large Golf Equipment Organizer Rack
Type: Stand
Dimensions (inches): 51(W) x 18(D) x 70(H)
Golf Bag Capacity: 2 + more individual clubs
Shelves: 7
Wheels: yes
Pros:
Tons of storage

Side attachments allow you to store extra clubs

Top shelf can hold walking carts

2 locking wheels to reposition the stand

Can remove top section if not needed
Cons:
Expensive

Takes up a lot of space
CHECK FOR LOWEST PRICE »
My Experience:
The Safe Racks Deluxe Golf Rack bags the final spot on this list because of its robust design to hold all of your golf accessories and equipment. Off the bat, I noticed that it held 2 staff bags with relative ease and even left some space to store my umbrella, skis, and ski poles.
Although I appreciated the wider sections for the bags, it meant the organizer took up considerable room space. However, it made up for it with 3 shelves and 2 side attachments to hold your Sunday bag, a lone golf club, or your golf ball retriever.
You'll see that this organizer is enclosed at the top, which creates an additional shelf for you to store clothing and gear. I manipulated some wire coat hangers and hung my ironed shirts from the top.
The Bottom Line
The Safe Racks Deluxe Golf Rack organizer is a premium product built to provide maximum storage to the serious golfer. It holds 2 staff bags and every item you need on the links. In addition, I found that it was durable, and the locking wheels kept it firmly on the ground.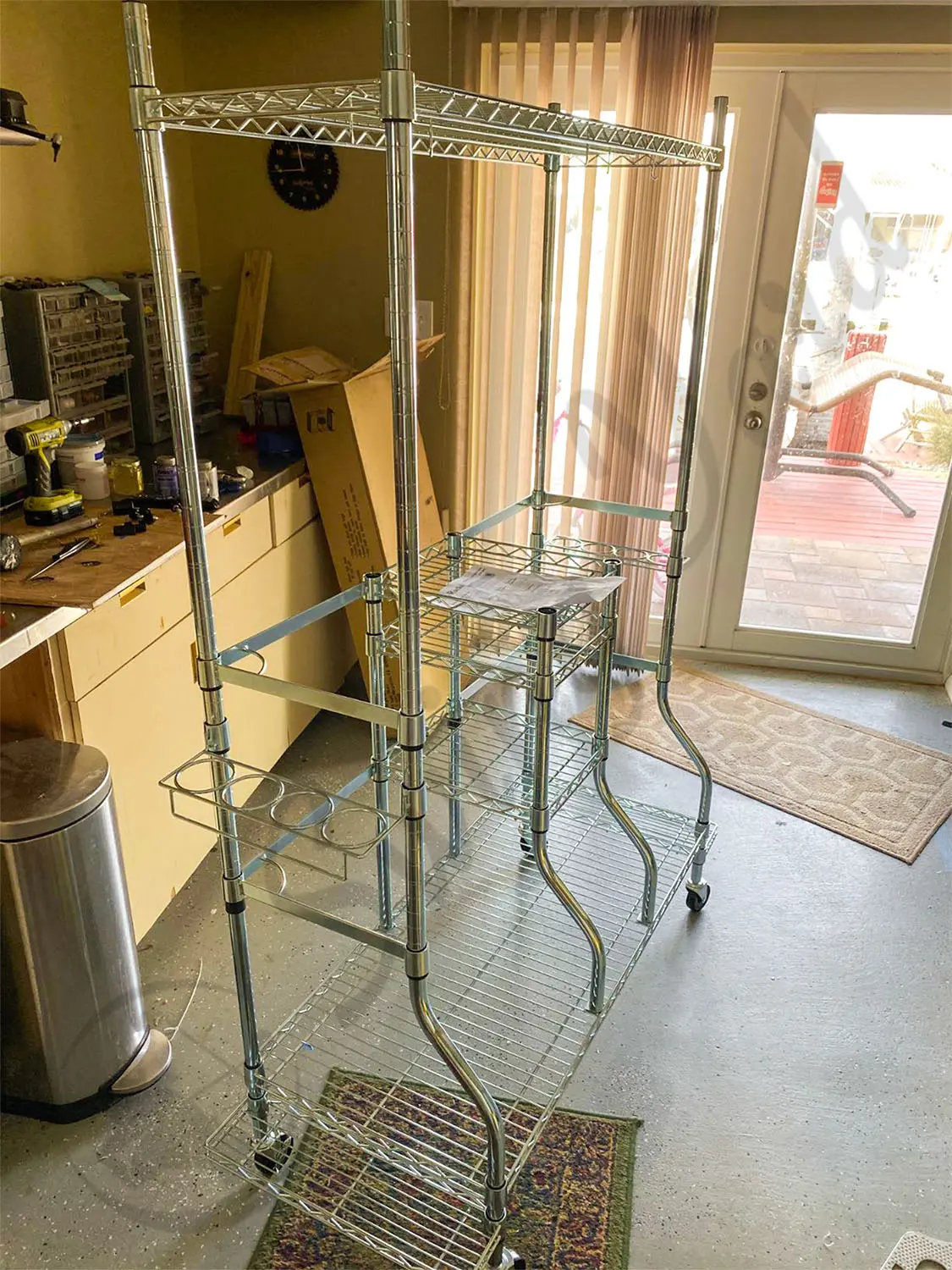 ---
3. StoreYourBoard BLAT 2
Best Wall Mounted Rack
StoreYourBoard BLAT 2 Hanging Rack
Type: Wall Mount
Golf Bag Capacity: 2
Shelves: 0
Pros:
Easy to mount

Holds 2 standard golf bags

Takes up minimal room space

Low price
Cons:
There is no way to store your apparel, footwear, and golf balls directly on the rack

Hanging heavy duty bags on the hooks can snap them or dislodge the bracket
CHECK FOR LOWEST PRICE »
My Experience:
The StoreYourBoard BLAT 2 mounts onto your wall and holds two standard-size golf bags, thanks to two sturdy hooks.
A wall-mounted storage rack does not offer shelves to hold your clothing, shoes, and golf accessories, but it saves you significant space. You'll also find that a wall mount carries a lower price than your stand-alone designs.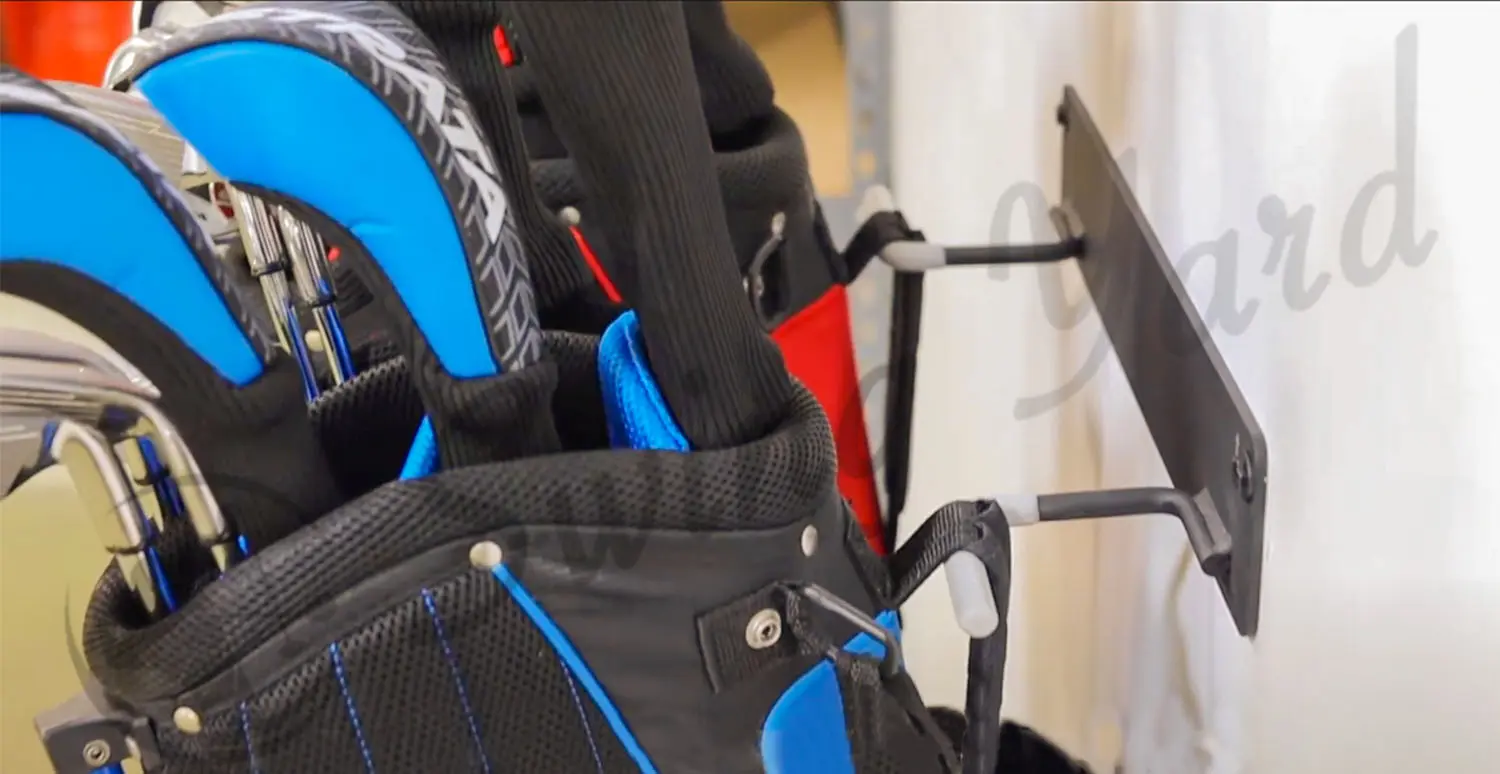 You'll need a drill and 16-inches of wall space to attach the heavy-duty steel bracket, followed by fitting the two coated hooks. Once firmly positioned, you can hang your golf bags from the carry handle. I found the setup easy and quick.
The Bottom Line
The StoreYourBoard BLAT wall-mounted golf organizing unit is the most affordable approach to your organizing conundrum. In addition, you'll notice you save a heap of room space by not operating with a stand-alone design. I recommend this for any golfer on a tight budget looking for a simple storage solution.
---
4. Home-It Dual Golf Bag Organizer
Best Value
My Experience:
The Home-It Dual Golf Bag Organizer offers a clean, simple setup at an affordable price point for the average golfer. I found it was the ideal size for holding 2 golf cart bags and everything else you need for a day on the links. However, unlike other constructions, it features no external hooks to keep other equipment.
Besides the expanded width to hold most golf bags, this organizer features four open shelves offering a separate section for your shirts, shorts, shoes, and caps. You'll find you can also store your balls and other accessories on a shelf, as long as they are kept in a container, to prevent rolling off.
My biggest gripe with this organizer is the feet, which are non-adjustable, and can lead to instability. This is a safety hazard when you store heavy golf equipment, so you best identify the evenest surface in your basement or garage.
The Bottom Line
The Home-It Dual Golf Storage Organizer is a suitable entry-level golf bag storage organizer with the capacity for two cart bags, your apparel, and golf accessories. However, it is not equipped with adjustable feet, and you must set it up on a flat surface to avoid it toppling over.
---
5. Milliard Golf Organizer
Most Compact (for 2 bags)
Milliard Golf Organizer
Type: Stand
Dimensions (inches): 36(W) x 16(D) x 37(H)
Golf Bag Capacity: 2
Shelves: 4
Wheels: yes
Pros:
Wheels allow for ease of repositioning

Holds 2 staff golf bags

4 shelves hold all your gear
Cons:
No external hooks to store other sports equipment
CHECK FOR LOWEST PRICE »
My Experience:
Although it was a tight fit, the mid-range Milliard Golf Organizer held 2 staff bags and offered ample shelving to store the rest of my gear. I also noticed that the wheelbase of this organizer was a game changer, as I could move it around to optimize the room space. Plus, if I am lazy, I wheel the rack to my trunk and load my bag directly from it.
Milliard kitted this bag out with 3 open shelves to stash your gloves, footwear, and apparel, while a single closed shelf is built for your loose golf balls and tees. You'll find that this organizer contains padded edges around the top, which restrict knicks and scratches to your clubheads.
Finally, I found this product was a breeze to install, and the customizable feet and wheels ensured enhanced solidity.
The Bottom Line
You'll find that the Milliard Golf Organizer offers the average player a moderately priced construction with ample storage space. In addition, it is fitted with adjustable locking wheels that allow you to reposition the organizer and keep it stable in its final location.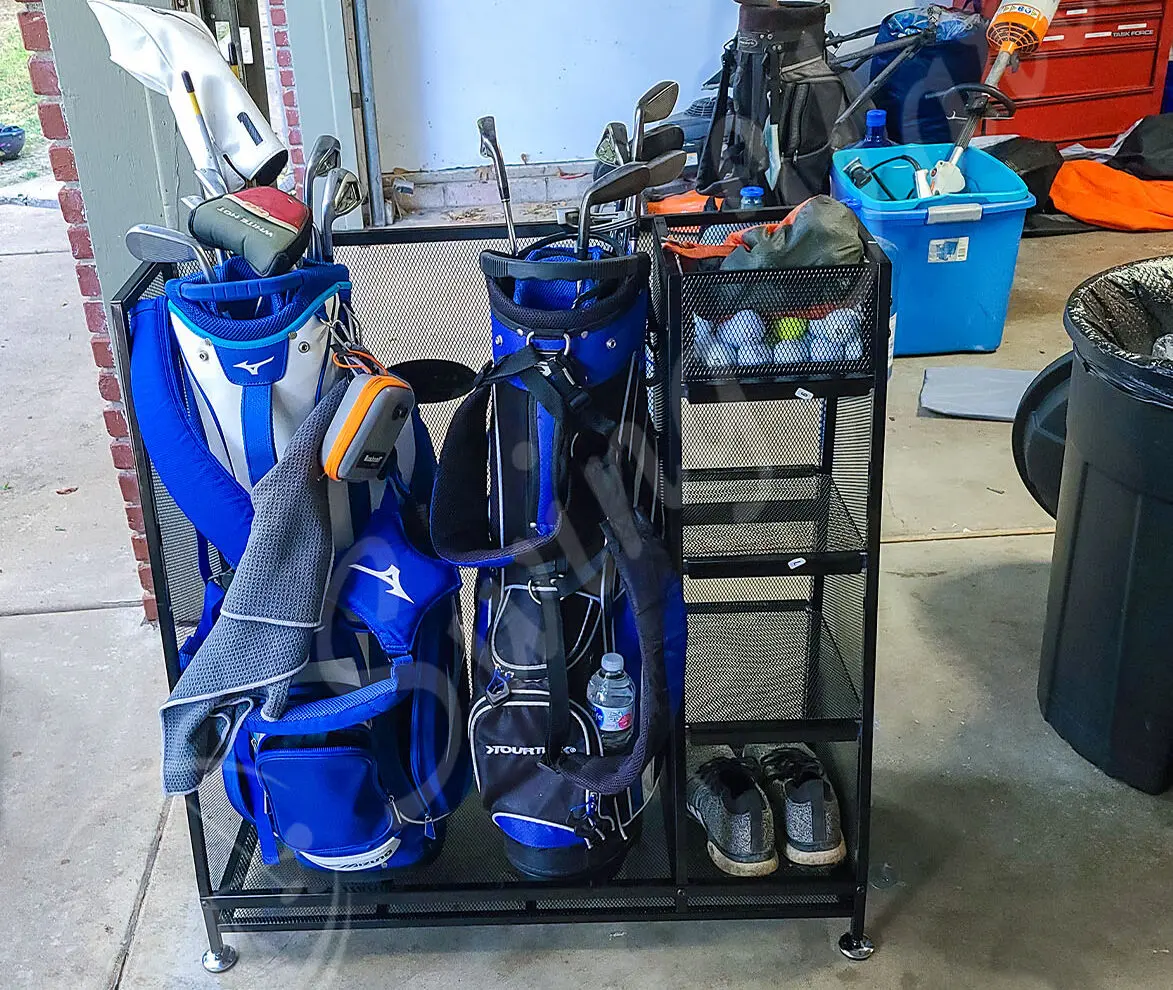 ---
6. Mythinglogic Single Golf Bag Storage Organizer
Best for Single Bag
My Experience:
The Mythinglogic Single Golf Bag Storage Organizer is the only one on our list that is for a SINGLE golf bag. I like the fact it keeps my golf bag off the floor, and I can hang a few accessories from the sides.
It's definitely a "minimalist" type organizer since it's pretty small and doesn't include any shelves (other than the one your bag sits on). But if you're looking for something small and compact, this is the one to get.
The Bottom Line
The Mythinglogic is what it is – a rack for a single golf bag that simply doesn't take up a lot of space. If that's what your'e looking for, you can't go wrong with this one.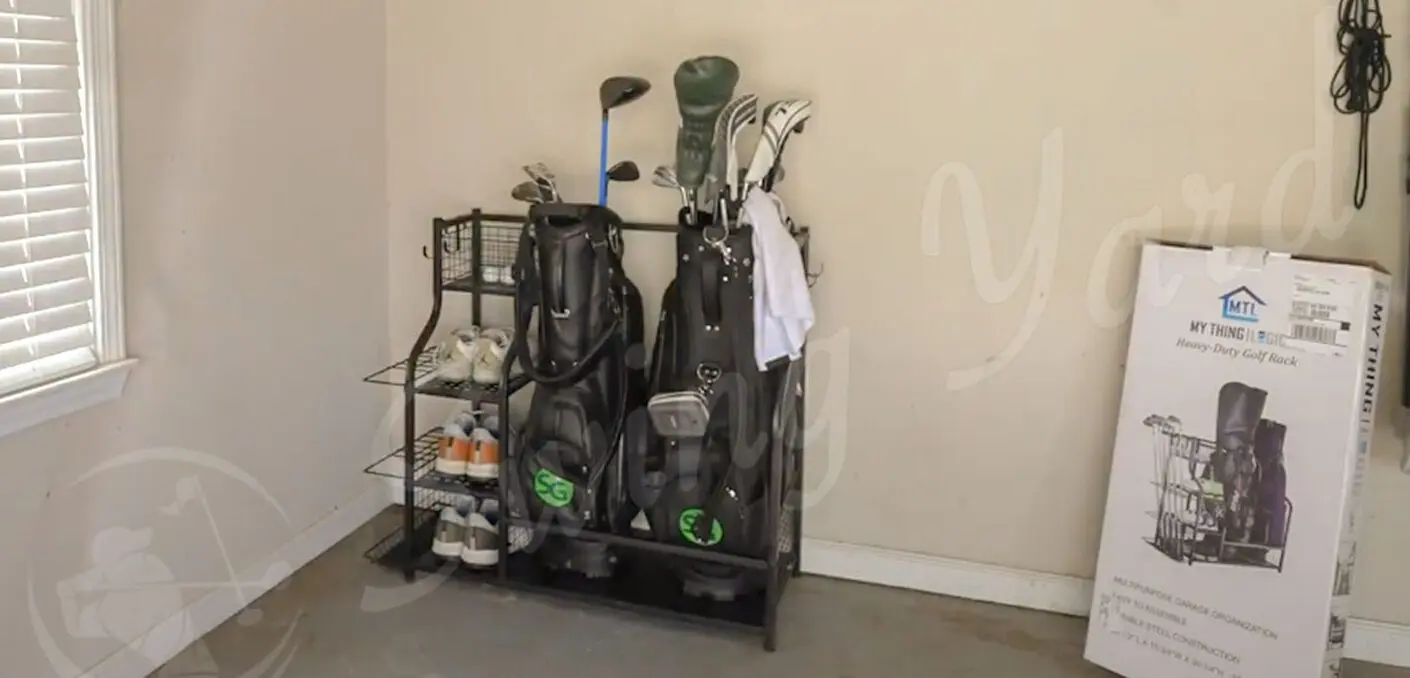 ---
And the Winner for the Best Golf Bag Storage Organizer Rack is…
My mission with this test was to identify products that would help golfers organize equipment to optimize the remaining space in their rooms. The golf bag storage organizers that made our top five exhibited the ability to store multiple golf bags and your apparel, footwear, and other accessories.
Although every product in our top five is worth considering, I walked away from the test impressed with three organizers above the rest. Here they are.
Best Overall
The PLKOW Metal Rack earned my vote for the best overall golf bag organizer because it managed to hold two bags, my golf balls, tees, footwear, shirts, and caps. Plus, the side hooks offered a place to hang racquets, skis, and hunting equipment. Finally, the adjustable feet kept the bag stable and fastened to the ground for added safety.
Best Golf Bag Wall Mount
Golf wall storage racks do not offer space to store your apparel, footwear, and accessories, but they do save room. The StoreYourBoard Blat 2 wall mount organizer is my top pick in this category for its ability to hold two standard golf bags and the hassle-free setup.
Best Value
The Home-It Dual Golf Bag Organizer is worth considering if you are on a strict budget in 2023 but desire the luxury of shelves. It is affordable, easy to set up, and holds every item you need to navigate the links.
---
Types of Golf Club Garage Storage Organizers
You'll notice that you have two predominant designs on offer when shopping for golf bag storage organizers. The first is a sturdy, stand-alone metal organizer, and the more affordable, space-friendly approach is a mounted wall rack. Let's see which design best suits your needs.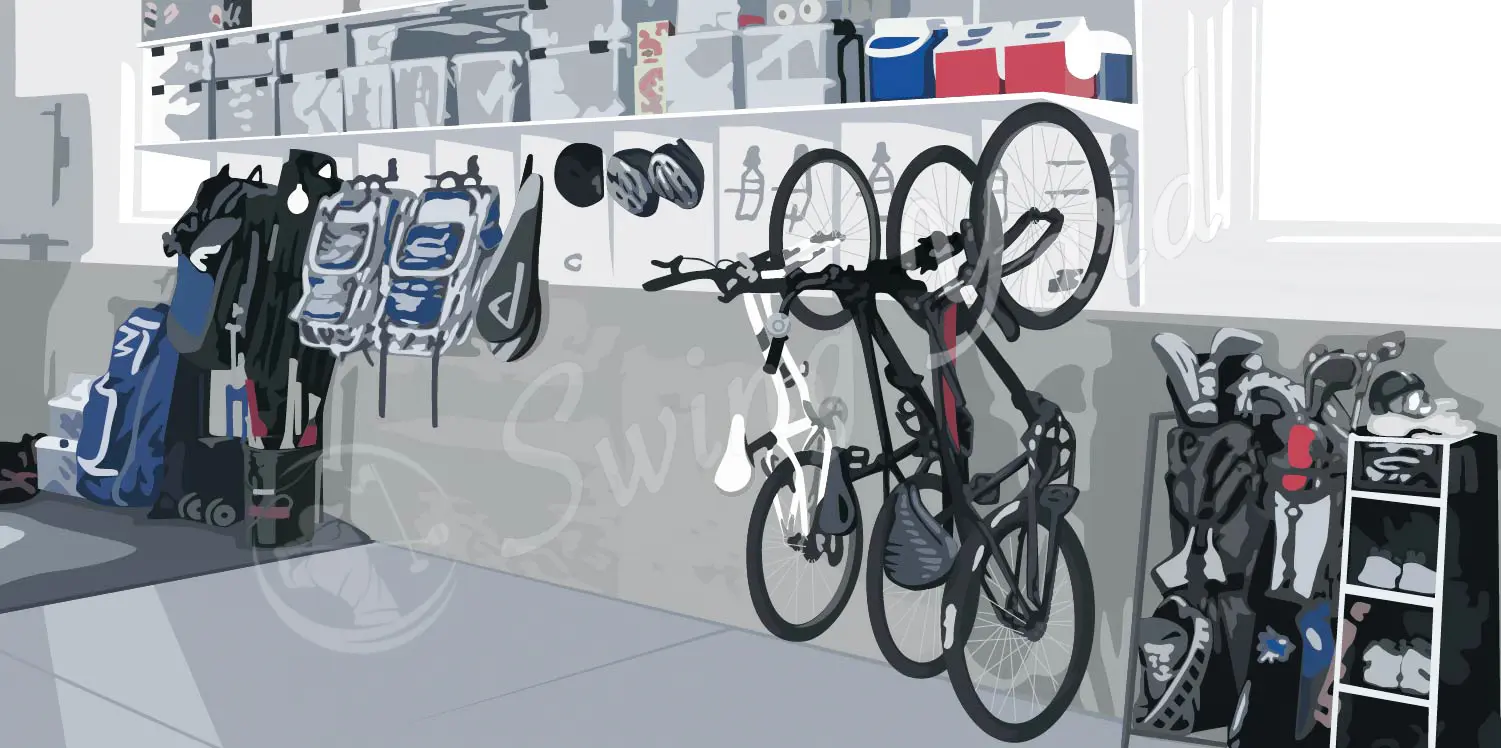 Stand Alone
The metal or steel stand-alone organizers are a common option for amateur golfers seeking to neatly store golf bags and apparel. These products can take up to 69-inches of height and 51-inches of width from your room. You'll notice there is a fair amount of free space to carry one of these.
However, space aside, these are the best constructions to keep your equipment tidy, organized, and easy to access for your next round. However, be prepared to fork out more cash than you would for a mounted wall golf bag rack.
Wall Mounted
Mounted wall golf bag racks are affordable and space friendly. They keep your golf bags out of harm's way and do not eat into a considerable area of the room. In addition, they are easy for even the lowest handyman to install.
You'll notice that the downside of a mounted wall golf bag rack is that you cannot store your apparel, shoes, and accessories on the wall.
---
FAQ
What is the best way to store golf clubs?
The best way to store your golf clubs is in a cool, dry room out of direct sunlight. My clubs rest in the spare room in my apartment, but you can use the garage or basement. I suggest covering your clubs with the rain hood to protect them from exposure to unsavory air.
How should I store my golf bag?
I suggest placing your golf bag upright onto an organizer and covering it with the rain hood to shield your delicate club heads from the elements. Ensure that your clubs and bag are dry before packing them away to prevent mold build-up on the clubs and the bags. It is not a fun experience removing the fungi.
How do you store golf clubs on the wall?
You need a heavy-duty steel mount bracket, which you fasten to your wall before adding hooks that your bag will hang on. An example of this product is the StoreYourBoard BLAT, which holds 2 golf bags. You'll notice that a drill and a screwdriver are required to complete the job.