Author: Jamie Lewis – PGA Teaching Professional
The Epic line as a whole is packed with all new technology this year.
All of it is on display in their most forgiving of the lineup, the Callaway Epic Max 2021 driver. And it doesn't disappoint!
From the A.I. developments, sliding rear weight, and Callaway's most forgiving face yet, this club is a howitzer in anyone's hands.
The Epic line emphasizes speed, distance, and forgiveness with all model options. And while speed is the main focus with the Epic Speed, forgiveness takes center stage with the Epic Max. 
It will unite you with a long lost love… the fairway.
Callaway Epic Max Driver Review
Lofts Available
The Callaway Epic Max driver is available in three different marked lofts (9, 10.5, and 12 degrees). All of which, thanks to the OptiFit hosel, are adjustable -1/+2 degrees. This broadens the range of golfers suited for this club, and gives you endless possibilities for shot shape without swing thought.
Here's a good read on which driver lofts you should consider if you're not sure.
Handicap Range
While the Epic Speed is billed for a lower handicap range, the Epic Max is best suited for mid to high handicap golfers who struggle to consistently hit the sweet spot.
Technical Review
The all new A.I. designed Jailbreak Speed Frame and Flash Face on the Epic Max increase forgiveness across the face compared to the Mavrik Max.
"Max" in the name comes with real meaning this time around. With the new Speed Frame and Flash Face, you get maximum speed. Featuring high MOI and a sliding rear weight, you'll see maximum forgiveness.
A proprietary Triaxial Carbon (vs titanium) crown and toe patch saved 19 grams of weight. The weight was redistributed to increase forgiveness, and generate a higher launch. If you struggle to get the ball in the air off the tee, the Epic Max is packed with technology to help you do just that.
The Epic Max has the center of gravity positioned deep to promote lift at impact, while keeping the face stable. The deep set CG also increases forgiveness. Compliment that with a draw bias and high MOI, and you get the fastest, most forgiving driver in your hands.
Further drives… straighter drives… consistent drives… happy golfer!
Normally forgiveness comes at the sacrifice of distance and workability, but not so much with the Epic Max.
With the rear sliding 16 gram weight, you can position it to correct up to 20 yards of shot misdirection. This allows you to swing away without a mind full of swing thoughts.
Throw in A.I. designed Speed Frame and Flash Face, and you'll be sacrificing distance no more!
Project X HZRDUS Smoke iM10 in 50 and 60 gram options
Project X Cypher 40g for a lighter more flexible option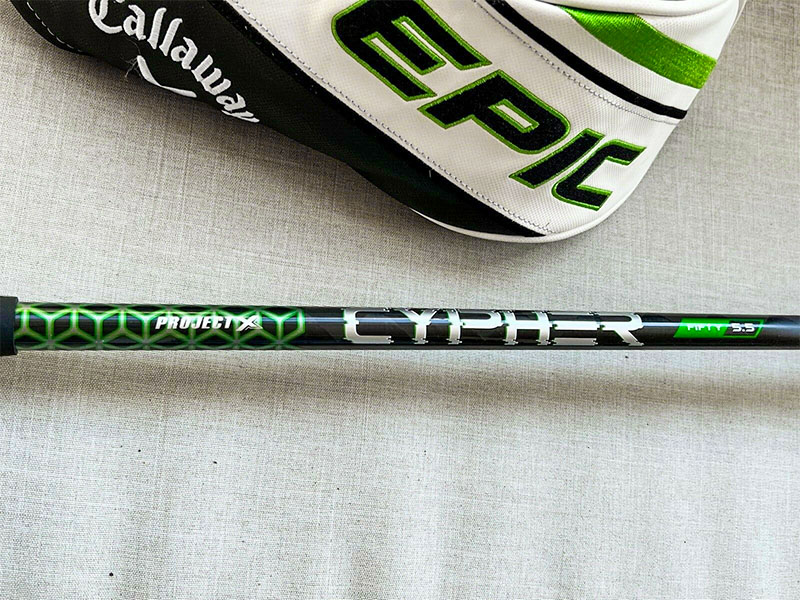 -Not sure what length shaft to get? Check out this driver shaft length chart.
Performance
When the rubber meets the road, the Epic Max driver doesn't disappoint! I saw carry distance figures at the top of the list compared to other OEMs, but with added forgiveness that, seemingly, only Callaway has figured out.
The 16g sliding weight coupled with the OptiFit hosel can combat the worst of swing flaws. You can expect up to 20 yards of shot correction utilizing the two correctly, turning banana slices into slight fades… or even draws. Give this a read for the best anti slice driver if you're interested in looking into that category a little more.
Compared to the Epic Speed, you'll see a yard or two off your carry distance, which is a nonissue given the added forgiveness. If you ask me, I would much rather be two yards behind in the fairway instead of two yards further in the trees.
If consistent contact is an issue for you, the Epic Max is no doubt the right choice off the tee. Switching to the Max from my regular gamer, I was able to gain nearly 25 yards in carry distance.
That's some serious gains! Furthermore, my fairways hit per round went from 54% to an astonishing 77%!  More distance. More fairways. Who doesn't want that?
Looks
The entire Callaway Epic Drivers line is absolutely stunning. A crown all about business, with just a small Chevron alignment aid, slight green/white pinstriping, accompanied with a subtle "Epic" at the rear, and the beauty of the Triaxial Carbon. That's all.
The bottom of the club head has all the branding. A big modern Callaway logo at the Triaxial Carbon toe patch lets everyone know who conceived this magnificent driver.
The Epic line is classic green and white throughout, in a diagonal contemporary pattern. The rear dons the sliding weight mechanism that looks functional instead of gimmicky in past models.
Sound and Feel
Much like the Epic Speed, the Epic Max has an incredible sound and feel. Although a bit more muffled than the Speed, you still get the sound and feel of an explosive ball speed.
The feel across the face is hard to discern a mishit, which is great for a mid to high handicapper's confidence, and the performance across the face is so consistent that you won't see missed strikes as much as other drivers.
Get used to hearing "oh that sounded good" from your playing partners, because that Flash Face and multi-material construction makes a fantastic sound at impact. You'll also be hearing "you couldn't have walked out there and placed it better" as you hit fairways consistently.
Incredible forgiveness – Callaway's most forgiving driver to date
Impressive distance – Scary long, especially for off center strikes
Sliding rear weight – Up to 20 yards of shot correction
OptiFit hosel – Allows for adjustments to loft/lie/face angle
Looks – Design, shape, and colors make for a powerful and confidence boosting driver
Excellent sound and feel – Generated by superior construction and AI design
Limited feedback – You won't exactly know when you've mis hit!
Not as long as the Speed model – The forgiving shape sacrifices some club head speed
A little too 'game improvement' – Can feel a bit clunky for a lower handicap player
Price – On the high end of driver cost, but you get what you pay for here
The Bottom Line
I actually enjoyed writing this Callaway Epic Max Driver review…
When standing over the Callaway Epic Max driver, ready to swing, you're overcome with confidence that the ball will find the fairway. This confidence builds as the round progresses, because you find those fairways, one after another.
This club is a definite upgrade from the Mavrik Max. 16 grams of sliding perimeter weight, and the OptiFit hosel couple together to offer shot correction you wouldn't find in the Mavrik Max.
With the added distance and forgiveness due to the Flash Face and Speed Frame, this driver is unmatched in the game improvement/forgiving driver market.
Whether you're a high handicapper looking for game improvement, or a mid handicap trying to find the short grass more consistently, the Epic Max is the perfect driver. I would be hard pressed to suggest another option if you fit into these categories.
---
Callaway Epic Max Star (quick review)
The Callaway Epic Max driver is available in an ultra-premium, ultra-light weight model called the Epic Max Star. It includes all of the advancements of the Max in a package that is 52 grams lighter.
The Epic Max Star is geared towards players that have a slower swing speed that are looking for more distance. Using premium and lightweight materials shave 52 grams off the total weight. Lighter is faster.
In Callaway's testing, some golfers gained up to 5mph of club head speed. That would mean up to 10mph more ball speed. The general rule is 1 mph of ball speed, give or take variables, equates to roughly 2 yards of travel.
Telling someone who has lost some swing power, that a club can give them 20 yards more off the tee is impressive. Not too many people will turn away from an additional 20 yards. It's not only a great driver for seniors, but really anyone looking to gain a few extra yards off the tee.
Callaway was smart in how they saved the weight. Instead of changing the impressive and high performing club head, they saved weight on the "other stuff."
The club head is only 10g lighter than the Epic Max (using a 9g sliding weight instead of 16g mostly). The other 42g of weight was shaved using a 36g ATTAS Speed T1100 and 25g Winn Dri-Tac Lite grip.
The Epic Max Star is a beauty. Black and gold throughout, including the shaft, grip, and headcover.
The ultra-premium look and lightweight come at a cost, however. The Star is considerably more expensive than the rest of the Epic line.
Other Drivers in the Callaway Epic Family
So I've mentioned the Epic Speed a few times, which is the less forgiving, but lower launch and more distance version in this driver family. Our full Callaway Epic Speed driver review is here.

But I haven't mentioned the Epic Max LS… it's similar to the Max, but a few changes have allowed for a lower spin model (and preserving forgiveness), for those golfers that don't need as much help getting the ball high in the air. Our full Callaway Epic Max LS review is here.
---
Alternative Choices to the Epic Max
Callaway Rogue ST Max
New in 2022 from Callaway is the Rogue ST Max driver… improving on the forgiveness, weight reduction, and pretty much everything else. Check out our full review over here.
TaylorMade SIM 2 Max
TaylorMade's SIM2 Max is a somewhat similar driver to the Epic Max. It's geared towards the mid to high handicapper who's looking for a forgiving face that holds decent distance when the ball isn't quite struck in the center of the clubface.
Ping G425 Max
Again, if you're looking in the "Max" category and you want something that has maximum forgiveness without sacrificing too much distance, the Ping G425 Max is a great alternative to the Callaway Epic Max driver. Read our full evaluation here.
Cobra Radspeed XB
Cobra has a good option in this category as well. Their Radspeed XB, standing for "Xtreme Back", has extra weight in the rear end of the driver head to give an extra boost of forgiveness. Check out our full review right here.
Best Beginner Drivers
If you're just starting out, I'd highly recommend checking our round up article of the best drivers for beginners to point you in the right direction for choosing the big stick that most suits you and your skill level.
---
FAQ
Note – Some of these FAQs were covered throughout the article, but I still get these questions a lot… so here are the "short and sweet" answers to the most common questions:
Which Callaway Epic driver is the best?
The Callaway Epic Max driver is Callaway's best driver overall. It's going to fit into most player's swing types compared to their other models. It packs a ton of forgiveness, without sacrificing too much speed and distance.
Which Callaway Epic driver is most forgiving?
The Epic Max driver is Callaway's most forgiving driver in the Epic line. Check this article out for our list of the most forgiving golf drivers.
What is the difference between Epic Max and Epic Speed?
The difference between the Callaway Epic Max driver and Epic Speed is that the Max has a slightly bigger club head, a little more forgiveness, but not as much overall distance (on center struck shots) as the Speed. The Speed will go further on balls struck in the sweet spot, but the sweet spot is smaller overall.
When did the Callaway Epic MAX come out?
The Callaway Epic Max driver came out in February 2021.
Is Callaway epic driver good for high handicappers?
Yes the Callaway Epic driver is good for high handicappers, but specifically the Epic Max driver model would be best.
Is Epic Max better than epic flash?
The Callaway Epic Max driver is a newer model than the Epic Flash driver, and is quite better in my opinion. Callaway improved on the Jailbreak Speed Frame and the Flash Face technologies, basically making the driver's sweet spot bigger (more help on miss hits), and even managed to add a little distance as well.
How do I adjust my Epic Max driver?
To adjust your Callaway Epic Max driver, you'll need to do the following:
Adjust the moveable weight to choose between fade, neutral, or draw bias.
Adjust the hosel to change the loft between -1, S (stated loft), +1, or +2
Adjust the hosel change to the lie to either N (neutral) or D (draw)
Once you have everything set where you'd like, use the torque wrench to tighten everything back down
Turn the wrench until it "ratchets" or clicks to get the correct tightness without damaging the club
Do NOT simply use a screwdriver with a hex/star attachment, you won't be able to get the correct torque and may even damage the club.
Callaway Epic Max Driver Adjustments Chart:
| | | |
| --- | --- | --- |
| Loft | Loft Description | Lie |
| -1 | Subtracts 1 degree from the Stated Loft | N – Neutral Setting |
| S | Stated Loft (loft stamped on the clubhead) | D – Draw Setting |
| +1 | Adds 1 degree to Stated Loft | |
| +2 | Adds 2 degrees to Stated Loft | |
Callaway Epic Max Weight Adjustment: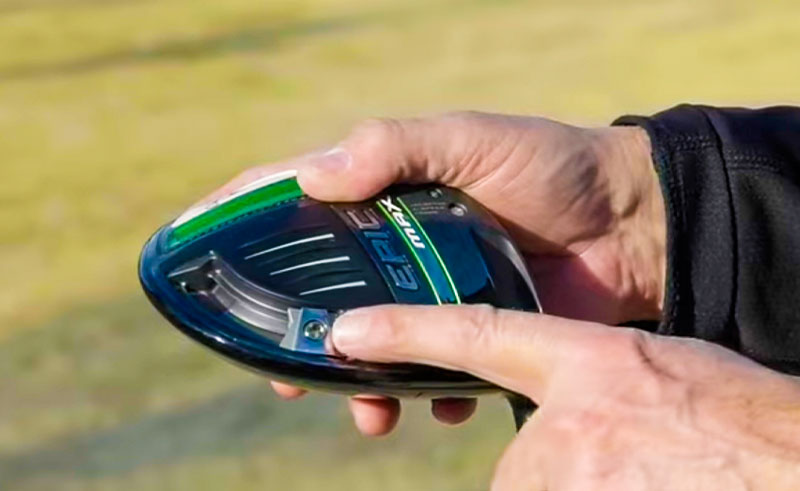 What is the difference between Callaway EPIC and EPIC star?
The difference between the Callaway Epic and Epic Star is that the Epic Star version weighs quite a bit less. It's designed for naturally slower swing speed type players who want to be able to swing a bit faster through the ball. It really does help to increase swing speed, club head speed, and ultimately ball speed through impact.
When did the Callaway epic star driver come out?
The Callaway Epic Star driver came out in October of 2021 for presale, and November 4, 2021 for retail.