Coach Erik Schjolberg – Swing Yard's Head Golf Instructor and Writer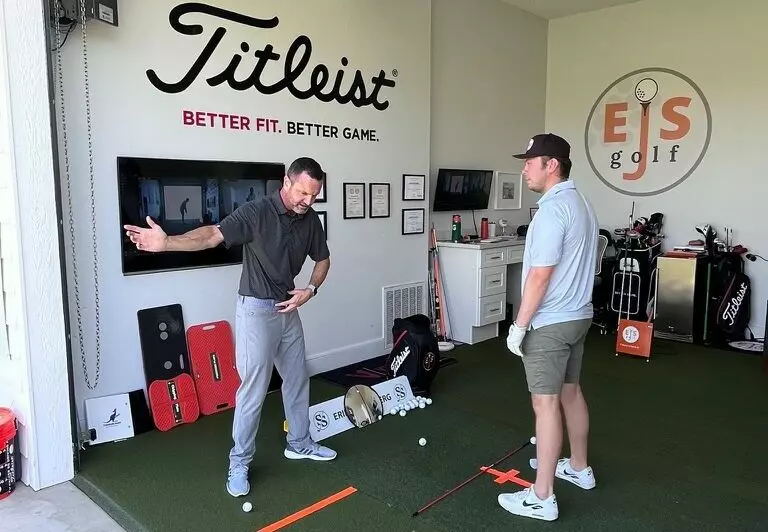 Expertise:            
Coach Erik, from EJS Golf Academy, is our PGA certified head coach here at Swingyard. He writes all of our instructional articles, and contributes to most of the product reviews/tests as well.
Erik owns and operates his own golf academy, EJS Golf, locally in the golf mecca of Scottsdale, Arizona.
But he has also expanded his coaching ONLINE a few years ago to accommodate the demand Erik has received from students across the rest of the US and world.
Erik was voted the "#1 Golf Coach in Scottsdale", and actively coaches several PGA Tour Professionals.
-Yes, you read that correctly… he works with several guys currently playing on the PGA tour, and specializes in helping up-and-coming junior golfers reach their goal of receiving/playing scholarship college golf.
Erik is the real deal, and we're so excited/thankful to have him as our lead instructor here at Swingyard!
Erik's Philosophy…
I hear too often that students are told that they are going to get worse before they get better. As a golf instructor for over 20 years I have never had a student leave a lesson worse than when they came.

My goal is for my students to understand what they are working on and why. I use 3D Force Plates, TrackMan 4 launch monitor, Sportsbox 3D for an all encompassing view withincredible detail and much more so each student is able to understand why the ball is curving, ball height, etc. Once you understand these numbers, you are able to make changes on the course and in essence become your own coach.

I utilize video during each lesson to show each student where they start and what progress is made at the end.  They are sent a 5-10 minute video lesson along with a detailed practice plan within 24-48 hours of each lesson. This video shows them their swing, reminds them of what to work on until our next lesson, as well as which drills will help them accomplish their goals.
Certifications
I am constantly learning about all aspects of golf because I want to make sure that information gets to YOU as my student to help you be a better golfer!​
PGA – As an associate of the PGA (Professional Golfers' Association), the most trusted association in golf, I am dedicated to keep my knowledge and understanding up to date as new information and technology becomes available.
TPI Level 1 and 2 – TPI (Titleist Performance Institute) is "the world's leading educational organization dedicated to the study of how the human body functions in relation to the golf swing." Completing Level 1 certification and now finishing Level 2 has given me a greater understanding of identifying physical limitations of my students and how to adapt their swing to continue to enjoy the game while maintaining healthy movements for their individual situation.
​Trackman Certified – Trackman is the leader in providing data for swing and ball flight analysis but without understanding the application of this information, it doesn't do anyone any good. Being certified through Trackman University I understand the underlying theory in ball flight laws.
Dr. Kwon's Biomechanics Level I and II – Applying science to the golf game has allowed us to understand the golf swing like we never have before. Dr. Kwon is a leader in biomechanics and allows me to simplify this information for students to gain the benefits of biomechanics in golf.
​Scott Cowx Certified Level I and Advanced – The anatomy of the golfer. Matching up conditions to the golfer allowing for specific and personal swings that make sense to the golfer.
​Boditrak – Using a pressure mat is essential in helping student understand and see what pressure they create before and during their swing. Gaining my Boditrak certification has helped me better understand ground reaction forces and how to help my students apply it to gain distance throughout their game.
Titleist Club Fitting – Having the proper tools makes such a difference for my students! Being a certified fitter for Titleist irons, drivers/fairway woods, and hybrids allows my students to get quality information to invest in clubs that will make the most of their game. It also saves them money and time from having to make an appointment at an expensive golf fitting outfit.
​Titleist Golf Ball Fitting & Ball Flight – Being able to understand the characteristics of the various balls offered by Titlest along with their ball flight patterns allows me to help my students pick a ball that will maximize their performance on the course.
​PGA HOPE (Helping Our Patriots Everywhere) – Introducing golf to Veterans with disabilities to enhance their physical, mental, social and emotional well-being.
​Sportsbox Ai – An AI -powered technology company using patent-pending 3D Motion Analysis and Kinematic AI technology. Allows me to help online students like never before to see your swing from all angles instead of the one view that a video shows.
---
Erik's Top Articles: