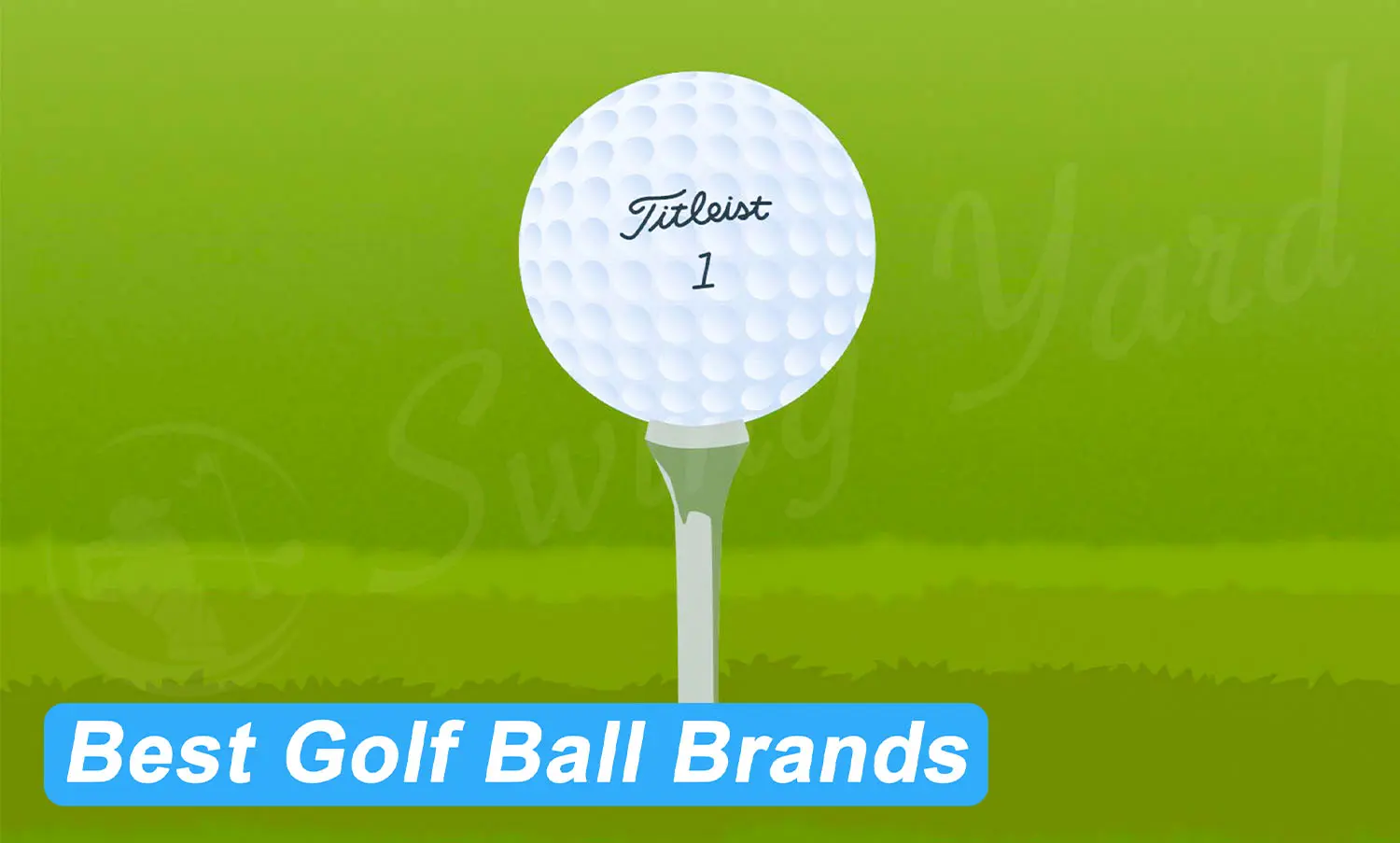 By Coach Erik Schjolberg – Sep 13, 2023
Today, I will cover the best golf ball brands ranked in 2023 by overall performance.
To carry out this test, I assessed the brand's experience and the durability, performance, and consistency of their golf balls. You'll find that this guide will give you a better idea of which manufacturer offers the best option for your swing.
Our Picks – The Very Best Brand of Golf Balls
Best Premium – Titleist
Runner Up Premium – Callaway
Best Overall (Used by Tiger) – Bridgestone
Best Value – Vice
Best for Average Golfer – Srixon
Most Underrated – Wilson
Best for 5 Piece Construction – TaylorMade
---
Best Golf Ball Brands Ranked List
(also check out our list of the best golf balls ranked for 2023)
1. Titleist
Their Top Balls:
| | | |
| --- | --- | --- |
| Golf Ball | Description  | Handicap Range |
| Pro V1 | 3-piece, low driver spin, rapid speed, optimal greenside spin | Low |
| Pro V1x | 4-piece, low driver spin, accelerated speed, enhanced short game spin | Low |
| Velocity | 2-piece, low long game spin, faster speed, playable greenside feel | Medium – High |
Titleist opened its doors in 1932, as founder Phil Young set out to create the perfect golf ball. Young and his partner Fred Bommer introduced a quality control check, where every golf ball was x-rayed. A tradition that lives on today at the factory in New Bedford, Massachusetts.
In 1935, the company released its first branded golf balls and targeted the sport's top players. One would argue this focus has remained.
Their famed Pro V1 and Pro V1X golf balls are built for faster swinging golfers (check out our complete list of high swing speed golf balls here) seeking tour performance from tee to green. In other words, it spins low off the tee and accelerates velocity without sacrificing backspin around the green.
I enjoy the performance of the Velocity and TruFeel, which the company constructed for the average golfer. However, most Titleist golf balls are premium designs created for professionals and low handicappers.
Scottie Scheffler, Jordan Spieth, Cam Smith, and Justin Thomas are among the many who play a Titleist golf ball.
Pros
They manufacture premium quality golf balls
Strict quality control measures
90 years of golf ball manufacturing experience
Made in the USA
Cons
Most of their golf balls fetch a premium price
They offer few products for the average mid and high handicapper.
The Bottom Line 
There is little doubt that Titleist has stood the test of time. They have created golf balls for 90 years and are respected by the game's best players. Their premium products generate minimal long-game spin while boosting ball speed and greenside control, which is why they are preferred by the Pros, and number 1 on our list for best brand of golf balls.
---
2. TaylorMade
Their Top Balls:
Golf Ball
Description 
Handicap Range
TP5
5-piece, low driver spin, accelerated velocity, maximum greenside spin
Low
TP5X
5-piece, minimal driver spin, increased speed, enhanced short game spin
Low
Distance
Plus
2-piece, reduced driver spin, rapid pace, moderate compression
High
TaylorMade entered the golf equipment industry in 1979 when Gary Adams took out a $24,000 loan to kickstart operations. Despite the brand's popularity, it did not manufacture golf balls until the early 2000s. I was old enough to witness the transition.
Their first golf ball, the InerGel Pro, hit our shelves in 1999 and was discontinued in 2001. A year later the company acquired MaxFli, but their reputation for entry-level golf balls prevented TaylorMade from competing with Titleist. They flogged MaxFli to Dicks Sporting Goods in 2008, two years after releasing the TP Red and Black range.
In 2015, TaylorMade put out the first edition of the TP5 and TP5X models as a direct competitor to the Pro V1 and Pro V1X range. These golf balls restrict long game spin, enhance ball speed and boost greenside control.
Collin Morikawa, Matthew Wolff, Dustin Johnson, and Sergio Garcia are some of the names striking these golf balls on tour.
Despite their mission to compete with Titleist, TaylorMade also produces products for the average golfer, such as the Distance + and Soft Response range.
I find that this golf ball is an ideal option for slower swingers seeking maximum yardage. However, you'll notice that it provides minimal spin around the green.
Pros
They offer golf balls for all skill levels
20 years of golf ball manufacturing experience
The products are readily available
Produced in the USA
Cons
Most options are built for faster swinging golfers
Only a handful of golf balls are affordable for the average golfer
The Bottom Line
Although TaylorMade began producing golf balls seven decades after Titleist, they have moved mountains to become a direct competitor in a short period. Their top products deliver optimal results from tee to green, while entry-level golf balls make the game easier for the average player.
---
3. Callaway
Their Top Balls:
Golf Ball
Description 
Handicap
Range
Chrome Soft
3-piece, low driver spin, fast speed, high wedge spin and forgiveness
Low
Chrome
Soft X
4-piece, low-mid driver spin, fastest ball velocity, maximum wedge spin
Low – Mid
Supersoft
2-piece, low driver spin, accelerated ball speed, high flight
Mid – High
Callaway is a giant in the golf equipment industry, but like TaylorMade, they began producing golf clubs long before golf balls.
After buying out the remaining half of the Hickory Sticks USA company in 1984, he relocated the company to Carlsbad, where he focused on producing game improvement clubs for the average golfer.
It wasn't until 2000 that they launched their first golf ball, the Rule 35 range, with two options. One carried a 105 and the other a 95 compression rating. Since then, they have refined their craft and created golf balls like the Chrome Soft, the Chrome Soft X, and the Supersoft.
The Chrome Soft range features complex constructions consisting of multiple layers. These balls restrict your driver spin and enhance velocity without compromising spin around the green.
Phil Mickelson, Jon Rahm, Xander Schauffele, Sam Burns, Marc, Leishman, Si Woo Kim, and Tuka Saso play the Chrome Soft X.
In addition, I find that the Supersoft range promotes maximum length for slower swinging high handicappers.
Pros
A broad selection of golf balls for the average player
22 years of golf ball manufacturing experience
Their distance golf balls are available in multiple colors
They cater to every budget
Cons
Minimal options for faster swinging lower handicappers
Limited golf balls with workable flight
The Bottom Line
Whether you are a slow-swinging 30-handicapper or a tour professional, you'll find that Callaway manufactures golf balls for you.
However, there are fewer options for lower handicappers than the average player. Finally, I found that they offer an array of affordable options to relieve your bank balance.
---
4. Bridgestone
Their Top Balls:
Golf Ball
Description 
Handicap
Range
Tour B
XS
3-piece, low long game spin, high wedge spin, optimal driver rebound
Low
e12
Contact
3-piece, straight flight golf ball, increased short game spin, minimal driver spin
Mid – High
e6
2-piece, faster ball speed, low driver spin
High
The oldest golf ball manufacturer on this golf ball brands list is Bridgestone, beating Titleist by one year. However, both brands only released their first branded golf balls to market in 1935. The rubber experts are renowned for constructing complicated golf balls that deliver precise flight, speed, and spin.
The company does cater to the average golfer with their e12 Contact and e6 range. However, much attention is given to their tour golf balls.
The brand works with Tiger Woods, Bryson DeChambeau, and Fred Couples to guide them around the links.
Although I appreciate the complexities of the Tour range golf balls, I found that average swing speeds struggle to produce optimal results. Fortunately, Bridgestone covered all bases and even created the Precept Lady to cater to the swing speed of the average female golfer (check out our list of the best balls for women in this post).
Pros
Over 90 years of manufacturing experience
They construct complex golf balls that produce optimal performance from tee to green.
Durable products
They make golf balls for every golfer
Cons
Their entry-level golf balls cost more than some competitors
The distance golf balls produce reduced greenside spin
The Bottom Line
Bridgestone is one of the original modern golf ball manufacturers and has continued to innovate for over 90 years. Their golf balls are of exceptional quality and cater to every skill level.
I found that the e12 Contact and e6 dimples best suit mid-to-high handicappers. Conversely, the Tour golf balls work for superior players.
---
5. Srixon
Their Top Balls:
| | | |
| --- | --- | --- |
| Golf Ball | Description  | Handicap Range |
| Z-Star | 3-piece, exceptional wedge spin, fastest ball speed | Low |
| Q-Star | 3-piece, soft feel, low driver spin, rapid velocity, penetrating flight | Low – Mid |
| Soft Feel | 2-piece, maximum compression, reduced spin, increased speed | Mid – High |
I am not paid a cent by Srixon, but I have used their golf balls for ten years. Even though it's an entry-level golf ball, I find that the Soft Feel performs consistently and offers excellent bang for your buck.
The Japanese manufacturer started producing golf balls in 1996. In under three decades, they have risen to the ranks of one of the best golf ball brand on the planet. The Soft Feel is the most popular Srixon golf ball among amateur golfers for its high compression levels and accelerated ball speed.
Conversely, the Z-Star range is constructed for faster swinging tour players. Hideki Matsuyama, Shane Lowry, and Minjee Lee all employ Z Star models in their golf bags. The reduced long-game spin, explosive velocity, and elevated short-game control make it ideal for superior golfers.
Pros
Excellent value for money golf balls
Wide variety for the average golfer
The Soft Feel range is available in a host of colors
26 years of golf ball manufacturing experience
Cons
Only one range suits faster-swinging golfers
The SuperSoft range provides limited wedge spin
The Bottom Line 
Srixon produces excellent value-for-money golf balls that perform consistently and do not break the bank. Although I love the construction and performance of the Z-Star range, these dimples are best left to the Pros. Average golfers are advised to look at the Srixon Distance or Soft Feel instead.
---
6. Wilson
Their Top Balls:
Golf Ball
Description 
Handicap Range
Staff
Model R
4-piece, optimal energy transfer, high spin, rapid velocity
Low
Triad
3-piece, stable flight, lower driver spin, faster speed, enhanced wedge spin
Low – Mid
Ultra 500
2-piece, accelerated speed, minimal spin
High
Wilson is another veteran golf balls manufacturer. Although they are not as old as Titleist or Bridgestone, their work significantly impacted the industry. In 1954, they released the Wilson Staff, the first golf ball player employed for its performance.
The brand suggested that it produced 40% additional velocity over its competitors, leading to Wilson signing numerous tour players. 29 years later, they broke barriers again. This time, with the first 2-piece distance golf ball.
This construction was easier for amateurs to compress, generate speed, and maximize yards. Find out what materials inside the golf ball change these factors in this article.
(if you need help in this area, check out our tips on how to compress the golf ball)
Wilson's golf balls are not popular among tour professionals, and I can only think of Brendan Steele, who uses the Staff Model balls. However, the brand is attempting to change this by investing more effort in the Triad, and Staff Model ranges.
Pros
Affordable products
Their balls benefit high handicappers
68 years of golf ball manufacturing experience
They produce golf balls for every skill level
Cons
Their entry-level golf balls are rock hard
They currently have limited offerings to lower handicappers
The Bottom Line 
I have tested my fair share of Wilson golf balls, and you cannot fault them for their emphasis on distance and forgiving golf balls for the average golfer. However, we are seeing them actively market new Tour-level balls, which you'll notice enables them to compete with Titleist and TaylorMade.
---
7. Vice
Their Top Balls:
Golf Ball
Description 
Handicap Range
Pro Plus
4-piece, high speed, low driver spin, exceptional short game spin
CHECK PRICE AT

Low
Tour
3-piece, moderate spin, straight flight, accelerated velocity
CHECK PRICE AT

Mid – High
Drive
2-piece, durable, optimal roll, high energy transfer, low driver spin
CHECK PRICE AT

High
Vice is the newest kid on the block on this list, and they are making waves in the industry. Instead of sponsoring tour golfers and splurging a fortune on marketing, they only sell directly to the end user. This means they cut out the middleman and pass the savings on to you.
On top of saving you money, they offer six different ranges to provide for every golfer. I find that their Tour golf ball is an ideal option for mid-handicappers, as it delivers maximum long game length and increased greenside control. Plus, it is super affordable.
In addition, you'll see that the Pro Plus is a complex 4-piece golf ball crafted for faster swinging low handicappers. It provides extra yards, control, and spin.
Finally, the simple 2-piece Drive design works for high handicappers seeking increased yards off the tee.
Pros
Exceptional value for money
Vice produces golf balls for every player
They cut out the middleman to increase your savings
Their Tour grade golf balls are offered in multiple colors
Cons
Fewer years of manufacturing experience
Their lack of presence on major tours means the average golfer is less likely to trust the brand
The Bottom Line
I love a good deal, which is why I support Vice's business model. Cutting out the middleman and handing those savings back to the consumer is how it should be. Furthermore, I find that Vice golf balls cater to every golfer, whether you are a high handicapper or a budding pro.
---
And the Winner for Best Golf Ball Brand is…
During this assignment, I needed to look at the overall scope of these brands to find the best options. This included the experience of the manufacturer, the quality of the products, and their target market. As a result, the brands included on this list cater to every golfer based on skill, budget, and swing speed.
Best Overall Golf Ball Manufacturer
The best overall golf ball brand is Bridgestone. Their experience, combined with a wealth of options for every swing speed and budget, is hard to beat.
Plus, I like how they roped in Tiger Woods, Fred Couples, and Bryson DeChambeau to help them construct their latest tour golf balls. You may be starting out or looking to turn pro, either way, Bridgestone has options for your game.
Best Value Golf Balls Manufacturer
There is only one winner for the best value-for-money brand, Vice Golf. The newbie manufactures dimples for every skill level and manages to do it at a fraction of the price. You will pay less for their urethane Tour balls than any major golf brands.
Top Golf Ball Brands for Average Golfers
I was torn between Wilson and Srixon for the top golf ball brands for average golfers. However, Srixon eventually took the prize, as it works for mid AND high-handicappers. Although I appreciate Wilson, I find their entry-level golf balls are rock hard and offer limited greenside control for mid-handicappers.
---
What To Look For In Golf Ball Companies
#1 Experience
An experienced brand knows what they are doing, which means it can be trusted to produce a quality, durable product. Not to take anything away from newcomers, but a legacy company has been tested by numerous consumers before you. Therefore, you do not need to take any risk.
#2 Product Quality
Are the golf balls cheap but sturdy? Or are they expensive and vulnerable? You want golf balls that will hold up for several holes without scuffing and impacting flight, speed, and spin.
Naturally, this is irrelevant for beginners who will likely lose their dimples before it becomes scuffed. I suggest selecting the best performing golf ball at the lowest price to reduce your expenses.
#3 Value For Money
Do these golf ball brands offer value for money? In other words, do the balls last longer, perform optimally, and warrant their price tag?
For example, Vice Golf balls provide durable, quality dimples for a fraction of the price of their competitors. Therefore, it offers you, the consumer, excellent value for money.
#4 Consistency
The final factor to look at is consistency. Do these golf balls offer your desired performance? If you are a high handicapper, do they produce products to deliver increased ball speed and low long game spin? In addition, do the balls spin optimally around the green for low handicappers?
The point is that you want to rely on the consistency, spin, speed, and flight of your golf ball for consistency. However, if the golf balls are poorly produced, this can lead to erratic results, relinquishing your control.
---
FAQ
What is the best brand of golf balls?
I found that the best brand golf balls is Bridgestone because they offer a variety of products for golfers of all skill levels. If you are looking for the best tour golf ball brand, then Titleist has the upper hand. Conversely, Wilson is the best choice for high handicappers, but you can also check out our ranking all the high handicap balls here.
Does the brand of golf ball really matter?
The brand of a golf ball matters because you can trust the consistency and quality of the product. Lesser known brands may not possess the intellectual property to consistently produce optimal performing golf balls.
Which brand of golf ball goes the farthest?
From my experience, Bridgestone golf balls go the farthest. Their products are constructed for varying swing speeds to produce optimal ball speed and low spin for maximum yardage. Also check out our list of the best distance golf ball.