By Coach Erik Schjolberg – Oct 17, 2022
Gear can be anything that keeps your golf swing fluid, your hands warm, and your winter golf clothes dry and cozy.
I have played a ton of cold winter golf throughout the years. However, some winter golf gear is better than others. Here is a general guideline as to what you need to play golf in the winter (and still enjoy it!).
---
Cold Weather Golf Attire and Winter Golf Clothes
We are going to break this up into two categories for you. The first of these two is the cold weather golf apparel and attire you will need to maintain your body heat while on the golf course.
A cold weather golf outfit in the past may not have had the best look, but today, you can easily find great-looking winter golf outfits. Here's what you will need.
1. Pants
It's pretty obvious that pants would be an important part of your winter golf attire; however, not all pants are created the same. Some pants are made specifically as cold weather golf attire and can help your performance on the course. When your legs get cold, it's hard to maintain your body heat.
A great pair of cold weather golf pants are the Adidas Men's Frostguard Insulated pants; these have a tapered fit and a modern and stylish look. I love that you can play with these in the morning, and the bottom of the pants will not get soaked or weighed down with water. The four way stretch fabric also ensures plenty of motion in your golf swing as you play.
Pros
Can play in winter conditions and stay warm and dry
Insulated material
Four way stretch fabric
Cons
Not very breathable and can get uncomfortable for some golfers
Limited color selection
---
2. Jackets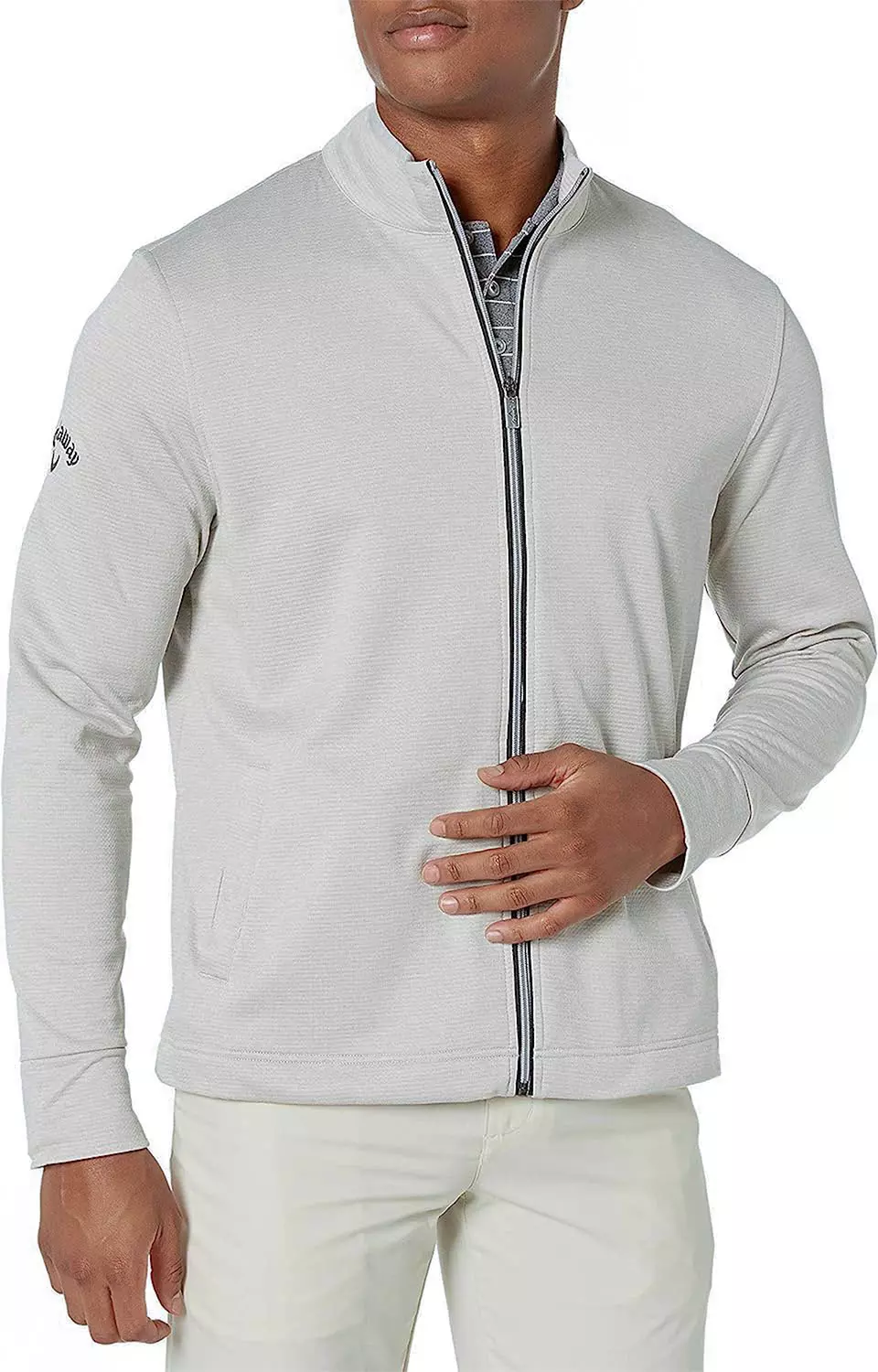 Did you notice we called this category "jackets" and not jacket? Any golfer that lives in an area with cooler weather knows that golf jackets tend to accumulate. Chances are you will have one that is a quarter zip, a full zip, or maybe even a jacket with a three-button top.
Some of these jackets may be waterproof, others windproof, and some just for a cool day. The bottom line is that you will need quite a few jackets to be comfortable on the golf course in the winter.
The Callaway Men's Full Zip Waffle Sleeve Jacket is an excellent option for playing golf in cold weather. This particular jacket can hold up to really cold temperatures, and it also looks great.
The Full Zip Contrast Zipper keeps all the cold air out and ensures that you are able to stay warm. Callaway makes almost all of their products in a way that you will be able to swing through the ball with ease.
Pros
Optitherm Fabric to help keep cold out
Available in a variety of sizes and three colors
Callaway logo on the sleeve
Cons
Not a waterproof jacket
Some golfers don't like the full zip design
---
3. Layering Tops
A jacket on the course won't always be enough, and it's nice to have some additional layers of cold weather golf attire. This can include anything from long sleeve golf shirts to these new golf hoodies we are seeing this year.
The Under Armour Men's Tech 2.0 ½ Zip is one of the best layering tops for golfers. This product is available in many colors; it is thin enough to fit under a jacket and can go over a golf shirt. These layering tops are comfortable and easy to wash and take care of.
Pros
½ zip design is easy to get on and off
It can be worn for other sports
Dozens of colors to choose from
Cons
On its own, it's not all that warm
More form-fitting is not for all body types
---
4. Vests
The vest is an article of golf clothing that can help maintain body temperature without causing a loss in shoulder rotation. Sleeves can be a major problem for golfers that are feeling restricted in their swing and their turn. A vest ensures you are not just out in the cold weather; you are still playing golf the way you are used to.
The Little Donkey Andy Men's Lightweight Softshell Vests are an excellent option for players that are interested in golfing in the winter but not losing any maneuverability. Many players like vests as they don't restrict the arms in any way, but they help the core of the body stay warm.
This Little Donkey Andy vest is affordable, comes in a bunch of colors, and is windproof. The versatile piece will work well as a mid layer.
Pros
Fair pricing
Windproof
Plenty of colors to choose from
Helps to keep the body warm when temperature drop
Cons
Fabric is not all that thick for extreme weather conditions
Pockets are not all exactly designed for golfers
---
5. Socks
Keeping your feet warm on cold winter golf days is a challenge. If you don't have the right shoes and the right socks, you could end up getting very uncomfortable. The right pair of golf socks will ensure that cold weather golf is not painful and will ensure staying warm on the course is considerably easier.
The FootJoy Men's TechSof Tour is a great pair of winter golf socks. These socks come up a little higher, perfect under the right pair of golf trousers.
Expect the socks to be comfortable, help keep your feet dry, and retain body heat. The plush feel of these golf socks does make it seem like you are walking on a cushion.
Pros
Polyester, Nylon, Spandex, and Acrylic mixture of fabric
It will help feet stay warm and dry
Cradle support for flexibility
Cons
Expensive per pair
The range of sizes may not be the perfect fit for your foot
---
6. Winter Hats
Wearing a hat when you play golf can help keep sweat and even rain out of your face. In addition, wearing the right hat can also keep your head warm!
It's so important to protect your head not just from the chilly breeze but also from the sun. So many golfers forget about sunburn when the golf winter rules set in, but that sun is still out there!
A winter golf beanie is not something that all golfers can pull off, but you will undoubtedly want to learn how. This was a game changer for me when I started playing more winter golf and finally found the right hat.
This Titleist Men's Winter Golf Hat has a fleece lining, impressive comfort, and tremendous warmth. The pom pom is that added feature that lets your golf partners know you are in it to win it!
Pros
Great quality golf hat from Titleist
Easy to wash
Fleece lining can help you stay incredibly warm
Cons
Not as modern in styling as some players like
Limited color selection
---
Best Cold Weather Golf Gear for Winter (Non-Clothing)
In addition to having the best winter golf clothes, you will also need some additional golf equipment and gear to keep your golf to the level you expect.
Don't be surprised if your handicap goes up a shot or two when the temperatures drop. However, when the temperatures go back up in the spring, you will be ready to take on the new season.
1. Hand Warmers
I've used lots of different golf hand warmers through the years to try and keep hands warm between shots. The golf ball can feel like an actual rock if your hands are not warm enough when you make contact with the ball. However, these Ocoopa Rechargeable warmers change the game a bit.
Simply charge these up the night before you go out to play golf. When you are on the course the next day, you have three levels of temperature and four to eight hours of use.
Not only is this a great solution in the winter it also works in the rain, as some of the units Occopa makes are waterproof.
Pros
Great combination with winter gloves
Easy to charge and reuse
Better than disposable hand warmers
Can adjust heat levels
Cons
Have to remember to charge it!
Some golfers consider this pricey unless playing a lot of winter golf
---
2. Gloves
A standard golf glove is only going to keep one hand warm. However, cold weather gloves go on both hands and really ensure that your hands are fully covered and free of any pain in the cold weather.
The FootJoy StaSof Winter Gloves are a great option to consider. These cold weather golf gloves allow coverage for both hands, but they keep your connection with the club consistent as well.
I won't lie to you here; getting used to golf gloves on both hands takes a bit of time. However, if you want to try this for the first time, the FootJoy StaSof is a great place to start.
Pros
Allows for more consistent cold weather golf
Easy to maintain
Can easily take on and off as needed throughout the round
Good feel is thicker and warmer than rain gloves
Cons
Adjustment period for getting used to winter golf gloves
Will feel thick when you grip the club
---
3. Golf Cart Heaters
Golf carts may seem like they are all fun and games until you race down a fairway in the cold weather. Expect to feel some wind burn and a whole other rush of cold that you may not have even planned on. The good news is that the Mr. Heater Golf Cart heater is a perfect solution.
Simply put this heater in the cup holder of your golf cart, connect a small propane tank, and you will be impressed with how much heat it can put off.
At first, I was nervous about the setup and having a propane tank in the cart with me. However, this is a really small little unit, and it made the day out in the cold weather considerably more enjoyable.
Pros
Increases the effectiveness of your other cold weather golf gear
Really helps with a golf cart cover
Small propane tanks are easy to bring to the course
Takes seconds to heat up
Cons
Have to be careful with leaving this on/propane tank connected when finished playing
The propane tank will last about a round, then needs replacement
---
4. Balls
Some golfers will plan on using the same golf balls that they always use when they start playing golf in the winter months. This is really not a great idea.
Golf balls need to be compressed in order to hit them far. When it's cold outside, you can't compress the golf balls quite as well. Something with a softer feel and a lower compression makes a lot of sense.
Many golfers find the Srixon Soft Feel to be a perfect addition to their cold weather golf gear. These golf balls are soft around the greens, travel a long way, and keep you from feeling like you are hitting a rock on the course.
I like the Soft Feel for slower swing speed players all year long, but even the faster swings will benefit from these cold weather golf balls.
Pros
Easy to compress
Softer feel around the greens
High ball flight even in the cold and wind
Cons
Greenside spin is not great
Two piece golf balls only have so much feel/workability
---
5. Shoes/Boots
Winter golf shoes are typically going to come up a little higher on the ankle than summer golf shoes. They look more like golf boots than shoes actually. Expect some extra warmth and padding built in as well as some comfort type fabric. If you are new to winter golf, the FootJoy Cascade can be a really great choice to help you on those cold days.
This shoe looks like a mix between winter boots and a golf shoe. The good news is that if you don't like the style, your winter golf pants should go right over the top part of the shoe, and it won't look any different than a traditional FootJoy shoe.
For those that don't have the budget for winter shoes and summer shoes, always make sure you buy one great pair of waterproof golf shoes; that's the most important feature in the winter.
Pros
Waterproof
Warm material
Comes up higher on the ankle for added warmth
Good stability and traction in the sole
Cons
Not the most appealing of golf shoes
High price if you only play a few winter rounds
---
Golf Cold Weather Gear – The Most Important Things To Look For
When looking for the best golf cold weather gear there are a few things to keep in mind. If you are a player that enjoys playing winter golf, try to think about your pain points.
Some golfers say that their legs get cold, while others have a problem with their hands or even ears. This can be different for everyone, but I can guarantee you there is a golf product out there to fix everything you may be concerned about!
#1 – Material
Certain fabrics and materials work better in the winter months. I would look for material that is waterproof as well as windproof. These things are critical because winter golf weather is typically not just cold; there are usually some other weather features that will be coming your way.
#2 – Part of the Body
Have you considered all areas of your body that are going to need coverage? So many golfers get a winter pair of golf gloves but leave out the socks. Not until you have all the key features we discussed in our cold weather golf gear guide are you going to feel completely comfortable on the course.
#3 – Level of Restriction
It's not hard to stay warm on the golf course. However, it can be hard to stay warm on the golf course and still swing a golf club!
There is tons of men's and women's winter golf attire out there that will keep you warm, but it may also knock twenty yards off your drive. Who needs that? I love the idea of layering and have always found it to be the most effective way to play winter golf.
---
FAQ – Winter Golf Gear
When you play winter golf, you must set your expectations. I have always found that I play a shot or two higher in the winter (if I'm well prepared). Here are a few questions that can help ensure you actually enjoy playing golf year-round.
What to wear golfing when it's cold?
The best way to get dressed for golf in colder conditions is to wear water resistant, wind resistant clothing that does not restrict your swing. Most golfers on the PGA Tour and amateur players find that having a base layer, mid layers, and top layer is the best way to do this.
Is it good to golf in cold weather?
Golfing in the cold weather can be a challenge, but it is one that is well worth taking. You may find that most courses are much less occupied and that you can finish your round quicker. In addition, there are sometimes discounts for playing winter golf.
How do I keep my hands warm while golfing?
Hand warmers and golf gloves for the winter are two great ways to maintain warm hands on a cold winter day. The hand warmers ensure that you still have a great connection with the grip of your club.
---
Final Thoughts – Golfing in Cold Weather Clothing
We hope you now feel prepared for your winter golf season and the cold weather golf gear that will help you get through.
I have played winter golf my entire life and have really come to enjoy it. Honestly, playing golf year round makes being a good golfer considerably easier. It's worth the investment into the right gear, and then the rest will fall into place.