Author: Britt Olizarowicz - Britt first picked up a golf club at the age of 7. Now almost 30 years later, she has been a Division 1 college golfer, golf teaching professional, membership director, and golf writer.
The good news is, I'm going to let you in on a secret that will help you realize that there are actually plenty of tall women's golf clubs out there; you just need to know where to look.
Recently I tested some of the best golf club sets for women and found these five choices to be high performing and well worth the money.
---
Best Tall Womens Golf Clubs – Test Results and Rankings:
#1. Wilson Women's SGI Profile Complete (Best for Average Tall Woman Golfer)
The Wilson SGI sets are available for almost any player that needs them. Whether you are looking for ladies golf clubs, men's golf clubs, or junior golf clubs, the SGI comes in many different sizes and styles, and they have a version that is one inch longer for the tall woman golfer.
With this set, you benefit from deep perimeter weighted 431 stainless steel irons with an extremely low center of gravity. In addition
WHY it's good for Tall Women
Aside from the fact that these are one inch longer than standard, the Wilson Women's SGI Profile is also lightweight and easy to launch.
You should have no trouble getting both distance and forgiveness with this golf club set. I also liked the sand wedge included, as it has a wide sole and plenty of greenside control.
The Bottom Line
If you are on a budget but want good quality golf clubs tall women can play with without adjusting their stance or setup, the Wilson Women's SGI Profile Complete is a great option to consider.
---
#2. Callaway REVA Complete Set Long (Best Premium Golf Clubs For Tall Women)
The REVA 11 Piece Complete golf set is certainly a bit more money than other women's clubs on the market, but there is a reason behind this. When you are looking for the right golf clubs for your game, you have to think about feel and precision as well as distance and forgiveness.
The feel of the Reva golf clubs was by far my favorite of all the clubs I tried for the tall woman golfer. Callaway did not hold back regarding premium materials as they put this golf club set together. Expect a golf ball that flies high with plenty of distance and spin around the greens when you need it.
WHY it's good for Tall Women
Tall women may have a hard time finding golf clubs that offer premium performance. Many times a golf club set for women golfers will be a cheaper brand where the feel is not as valued. These large, forgiving cavity back irons and impressive hybrids make scoring considerably easier for the tall woman.
The Bottom Line
The Callaway REVA is probably the best set for tall ladies, but you must have the budget to pay for something like this. Club manufacturers often skimp out on some of the more premium materials when putting a set like this together; that was not the case with the REVA.
---
#3. Tour Edge Lady Edge Half Complete (Best For New Player)
Some tall golfers are afraid to take up the game of golf because of concerns about high pricing on custom golfing equipment. If that is you, the Tour Edge Women's Half Complete set is a perfect choice to consider. This set allows you to play golf for a fair price with just the essentials.
Each of these golf clubs contains a ladies' flex shaft with plenty of forgiveness for female golfers. The Tour Edge clubs in the Half Complete set are not the best feeling on the market, but they have responsive graphite shafts that launch high and help to develop those critical golfing skills.
WHY it's good for Tall Women
The Tour Edge Women's Half Complete will offer clubs one inch longer (you must select this when checking out), and they are some of the best ladies beginner golf clubs that tall women can find.
Club manufacturers struggle to put out a set for a fair price that is also made with a longer shaft, but Tour Edge managed to do it. This set should be on your list if you have a slower swing speed and play occasional golf.
The Bottom Line
The Lady Edge Half Set is a great beginner option for female golfers that are taller than 5'7 or 5'8″. If you are looking for women's golf club options for more experienced players or those who care about feel and precision, this isn't the set.
---
#4. Cobra Men's Golf Fly XL Complete Set (Best For Faster Swing Speed)
The great thing about being a tall female golfer is that you can generate a lot of clubhead speed. The reason I know this is because I'm a short female golfer that is jealous of your speed! Many women golfers who are tall look for ladies' clubs with the extension, when they can expand to men's golf clubs.
One of the best options for women golfers that are taller and looking for a great golf club set are senior men's clubs. With the senior shaft, you won't notice much of a difference in performance to the ladies' shaft. The ball flight and overall distance capabilities should be very similar.
Check this out if you're wondering what is the difference between mens vs womens golf clubs.
WHY it's good for Tall Women
The clubs in the senior men's Cobra Fly XL golf set are really well designed with plenty of distance capability and built-in forgiveness. This set also has a good set makeup with two hybrids included and two fairway woods. You won't be shopping for additional clubs to add to the set.
I found that the Cobra Fly XL has some of the best golf flight technology for the taller woman making it easier to launch and control ball flight for tall ladies.
The Bottom Line
Don't skip out on the men's golf club; they could be your perfect solution. This set has an impressive hybrid club that stands out as one of the better options in the game; female golfers will feel well prepared for any situation they come across on the course.
But if you are are an older female golfer yourself, then our list of the best golf clubs for senior ladies might be a better read for you.
---
#5. Tour Edge Women's Moda Silk (Best Value)
The Tour Edge Moda Silk has always been one of my favorite golf club sets for the mid to low-swing speed golfer looking for a reasonably priced high performing set of golf clubs.
Female golfers will find the Tour Edge Moda silk to be responsive and forgiving, and it comes with a great golf bag and matching head covers.
The beginner golfer that needs high launch will benefit from perimeter weighting and the undercut cavity. However, I also noticed that these golf clubs for women have an excellent feel and can be adapted well for the better tall lady golfer as well.
WHY it's good for Tall Women
The Moda Silk set from Tour Edge comes in standard length, petite, and in an option for taller ladies. This tall set is one inch longer but still comes with lightweight graphite shafts and long-lasting golfing technology.
The Bottom Line
These are some of the best clubs on the market for women for the money. I'm continually impressed with Tour Edges' ability to put a great product on the market for a fair price. A great pick for womens tall golf clubs for sure.
---
And the Winner for Best Golf Clubs For Tall Ladies Is…
As you saw from these five golf club sets for the tall woman golfer, there are some really good options out there. In addition, a tall lady may have the height and arm's length to play with men's clubs, and this will only further increase the options out there.
Overall Best Golf Clubs for Tall Women
The Callaway Reva Complete stands out as the overall best golf clubs for tall ladies. This women's golf set has a great feel, and I noticed nearly as much ball speed as I do with the premium Callaway clubs like Rogue and Epic series.
Best Value
The Tour Edge Moda Silk stands out as the best value on the market. This club set will last you for quite some time as it is the perfect set makeup and allows players plenty of ball control. The bag is also nice with an included fleece-lined valuable pocket.
Best for Faster Swing Speed
The Cobra Men's Golf FLY XL is a secret weapon for the tall woman golfer. With men's clubs being the same length as tall woman clubs, the Cobra Fly XL brings impressive performance from this well-designed men's club to the lady golfer. Don't forget to expand your search to men's clubs.
---
What To Look For In Tall Women's Golf Clubs
If you are taller than 5'8", you may notice that women's golf clubs feel a little short. In addition, the lighter shaft and softer flex may not be the perfect match for what you need in a golf club set.
(if you're looking for the best women's club sets overall, check out our ranking of those in this article)
Here are the things to look for to ensure you have more fun on the golf course and can decrease your scores.
Club Length
Tall women golfers struggle with average-length golf clubs. These clubs end up making the proper posture really difficult. Instead, look for a club that is one inch longer than standard women.
This also makes the clubs as long as men's clubs and why many tall women find the right clubs to be men's length.
Shaft Flex
The standard ladies' shaft is a bit too flexible for the taller woman. The best club alternative could be a graphite senior or graphite regular golf club.
A bit less flex in the shaft and that extra length in the club can improve hit accuracy and ensure better results.
Loft
The loft on the golf clubs will only help with forgiveness. A high lofted driver for women is typically around 15 degrees and will encourage a straight shot down the center of the fairway.
If you have trouble controlling the driver because of the flexible shafts, a men's driver could help provide maximum feedback. Try to consider both swing speed and height when making this decision.
Shaft Material
When taller women golfers expand their search into men's clubs, steel shafts also come up as an option. Be careful going to steel shafts if your fitness level, swing speed, and overall stamina is not all that good.
You may have no trouble on the first few holes, but you can fatigue quickly with steel shafts if you are not ready for them.
---
FAQ – Women's Tall Golf Club Sets
Short women golfers pretty much have the option for golf clubs that are cut down or built for petite players (check out our ranking of the best clubs for petite women over here). If these golfers have long arms, they have even more trouble finding something great.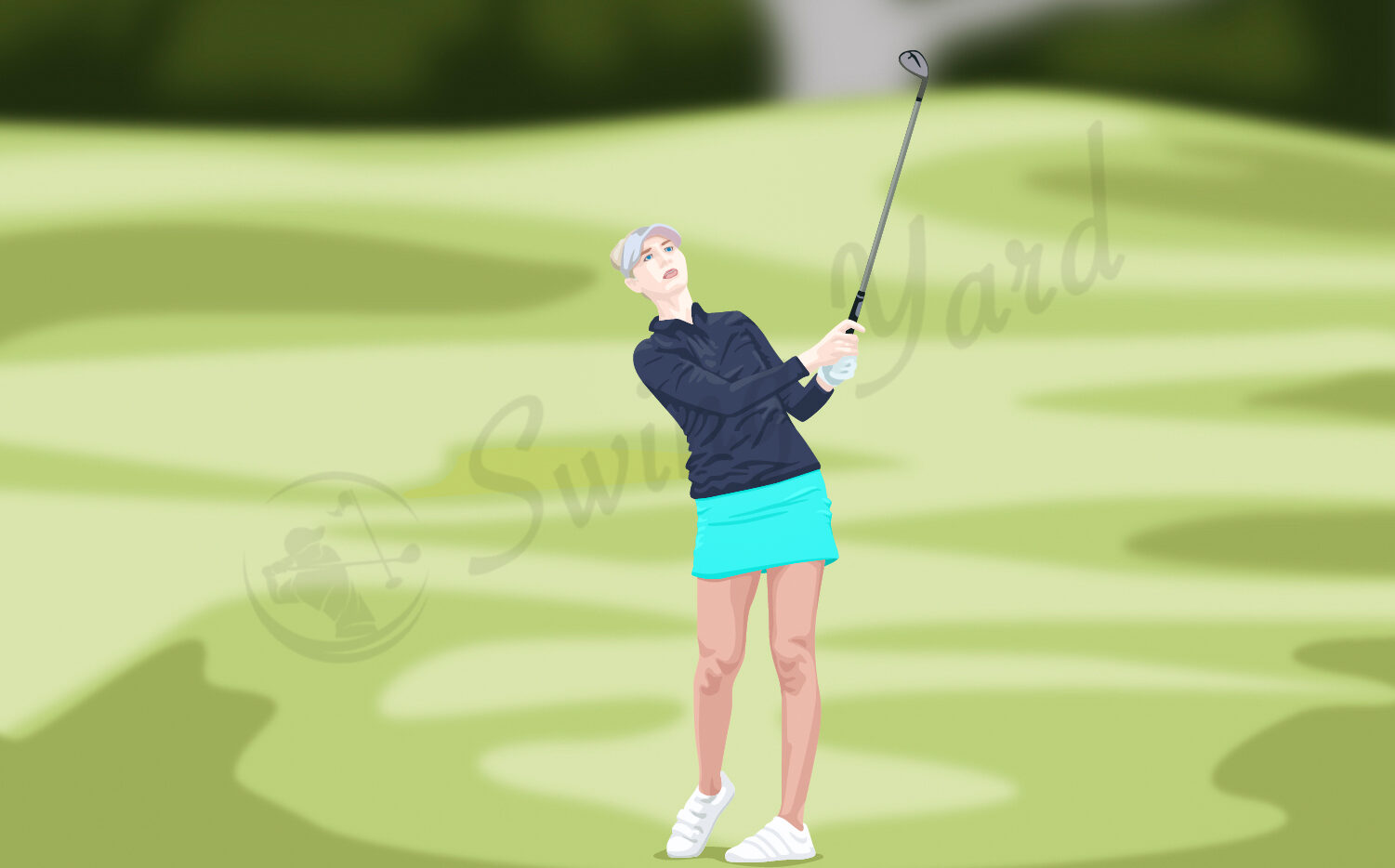 The taller woman golfer, especially those with short arms, will be able to use golf clubs for tall women as well as regular height men's club choices.
This is a large grouping of products and is beneficial when shopping for a well-designed bag of clubs.
Should a tall woman use men's golf clubs?
Tall woman golfers with good swing speed and some experience in the game should definitely consider men's clubs. There are many more options on the market, and these clubs will help with performance and ultimate durability.
What height are women's golf clubs designed for?
Women's golf clubs are designed for players between 5'5″ and 5'9″. However, depending on arm length and clubhead speed, many women golfers in the 5'8″ and over range find the need to go with something a little longer than standard.
Do taller women golfers need longer clubs?
Taller golfers need longer clubs so that they can hit the center of the clubface every time. Without the taller golf clubs, it becomes impossible for these tall golfers to return the club to square when they are in the impact position.
Do LPGA golfers use men's clubs?
LPGA golfers very often use men's clubs. This is not always related to their height but to the fact that they have very fast swing speeds and need extra resistance in the golf shafts.
---
Final Thoughts
We hope we broadened the number of golf clubs you feel you can choose from as a taller golfer.
There are so many great options for both men's and women's clubs on the market, but the Callaway Reva Complete Set certainly stands out as one of the best.
Always make sure you are hitting the golf ball in the center of the clubface; sometimes, when tall golfers bend over to accommodate shorter clubs, they pick up on some terrible swing flaws.