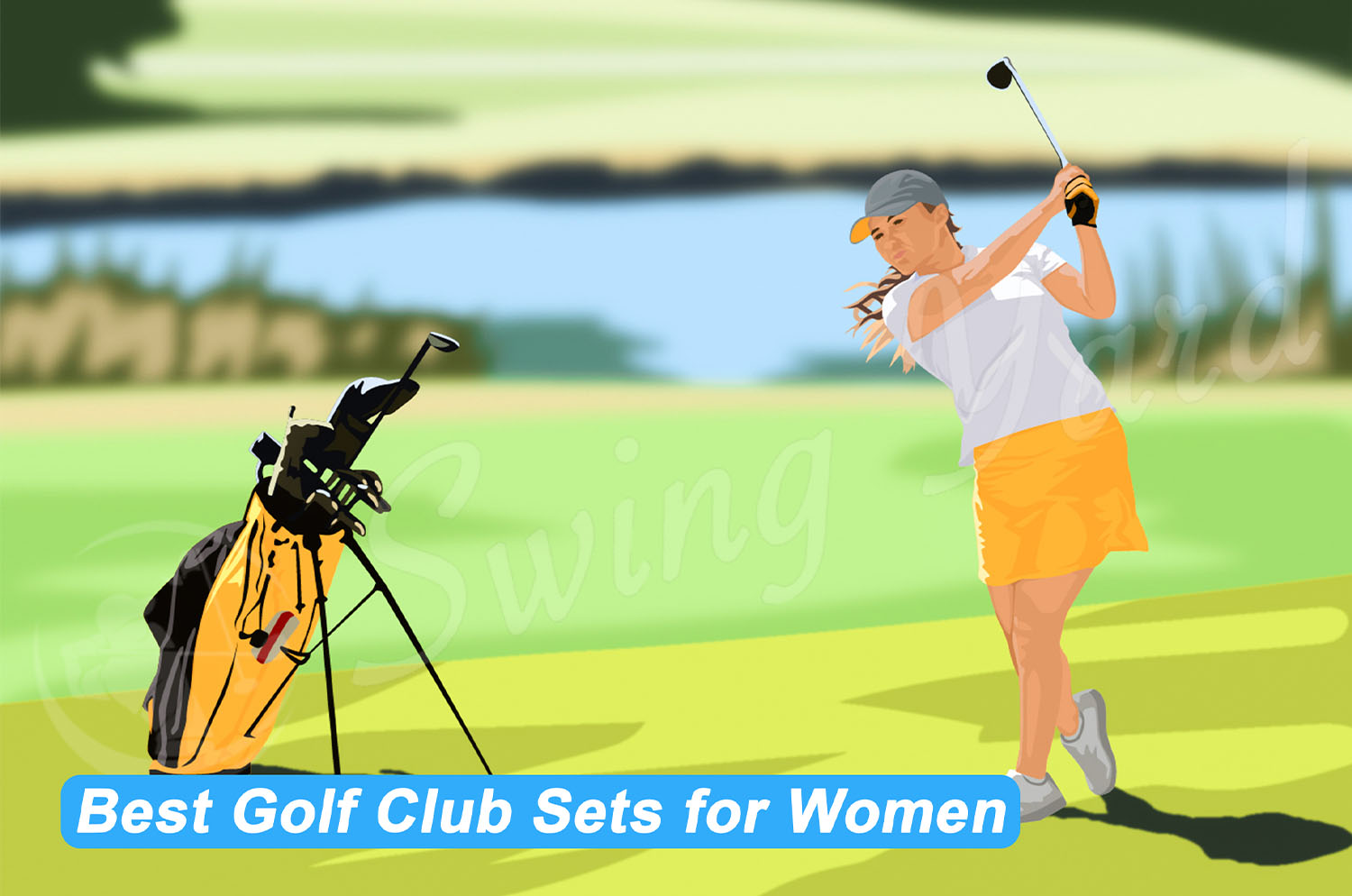 Author: Britt Olizarowicz - Britt first picked up a golf club at the age of 7. Now almost 30 years later, she has been a Division 1 college golfer, golf teaching professional, membership director, and golf writer.
best women's golf club sets
on the market and was pleasantly surprised with my findings. These sets in the past had some cheaper quality and less than impressive feel.
Today golf manufacturers are focusing on better short game tools, higher launch, and increased distance, all things that women golfers are benefiting from. Take a look at what I consider to be the best five golf club sets for women in 2023 and some insider advice on how to choose the best one for you.
---
Best Women's Golf Clubs – Test Results and Rankings 2023:
1. Cobra Fly XL Ladies Golf Clubs (Best Overall)
The Cobra Fly XL Ladies Complete Set is the best overall golf set for women in 2023. Even though Cobra has since released the Cobra Air X set for women, we still find the Fly XL to stand out as the best overall option. The first thing that sets this set apart is the unique composition.
It's very rare to find more than on fairway wood in a golf club set for women; however, this option comes with three. Having the ability to control distances and learn how to hit longer high lofted golf shots with fairway woods is very important.
The ladies complete golf set from Cobra has an excellent feel, plenty of built-in forgiveness, and golf clubs that feature a very low center of gravity. If you are new to the game or have been playing for many years, the Cobra Fly XL has some really impressive features needed in a ladies' golf club set.
Probably my favorite thing about this complete golf club set is that the swing weight is just a bit heavier than others on the market. Although the lightweight graphite shafts are still plenty easy to swing, this is one of the best choices if you lack distance and need the extra strength that a slightly heavier club can give.
WHY It's a Great Set of Women's Golf Clubs
The Cobra Fly XL Complete set has a driver with heel-biased weighting to help straighten out tee shots, fairway woods with a low profile and tons of accuracy, and perimeter-weighted irons with a low center of gravity.
When you combine that with a lightweight cart bag and one of the better-looking mallet putters on this list, the Cobra Fly XL was my favorite women's golf club set in 2023.
The Bottom Line
If you have looked at another women's golf club set and have been disappointed by the club makeup, overall feel, or distance and forgiveness, the Cobra Fly XL could be the best golf clubs for women that fit your needs.
These are women's golf clubs designed for impressive feel and longevity, and they are well worth the money.
---
2. TaylorMade Kalea Premier (Best Premium)
The TaylorMade Kalea Premier is the best premium golf club set for women in 2023. I was really impressed with the set makeup, as well as the quality included in the TaylorMade Kalea set. Sometimes when you look at the best womens golf clubs sold in sets, they are a mix of value and performance.
However, with the Kalea, it felt as though TaylorMade used all of their premium technology and impressive overall feel to make this an even better golf set.
Even things like Speed Pocket technology is used in the irons. We also were surprised to see a beautiful TaylorMade Spider putter included, a club that is several hundred dollars on its own.
As you may have already figured out, I'm a bit picky about golf club set makeup in their ladies golf club sets. So many companies try to sell us because the full set needs just five clubs and a few headcovers. Luckily TaylorMade did a perfect job putting these ladies golf clubs together.
The inclusion of two fairway woods, two hybrids, and a sand wedge will help make this a winner for me, and why it's one of the best ladies golf clubs available today.
WHY It's One of the Best Golf Club Sets for Women
Women golfers tend to have a slightly lower swing speed than male golfers. This brings up the importance of a lightweight graphite shaft and a slightly more forgiving clubhead. This is something that the Kalea has, as these clubs were designed specifically for women's golf.
In addition, women players that use the Kalea set will notice that they can keep these clubs in play for quite some time. Lower handicappers may find the forgiveness to be a bit more than they need, but with the feel being so good, it's worth keeping these clubs around.
The Bottom Line
If you have the budget and are serious about having some of the best women's golf clubs, then the TaylorMade Kalea is a perfect setting for you. Players that make this investment will not be shopping for golf clubs again for quite some time.
---
3. Wilson SGI Women's Golf Clubs Complete Set
The first two golf women's golf club sets on our list are priced a little higher than some women golfers want to spend.
If you want a great cart bag, quality golf clubs with lightweight graphite shafts and the opportunity for both standard size and a womens petite golf club set, the Wilson Women's SGI Complete could be a great choice.
Chances are you have heard of the SGI Complete sets before, as this is an option that Wilson makes for both men's golf clubs and women's golf clubs. In fact, they make them for kids too, and my kids have used them and enjoyed them.
Wilson does a great job of incorporating just enough technology to make sure all the clubs are high performing without increasing the price by much. You will notice that when the price drops, so do the number of clubs included.
This set comes with just one fairway wood and one hybrid. However, I like that you get the sand wedge with this set. In fact, the sand wedge is a nice clean looking blade-style wedge that truly helps the golf ball stop on the green if you have struggled with that in the past.
WHY It's One of the Best Golf Clubs for Women
Wilson focuses on a few essential technologies in their clubs that can make it considerably easier for women to score. The first is the higher lofts, and the center is the lower center of gravity. If you have ever struggled to get the ball up in the air, you won't anymore.
I noticed that for those with the slowest swing speeds, this Wilson technology could certainly improve overall performance and feel and get the ball moving in the right direction.
The Bottom Line
If you are looking for women's golf clubs complete set but don't have the money that the Cobra or TaylorMade cost, I highly recommend looking at the Wilson SGI. This set is affordable, but it's not cheap, and in golf, you will certainly notice the difference.
---
4. Callaway Women's Strata Complete Set
The Callaway Women's Strata Complete set is considered to be one of the best women's golf clubs for beginners. I recommend this set often when a woman golfer tells me they are interested in getting started in the game. However, I can't call this the best women's golf club set on the market.
So many golfers think that because it's Callaway and its fair pricing that it's the right fit for them. However, these may not be the best golf clubs on the market for faster swing speed players or a golfer with a bit more skill. However, the Strata are lightweight and forgiving clubs perfect for the new player.
The ladies' flex shaft in the Callaway Strata set helps players get the ball up in the air and increase the distance performance for slower swing speeds. The blade putter is just alright and doesn't provide a ton of help when it comes to alignment.
However, for a complete golf set that is fairly priced and can help women golfers get a great start in the game, these golf clubs for women make a smart choice.
WHY It's Good for Women
The Callaway Strata is built for women golfers; they are more forgiving and lighter in weight than men's clubs. In addition, this stand bag is lightweight and easy to carry around, making it a really smart choice for those that want to walk.
When I played with the Strata set, I was impressed with the forgiveness and ease of use. In addition, when you get a good shot with the driver, the distance is competitive. The only thing I didn't love was the feel. If you are a more established player, these clubs feel a little clunky and not the best for finesse and scoring.
The Bottom Line
For new golfers or players that play just a few times a year, the Callaway Strata set is the perfect set of women's golf clubs to consider.
The high quality stand bag, a smart golf club, set makeup, and titanium head driver make this set an easy decision for the female golfer just starting out.
---
5. Callaway Reva 11 Piece Women's Golf Clubs Complete Set (Best For Distance and Feel)
The Callaway Reva 11 Piece Complete Set was the most impressive option for lady golfers looking for better distance and more feel from their golf clubs. Although each of these Reva clubs has a massive sweet spot and plenty of perimeter weighting, the feel is also really good.
When you compare golf gear, you have to expect different levels of performance, and this Reva set steps things up from the starter set and moves into more of a players set. This golf equipment will last you for several years and has a great set makeup for the lady golfer.
I really liked the 5 and 6 hybrids and felt that they blended nicely into the stainless steel irons. In addition, the pitching and sand wedge had some game improvement technology built-in but were still controllable.
Sometimes club manufacturers use their less expensive materials in these golf sets, but that's not the case with the Reva. The performance was very similar to the women's clubs you can purchase individually from Callaway.
WHY It's One of the Best Womens Golf Clubs Sets
The Reva 11 Piece Complete set from Callaway has earned its spot as one of the best women's complete golf sets. This is a bit more advanced than the Solaire sets we have seen in the past, with more forgiveness, distance, and a better feel.
What woman golfer doesn't want a little extra ball speed and maximum distance? With the Reva, you will find that quite easily. The clubs are also lightweight, helping players looking to increase swing speed.
The Bottom Line
If the Strata is not quite enough for you, and the Kalea is more money than you want to spend, the Callaway Reva 11 Piece is one of the best options. The lightweight feel and high launch performance also make this a best choice for senior ladies golf clubs.
---
And the Winner for Best Ladies Golf Clubs are…
The best complete sets of golf clubs for women can make this buying process considerably easier. However, with all the options out there, it can be hard to determine which is best for the lady beginner, intermediate golfer, high handicapper, and even the low handicap women golfers.
Best Golf Club Set for Women Overall
So what are the best golf clubs for ladies? The Cobra Fly XL is the best overall set for women players. I noticed I could maximize distance, hit straight shots, and have more feel and control throughout the golf course.
The Cobra Fly XL has an easy launch, a great golf bag, and some of the higher ball speeds we saw in this process, making it the overall best golf club set for women.
Best Premium Set of Women's Golf Clubs
The best premium golf club sets for women is the Kalea from TaylorMade.
Each of these individual clubs is very high quality with a large sweet spot and plenty of the same technology seen in the Stealth line of golf clubs for women. This set is ultra-lightweight construction, has a higher launch, and even comes with a durable cart bag.
Best Value Women's Golf Club Set
The best value golf club sets for women are the Wilson SGI. We like the titanium driver (more on the best driver for women here), solid quality irons, greater distance from the hybrids, and overall performance of this high-quality set. However, best of all, the price is fair for both average size and petite golfers.
---
How To Choose Womens Golf Clubs
Now that you are an expert in the best golf club sets for women, it's time to decide which of these would be the best for your game. There are a few factors that set each of these sets apart and depending on where you are in your golf journey, there could be a major difference in the performance that you get.
Player Ability/Handicap
Typically speaking, advanced players do not buy a complete women's set. Instead, they will piece together options sometimes custom fitted to their needs. The women's set is built more for those that are above a 15 handicap or are just starting on their golfing journey.
If you have a higher handicap, you will benefit greatly from the wide sole, oversized driver, and lightweight shafts that each of these women's sets contains. The more you have been playing, the more I would encourage you to get 10 or more golf clubs in the set.
Sometimes an affordable set is just about five or six clubs, but the better you are, the more clubs you will need.
Pricing
Most golf club sets for women will range from around $350 to over $1500. The more expensive options will claim to help you shoot lower scores, but of course, this only happens if they are the right fit for your game. A set of golf clubs should be something you can justify the cost for.
In other words, if your set helps you hit longer shots, promotes forgiveness, and increases your enjoyment on the golf course as you play each week, it's well worth $1500. If you are just starting out and just need something to join a league, don't worry so much about the total cost.
Club Set Makeup
The club set makeup is the most important part of this process. Take a careful look at the clubs that are included in the golf club set that you purchase. Although you may find adding additional clubs to the set easy, it is more challenging than you may think.
Finding availability on additional clubs as well as getting the lofts and feel to match is quite a process. It's one of my biggest pet peeves when women's golf club sets do not include sand wedges.
Women golfers need to get comfortable with their wedges as this is where you will help to regain shots on the course.
In addition, there should be at least one fairway wood, and at least one hybrid in each golf club set for women.
Bag and Accessories Included?
Each of these sets comes with a golf bag which is nice because of the added expense it is to include a
golf bag when you are purchasing clubs. The golf bag is either a lighter weight stand bag or a cart bag.
For women golfers that struggle with carrying heavy things around, the stand bag is a great choice. The cart bag has more storage and sits well on a golf cart. However, I never found the cart bag to be all that much more helpful when it comes to storage.
Choose a bag you can manage, and you will be pleased with the performance.
---
Is a Women's Golf Clubs Complete Set Worth it?
Ladies' golf clubs can be purchased as a complete set or as individual golf clubs. The easiest way to buy a set is to purchase the clubs as a complete golf club set. You won't have to worry about distance gapping, and there is, without a doubt, a more fair price involved with this type of set.
Golf clubs for women have come a long way in the last few years, and some of the best golf clubs on the market are these impressive complete sets.
There is no question in my mind that the majority of women golfers will be better off with women's golf sets as opposed to trying to put a set together.
---
FAQ – Best Womens Golf Club Sets
Here are a few of the most commonly asked questions about the best women's golf club sets. Whether you are looking to increase distance, to simply upgrade your equipment, or hit better shots, there is a golf set out there that can help.
What is the best brand of women's golf clubs?
The best golf club brands for women golfers tend to be Callaway, Cobra, and TaylorMade. These companies take time to create options for new players, as well as golf clubs for intermediate women – and they work on ensuring women can get more clubhead speed.
What are the most forgiving womens golf clubs?
The most forgiving golf clubs for women are the Callaway Strata. This set features a lightweight shaft, standard length, maximum forgiveness, and the ability for women golfers to swing faster and get extra ball speed.
What clubs do pro female golfers use?
Professional female golfers do not use complete set options. They will build out a perfect combination of golf clubs using recommendations from top manufacturers. These players typically have high swing speeds and therefore need different equipment than the average woman golfer.
What clubs do most LPGA players use?
LPGA golfers will use anything from Titleist to Callaway to TaylorMade. Depending on who sponsors a professional female golfer, you may see them change their equipment quite often.
How do you pick women's golf clubs?
The best way to pick women's golf clubs is to decide if you are looking to promote forgiveness, more speed, or a better feel. Try to decide what your weaknesses are in your game and then choose clubs that will complement those weaknesses.
What about lefties?
We have an entire article on the best left handed ladies golf clubs, you may find some different insights over there.
Can I use men's clubs?
You can, but you will do better using a set made specifically for women. There is a difference between women's vs men's golf clubs.