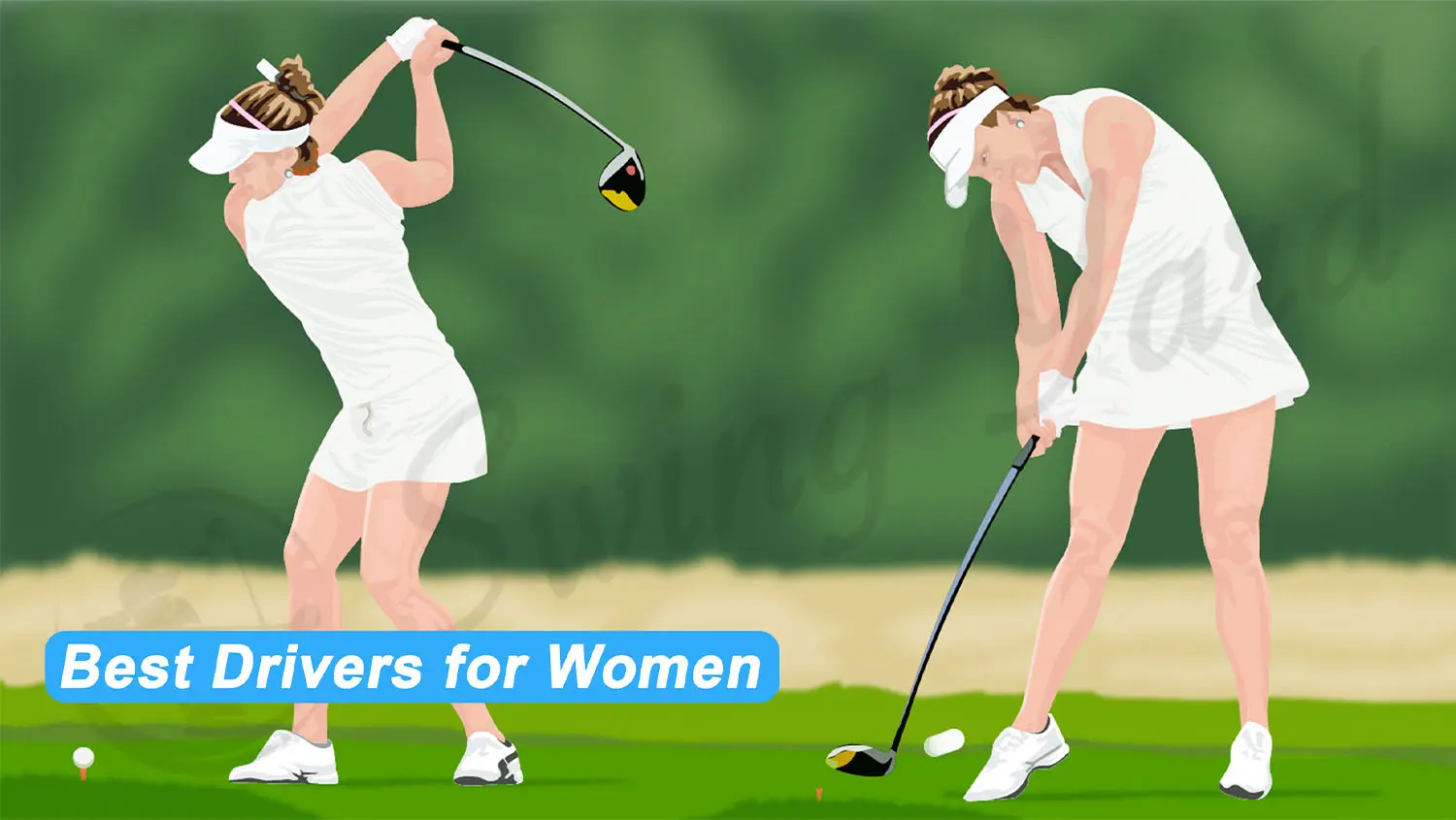 Author: Britt Olizarowicz - Currently playing at a +1 handicap, Britt first picked up a golf club at the age of 7. Now almost 30 years later, she has been a Division 1 college golfer, golf teaching professional, membership director, and golf writer.
I was impressed with the total distance gains I saw from 2022 to 2023, but what stood out was the consistency and accuracy of these new releases to the market. If 2023 is your year to replace your driver, take a look at some of the best drivers for women.
---
Best Women Drivers – Test Results and Rankings:
1. Callaway Rogue ST Max
(our full review and test results: Callaway Rogue ST Max Driver 2022)
The Callaway Rogue ST Max driver is the best overall driver for women in 2023. The technology included in the Rogue ST Max will help slower swing speeds, improve overall forgiveness and increase total launch. However, we were also really impressed with the feel of this golf club.
You may not think of feel as being entirely important in the driver, but I do! Great feel leads to more confidence and a golf club that you will have no issue putting in your hand on the tee box.
Callaway's driver technology gets more impressive each year, especially since the release of Artificial Intelligence. With the new Rogue ST Max, the new technology is the Tungsten Speed Cartridge.
Tungsten is a lightweight and versatile material that helps golf manufacturers move the center of gravity around in the club head. The results are a low spin on the golf ball, a higher launch, and impressive overall distance. If you want a faster ball speed this year, the Rogue ST Max can get it done.
It's also worth mentioning if you tried the original Rogue and didn't like it, you are not alone! The original Rogue and ST Max are much different, and we were honestly a little surprised they kept this going with the Rogue name. Don't hold the old Rogue, which had a harsh feeling and poor sound against the new Rogue ST Max.
WHY It's a Great Women's Driver
Callaway advertises this as the most stable driver they have ever created. Women golfers benefit from stability.
The best golf drivers for women need to help with control at impact so that the power and stability created in the backswing remain through impact.
If you have ever felt that you were not getting maximum distance for your golf driver head, the driver features of the Callaway Rogue ST Max Driver can change your mind.
The Bottom Line
If you haven't updated your driver in a few years and you want something with impressive technology, low spin, high ball speed, and an impressive launch, the Callaway Rouge ST Max is a great option to consider.
---
2. TaylorMade Stealth HD Women's
(our full Stealth Plus HD Driver review is over here)
The TaylorMade Stealth HD driver won the best golf driver for forgiveness in 2023 because of the new technology brought to the market. Let's face it; each year, golf manufacturers put out new golf clubs simply to keep up with the competitors. However, TaylorMade stepped outside the box by incorporating a brand new Carbon Twist Face.
The first time we have seen Carbon used in the face of a driver.
We all know about Titatinum's performance, but to completely change things up and use Carbon impressed us, and it worked!
The distance gains you get from the TaylorMade Stealth HD are impressive, but it's the feel that really increases consistency. The ball comes up with a high and consistent launch angle; the low spin lets the shot roll for a long time.
For golfers that slice the ball from time to time, the HD model helps straighten things out.
WHY It's a Great Driver for Women
TaylorMade always pays close attention to the technology they put into a club for women players. Mostly, they focus on an increase in total ball speed and carry distance, something that most women won't want to sacrifice.
The TaylorMade Stealth HD also comes equipped with the Carbon Twist Face Technology that improves overall stability at impact.
Another great feature here is the shaft options that TaylorMade offers in the women's driver. This is not simply one single ladies' shaft to choose from; instead, you have options for Alidla, Evenflow, and UST, all at the stock pricing.
The The Bottom Line
The TaylorMade Stealth is a really impressive new release to the market with lots of forgiveness and performance for both high swing speed and low swing speed golfers, if you can pay for the best of the best, this club is one you will enjoy.
In addition, the TaylorMade Stealth has such advanced technology that it will be quite some time before you need to replace this golf driver for something more advanced.
---
3. Wilson Staff D9 Women's
The Wilson Staff D9 is the best women's golf driver for those that are looking for a great value. If you are new to the game or simply on a budget, Wilson is a brand that has always provided some great products for players to choose from.
One of the things that really helps the D9 stand out is the Kevlar materials used in the club head.
Kevlar is something we know as being a very tough and responsive fabric. The carbon fiber materials and Kevlar are combined on this clubhead to improve the center of gravity and increase overall ball flight.
At the same time, you see a boost in the distance.
The new Peak Kinetic Response face improves overall forgiveness and ball speed, and you can feel it jump off the club face. Although there is no adjustable hosel on this clubhead, expect the 10 gram or 3 gram weight options in the club head to give you a bit of flexibility in the way the golf driver performs.
WHY It's One of the Best Ladies Golf Drivers
The Wilson women's driver hits on the areas of the game where women struggle the most. I noticed that the ball flight was high but still controlled, despite the 14 degrees of loft. The clubface is hot, and the ball does jump off with ease.
I know it may seem like a downside that you are losing the adjustable hosel on this golf driver, but it really doesn't impact playability for the average woman golfer. If your game is benefited by a lightweight feel and a bit more power, the Wilson D9 will help.
Another reason I like this driver for women golfers is the affordability. Many women golfers are out there to have a great time with friends and have the game be fun and enjoyable. Does it always take a $500 driver to make that a reality?
The Bottom Line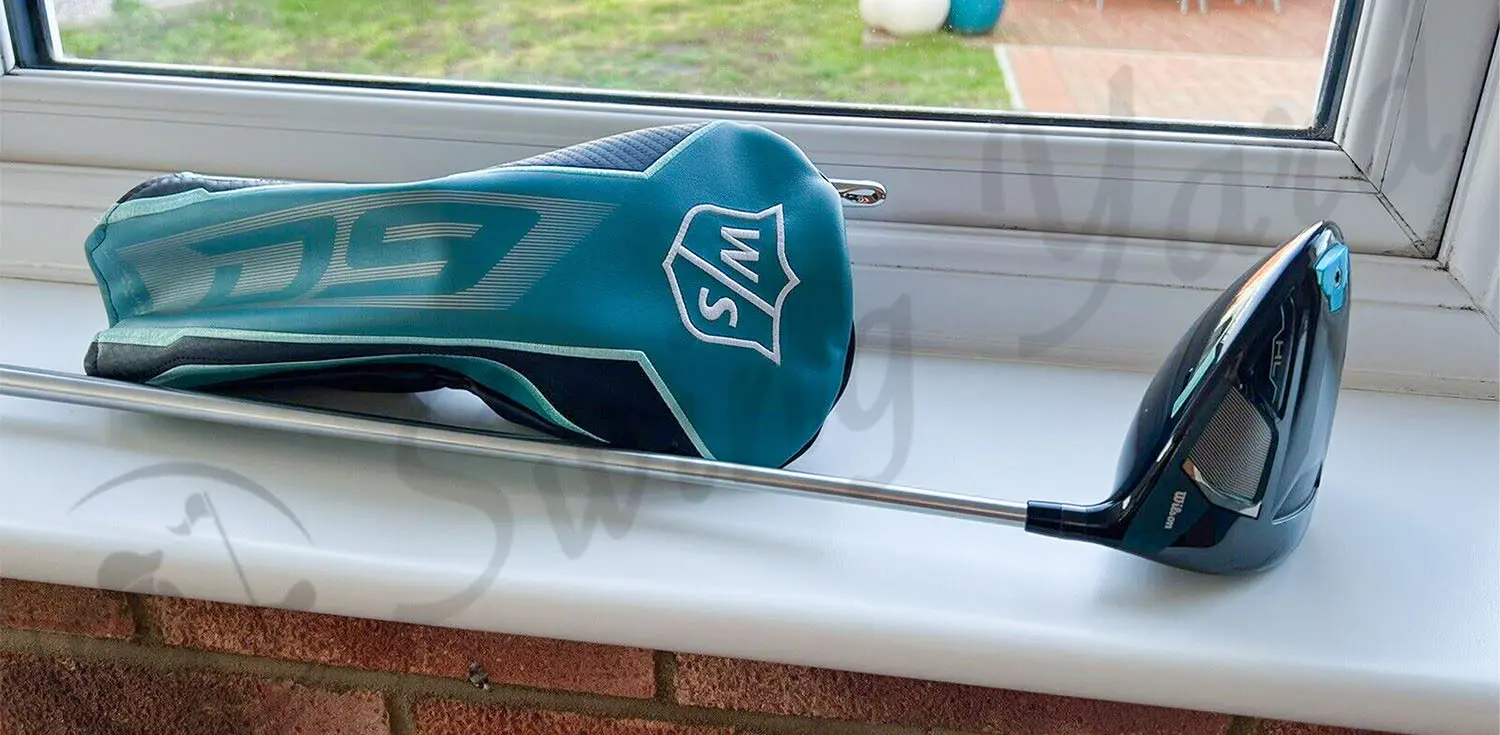 If you are on a budget and need a golf driver that can still help the golf ball travel a long way, the Wilson D9 is a great option to consider. You can still get impressive performance without sacrificing because you are paying a bit less.
---
4. Cobra Air X Offset Women's
(check out our full review of the Cobra Air X here)
The Cobra Air X Offset is a lightweight golf driver that is the perfect option for slower swing speeds. Swing speed is where all the distance comes from in your golf game. If swing speed is low, ball speed will be low, and the golf ball just doesn't travel as far.
With the Cobra Air X Offset, even slower swing speed players can get tremendous distance increases.
With the Cobra Air X Offset, you will benefit from a lighter carbon crown material that is easy to swing and has an impressive feel. I have played with many Cobra drivers in my life and have always felt that for the pricing offered, they have some of the best feel on the market.
For several years Cobra struggled to keep up with other brands from a ball speed perspective, but with this golf driver, we noticed a lighter shaft and grip make it much easier to generate speed.
However, speed isn't the whole story.
The offset design also makes the Cobra Air X one of the best golf drivers for forgiveness. The back heel weighting increases stability on off-center hits and improves the draw bias on this golf driver for women. This club has a lot of offset, and it's highly noticeable when you address the golf ball for women.
WHY It's One of the Best Women's Driver
Women complain about power from the tee. The game doesn't seem quite the same when you can't get that 200-yard-plus drive off the tee. Many women have really great swings from a mechanics standpoint; they just don't have a lot of speed; the Cobra Air X Offset makes up for it.
In addition, another major way women lose distance is when the clubface is a bit open at impact, causing a slice or fade. With the Air X being offset and having this internal draw bias, a right-to-left ball flight is considerably easier to find.
Last, the Cobra Ultralite 40 shaft has a great feel and still allows you to know where the clubhead is at all times. Sometimes lightweight drivers can feel flimsy or unstable, but we did not notice that at all with the Air X.
The Bottom Line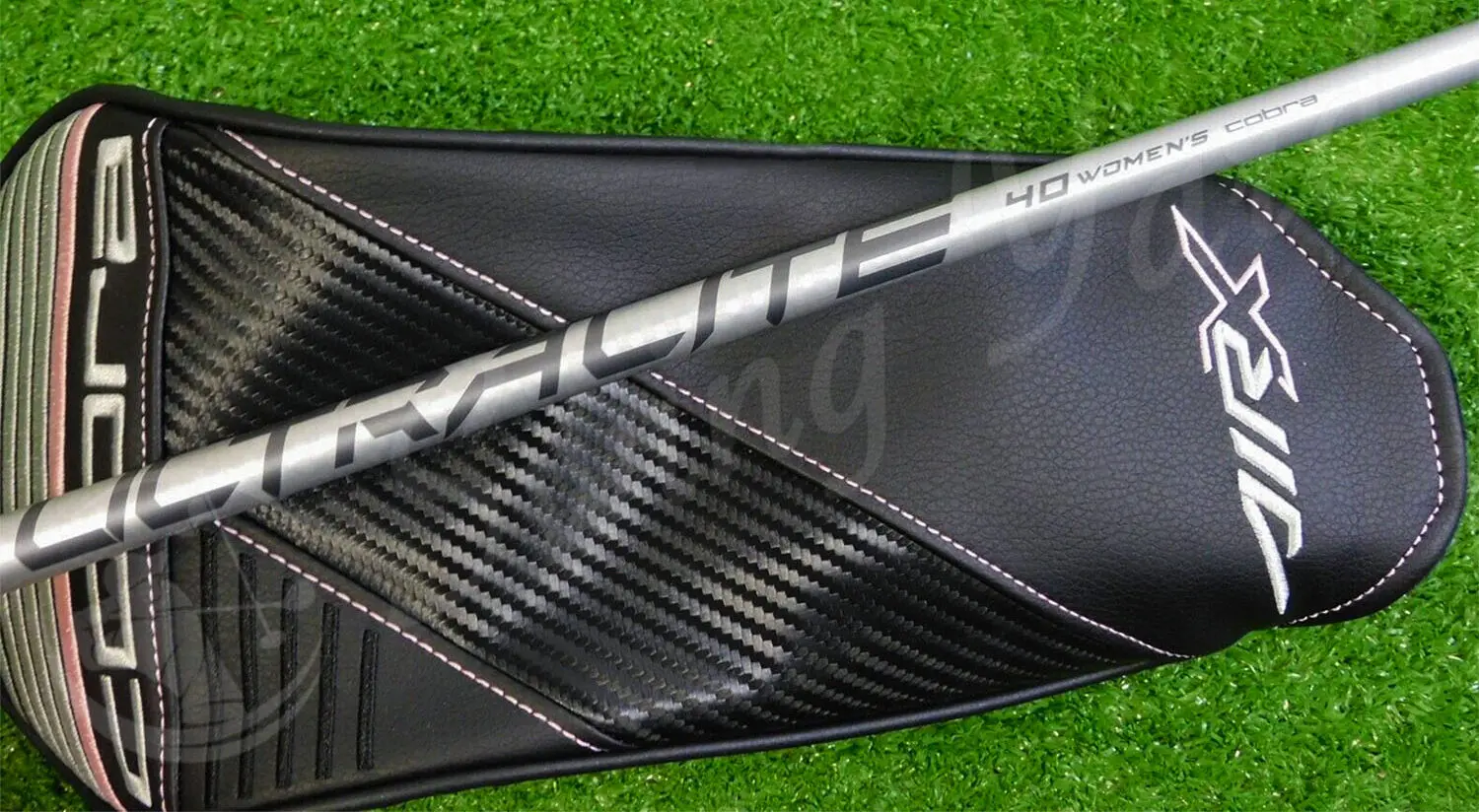 Cobra tends to get a little less attention than TaylorMade and Callaway in the women's golf scene, but it shouldn't. Through the years, some of the best golf drivers for women have been from Cobra, and they are not stopping anytime soon.
For those with slower swing speeds that need lightweight forgiveness combined with a great feel, the Cobra Air X Offset is a smart choice to consider.
---
5. Titleist TSi1
(full Titleist TSi1 Driver Review)
The Titleist TSi1 is my favorite choice for the best golf driver for a lower handicap woman golfer, someone that is looking for a mix of workability, feel, and impressive distance capability. In addition, I find this to be one of the best-looking golf drivers for women in 2023.
The club head is sleek, it sets up great, and the technology allows you to fine-tune the performance to match your game.
Many women golfers overlook the Titleist brand thinking that there is not enough forgiveness in these clubs to work for the mid to high handicaps. It's best to get that thought out of your mind now!
Titleist has always had some of the best distance and feel technology on the market, and in the last few years, they have made this accessible to golfers of all handicap levels. If you are a brand new player or a scratch golfer, there are Titleist options for you.
We love the ATI 425 Aerospace Titanium face on the TSi1; talk about using premium golf materials! Nothing can fly through the air quite like an Aerospace Titanium. In addition, there is a deep center of gravity that helps deliver some of the fastest ball speeds in the game.
The mid to low spin in the TSI1 also helps provide that extra control that many women players will benefit from.
Another thing worth mentioning about the Titleist TSI1 is the adjustable hosel. Even though you may spend a bit more on this driver upfront, you can adjust it through the years to always be one of the best golf drivers to fit your game.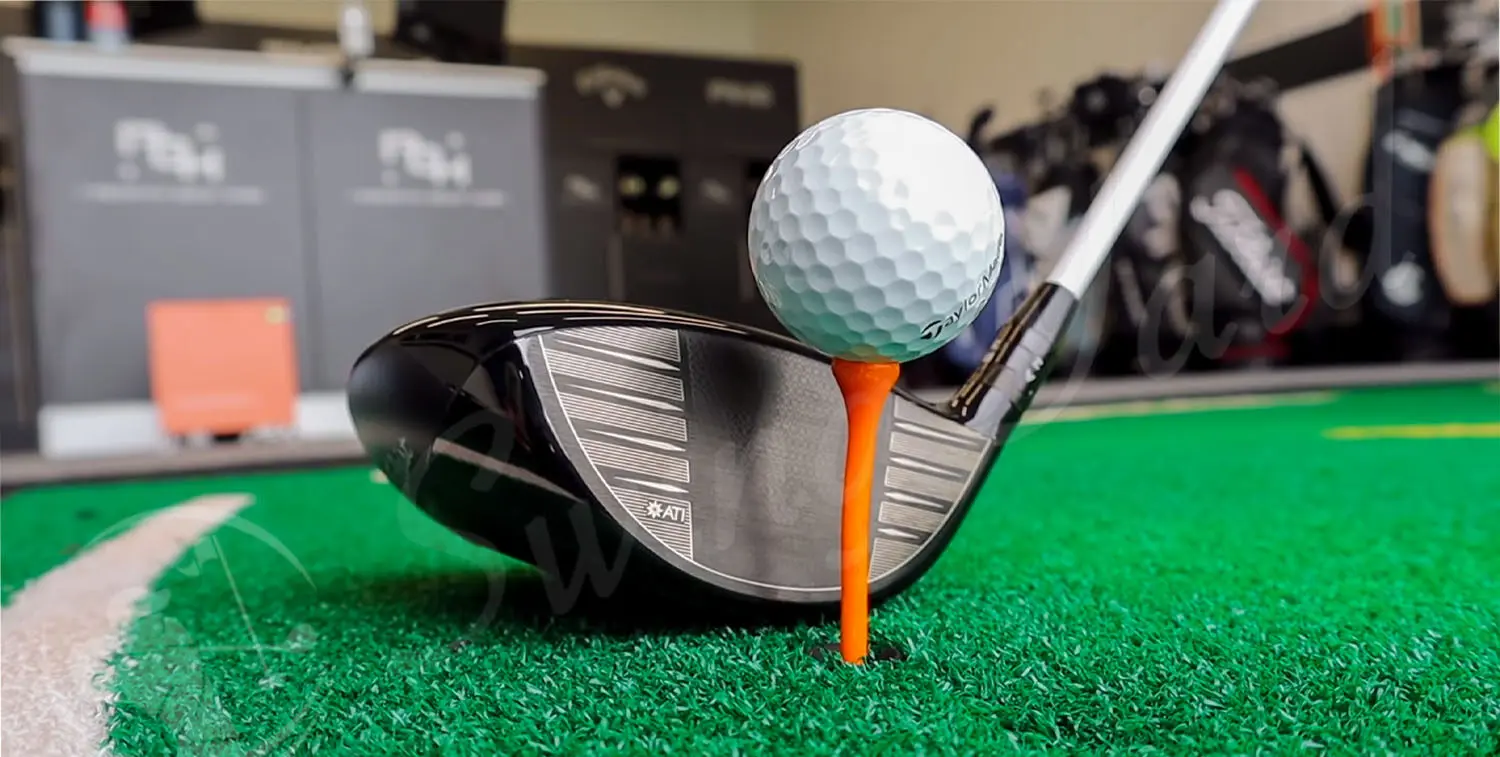 WHY It's One of the Best Golf Drivers for Women
The first thing that helps the Titleist TSi1 stand out as the best for control and feel for the low to mid handicapper is the impressive stability at impact. The speed-optimized MOI allows you to aggressively swing at the ball while still getting the club head delivered to the face squarely.
In addition, the TSi1 is an ultra-lightweight configuration that recognizes not all women golfers have the speed that they are looking for in their game. This also makes is great for senior women.
Titleist also built this driver with the impressive Aldila Ascent shaft, which is a fast and very lightweight shaft that has plenty of launch and a slight draw bias ball flight.
I've always loved the feel of Aldila shafts. When you combine their feel with the impressive Titleist configuration, the overall result is workability, control, and confidence in the driver's head. Something all women golfers will benefit from.
The Bottom Line
Titleist makes golf clubs that are designed for high end performance, and the Titleist TSi1 is no exception. If you are a golfer that is looking to increase your performance on the course this year and start to have more control over what you are doing off the tee, we highly recommend the Titleist TSi1.
It's hard to choose a golf club based on brand alone, but more and more women need to be considering that the best golf drivers do not always have to come from TaylorMade and Callaway. Although these brands have pushed out quite a bit of women's golf drivers through the years, Titleist should also be considered.
---
And the Winner of Best Womens Driver is…
Hopefully, you will feel a bit more educated about the best golf drivers for women in 2023.
Here are a few that stood out to me as the best overall.
Best Overall Women's Golf Driver
The winner of the best women driver in 2023 is the Callaway Rogue ST Max. I was really impressed with the way the golf ball came off the clubface, and it made it considerably easier to have consistency on the golf course. To be honest, I was a bit nervous about how this driver would perform on the course after really disliking the Rogue but enjoying the Mavrik and Epic.
The performance stood out as very stable at impact, and I found the center of the fairway the majority of the time. The adjustability also gives me confidence that investing in this club will be well worth it, even as my game changes.
Most Forgiving Womens Driver
The TaylorMade Stealth HD stood out as the best driver for forgiveness, but it also has really strong distance capabilities. We love that TaylorMade went out on a limb with this driver and decided that it was time to make a change from the Titanium that we are used to. If you haven't tried the Stealth and your driver is a few years old, the differences are going to be really strong.
TaylorMade technology is cutting edge, and for those that are worried about the longevity of a golf club, this is a brand to stick with.
Best Value Driver for Woman Golfer
Golf drivers are not getting any cheaper, but luckily with the Wilson D9, there are options for women golfers to get an impressive overall feel and distance without having to break the bank. For the casual woman golfer that has a mid to slow swing speed, the value on this Wilson D9 is really hard to beat.
Keep in mind that as important as golf technology is, you still need to learn to swing it well. With the D9, you get the best of both worlds, a fair driver and a fair price.
What is the Best Driver for a Senior Woman
I'm going with the Titleist TSi1 for the best driver for a senior woman. It has a TON of forgiveness, and it's just so easy to hit.
(if you're looking for our ranking of complete club sets for senior women, check this article out)
When we get older, it gets harder and harder to maintain the coordination to get those pure center strikes, and that sacrifices distance. BUT, I've found the TSi1 to still hit balls relatively far even with off center strikes, and that's why I think it's the best driver for senior women.
In addition, it's such a lightweight driver! This always helps when you start losing a bit of swing speed.
---
What Makes a Great Women's Golf Driver?
Now that you have our insider opinion on all of the best women's golf drivers on the market, it's time to start to look at what sets a great women's golf driver apart. With all of the different options out there, you need to have a bit of knowledge going into this purchase decision.
#1 Shaft Option
Most women golfers need a standard ladies' golf shaft for the weight and the length. However, there are plenty of options out there for ultra-lightweight shafts, as well as high and low kick point shafts. The golf shaft for your golf driver is best determined during a custom fitting.
#2 Loft
It has become increasingly easy to choose the loft of a ladies' golf driver because of all the adjustability on the market. The loft of a golf driver for ladies will typically range from 10.5 to 15.5 degrees.
Faster swing speed women golfers should stick with the lower lofted drivers, while slower swing speed players need something with plenty of loft.
#3 Adjustability
At this point in the game, it makes sense to choose a driver with adjustability. If you, for some reason, start to struggle with a slice, you can adjust to have your equipment be a bit more forgiving.
If you lose some weight and get more physically fit and start swinging the club faster, you can adjust the driver accordingly. Adjustability pays off in so many ways; is it worth purchasing a club that way from the start?
Some golf drivers for women leave adjustability out to try and help with the overall weight of the club, but with new tungsten technology and center of gravity improvements, this is not the same concern it once was.
#4 Brand
We all know the big names like Titleist, Callaway, TaylorMade, and Cobra. However, other brands like Tour Edge, Cleveland, and XXIO are worth considering.
When choosing an off-brand driver for women golfers, be sure to look into the reviews and see what golfers are saying about it. Sometimes the pricing seems too good to be true because it is.
#5 Forgiveness
All golfers need forgiveness in their driver, and that will typically be talked about in terms of a large sweet spot as well as a low center of gravity. Golfers will find that drivers today are considerably more forgiving than ever.
In addition, forgiveness feels better than ever before. I noticed that clubs that I thought would feel too forgiving and not be workable actually allowed me some control. Keep in mind that offset golf drivers bring plenty of forgiveness but take some time to get used to at setup.
#6 Distance
Distance is always so critical. It's really hard to pick up a new driver that you hit straight and accept that it does not go as far as your old one. With the new technology released in 2023, there is no reason to sacrifice distance.
Golf launch monitors can tell you exactly how far you are hitting the shot with a new driver, and if you have not updated in several years, you should see an increase of about 10 yards on average.
Keep in mind that spin rates should be low, so that total distance is considerably further than carry distance.
---
FAQ
Do women golfers need to use women's golf drivers?
Women golfers do not need to use women's golf drivers. If a woman player has plenty of swing speed or is a bit taller and likes the feel of a man's golf driver better, that is entirely acceptable. In addition, women golfers can benefit from custom golf clubs using club heads that could be considered men's club heads.
Can a woman golfer use a senior golf driver?
Many taller women will benefit from using a senior golf driver. The senior and ladies golf shaft are typically close in overall weight and flex.
What loft driver should women use?
Women should stick with a driver loft between 10.5 and 13 degrees. Very slow swing speed women golfers may want to consider a driver loft of more than 13 degrees, but to get the best combination of distance and overall performance, the 10.5 to 13 degree range is the best loft for a driver.
Is there a difference between men's and women's driver heads?
Most of the time, the men's and women's driver heads are the same. Sometimes there are color variations, but the most significant difference is in the shaft of the golf club. Women's golf shafts are shorter, more flexible, and typically lighter in total weight.
What is the length of a woman driver?
Each company has its own standards for total golf club length and women's driver length. However, most women can expect that the driver will be around 44 inches.