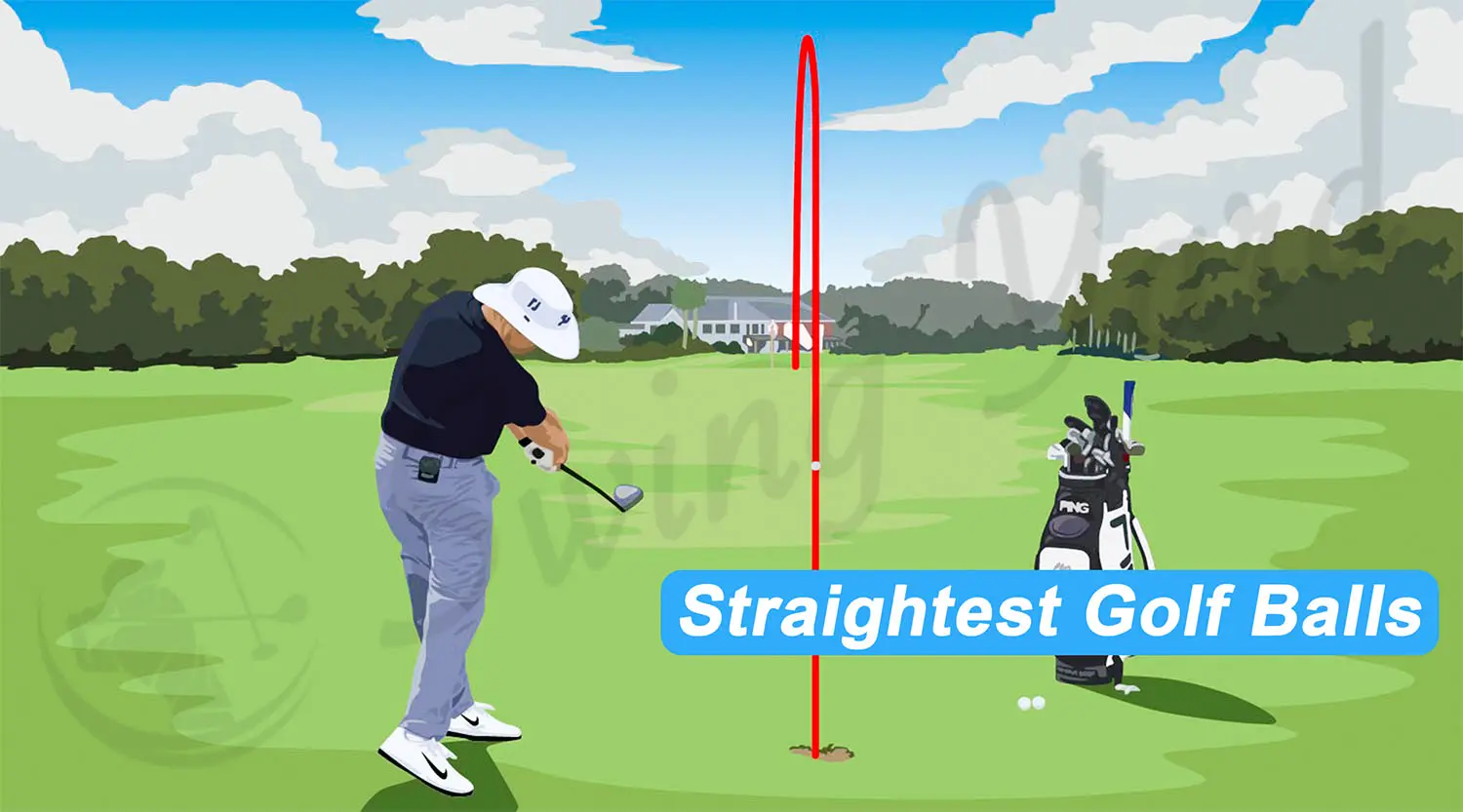 Author: Matt Callcott-Stevens - Matt first picked up a golf club in 1994 and has never stopped swinging. As a junior, he played competitively and eventually represented his school and Country at the 2007 World Schools Golf Challenge in Christchurch, New Zealand.
After reviewing the numbers from our test, our team decided that five balls were worthy of a mention. I avoided correcting golf balls deemed illegal by the powers that be, making the below choices safe for tournament play.
(Looking for the top ranked balls OVERALL? Check our ranking of the best golf balls for 2023)
---
Golf Balls that Fly Straight – Test Results and Rankings
1. Callaway Supersoft Max
The Callaway Supersoft is a popular straight golf ball among amateurs for its exceptional distance and uninterrupted flight. I found that this two-piece construction accelerated ball speed off the clubface, which you'll see is ideal for golfers with slower swing speeds.
Callaway touts it as just that. Their longest distance golf ball for slow swings. Its oversized design and high-speed low compression core encourages maximum energy transfer from the face to the golf ball for accelerated pace. I noticed that this boost produces a high, straight launch for consistent long game yards.
Furthermore, I found that the ionomer cover assisted the core in boosting zip while lowering the spin on longer shots. During testing, the reduced spin and Hex aerodynamic dimple pattern enabled the ball to cut through the wind and restrict deviation, leading to improved accuracy.
The Bottom Line
After taking the Callaway Supersoft Max for a spin, I feel they are the right golf ball for slower swinging beginners. Their high speed, low compression core amplified the transfer of energy from the clubface to the dimples, ramping up ball pace.
I find that this helps golfers with slow swing speeds produce ample yards on all strikes.
Finally, the combination of Hex aerodynamics and an ionomer cover minimizes spin and prompts direct flight for improved accuracy. Overall, I found the Callaway Supersoft Max traveled long and straight for slow swinging high handicappers.
---
2. Wilson Ultra 500 Straight Golf Balls
Wilson is often overlooked by more popular brands such as Titleist, TaylorMade, and Callaway, and is not usually considered one of the best golf ball brands.
However, they produce exceptional value for money products. I recently found a box of the Ultra 500 Straight golf balls on special and decided to give them a shot. Well, it was more like 79 shots.
For starters, these golf balls are rock hard, which will instantly deter some players. However, I have learned the hard way not to judge a book by its cover, and I continued my test.
I found that the high-energy titanium core was the highlight of this golf ball. The boost it provided at impact generated rapid speed, prompting a high and straight shot.
Also, I was impressed with the Ulta 500 Straight's durability, especially considering its entry-level price tag. If you avoid losing your golf balls, I found that a box of fifteen will last several rounds. Their durability saves you from playing a new one every few holes.
The Bottom Line
Despite their name, the Wilson Straight balls still veer offline if your clubface is in the incorrect position at impact. When I left the clubface open, my golf ball still traveled to the right, but the result was not catastrophic.
Besides its straight ball flight, I was impressed by the reduced spin the Wilson Ultra 500 provided on long game strikes. However, you'll sacrifice greenside control for the luxury of extra distance.
---
3. Maxfli StraightFli
At the start of this year, I saw a Rick Shiels review on Maxfli StraightFli golf balls which amplified my curiosity. I played the Noodle as a kid and enjoyed their consistent flight and maximum distance. So, when I heard that these balls fly 20% straighter than the previous Maxfli's fly straight golf balls, I took them for a spin.
The standout feature on our straightest golf ball in 2023 was its "Find the Fairway" dimple pattern. The 374 dimples help the golf ball avoid deviation to remain direct and accurate. Your best golf balls for straight flight this year contain a Next Generation Core, which enhances compression at impact and boosts energy transfer.
This helps you produce optimal ball speed and low spin at impact for a high, straight, and long golf shot. In addition, its ionomer cover minimizes spin on high-impact strikes. Conversely, I found that it provides an element of spin in my short game. However, there is insufficient to compete with greenside control from premium golf balls.
The Bottom Line
The Maxfli StraightFli offers a box of a dozen golf balls for handicappers seeking improved accuracy. During testing, the consistency of the StraightFli impressed me. Although it didn't eradicate slices from my game, it diluted the ramifications to keep me in the game.
Aside from the flight of Maxfli StraightFli golf balls, I found they helped slower swingers accelerate pace for a high, powerful launch.
** Spoiler Alert**  – They took our award for the Straightest Golf Ball of 2023.
---
4. Titleist Velocity
The Titleist Velocity golf balls frequently feature on lists dedicated to golf balls for high handicappers and beginners. This is because of their accelerated pace, straight flight, and playable short game feel.
Although they are marginally more expensive than other golf balls in this category, they are still significantly more affordable than a dozen premium dimples.
During testing, I found that the LSX core on this golf ball produced rapid pace and limited spin on tee shots and long game strikes.
This two-piece golf ball prompted consistent launch, flight, and yardage for optimal length with the longer clubs. In addition, the NAZ + ionomer cover pairs with 350 Octahedral dimples to resist deviation in the air to propel your golf ball straight.
Furthermore, you'll notice that the NAZ + offers enhanced feel and spin around the green for improved control. Once again, you should not expect the short-game performance of a premium golf ball.
The Bottom Line
Titleist golf balls are best known for their premium golf balls loved by superior golfers. However, the Velocity range deserves praise for the assistance it offers amateurs. I found that the Velocity is a pleasant golf ball to strike from tee to green because it provides distance, accuracy, and consistent results.
Most straight-flight golf ball designs produce exceptional pace, distance, and accuracy. However, it falls apart around the green, as these simple constructions provide limited spin. Fortunately, the case is different for the Titleist Velocity, which traveled long and straight but sat moderately fast on the greens.
---
5. Bridgestone e12 Contact
The Bridgestone e12 Contact topped the charts as the most forgiving golf ball that flies straight. I was impressed by the increased surface contact between the golf club and the ball, which accelerated my ball speed for increased distance on the golf course.
Unlike most golf balls I tested in this category, the Bridgestone e12 Contact is a three-piece construction with a gradational core, "Contact Force Dimples" and sidespin restricting mantle. The gradational core is soft in the center and firm around the edges for an optimal feel, low long game spin, and rapid pace.
You'll notice that the "Contact Force Dimple" pattern increases surface contact between the club and ball for exceptional energy transfer.
This ramps up your speed and lowers backspin and side spin on high impact for straight, long shots. In addition, it boosts friction on short iron and wedge strikes from heightened control around the dancefloor.
The Bottom Line
The Bridgestone e12 Contact proved to me that its "Contact Force Dimple" pattern offers an effective approach to boosting energy transfer and distance. Plus, I found that the addition of a mantle restricted the sidespin, encouraging straight flight. Naturally, I still sent a few to the right, but the damage was insignificant.
Although the short game spin was not in the league of the Tour B XS, it was still an improvement from my experiences with other balls in this category. Overall, I believe this is a suitable option for mid-handicappers golfers with a moderate or slow golf swing.
---
And the Winner for the Best Straight Flying Golf Ball is…
Whenever you read about straight golf balls, I urge you to avoid being consumed by the marketing promises. These golf balls only provide a handful of assistance.
If you leave your clubface open or closed at contact, you can expect some movement from your golf ball. Unless you operate with an illegal construction such as the Polara Ultimate Straight Golf Ball.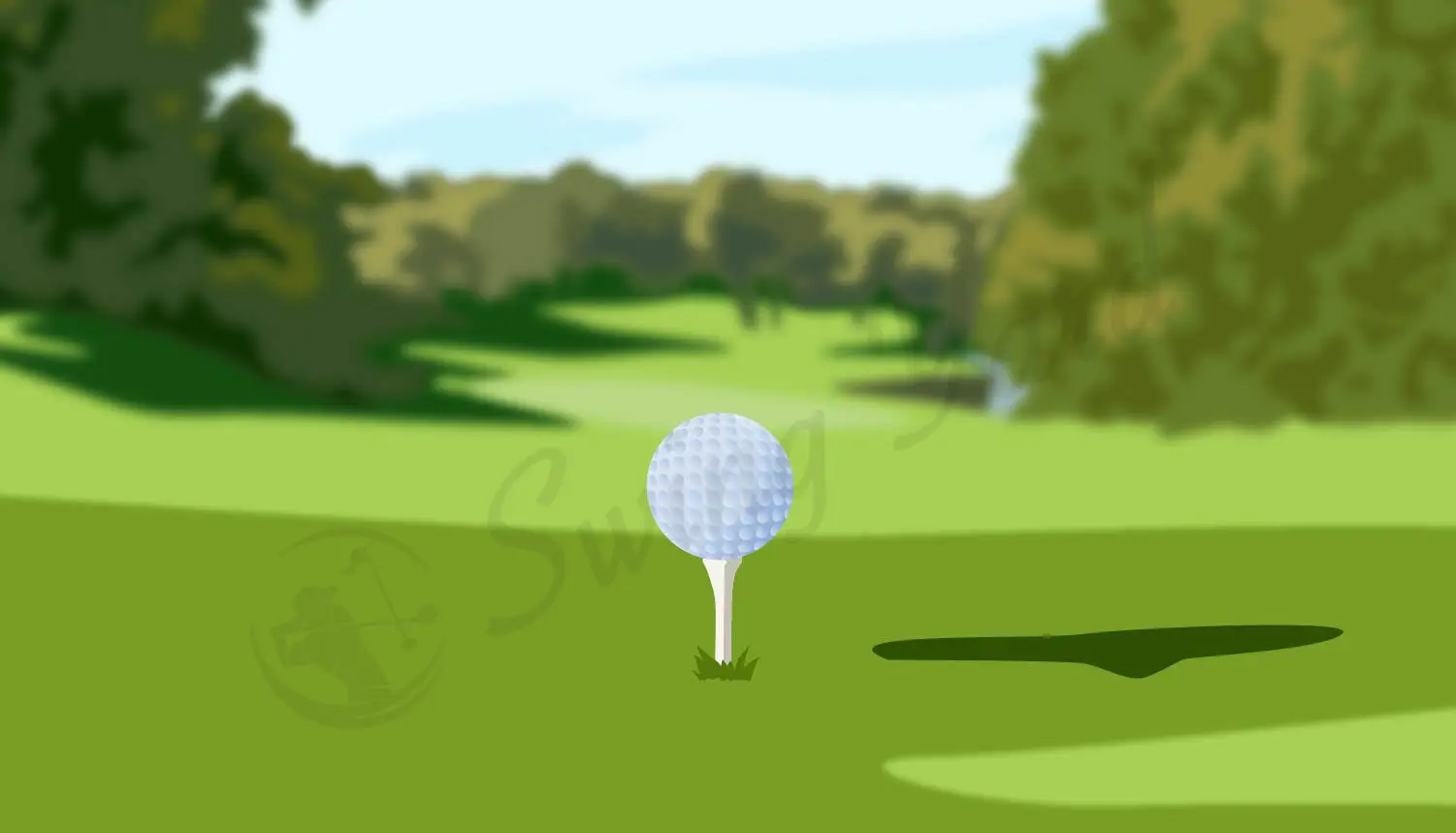 The golf balls that made our top five list offer as much forgiveness as you can enjoy from a legal golf ball. They will work to minimize the damage of an off-center strike to keep you in play. After concluding our tests, it is clear that three of these golf balls stand out over their peers.
Note – find out our winner for the best cold weather golf ball if you're looking to play during the winter months.
Best Overall Straight Golf Balls
Topping the standings in our straight golf ball test is the Callaway Supersoft Max. I found this soft golf ball produced rapid speed and a high launch. However, its ionomer cover reduced sidespin and backspin to minimize the impact of hooks and slices (more info on how to fix a slice).
Furthermore, I found that its high-speed, low compression core enhances the energy transfer for explosive speed while producing a soft feel. I suggest mid and high handicappers with slow swing speed should test the Callaway Supersoft Max range.
Straightest Golf Ball
It says it in the name. The Maxfli StraightFli is our top choice for the straightest golf balls in 2023. As I mentioned, it does not stop you from hooking or slicing your shot, but it works hard to minimize the impact. That is why they are our top recommended golf balls for straight flight.
After playing an entire round of golf with these balls, I found that they held their line consistently and behaved on off-center strikes. There is no doubt if I was picking a ball for accuracy, this would be it. It is perfectly legal, moderately affordable, straight, and long.
Best Value Golf Ball that Flies Straight
Because you are on a budget doesn't mean you have to play with shoddy dimples. The best value-for-money golf ball that flies straight in 2023 is the Wilson Ultra 500 Straight. They are sold in boxes of fifteen and run you less than a dozen ionomers from their competitors.
On top of their attractive price tag, these 2-piece golf balls amplify the energy transfer at impact to accelerate your ball pace. In addition, a low friction ionomer cover pairs with 432 aerodynamic dimples to resist sidespin and propel your ball directly ahead.
---
Finding Straight Fly Golf Balls – What to Look For
#1 Spin
The most important factor to consider about straight golf balls is spin. The higher your side spin rate is, the more chance your ball has of veering off line. That is why you need a golf ball which restricts spin to deliver long, straight golf shots.
Below, I will highlight what features help reduce golf ball spin. However, let me briefly introduce them:
Flight, Construction, Compression, and cover material of a golf ball impact the level of spin you produce off the clubface.
#2 Flight
Although all golf balls hold dimples, not all dimple patterns are structured similarly. Therefore, they deliver different lift, flight, and carry distances.
For example, a Pro V1 contains 388 "Spherically-tiled Tetrahedral dimples," which produces a consistent flight. Conversely, the Velocity features 350 Octahedral dimples, which encourage high, straight flight.
To promote direct flight golf ball manufacturers construct dimple patterns to help the ball cut through the wind, and resist movement. Every manufacturer has their own approach to achieving this, which is why you need to study the flight features of each golf ball before acquiring them.
Typically, golf balls with shallow dimples help golfers generate increased spin and launch higher, which can send your ball off course. In addition, deeper dimples fly lower, and straighter thanks to fewer rpm's of spin.
#3 Construction
Golf balls feature anywhere from two to five pieces. Entry-level models dominate the two-piece ball sector, with a high-speed, low-compression core, and an ionomer cover. The combination of a high-energy core and ionomer boosts ball pace and reduces spin, leading to long, straight golf shots..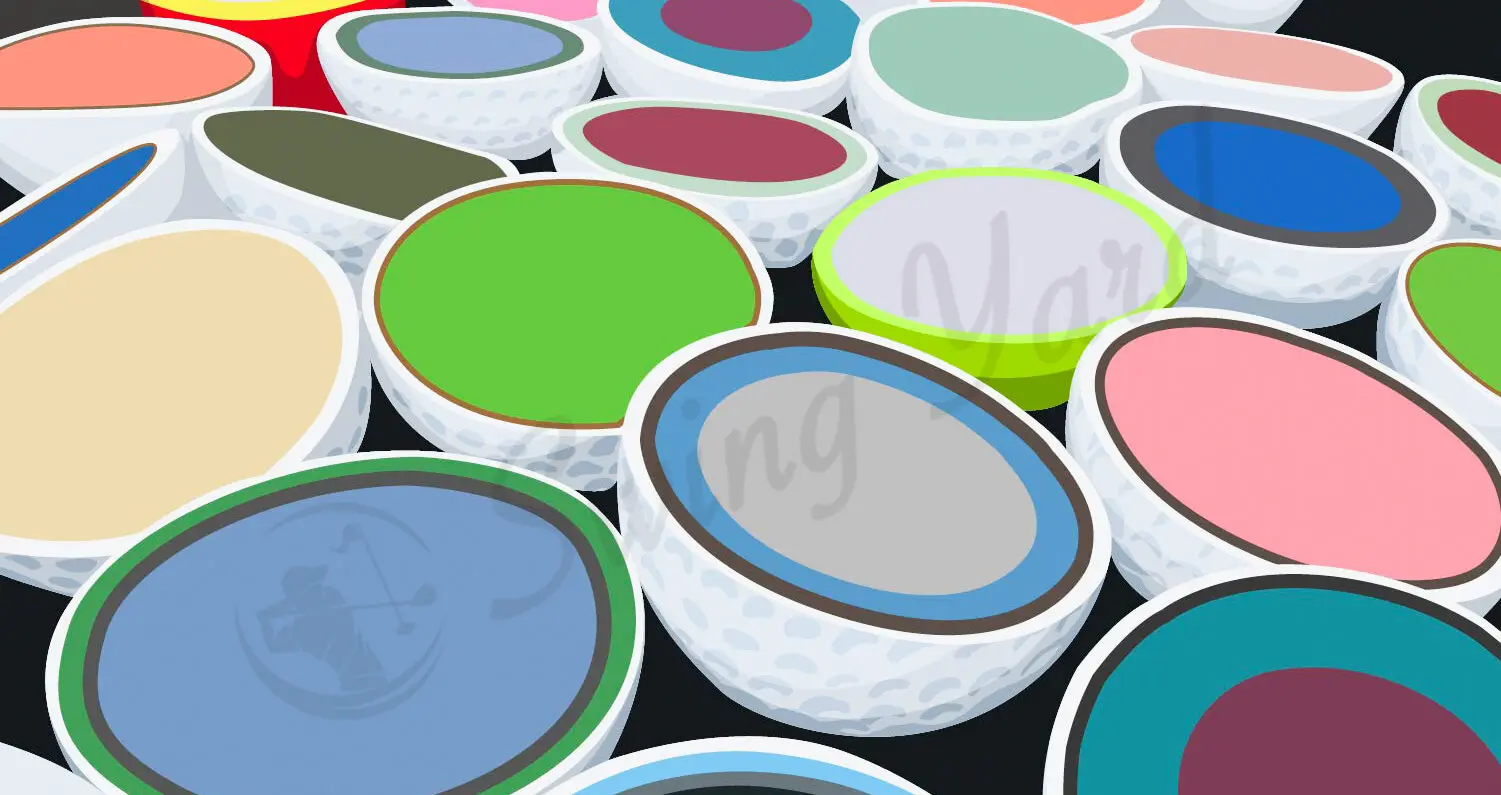 Three-piece golf balls feature a higher compression rating but offer adequate control from tee to green. Slow swingers can get away with moderate three-piece compression balls because the mantle, core, and ionomer cover combination maximizes velocity and restricts spin.
Some premium three-piece golf balls contain soft urethane covers, which are pricey and not ideal for the average golfer. I suggest you stick to two and three-piece ionomer constructions, if you wish to limit spin and accelerate ball zip.
#4 Compression
Every golf ball is assigned a compression rating. The lower the rating, the more the golf ball compresses against the clubface at contact.
This helps you produce optimal speed to send the golf ball high, straight, and long.  In addition, low compression golf balls minimize spin, reducing deviation in flight.
Check out these drills for compressing the golf ball if you feel that's something you need to improve on.
That is why you'll notice that most of the straight flying golf balls on this list carry lower compression ratings. Besides lower spin, these golf balls enhance energy transfer at impact to accelerate velocity for slow swing speeds.
I found that producing insufficient speed and spin leads to a low launch and a loss of distance. That is why a higher compression ball is the best golf ball for higher swing speeds.
#5 Cover Material
Golf ball manufacturers employ two predominant cover materials. Namely, ionomer and urethane. Urethane is super soft and enhances your spin and feel. However, they are found on premium balls, and you need a healthy budget to operate them.
Ionomer is most popular among straight flying golf ball, as it restricts backspin and side spin off the face. It is highly durable and helps you lower your long game spin. Check this article out if you've ever wondered what is a golf ball made of?
You would've noticed that all the options on our list of the straightest golf balls contain ionomer.
---
FAQ
What golf ball flies the straightest?
The straightest golf ball is the Maxfli StraightFli. It travels approximately 20% more direct than any ball Maxfli has created. The largest contributor to the straightest golf ball in 2023 is its "Find the Fairway" dimple pattern, which fights sidespin to minimize the impact of a mishit.
Is there a golf ball that goes straight?
Yes, there is a golf ball that goes straight, the Polara Self Correcting balls travel straight. However, there is a catch, these "go straight golf balls" are deemed illegal for tournament play. That is why I did not include them on this list. If that does not bother you, take a closer look at them over here.
What are the longest and straightest golf balls?
The Maxfli StraightFli is the overall longest and straightest golf ball we tested this year. Its "Find the Fairway" dimple pattern combined with a soft ionomer cover accelerated ball speed, lower spring, and boosted launch. In addition, the Bridgestone e12 and Wilson Ultra 500 Straight are suitable alternatives to the Maxfli. If you're looking for pure distance, check out our list of the longest distance golf balls to see if those suit your playing style better.
How do I make my golf ball fly straight?
I found that the fastest way to make your golf ball fly straight is to keep your clubface square at impact. This propels it on its intended flight path for improved accuracy.
However, as a precautionary measure, you can swing with game improvement golf clubs and golf balls for straight flight.