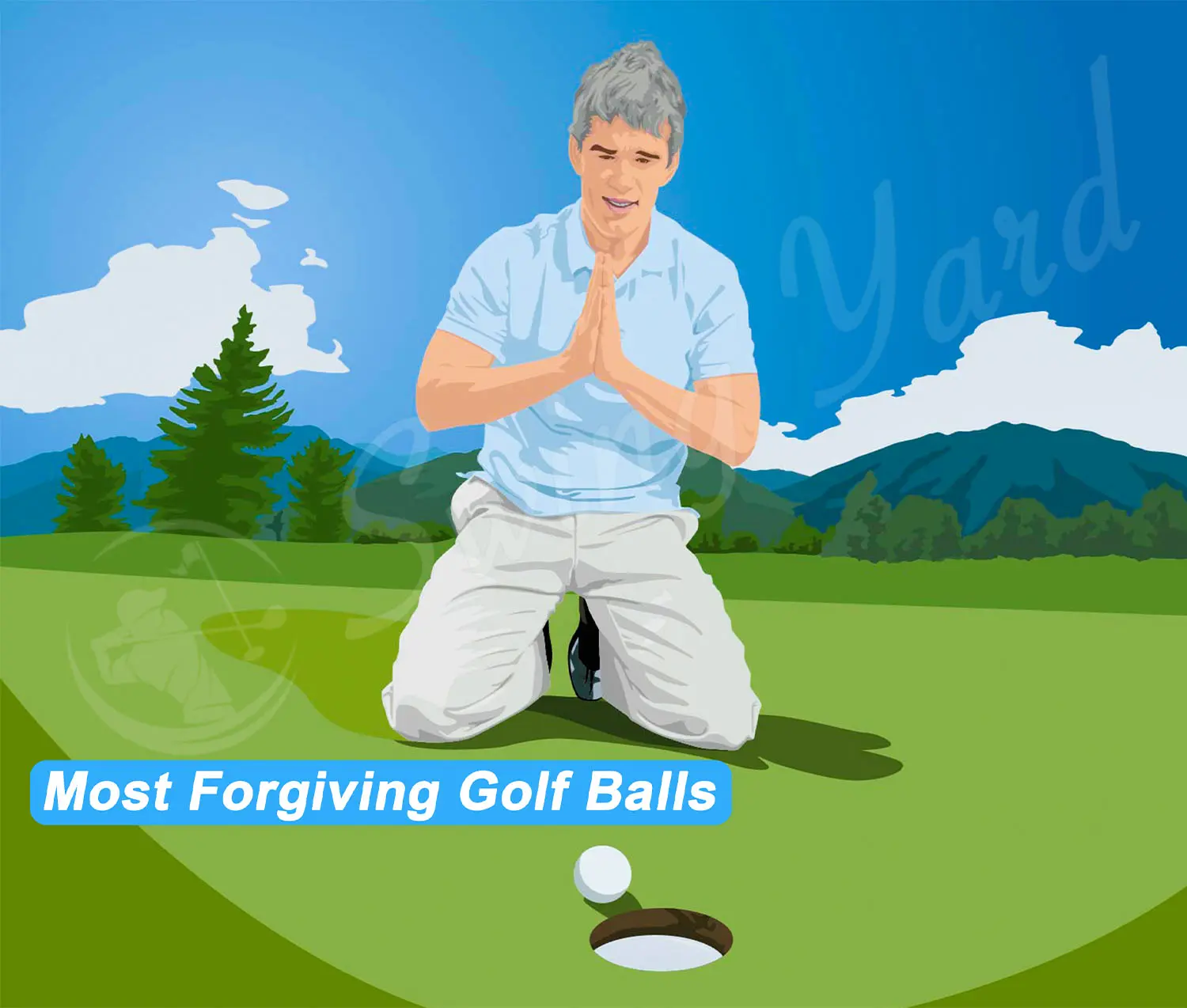 Author: Matt Callcott-Stevens - Matt first picked up a golf club in 1994 and has never stopped swinging. As a junior, he played competitively and eventually represented his school and Country at the 2007 World Schools Golf Challenge in Christchurch, New Zealand.
For golf balls to forgive your sins, they must possess low spin, explosive speed, and consistent flight. In addition, they provide an element of greenside control.
In this review, I unveil the five most forgiving golf balls in 2023 to keep you straight, long, and in play.
The best golf balls featured on this list cater to mid and high handicappers seeking increased long game length and straighter flight. You will notice that they are all distance golf balls sporting ionomer covers, making them affordable for the average player.
---
Most Forgiving Golf Balls – Test Results and Rankings
1. Bridgestone e12 Contact
The veteran golf ball manufacturers constructed the ideal mix of speed, spin, and aerodynamics to deliver longer, straighter results. The Bridgestone e12 Contact Contact Force Dimples stood out for me as the star feature.
They enhanced the surface contact between my clubface and golf ball to produce optimal spin and speed on all shots. You'll notice that your golf ball springs off the face rapidly on long strikes, enhancing ball speed and low spin. Conversely, you produced increased friction on low-impact shots for improved control around the green.
In addition, I enjoyed the effects of the sidespin reducing mantle, which limited the damage of hooks and slices. Finally, the Gradational Compression Core minimized boosted energy transfer and lowered my backspin rpm by 50 mph.
The Bottom Line
The three-piece Bridgestone e12 Contact provides straight flight, consistent ball speed, and controlled spin. Therefore, it keeps you straight and long off the tee while enhancing your spin rate on low-impact strikes. Overall, it provides optimal forgiveness, distance, and spin for improved results on the links.
---
2. Maxfli StraightFli
The Maxfli StraightFli delivers forgiving, uninterrupted flight for more accurate results. I found that the low compression rating suits slow swing speeds, while the accurate trajectory helps beginners stay on target.
I noticed these golf balls produce 20% straighter ball flight compared to other MaxFli constructions. Thanks to their "Find the Fairway" dimple pattern, you'll see this golf ball resist deviations to remain on target for greater accuracy.
Furthermore, the soft ionomer cover and Next Generation Core combine to amplify energy transfer, accelerate ball zip, and lower long game spin. The soft core encourages maximum compression at contact for escalated spring off the clubface, prompting rampant pace.
The Bottom Line
Maxfli StraightFli's are excellent forgiving golf balls for high handicappers who need direct flight, speed, and spin. It did not eradicate wayward strikes, but it helped prune the effects. This left me with a fighting chance on my next shot.
---
3. Callaway ERC Soft
Callaway touts the ERC Soft as the most forgiving golf ball in the Soft range because it accedes to every request. Off the tee, I found that it accelerated ball zip and combatted spin, producing adequate distance. In addition, it launched high and remained stable while in the air.
The ERC delivers the farthest results I have experienced from Callaway soft golf balls. The partnership between the high energy core, speed mantle, and paraloid impact cover, ensures explosive pace, minimal backspin, and a higher launch.
In addition, you'll see that the Paraloid impact cover offers a soft feel and increased greenside control. However, you should not expect the shot-stopping spin of the Chrome Soft or Chrome Soft X.
The Bottom Line
The Callaway ERC breaks the norm of 2-piece distance balls with minimal spin. Although it delivers ample yardage in your long game, it also increases your control on low-impact shots. Plus, I found that the Hex aerodynamics reduces drag and promotes high launching shots for improved carry distance.
---
4. Srixon Soft Feel
The Srixon Soft Feel is a popular option among high handicappers for its impressive compression, speed, and launch. In my experience, this two-piece, moderate compression golf ball created exceptional snap off the clubface at contact, resulting in ample flight and yards.
A Soft FastLayer Core contorts at impact to enhance compression and spring off the clubface, accelerating ball zip. The core is backed up by a durable, ionomer cover that limits spin and propels your golf ball down the fairway.
There are also 338 Speed dimples scattered around the golf ball to restrict drag, elevate launch, and prompt maximum carry distance.
The Bottom Line
The Srixon Soft Feel is a forgiving golf ball built for the average player. It helps you get your ball airborne consistently, encourages straighter flight, and increases your distance on the golf course. In addition, I love their affordable price tag, which makes them accessible to golfers on all budgets.
---
5. Titleist Velocity
The forgiving golf balls often deliver maximum yardage and straight flight. However, they lack a playable greenside feel, causing you to relinquish control around the dancefloor. That is where the Titleist Velocity golf balls enter the fray.
I found that although the Velocity amplified my feel around the green compared to other distance balls, without sacrificing distance or forgiveness. The LSX core boosted energy transfer at impact to accelerate ball pace, while the NAZ+ ionomer restricted backspin.
In addition, the soft nature of the NAZ+ cover offered an element of feel on wedge shots to improve my distance control judgment. You will also find 350 octahedral dimples littered around the cover to promote straight, consistent flight.
If you were expecting to see the Titleist Pro V1 make an appearance, it's actually not a very forgiving ball. But it did make our list of overall best golf balls here.
The Bottom Line
The low compression Titleist Velocity range is ideal for golfers with a slow swing speed hoping to gain more distance. Plus, you may appreciate the enhanced greenside feel to boost your control and performance around the dancefloor. However, I found it tough to stop the ball rapidly on long approach shots.
Overall, distance constructions are ideal golf balls for high handicappers seeking forgiveness, distance, and accuracy. If you want a more pure distance ball though, check our rankings of those over here.
---
And the Winner for Most Forgiving Golf Ball is…
When I was handed this assignment, I set off to test a range of golf balls that provided low long game spin, accelerated zip, and straighter flight. These qualities make them ideal balls for high handicappers looking to reduce the impact of mishits.
Ultimately, the top performers on this list helped slower swingers maximize compression and gain added yards while promoting uninterrupted flight.
Caveat – for cold weather golf, you're going to need an entirely different type of golf ball. Give our best winter golf balls article a read.
Best Forgiving Golf Balls Overall
The best forgiving golf balls overall in 2023 are the Bridgestone e12 Contact. I found in my testing that it produces excellent ball speed, spin, and distance while minimizing sidespin. During testing, I appreciated the increased yardage, straight flight, forgiveness, and accuracy.
Couple the e12 with one of the most forgiving drivers, and you'll be unstoppable!
Best for Slices or Hooks
If you are prone to hooking and slicing your golf ball, then the Maxifli Straightfli is the straightest forgiving golf ball to consider. Its Find the Fairway Dimple Pattern combats deviation to keep you straighter for improved accuracy.
Best Value
Golfers on a budget are advised to test the Srixon Soft Feel. The 2-piece construction is durable, feels soft, and delivers maximum compression at impact to accelerate ball velocity. Besides its optimal distance performance, the Soft Feel is more affordable than most Distance golf balls.
---
How To Select The Best Golf Ball For Forgiveness?
#1 Increased Compression
The first element of forgiveness to consider is compression at impact. Increased compression delivers higher spring off the clubface for explosive pace and consistent distance. This helps slow swing speed high handicappers produce sufficient power for a towering, long shot.
A lower compression rating suggests that the golf ball produces added spring off the clubface at contact. This type is the best ball for high handicap or slower swinging golfer.
Conversely, golf balls with a high compression rating deliver limited assistance, and work best for golfers with a faster swing speed.
If you need help learning to compress the ball properly, check this article out.
#2 Accelerated Ball Speed
Every golfer could use extra ball zip to gain added yardage, which is why faster speed is vital for a forgiving golf ball. The ball's core is built to enhance the energy transfer from the club to the golf ball at impact for rampant pace. If your golf ball lacks this, you lose precious yards and produce undesirable results.
#3 Low Spin
Producing excess spin in your long game leads to a higher launch and reduces roll, which can cost you carry and total distance. That is why forgiving golf balls restrict spin and deliver controlled flight for optimal yardage potential.
#4 Straight Ball Flight
Besides distance, low spin reduces the consequence of an open or closed clubface at contact. The lower spin rate neutralizes the severity of hooks and slices to keep you in play. In addition, golf ball manufacturers apply smooth sailing aerodynamics to resist deviations and slice through the air for long, straighter shots. If you want to see our list of the straightest golf balls on the market in this post.
---
FAQ – Most Forgiving Golf Balls of 2023
What is the most forgiving golf ball?
The most forgiving golf ball is the Bridgestone e12 Contact, and it's the most forgiving golf ball in 2023. The Contact Force dimples elevate surface contact by 38% for robust pace, optimal spin levels, and consistent flight. As a result, it helps the average golfer stay straight and long and perform around the dancefloor.
Are softer golf balls more forgiving?
Soft golf balls aren't directly more forgiving, however, they do usually have a lower compression rating. Therefore, you don't need as fast of a swing speed to get a quality strike, and that makes it more forgiving on your swing.