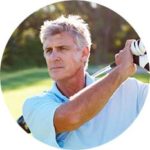 Author: Ned Howard – Retired PGA Teaching Professional
List Of MacGregor Irons by Year
MacGregor Irons by Year Table:
Year Released
MacGregor Iron Model
2023
MT-86 OS
MT-86 PRO
2022
Wizard Full Hybrid Iron Set
2020
MacTec X Driving Iron
DCT3000 Premium
DCT3000 Junior Ages 9-12 (Left hand)
DCT3000 Junior Ages 6-8
DCT3000 Junior Ages 6-8 Girls (Left hand)
DCT3000 Junior Ages 3-5
CG3000
CG3000 Women's
2019
DX Carbon Steel
VIP
2015
M59
VIP Forged
2008
MT
MT Pro-M
MT Pro-C
MT Mid
MT OS
2007
MacTec NVG2 Mid
2006
MacTec NVG2
MacTec Forged M685
2005
V-Foil M675 Forged
M565 #6
2004
V-Foil M455
M455 V-MASS Forged
2003
VIP 1025CM
2002
VIP 1025M
VIP 1025C
2000
Tourney MT Tungsten
Tourney Forged PMB
Tourney MT Cavity
1999
Tourney MT
Tourney PCB
Tourney PCB Tour
Tourney PMB
1998
Super Tourney
Tourney #5
1995
VIP Oversized CB95
1993
The Doctor RX #5
1992
VIP Tour CB92
1990
Heritage by Nicklaus
JNP Forged in USA
1988
CG 1800CS
1987
DX by Nicklaus
Nicklaus MUIRFIELD 20th
1986
CG1800
Nicklaus Golden Bear
1985
Nicklaus MUIRFIELD Lite
1983
Nicklaus MUIRFIELD
1979
DX (dull bulged back)
1977
the 985 Custom Limited
1975
VIP Jack Nicklaus (std face)
1974
the 985 Tourney Custom
1972
MT MacGregor (step sole)
1971
VIP Nicklaus (flat sole)
1970
MT MacGregor RT1 (split sole)
MT MacGregor RT2 (std sole)
1969
MT Tourney TR1 (step sole)
MT Tourney TR1A (step sole)
MT Tourney TR2A (step sole)
1968
DX Tourney DXR1
DX Tourney DXR2
Tourney MT MTRx
1967
DX1 V.I.P.
MT Tourney R2MT
R271 Jack Nicklaus
1966
MT Tourney RMT
MT Tourney RMT1
MY Tourney RMT2
1965
MT Tourney MT1
MT Tourney MT2
Silver Scot Model 915
Silver Scot Model 925
Silver Scot Tourney 915
Silver Scot Tourney 985
1964
DX Tourney DX1
DX Tourney DX2
DX Tourney DX9
MT Tourney M2T CF4000
Tommy Armour Tourney 985
1963
MT Tourney M1 CF4000
MT Tourney M2 CF4000
Tommy Armour Silver Scot A1
Tommy Armour Silver Scot A2
1962
AT1 VFQ (plain face)
AT2 VFQ (plain face)
MTourney MT2 Star
MTourney MT1 Star VFQ
MTourney MT2 Star VFQ
Silver Scot Model P59
1961
AT1 VFQ
AT2 VFQ
MTourney CF4000 LH2
MTourney CF4000 MT1
MTourney CF4000 MT2
1960
Byron Nelson 231 (Lord Byron)
Byron Nelson 241
Tommy Armour CF4000 991
1959
Tommy Armour CF4000 551
MTourney CF4000 PT1
MTourney CF4000 PT2
MTourney CF4000 PT3
1958
Byron Nelson 240
Byron Nelson 230
Tommy Armour 551K
MTourney CF4000 PT1K
MTourney CF4000 PT19
MTourney CF4000 PT2K
1957
Byron Nelson 269A
Byron Nelson 269AW
Byron Nelson 255A
Tommy Armour 925K
Tommy Armour 945K
1956
MT Colokrom M85T
Tommy Armour Colokrom 945R
Promaster 940
1955
Tommy Armour Colokrom 925T
Tommy Armour Colokrom 945T
MT Colokrom M85
MT Colokrom M89
MT Colokrom M89T
1954
Master 352C
Master 352CW
Par-master 242C
Par-master 242CW
Peacemaker 382
Peacemaker 382W
1953
Chieftain 132
Chieftain 132C
Tommy Armour 925
Tommy Armour 945
Tourney MT Forged
1952
MT Tourney M85T
MT Tourney M85
MT Tourney M89
MT Tourney M75T
1951
Master 3562C
Peacemaker 3892
Ben Hogan Par-maker
Ben Hogan Bantam
1950
Tommy Armour Tourney 905
Tommy Armour Tourney 909
Tommy Armour Tourney 915
MT Tourney M85T
MT Tourney M85
1949
Byron Nelson Tourney 185T
Byron Nelson Tourney 105
Byron Nelson Tourney 259
Tommy Armour Tourney 915
Jimmy Demaret Master
Jimmy Demaret Peacemaker
1942
TDA-41
TA-6
Jimmy Demaret Tourney 1B22
Jimmy Demaret Tourney 1G22
Jimmy Demaret Tourney 1R22
Tommy Armour Tourney TMS
1941
Silver Scot
TA-7
Tommy Armour Tourney TLM
1940
Jimmy Demaret Pace-Maker 2
Jimmy Demaret Pace-Maker 3
Jimmy Demaret Par 72
Ben Hogan Emblem 3
Ben Hogan BAP
Dick Metz Par-Win
Byron Nelson Texan
1939
Hines Stainless Steel
Hogan BAP
BAP Three
Par-Win
Par-Maker
Par 70
1938
Ernest Jones EJ-1
Ernest Jones EJ-2
BAP Turflow
BAP Wry-Neck
PH-2
1937
Emblem
P3-M
Airline
P6-M
Oakmont Flange
1936
Tommy Armour TA-1
Pace-Maker PH-4
1935
Pace-Maker Tru-Whip
Pace-Maker Air-Way
Far-Go
Oakmont
Ace
Go-Sum
1934
Silver Scot
Pace-Maker
---
MacGregor Irons History
MacGregor Golf has a long storied history, filled with major victories (59), and had the greatest golfers to ever play the game using their clubs. Sadly, young golfers likely don't even recognize the name.
How? And why?
How is it that the manufacturer with the second most major victories has zero presence in today's golf world?
Many ownership changes, sketchy management decisions, overproduction, and the eventual sale to become a house brand to a golf department store all contributed to the demise of this once behemoth golf brand.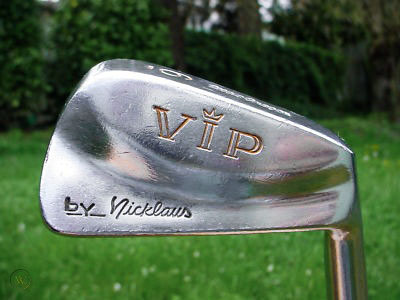 MacGregor started out in 1829 as a Last company. A Last is a wooden foot shape used for shoe manufacturing, which oddly transitioned well into clubmaking. In 1910, MacGregor became a big player in clubmaking, while being the largest shoe last maker.
By the 1920s MacGregor committed to just golf, and had record breaking years mass producing golf clubs. The Great Depression forced MacGregor near bankruptcy, and was forced to sell to Goldsmith.
From 1930 to 1960 MacGregor was the preferred club for the greatest to play the game. Players like Tommy Armour, Byron Nelson, Jimmy Demaret, and Ben Hogan had their loopers carrying MacGregor for them.
Clubs made during this time, such as the MT irons and Eye-O-Matic woods have tech that is still used in clubs today. MacGregor seemed to be a step ahead of the game.
MacGregor was sold again to Brunswick (the bowling company) and was almost immediately run into the ground.
MacGregor's savior came by way of the Golden Bear. Jack Nicklaus, with MacGregor in his bag, went on to win, and win A LOT.
Even though MacGregor seemed to be every golfer's answer, they were sold again to Wickes Corporation. This purchase was mostly made because the owners and operators of Wickes were big time golf fans. Sadly they were in incredible debt.
Wickes was forced to sell the company to one of their staffers. None other than Jack Nicklaus. Jack won two more majors while owner, and managed to release amazing clubs such as the oversized CG1800 irons, and the famous Response ZT putter.
The beginning of the end was when Jack Nicklaus got into golf course design. An expensive venture, but a true passion, Jack sold MacGregor to Amer Group. Amer also bought Wilson around the same time frame.
Amer thought the best course of action was to no longer make quality, tour preferred clubs, but mass produced, low cost, high yield sticks. Popularity continued to decline, and MacGregor changed ownership hands several times through the 90s.
In the 2000s Greg Norman was named chairman of the board, and did his best to turn MacGregor around. Back to the high quality clubs of yesteryear. He ditched the cheap MacTec line, and brought back premium lines like MT and VIP.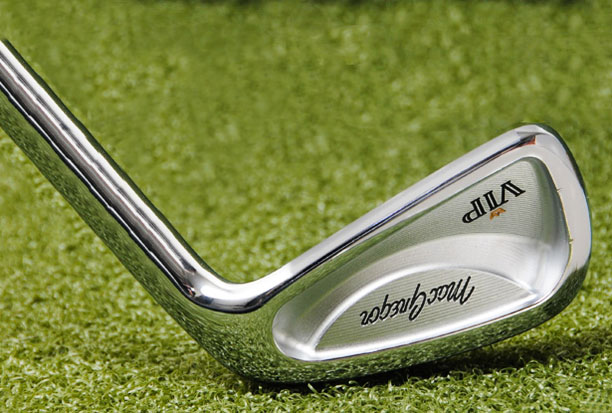 Sadly the efforts were too little too late for MacGregor. Norman left MacGregor, and shortly after MacGregor was sold one last time. Now defunct Golfsmith purchased MacGregor for less than $2 million. An amount that would have been a slow offseason for MacGregor decades ago.
With a golf department store making MacGregor an exclusive store brand, the end was near. Golfsmith, for a decade, tried to make the business model work, but ultimately failed and filed for bankruptcy. Dicks Sporting Goods purchased the Golfsmith assets, and has not released any products to date with the MacGregor name on it.
For many years, MacGregor was unable to keep up with the innovation and marketing seen by Titleist, Callaway, and TaylorMade. The writing was on the wall long before the MacGregor brand faded away.
---
Other Irons by Year
Ping Irons by year list is in this article.
Cleveland Irons by year list is in this article.