Author: Matt Callcott-Stevens - Matt first picked up a golf club in 1994 and has never stopped swinging. As a junior, he played competitively and eventually represented his school and Country at the 2007 World Schools Golf Challenge in Christchurch, New Zealand.
(If you're a female golfer – you'll want to check out our article on the best golf balls for women)
The golf balls that cracked the nod for this list produce a combination of forgiveness, optimal distance, and improved accuracy. You'll notice that this is vital for high handicappers who need all the help they can get to remain in play. A final point to note before I dive into it is that these golf balls are all affordable to cater to every budget.
---
Best Golf Balls for High Handicappers – Test Results and Rankings:
1. Srixon Soft Feel
The Srixon Soft Feel punches above its weight for an affordable 2-piece golf ball. I found that it offers an appealing soft feel, and performs optimally from tee to green. The Srixon Soft Feel is my regulation golf ball because of its affordability, rapid ball speed, and control around the green.
During testing, I found that the Soft Feel produced superior ball pace to its competitors, thanks to the added compression at impact. The Softest Fastlayer core enhances the spring of the ball off the clubface at contact, prompting increased velocity and a high launch.
Furthermore, when you add the Soft Feel to your golf game, you'll notice that Srixon's 338-speed dimples restrict drag to lengthen flight time. As a result, you produce optimal carry distance.
The Bottom Line
Srixon balls offer exceptional value for money across the board. I was also impressed by the Srixon Q-Star during testing. However, the Soft Feel performed equally well and was more affordable, which is why it takes its place on the podium.
I found that the uninterrupted ball flight, consistent speed, and low spin produced ample distance. I am extremely comfortable suggesting the Srixon Soft Feel to high handicappers.
---
2. TaylorMade Noodle Long and Soft
I have played my fair share of golf with TaylorMade Noodle Long and Soft range, and even though they are dirt cheap, I enjoy them. They promote straight flight and boost ball velocity for slower swing speeds to amplify long game yardage.
You'll find these golf balls are an excellent option for handicappers aiming to minimize their expenses. That is why it is my pick for the best golf ball for high handicappers on a budget.
I found that the ionomer cover reduces backspin on high-impact shots and offers a minor degree of feel on short game strikes. In addition, 242 aerodynamic dimples line this low compression golf ball, which you'll notice helps it fly straight and slice through the wind.
The Bottom Line
The TaylorMade Noodle Long and Soft is the best golf ball for high handicap players in 2023. Its entry-level price eases the pain of losing one compared to a premium golf ball.
Its straight flight, ample ball velocity, and carry distance impressed me on the golf course. You'll find it works best for golfers with slow swing speeds attempting to increase their long game distance. Plus, its straight flight combats deviation to keep your ball on target and in play.
---
3. Callaway Supersoft
Callaway constructed their Supersoft golf balls to launch high and long for maximum carry and total distance.
I feel that it lived up to the hype. Its Hex Aerodynamics were pivotal in promoting bird-like flight and optimal spin levels.
Its Dow Paraloid hybrid impact cover adapts the ball's spin based on the force of the contact. On high-impact strikes, the ionomer restricts spin and boosts ball pace. Conversely, it reacts to wedge and short iron shots by increasing backspin for a higher launch and quick landing. However, it does not hold the green as well as a Chrome Soft.
Moreover, I found that the Soft Compression Core compliments the Paraloid cover on longer shots by amplifying the energy transfer of the ball off the clubface. You'll also enjoy accelerated ball pace and reduced spin for improved distance.
The Bottom Line
After taking the Callaway Supersoft for a spin, I can confirm that it deserves its name. It possesses an understated feel and a soft compression core. This helped me generate impressive zip and low spin for consistent distance.
If you operate with a slow swing speed, you will find that the Supersoft golf ball helps you boost ball velocity and flight time for harmonious distance. As a result, I suggest that high handicappers with slower swing speeds test the Supersoft.
---
4. Vice Drive
The Vice brand has boomed among amateur golfers over the last 7 years. Their direct-to-consumer sales model eliminates middleman fees enabling them to pass the savings on to you. After several shots, I am confident this is ideal for high handicapper players.
My test revealed a durable golf ball that prompts increased ball velocity and roll. A Cut Resistant Soft Core boosts energy transfer at impact, encouraging rapid pace and minimal backspin rpm.
DuPont Surlyn Cover is highly durable and crafted to absorb consistent high impact. In addition, a 392 symmetrical dimple platform bolsters buoyancy, propelling your ball forward after landing. This helped me achieve 2 to 4 yards of extra roll over the other golf balls in the exam. Note – it's not the best golf ball for faster swing speeds.
The Bottom Line
The Vice Drive golf ball proved its durability during my testing because of its cut-resistant Soft Core and DuPont Surlyn cover. In addition, it conjures up impressive pace and low backspin to promote a towering launch.
Moreover, its 392 symmetric dimples bolstered its buoyancy to prompt excess forward roll. As a result, it delivers ample carry and total distance.
---
5. Callaway Warbird
The Warbird and I go way back, as I employed it in my golf game as a junior. Hex aerodynamics and an Extra Large High Energy core combine to deliver a high launch and additional yards in your long game. My latest test revealed that the purpose of the Warbird has not changed in 15 years.
You'll notice that it remains a 2-piece golf ball with an ionomer cover and an Extra Large High Energy Core. The core bolsters the energy transfer of the clubface to the ball for low spin and rapid ball velocity.
Furthermore, Callaway opted to scatter their Hex Aerodynamic dimple pattern across the cover for a higher, uninterrupted flight. By joining forces, the core and aerodynamic dimples produce a high flying shot for extra carry and total distance.
The Bottom Line
In my experience with the Callaway Warbird, it is a firm golf ball that flies high, long, and straight. When you strike it, you will notice that it is highly compressible, which increases your golf ball's pace.
In addition, the precisely positioned Hex Aerodynamic dimples encourage a consistent, high, and straight ball flight. Overall it is not the best golf ball for feel, but that is not what it is going for. It exists to help slower swing speed players produce compatible distance.
---
6. TaylorMade Soft Response
Taylormade suggests that these quality golf balls are their softest ever construction. I concur after taking them for a spin. A low compression core pairs with a soft ionomer cover to produce an appealing feel in hand.
Aside from the feel, I was impressed by the launch and flight of this golf ball. As a medium swing speed player, I could always use additional ball speed, which is what it provided. The large core supports the Speedmantle layer to fabricate pace for maximum distance.
Furthermore, I found the steep, shallow Extended Flight dimples enhanced lift and restricted drag for a high launch. Plus, the dimples enabled the golf ball to carry further and spin less. Therefore, you'll enjoy exceptional distance from this three-piece golf ball.
The Bottom Line
I find that TaylorMade Soft Response golf balls increase compression better than most of their peers. The combination of a large core, Speedmantle, and soft ionomer cover escalates spring off the clubface for accelerated pace and extra yards.
When you test the Soft Response, you will find that it adds the most value to slower swinging high handicappers. It causes zip to surge and helps your ball fly longer for improved carry distance. Despite their higher cost per dozen golf balls, they are worth the investment for slow-swinging players who need the extra pace.
---
7. Titleist Velocity
Titleist Velocity golf balls are a 2-piece construction featuring an LSX core and NAZ + ionomer cover. These components are assisted by a 350 Octahedral dimple layout to deliver steady ball flight and farther carry distance.
I found that the LSX Core and NAZ + helped me sustain rapid speed and crucial spin on high-impact, long shots. You'll find that these factors and farther flight result in the perfect golf ball for players with slow swing speed. This is welcome news for high handicappers desperately searching for added length on the golf course.
Furthermore, I noticed that unlike other distance golf balls, the Velocity offered a pleasant and playable feel around the green. It did not produce the level of spin found on a urethane golf ball, but I didn't expect it to. That said, it is sufficient for high handicappers who have yet to master distance and spin control with the wedges.
You've probably heard of the infamous Titleist Pro V1, and hell, even played them when you find them on the course right? Well, that isn't going to be the best golf ball for you if you're reading this article. The Velocity is a MUCH better pick.
The Bottom Line
I was impressed by the overall performance of the Velocity golf balls from tee to green. The only area where it could do better is rolling less on approach shots. This causes the ball to roll off the dancefloor, leaving you scrambling to get up and down.
However, despite my one gripe, it generated exceptional ball speed and low spin on high-impact shots and flew without resistance. In conclusion, I feel that high handicap golfers will appreciate the improved distance and greenside control offered by the Titleist Velocity golf balls.
---
And the Winner of Best Golf Ball for High Handicapper is…
When I took on this assignment, I set out to find the best golf balls for high handicap golfers. I compiled a list of the top 20 options and set out to test their ability. In the end, the above seven options reigned supreme over their peers.
The balls that found their way onto the top 7 list all offered a mix of affordability, durability, uninterrupted flight, and optimal distance. These high handicap golf balls generate maximum compression at impact to help slower swinging golfers boost pace and launch high and long.
While all the options in our guide are worthy of testing, here is a recap of our overall top performers for 2023.
One caveat to note – if you're playing during the winter or cold weather, you'll probably want to check out our list of the best cold weather golf balls instead.
Best High Handicap Ball Overall
Topping our list of the best golf balls for high handicappers in 2023 is the Srixon Soft Feel. The exceptional compression it produced at impact impressed me and moderately accelerated the pace of my ball.
In addition, its 338 Speed Dimple Pattern helped me reduce drag and lengthen flight for increased carry yards. You'll find that this is an affordable, suitable golf ball for slow swinging high handicaps requiring extra ball pace and a towering launch.
Runner Up Golf Balls for High Handicappers
Although my test involved several golf balls from gigantic brands, the smaller stable of Vice triumphed in this category (also check out our ranking of the best brand of golf balls in this post).
The two-piece Vice Drive golf balls carried as far as the Warbird and TaylorMade Soft Response, but their roll is what set them apart. Thanks to its symmetrical dimple design and added buoyancy, the ball generates increased yards on the ground, amplifying your total distance.
Best Golf Balls for 20 Handicapper
If you're not a beginner beginner (if that makes sense haha), and you're more around the 20 handicap range… The best ball for you is the Titleist Velocity in my opinion.
The best golf ball for a 20 handicapper is one that has moderate forgiveness, and moderate spin. The Titleist Velocity has just that. It's a ball that won't get too crazy with the side to side spin off the tee, but still allows you to start working on getting SOME back spin for added control around the greens.
Best Value High Handicapper Golf Balls
High handicappers on a budget are advised to stick to the TaylorMade Noodle Long and Soft. These golf balls produce rapid speed and straighter flight for improved long-game distance.
The entry-level price point of the Noodle golf balls means that you can practically purchase three boxes of a dozen dimples for the same price as one box of premium golf balls.
---
What Should I Look For When Buying High Handicap Golf Balls?
#1 Value For Money
If you have already played a few rounds of golf, you'll know that balls are among the most affordable equipment items.
Despite their low cost per unit, your expenses can skyrocket with a reckless purchasing strategy. What do I mean by that? As a high handicapper, you likely lose many golf balls each round. Therefore, it makes no sense acquiring premium products that run you as much as $50 per box.
Say you lose six golf balls every round. A box of a dozen will only last two rounds. Therefore, you'll need to fork out $100 every second round for dimples. That makes no financial sense when you could acquire a box of entry-level distance balls for $25 to $30. You can literally halve your golf ball expenses.
At this stage of your golfing journey, you do not produce the speed to optimize the performance of a premium golf ball. As a result, I suggest saving your money and opting for the affordable box.
#2 Construction
Golf balls possess 2, 3, 4, and 5-piece constructions. The more layers on these golf balls, the less compression they offer. That means they are best designed for players with faster clubhead speed.
The best balls for high handicappers contain fewer layers and encourage maximum compression. Check this out if you've ever wondered what golf balls are made of.
The balls for high handicappers that I suggest are 2 and 3-piece designs. These golf balls prompt increased compression at impact, enhancing the energy transfer from the clubface to the dimples. That helps impart rapid velocity onto the golf ball for increased distance.
#3 Compression
The compression rating of a golf ball signifies the level of additional spring provided off the clubface at contact. A low score suggests that the ball produces added compression to help you accelerate speed. Higher-rated golf balls are difficult to compress and demand maximum clubhead speed and power. Plus, you have to the skill of how to compress the golf ball.
That is why I suggest that high handicap players employ low compression golf balls. Their construction boosts your chances of maintaining ball pace on all shots for improved distance results.
#4 Flight
As a high handicapper, you tend to mishit the odd shot, which can lead to disastrous hooks and slices. That is why you want a golf ball that produces minimal sidespin and backspin, and encourages straight long golf shots.
In addition, you want the dimple pattern on your chosen golf ball to reduce drag and enhance lift for higher flight. This ensures that your ball consistently gets airborne and travels a suitable distance.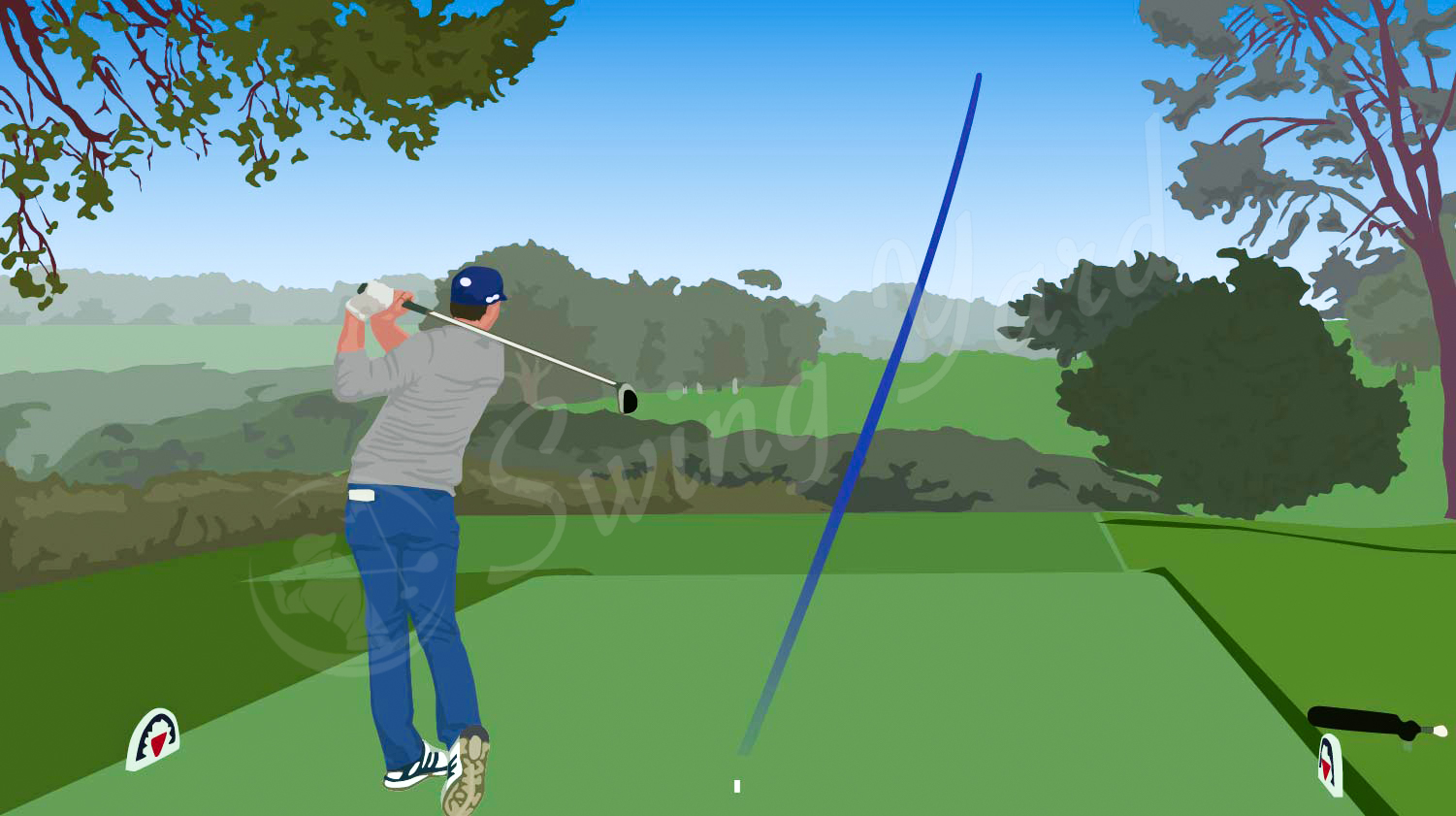 You may even want to consider getting one of the straightest flying golf balls on the market when starting out.
The downside of straighter ball flight is that it restricts your ability to shape your shots. However, as a high handicap golfer, that is something you do not need to think about at this point.
---
FAQ – Best High Handicap Golf Ball
Do types of golf balls matter for high handicappers?
Yes, types of golf balls do matter for high handicappers. For example, you may struggle to produce sufficient speed if you play with a high compression-rated golf ball with several layers. This leads to a weakened launch and a loss of distance.
High handicappers should stick to simple two and three-piece constructions that promote maximum compression and speed. In addition, it will benefit you to get a high handicap driver as well.
Should high handicappers use Pro V1?
No, high handicappers should not use a Pro V1 for two reasons. These are their exorbitant price tag and high compression rating. Firstly, Titleist Pro V1s cost a premium, which is why it makes no sense to acquire them if you frequently lose golf balls.
Furthermore, a Pro v1 carries a high compression rating, which means you need ample clubhead speed and energy transfer at impact. Failure to generate the required pace leads to a lackluster strike and a loss of carry yards.
What golf ball should I use for my handicap?
The golf ball you should use depends on your swing velocity, and preferred ball flight and spin qualities. For example, I urge high handicappers to play with two and three-piece distance golf balls that accelerate pace, promote a high launch, and fly straight.
Or, if you're just starting out, one of the most forgiving golf balls would be a great choice while you're still figuring out the basics and learning a new skill set.
Furthermore, mid-handicappers are best suited for a mid-range three-piece golf ball. These constructions are built to spin low on long shots and enhance it around the dancefloor. This boosts your control from tee to green.
Finally, low handicappers and professionals should look at construction with three pieces or more. These premium golf balls lower spin and boost pace on long shots while increasing spin and feel in your short game.