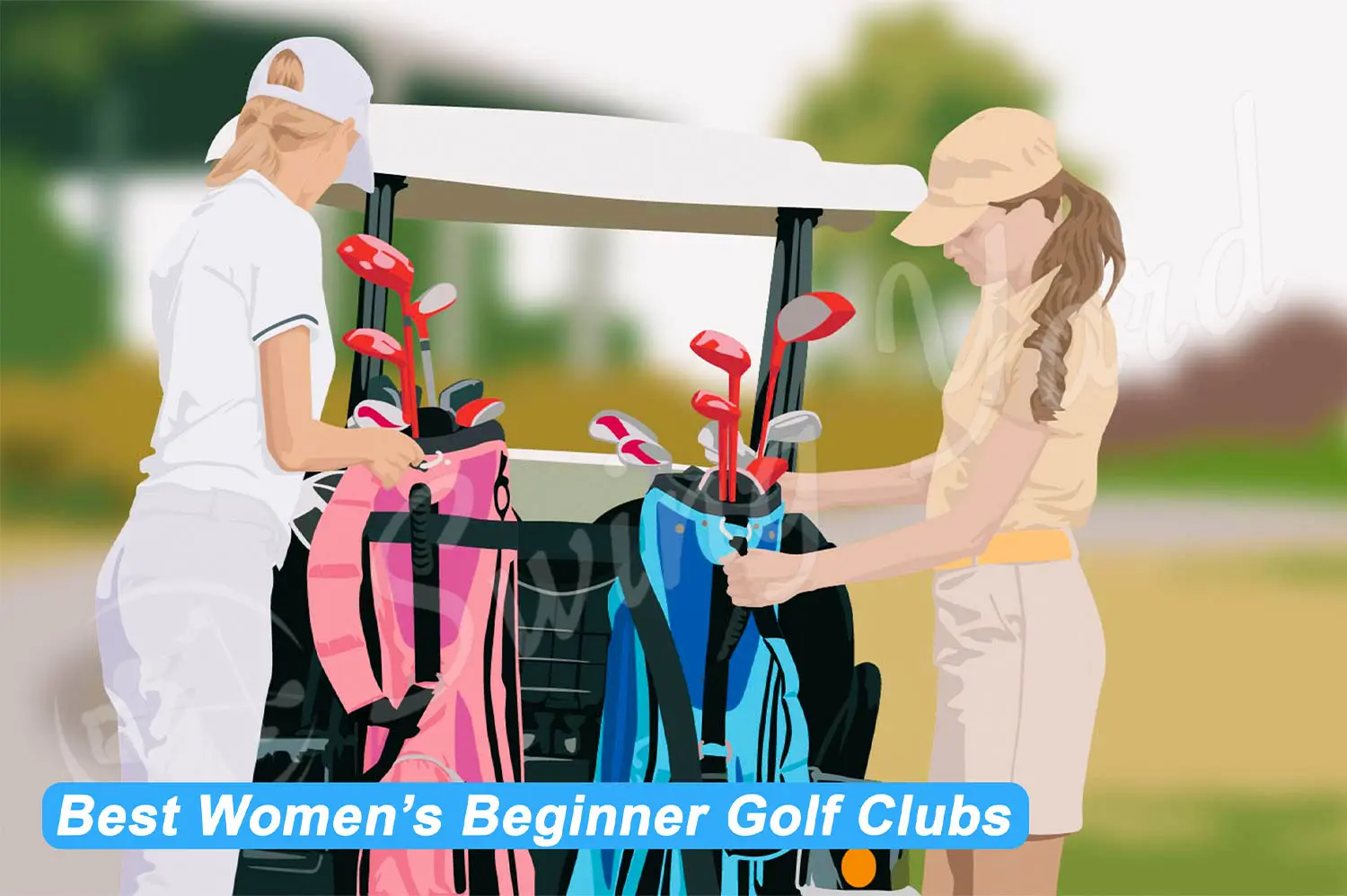 Author: Britt Olizarowicz - Currently playing at a +1 handicap, Britt first picked up a golf club at the age of 7. Now almost 30 years later, she has been a Division 1 college golfer, golf teaching professional, membership director, and golf writer.
I recently tested a variety of different clubs for beginners, not just complete sets. What I found was that golf clubs for women have come a long way in the last few years, and there are some great options out there.
(if you're not a beginner, we have our ranking of the best women's golf clubs for intermediate players as well)
Before you purchase any beginner set you find, look at some of what I found when testing out the best women's golf clubs for beginners.
---
Best Women's Golf Clubs for Beginners – Test Results and Rankings:
1. Callaway Strata 11 Piece (Overall Best Golf Clubs for Beginners Ladies)
The Callaway Strata 11 Piece golf club set is our top choice for the best ladies' complete golf set for beginners. As you will see as you read further into our review, not all women need to start out with a complete set, and sometimes it's not the best fit.
However, a complete set of golf clubs makes it easier to get the clubs you need for a very fair price. Callaway Ladies golf clubs, when purchased individually, would cost considerably more than the Callaway Strata 11 Piece.
The set includes a large driver with plenty of distance and a forgiving fairway wood and hybrid. I loved that Callaway provided options for a slower swing speed player to get the ball (more on the best golf balls for women here) up in the air and down the center of the fairway. Each iron has tremendous forgiveness and control and a low center of gravity.
Callaway includes a mallet putter that makes it easy to control distance and alignment. As your game improves, you may switch to a more advanced set of clubs, but there is nothing about the Callaway Strata set that should keep you from purchasing it. I even bought one of these sets for my Mom to learn to play!
Why It's One of The Best Women's Starter Golf Clubs
Women beginners will typically struggle with getting the golf ball up in the air. However, with the Callaway Strata, this is not an issue. The set promotes plenty of forgiveness. In addition, as you start to improve, you can get some great shots with the Callaway Strata set in play.
I was also impressed with the feel that these golf clubs had; the sand wedge is particularly good with helping to control the ball around the green.
Although the golf bag is not the most important part of the golf club set, this lightweight and bright color option that comes with the 11 piece set is really easy to work with.
The Bottom Line
The Callaway Strata is the best ladies beginner golf clubs for those on a budget who still want decent performance.
This is not going to perform relatively the same way a $2000 set of Callaway golf clubs would perform, but we can tell you without a doubt it's one of the better quality golf club sets in this range, and it will last for several years.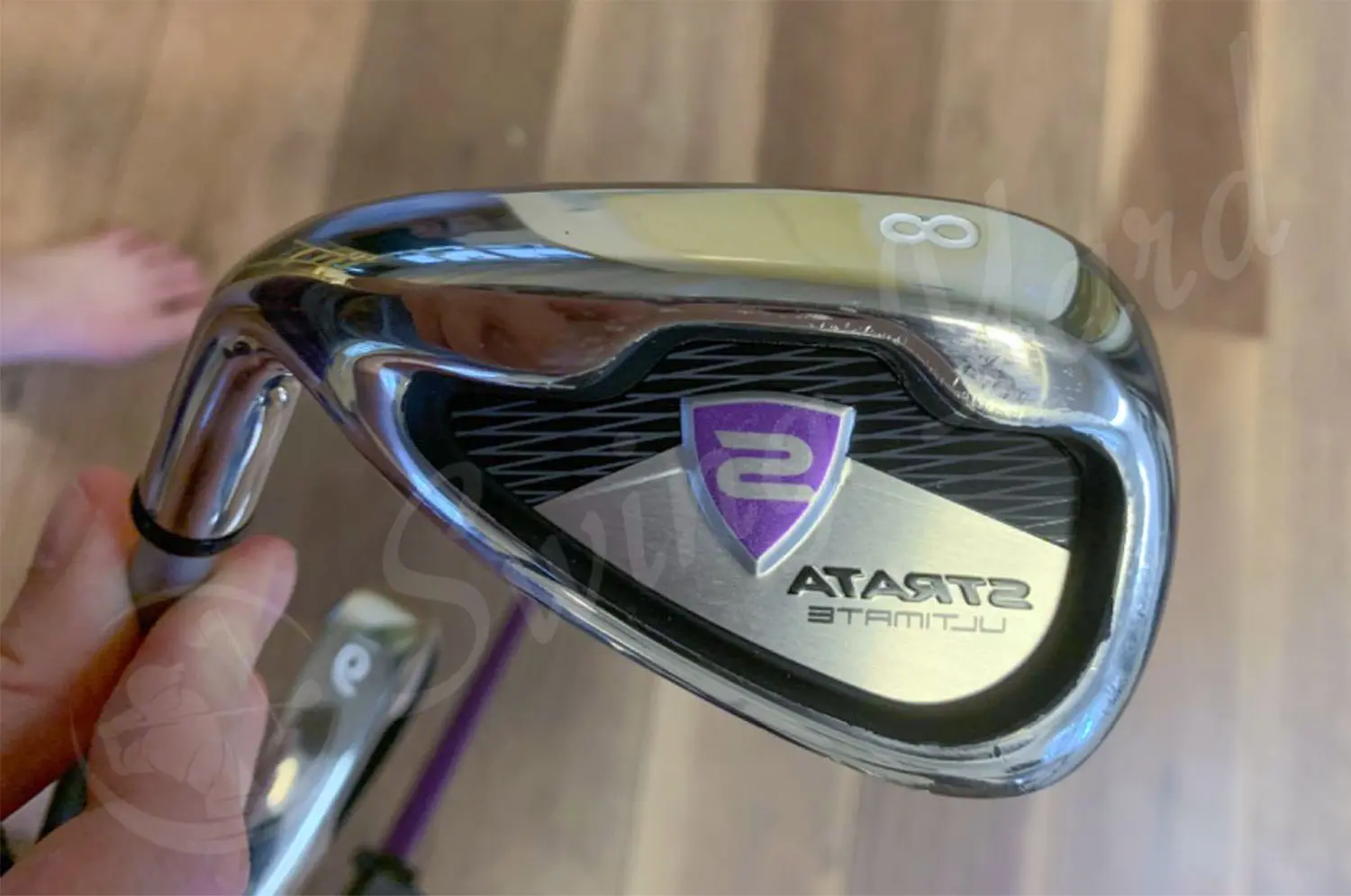 ---
2. Lady Edge Half Complete Set 
The Lady Edge Half Complete Set is a great cheap option for those that are really new to the game. I also really like this set for the golfer that is not sure they will stick with the sport long term. 
Sometimes it's hard to make a commitment to a game like golf. You can end up spending thousands of dollars right off the bat, and that's before you even take a lesson or step on a golf course. With the Lady Edge Half Complete, there is a bit less pressure involved.
This set comes with just 7 clubs total. However, they are all lightweight, easy to launch, and have oversized club heads for the beginner player to benefit from.
Why It's One of The Best Beginner Golf Clubs For Ladies
Many beginner golfers will hit all of their clubs the exact same distance. Is it really worth having 14 clubs in the bag that you never use?
The only thing we don't love about this set is that it is not all that easy to fill in with clubs if you find you need more. For instance, finding a matching 9-iron is going to be a real challenge.
However, if you can commit to investing in this set and using it throughout the beginning stages, you will find that it can be a really good fit. I also loved the fact that a fairway, hybrid, and two wedges were included. These are some of the most important golf clubs for lady beginners.
The Bottom Line
The Lady Edge Half Complete Set is exactly what you would piece together for a beginner player if you had just a few clubs to choose from. For those that are truly new to the game and not sure how long this sport will remain at the top of their to-do list, we recommend the Tour Edge Lady Half Complete set.
---
3. Wilson Magnolia
Wilson has several ladies' golf complete sets to choose from, but the Wilson Magnolia is certainly one of the better-feeling and higher performing choices. These golf clubs are lightweight and easy to hit, and the set comes with three hybrids.
As a beginner golfer, chances are you will find that the hybrid becomes one of your favorite clubs in the bag. Having the 4, 5, and 6 hybrids to choose from can really help beginner golfers learn a bit about distance control and shot selection.
The Wilson Magnolia has a choice of either a cart or stand bag. I would highly recommend the stand bag as it at least gives you the option of walking the course. Walking the golf course is not only good for your game, but it can also really help you burn extra calories out there as well.
One thing I do not love about this set is the fact that they sell it with a 3 wood and not a 5 wood. With the three hybrids provided, I would have preferred a transition to a 3 wood and not a 5 wood, but you can always add a 5 wood in.
Why It's One of The Best Beginner Golf Clubs For Ladies
Women golfers tend to fall in love with hybrid golf clubs rather quickly, and the Wilson Magnolia offers three of them to use. In addition, I loved the fact that the sand wedge was included, and it is a limited edition Harmonized Wedge.
These wedges are known for having great feel and precision. The short game is such an important part of the game for beginners to learn, and it is often overlooked.
Also, each of the clubs has lightweight graphite shafts and soft grips; if you want a little extra power, some better performance, and a great overall feel, the Magnolia from Wilson is a good choice.
The Bottom Line
The Wilson Magnolia is a great looking and high performing set of golf clubs for the woman beginner. Even if you decide golf is your sport and you play for years to come, the Wilson Magnolia will still be a viable option to use.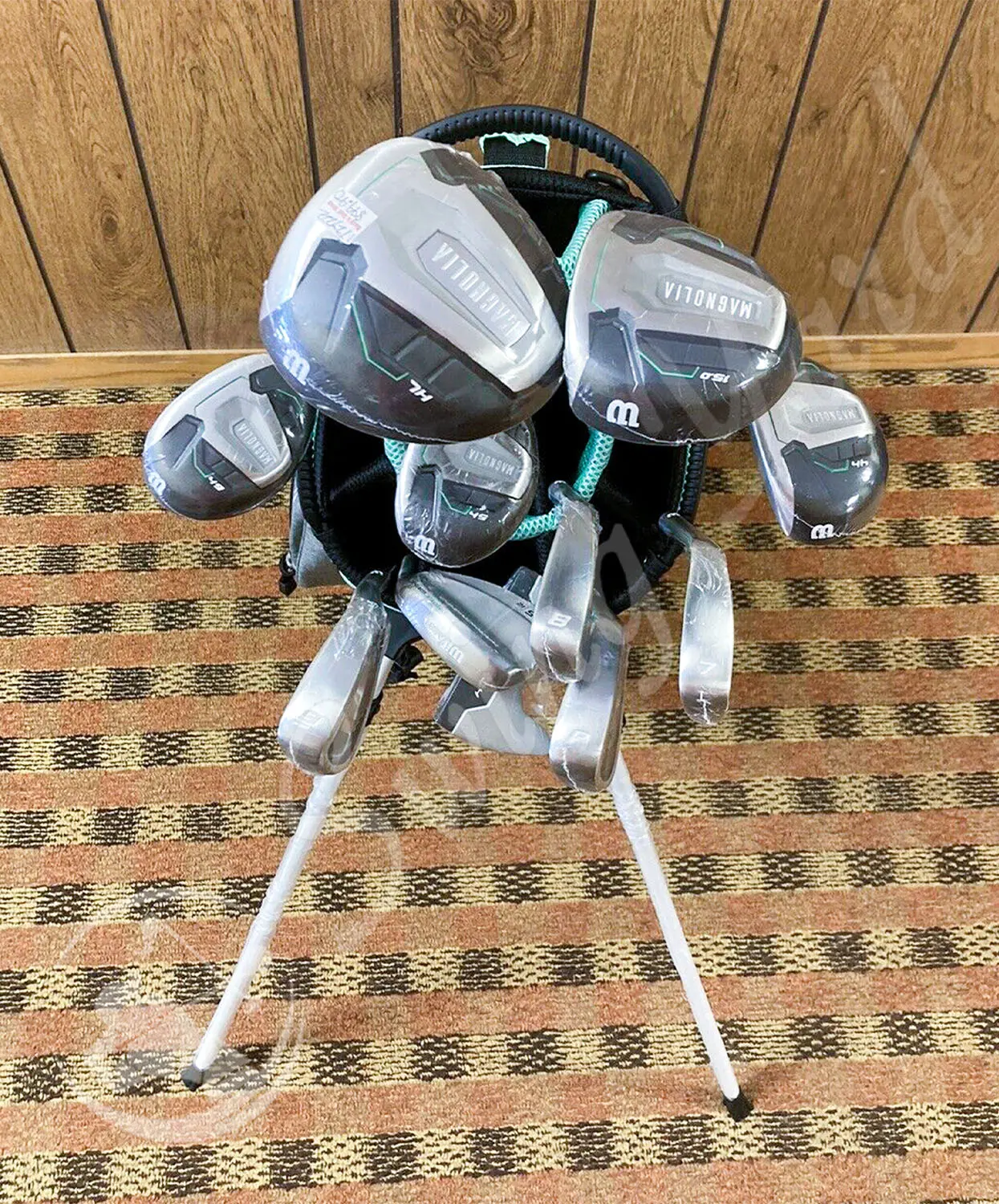 ---
4. Callaway Reva Iron/Hybrid Combo Set (Best Women's Starter Golf Club Set COMBO)
Not all women's golf club sets are full sets with the driver, bag, and everything included. Sometimes it makes the most sense to put together an alternative with a driver, fairway woods, irons, wedges, etc. This can take a little more research and time, but your golf equipment could also last considerably longer.
The Reva was designed to help women golfers get much more distance. In addition, I noticed the internal draw bias on these clubs as soon as I started using them.
The Flash Face SS21 is a fancy way of saying that the ball comes off the club face fast, and it will have a tendency to turn from right to left (this is a good thing).
Draw bias helps to improve forgiveness for a new golfer and will help tremendously in your first few years of learning the game.
Why It's One of The Best Beginner Ladies Golf Clubs
Beginner golfers need to take advantage of all the technology they can find. The Callaway Big Bertha Reva was developed using Artificial Intelligence to help get players tremendous speed and distance. If you are new to the game and just starting to look at women's golf clubs, the Reva was made for you.
The Bottom Line
I like the Reva Iron/Hybrid Combo Set for the woman golfer that really wants to give this game a go. If your friends play and they are pushing you to join them each week, the Reva is a really good start to give your game, and the technology will remain relevant for years to come.
Also, if you really want a complete set, and you like the Reva, both their 8-piece and 11-piece sets are great starter clubs for women as well.  These come with all the clubs you'll need as a beginner lady golfer, as well as the bag… but you may need to fill in some gaps as you get better.
---
5. Tour Edge Moda Silk Women's Complete Set – Silver/Ruby (Best Value Set)
Tour Edge is a brand name that flies under the radar. With their men's golf clubs, beginner golfer clubs, and women's golf clubs, they never do much advertising across the major networks, and if you don't follow the game, you may not know about this option.
However, it is one of the best beginner golf clubs for ladies from a technology and value standpoint.
The Tour Edge Moda Silk is a complete golf set with graphite shafts. Similar to the Callaway Women's Strata set, you will get a golf bag and everything you need to succeed on the golf course. This set comes with more clubs than the Strata and, most importantly, includes a pitching wedge and a sand wedge.
With the Tour Edge Moda Silk, you also get a nice cart bag with plenty of storage. The thing I love most about these women's starter golf clubs is that they don't have to be the clubs you start with; they can be the clubs you continue with!
The Tour Edge Moda Silk is the best value because this set is durable, long-lasting, and has a great feel.
Why It's One of the Best Ladies Golf Clubs for Beginners
Beginner golfers may not know much about women's golf clubs. In order to find the equipment that will be best for your game, you can pay to purchase a set that has all the clubs necessary to succeed.
With two fairway woods, two hybrids, and even the pitching and sand wedge, this is a set that will continue to impress golfers for years to come.
The Bottom Line
The Tour Edge is a great golf club set that doesn't get the attention it deserves. Other golf club manufacturers struggle to put together a set like this for the price; I highly recommend you give this one a close look before you purchase. It's definitely one of the best beginner ladies golf clubs on the market.
---
6. Wilson D9 Driver Women's
If you are trying to put together a set of golf clubs or have purchased one of the women's golf club sets and don't enjoy the driver, the Wilson D9 Driver is one of the best options for women. Of course, the new TaylorMade Stealth or Rogue ST may have a bit more technology, but they are also twice the price.
The Wilson D9 women's golf driver takes into account the necessity to keep clubs somewhat affordable, especially in the beginning. If you are purchasing individual golf clubs, you will spend a bit more than a complete set, but you typically get a better return on your investments as well.
The Wilson D9 Driver is made with a Kevlar and Carbon Fiber material that will help with a lightweight feel and extra swing speed. I noticed that the ball speeds on the D9 were very strong; in fact, they were considerably better than I thought they would be.
Why It's One of The Best Golf Clubs for Ladies Beginners
If you get yourself set up with a great golf putter, pitching wedge, sand wedge, and a strong driver, you are well on your way to having a women's complete golf set that will bring you low scores.
The Wilson D9 is a golf driver built specifically for women with plenty of distance, accuracy, and fantastic feel. The pricing only sets things over the top, making this the one of the best ladies golf clubs for beginners.
Pros
Just enough loft to promote forgiveness without taking away distance
Higher quality than the driver in a Wilson Golf Profile SGI women's club set
Affordable price
Very lightweight high, quality clubs from Wilson
Cons
Will still need to purchase a high quality stand bag and other clubs
Not as high a ball speed as other drivers from TaylorMade or Callaway
The Bottom Line
The Wilson D9 driver is a great start to a complete golf set for women. The large sweet spot, impressive launch, and pleasing sound will give you the confidence you need when standing on the tee box.
---
And the Winner of Best Beginner Ladies Golf Clubs is…
Hopefully, you learned a bit about the best women's golf clubs for beginners and how to choose the one that is the perfect fit for your game. There is a lot of equipment out there, and this gets confusing and discouraging. Here is a recap of what I found when looking for the best women's golf clubs for beginners.
Overall Best Golf Clubs for Women Beginners
The best overall women's golf clubs for beginners are the Callaway Strata. These clubs have a good mix of performance and value, and they come with a mallet style putter and sand wedge that will make the short game considerably easier.
If you are on a budget but want something that is still of good quality, go with the Callaway Strata.
Best Womens Golf Club Iron/Hybrid Combo Set for Beginners
Although it won't come with a golf stand bag or all of the other clubs necessary to complete a set, the best iron/hybrid combo set for women is the Callaway Reva. If you can see the trend here, Callaway is a strong brand for individual clubs, and golf club set options for women.
Expect this to be a bit more money, but something that could end up being a better long-term investment.
Best Value Starter Women's Golf Clubs
The best value golf clubs for women beginners are the Tour Edge Moda Silk. The best value category does not necessarily mean that they are the cheapest.
Value to us means that the club's features are worth the money that you are spending. Although this is priced higher than the Callaway Clubs, think about your future in the game and whether or not this affordable set could be a good fit.
---
How To Choose the Best Beginner Women's Golf Clubs for You
Choosing the right women's beginner golf clubs takes a bit of understanding of the components and features of the golf clubs. Typically speaking, you will need to look for lightweight graphite shafts, higher launch, a large sweet spot, and some distance technology.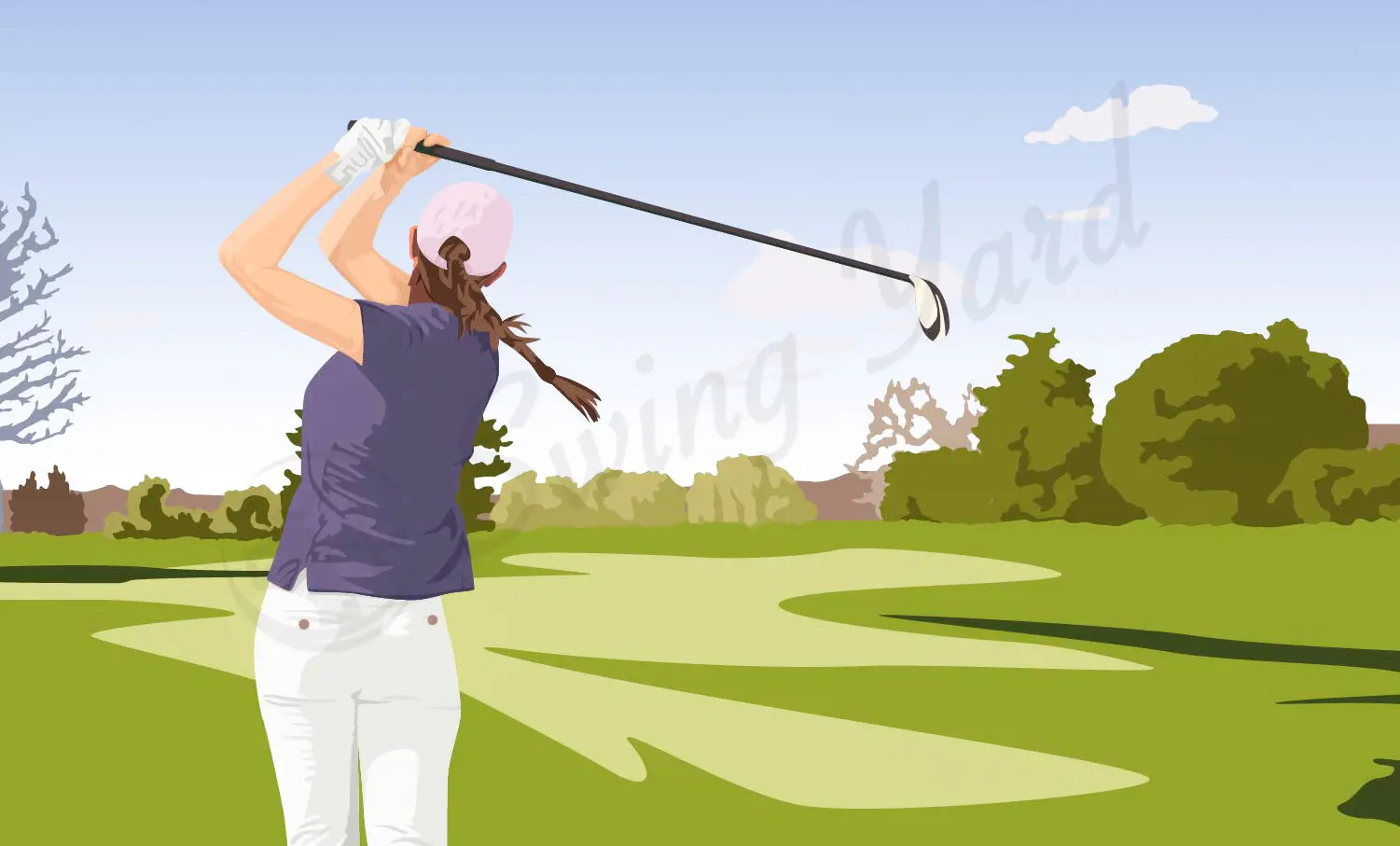 Number of Clubs
When looking for the best clubs for women golfers sometimes, you will find something that has 7-9 iron, pitching wedge, sand wedge, and putter. Other times you may just find a 3 wood. The USGA rules of golf state that we can only have 14 golf clubs in our bag.
Most women golfers that are new to the game need about 8 clubs in their bag. This would include a driver, fairway wood, hybrid, three irons, wedge, and a putter. If you purchase clubs and the set has 10 or 11 clubs, that is completely fine. However, it may not be necessary to have a total of 14 clubs at this stage in the game.
Price Point
The price point of the golf clubs you choose will likely vary depending on what type of set you are purchasing and the brand name. A beginner set of golf clubs for female golfers could be as low as $300 or as high as $3000. 
Finding an affordable set sometimes means sacrificing the number of clubs or the designer cart bag and just focusing on the tools to get the job done.
Accessories Included
Some golf club sets for women golfers will come with a carry bag or cart bag and all the headcovers needed to protect the clubs. Others will be a more basic package. Accessories are easy to add in. If you find a set of golf clubs that are perfect for you, don't worry about having to add accessories back in.
Club Length
The club length is a very important consideration for women golfers. Many golfers that are less than 5'4″ or taller than 5'8″ will need custom-fitted golf clubs.
As soon as you look at the custom fitting, the pricing will go up; however, there are some petite women's golf clubs, as well as womens left handed golf club sets, and tall womens golf clubs on the market.
Without lightweight graphite shafts of the proper length, the learning curve for the game of golf will be considerably longer and more difficult.
---
Final Thoughts – Best Women's Golf Clubs for Beginners 2023
Remember that the best beginner golf equipment should get you through the first five years of learning the game of golf.
Paying just $100 more for a set could be all that is necessary to be able to hit great golf shots, experience easy launch, and ensure faster ball speeds.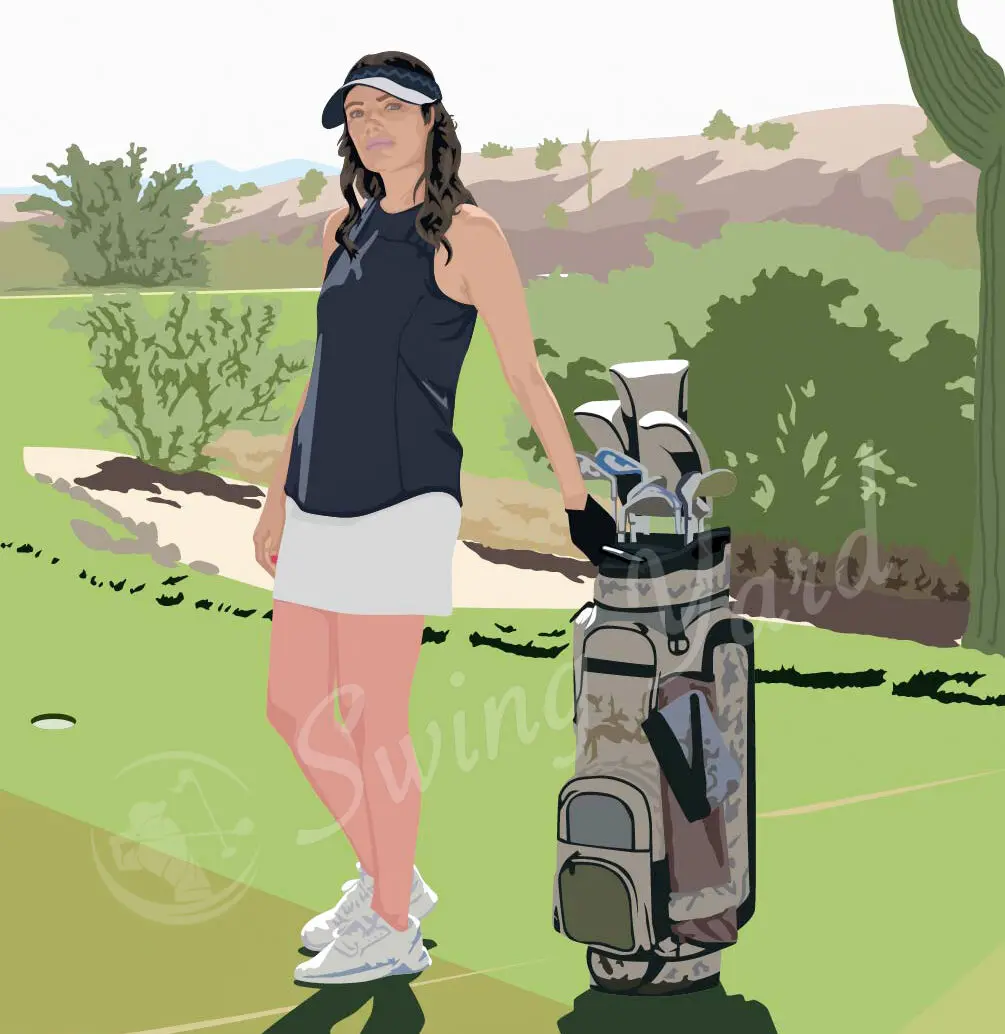 Do the research and choose the clubs that are of higher quality from the start; you will thank me when you break 100 after just a little time in the game!
Also check out my article on golf tips for women to help you get started playing the game.
---
FAQ – Best Beginner Golf Clubs For Women
Here are a few of the most commonly asked questions about the best women's golf clubs for beginners. Don't be afraid to ask questions as a woman taking up the game of golf; there are big decisions to be made here!
What is a good set of golf clubs for a female beginner golfer?
A good set of golf clubs for a female beginner golfer are the Callaway Strata golf clubs. This set features game improvement irons, an impressive sand wedge, and a hybrid that you will find is very easy to work with. All of the clubs feature lightweight graphite shafts that improve overall launch.
How long should women's golf clubs be for a beginner?
A standard women's 7 iron is around 36 to 36.5 inches in length. The actual length will vary from one manufacturer to another. The longest club in a women's golf bag is the driver, and the shortest will be the wedge and the putter.
How much should a lady beginner spend on golf clubs?
Beginners that are on a budget can find a set of golf clubs in the $350-$500 range. Those that have no worries about the money will typically spend around $1500 for a complete set. The higher priced golf clubs tend to have better ball speed and improved feel.
Is a blade putter or mallet putter better for a woman beginner?
Most women golfers prefer the mallet putter when they first learn the game. The mallet putters typically have better alignment lines and will make it easier for women golfers to control the distance of their shots.
Putters are very easy to upgrade and change out, so this is not a deal breaker; if your set comes with a blade-style putter, give it a try and then make adjustments if necessary. I even have my list of the best women's putters to help you make a decision.
Can I just use my boyfriend/husband's old set?
You could start out at the range learning to swing for a little bit using your boyfriend or husband's old set… BUT, it's not going to be good for your progression long term. Men's and women's golf clubs are not the same, learn the differences in this post.