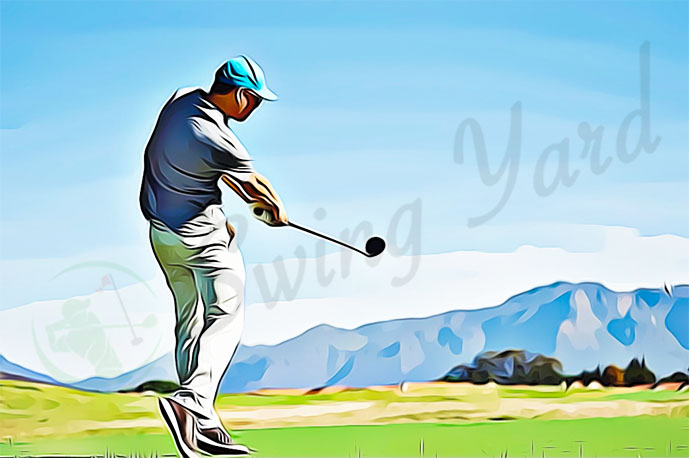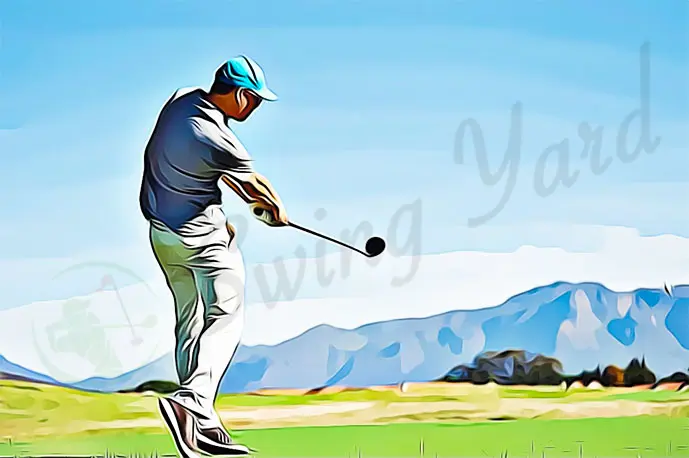 Author: Jamie Lewis – PGA Teaching Professional
The Best Drivers for Beginners and High Handicappers for 2022
Callaway Rogue ST Max – Best Overall
Ping G425 Max – Runner Up
Cobra LTDx Max – Best Value Pick
Most beginners try hitting the driver at first, but after lots of struggles, it ends up collecting dust and never comes out of the bag. The majority of beginners and high handicappers resort to hitting a 3 wood, or even an iron, off the tee.
I hate to say it, but this is almost ALWAYS because they haven't purchased a driver that was right for them and their swing speed. Most beginners start with hand-me-down clubs they got from a friend that don't fit them at all.
Having a driver that fits your swing and swing speed is super important, so take a look at my top picks for the the best golf driver for beginners and high handicap golfers…
>> Click here to jump to conclusion <<
Our Criteria for the "Best Beginner Driver" Comparison Test:
I have narrowed my search based on the following primary criteria:
Miss Hit Results – how far, and how far offline did the misses travel
Distance – carry and roll
Accuracy – percent of fairways hit
And the following secondary criteria:
Feel – overall weight, swing weight, and feel at impact
Ball Flight – using a standard stock shaft
Launch Monitor Numbers – spin rate, ball speed, swing speed, smash factor, launch angle
Aesthetics – it has to look good
Sound – hearing the right sound at impact is very important to me when choosing a driver
Reviews – Best Golf Drivers for Beginners and High Handicappers:
1. Callaway Rogue ST Max
My Recommended Handicap Range: 12 and up
Lofts Available: 9°, 10.5°, and 12°
Launch: High
Spin: Mid
Adjustable Hosel: Yes
Last year I was an Epic FANATIC. I felt the Epic line was way ahead of the competition. So the Rogue ST Max has big shoes to fill. It definitely didn't disappoint! Callaway hit the mark here!
Callaway brought back the flash face and speed frame for the Rogue ST Max, and are put to good use. I really felt the forgiveness across the face, and astonishing distance. The driver is absolutely user friendly.
The sound at impact is classic Callaway. Strong, but not loud. Metallic, but not high pitched. A feel of stability and power that I've come to expect from Callaway. A slight draw bias will help you a bit if you come over the top, like most beginners.
Between the acoustics, simple high ball flight, slight draw bias, killer forgiveness, and jaw dropping distance, I am hard pressed to say anything negative about this driver. If all you want is your next shot to be playable, this is going to get you desired results.
Why is it one of the Best Drivers for Beginners?
The Callaway Rogue ST Max is a beginner's best friend. It's the easiest driver to hit in 2022 in my opinion.
The 26 grams of tungsten at the rear makes this driver have the highest MOI of any Callaway driver to date! MOI is also a beginner's best friend. MOI equals forgiveness, and forgiveness is key for a beginner.
The new Flash Face was designed with ball speed and lowering spin in mind. The variable thickness, produced over thousands of AI simulations, generates consistent speeds across the face. A beginner tends to struggle finding the center of the face with consistency, so this is a key factor also.
So why beginners? Easy… high ball flight, high MOI, consistency across the face, and impressive distance… it checks all the boxes!
Pros
Matte crown is a focus factor
Variable face thickness = super forgiving
Distance on top of distance
Great roll out after carry
OptiFit Hosel can add 2 degrees of loft as well as shot shape bias
Cons
No adjustable weight

Head shape not everyone's favorite
The Bottom Line
There are some real gamers to pick from this year. The difference between manufacturers is the thinnest it has ever been. Callaway however, always seems to have that next little step up.
This year is no different. As a beginner, you are looking for a driver that you can count on, that gives you extreme distance, ultimate forgiveness, and gets up and down range quickly…
The Callaway Rogue ST Max is the best choice for all beginners and high handicappers.
2. Ping G425 MAX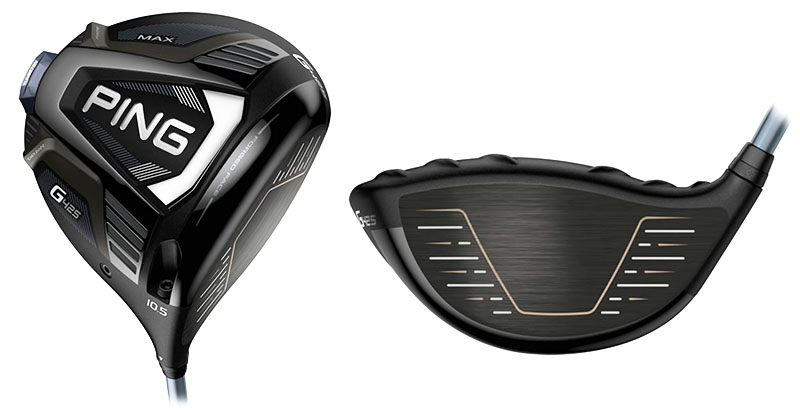 My Recommended Handicap Range: 12 and up
Lofts Available: 9°, 10.5°, & 12°
Launch: High
Spin: Mid
Adjustable Hosel: Yes
Ping made a driver that many will buy immediately after hitting.
The new Ping G425 MAX has impressed everyone that's tried it. They made a perfect club for beginners by doing a few key things…
First, they made the overall club lighter (and lighter is better for increasing swing speeds). But they're also using something new called the dragonfly crown technology, specifically making the top of the club lighter.
This allows Ping to add a 26 gram movable weight called the center of gravity shifter to the bottom of the club. You can set it to draw, fade, and neutral.
Why is it one of the Best Drivers for Beginners?
By moving the center of gravity weight, Ping increased the MOI 14% from its previous model!
Basically, this means you don't have to hit it on the sweet spot to see great results. I hit several off centered balls that flew high and far. It's a very impressive club that needs to be part of your search.
By the way, we have a full in depth review and testing results of the Ping G425 Max driver if you want to check that out.
Pros
Excellent distance + accuracy on solid hits
Miss hits saw very little decline in distance and accuracy as well
The feel is very very solid
Cons
Overall distance was slightly less than the competition
Sound was a bit muffled
The Bottom Line
This was the driver I could've sat on the range and hit all day!
The look and feel of the club, the distance and accuracy… all of it was so fun to watch.
Yes, you're allowed to admire your own golf shots when they're good. I played around with the center of gravity shifter and hit great shots one after the other.
The high launch angle is also perfect for new players. Seeing the ball climb into the sky with such ease was a joy to see. Most beginners try to help the golf ball get in the air but that's not necessary with this Ping.
This is why I think it's one of the best drivers for beginners available today.
I came out of this session thinking every beginner will want this club in their bag!
3. Cobra LTDx Max
My Recommended Handicap Range: 10 and up
Lofts Available: 9°, 10.5°, and 12°
Launch: High
Spin: Low-Mid
Adjustable Hosel: Yes
2022 is the year for COBRA to step their game up. Following one of the most popular players on tour saying last year's model "sucks," COBRA had an uphill climb ahead of them. COBRA did more than step their game up. The LTDx Max is truly an impressive driver.
A computer generated "H.O.T Face" perfected face thickness in 15 different zones across the face. A tour pro may need three of those zones. A high handicapper, or beginner, will likely need all 15 of those zones in a round. Finding similar results across the face is next level improvement.
I was very happy swinging this club. It's strong, long, and oh so forgiving. I was excited to tee up the next ball and send it again and again.
A new construction saved weight that was positioned directly behind the impact zone, which maximizes distance and forgiveness.
What really impressed me was the interchangeable weight system. A 10g weight and a 3g weight can be traded between the heel and back. Put the 10g in the back to a get higher flight and neutral shape, or swap it to the heel for maximum draw bias.
Why is it one of the Best Drivers for Beginners?
The COBRA LTDx Max is the perfect club off the tee for beginners and high handicappers. Arguably the most forgiving face, adjustable weights, and a near zero center of gravity will help any golfer off the tee.
The CNC Milled Infinity Face comes across the leading edge, which helps keep consistent ball speeds all across the face. I had a hard time finding a strike that was less than optimal. Easy to hit and impressive distance are the two biggest pros for a beginner.
>> Click here to check price on blue/red version <<
Pros
Easy to hit
Top of the heap in distance
Consistent ball speed across the face
Adjustable weights
Good looks at address
Cons
A little too spiny
Not my favorite sound wise
The Bottom Line
COBRA heard the criticism and responded in a big way. To have Bryson DeChambeau and Kyle Berkshire, the longest hitters around, using your driver, there's something to be had here. Even though those two are pros at the long ball, this club works great for beginners.
Easy to hit, and strong at impact will produce confidence for any style player. Throwing in the adjustable features just makes the LTDx Max that more attractive.
If you're new to the game, or struggle off the tee, you should consider this club. Retailed significantly cheaper than its competitors, it's perfect for someone new to the game and not committed enough to spend top dollar.
4. TaylorMade Stealth
My Recommended Handicap Range: 10 and up
Lofts Available: 9°, 10.5°, and 12°
Launch: Mid to High
Spin: Mid to Low
Adjustable Hosel: Yes
(our full review and test results: TaylorMade Stealth Driver 2022)
Carbonwood! Finally, something to shake things up a bit in the driver space. Carbon Fiber face has been tried before, but never panned out. TaylorMade seems to think this is the future of driver faces.
Going into it, I had an idea of a dead face, and a strange muffled sound. TaylorMade was able to use that saved weight to create some really impressive acoustics. Sound is a big part of feel, and the sound at impact is familiar, yet different, all at the same time.
Shots felt hot off the face, and almost springy. This club generated the most ball speed and distance out of the candidates for the number one slot, which is a HUGE bonus.
Overall, this is an impressive driver, not only in looks, but in performance as well. A premium offering with a nice high launch, impressive distance, and good forgiveness. Getting the ball in the air is effortless. This is the best I've seen from TaylorMade in a while.
Why is it one of the Best Drivers for Beginners?
The new Carbon Twist Face is 40% lighter, and up to 20% larger than previous models like the SIM Max.
A lighter face allows for the saved weight to be placed for a more favorable MOI, and a larger hitting area is great when learning the game. I found this club easy to get up in the air, and keep straight too.
Pros
Looks amazing
Sound/feel is premium and new
Larger face is more forgiving
Carbon face adds distance
Adjustable hosel to add loft
Cons
Not the most forgiving option on this list
Red face can distract some
Face durability could be a concern
The Bottom Line
This year has some real gamers to choose from. With all the computer technology going into making these clubs, the gains are incredible. This ultra developed carbon face is no different. Looks great, feels great, performs even better.
For a beginner or someone that struggles off the tee, you can't really go wrong with this beauty. It'll keep you strong and long off the tee throughout the round!
5. Titleist TSi1 Driver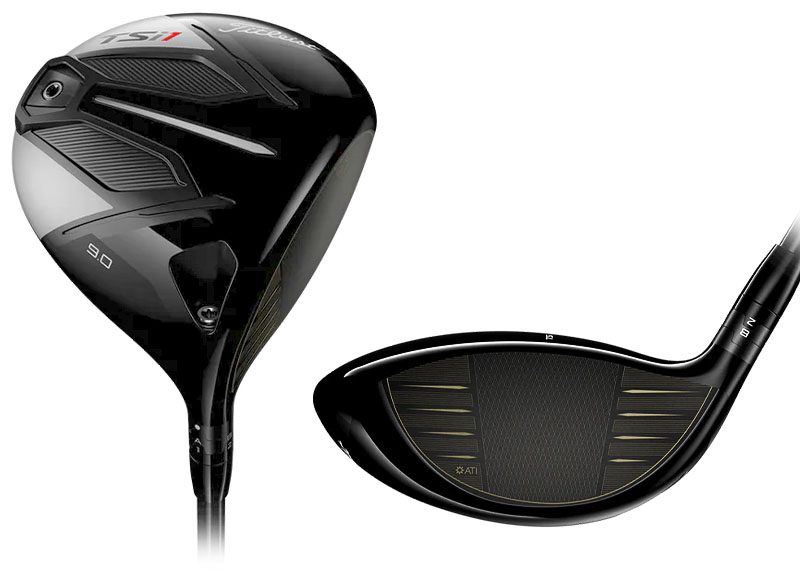 My Recommended Handicap Range: 12 and up
Lofts Available: 9°, 10°, and 12°      (10° is the only option available for left handers)
Launch: High
Spin: Mid
Adjustable Hosel: Yes
Most think Titleist only makes great golf balls, but they make great golf clubs as well.
Titleist tries hard to make sure you know their golf clubs are as good as their golf balls too.
They're using a new ATI425 aerospace titanium club face that's being manufactured in Pittsburgh. Its stability helps with distance and accuracy, and they're the only ones in the business who have it.
The results are higher ball speed, longer drives, and a nice booming sound at impact. It also has the adjustable sure fit hosel and sure fit adjustable weight to make minor adjustments to the overall performance of the club.
Why is it one of the Best Drivers for Beginners?
With a more forgiving face, a lightweight design, and a higher launch, this club will most definitely give the beginner the results you're looking for.
Pros
The look is the best on the market
Moveable weight and hosel
High launch
Cons
Lacked a little miss-hit accuracy outside the sweet spot compared to competition
The Bottom Line
This is my favorite looking driver on the market. Whenever I see a classic black pear shaped club head driver, I NEED to hit it.
Most players have to like the look of the club or they won't buy it. This is no different than buying a car. We buy a car we like looking at. This driver does that for me. I made my best swings with this club!
Having confidence is a huge aspect when playing golf so having the right club increases confidence.
My only gripe would be when I miss-hit shots, they traveled off line a little more than the competition, but not enough to keep me away from it.
Playing around with the weight and hosel is also fun. Seeing the golf ball launch higher is also wonderful for new players. You need to find clubs built for you… and Titleist did a great job building one of the best drivers for beginners and high handicappers. Give this one a try.
---
And the 2022 Winner of Best Golf Driver for Beginners and the High Handicapper is…
My goal here was to find the best driver for a beginner/high handicap player, and the task was harder than I thought. I assumed there would be one clear winner, and then everyone else.
Not so much! I found benefits with all offerings this year that will help any new golfer, or double digit handicapper.
The new models from Callaway, COBRA, and TaylorMade are fantastic clubs. The PING G425 Max and Titleist TSi1 are still modern marvels that are great picks for newbies and weekend warriors. Great distance with all of them, and forgiveness is off the charts! So which is best?!
Best Overall – This is the Easiest Driver to Hit!
Callaway delivered an incredible sledgehammer this year in their Callaway Rogue ST Max. The extreme MOI, Flash Face, and Speed Frame all make this club long and forgiving. Dispersion was tight, regardless of where the ball found the face.
Callaway continues to be the front runner in the driver space, picking up right where the Epic Max left off. Clear winner here for the easiest driver to hit!
Runner Up
The PING G425 Max has some really impressive features that give the winner a run for its money. Adjustability, forged face, great sound and feel, and a counterbalanced shaft help beginners and high handicappers get some consistency off the tee.
I just love the sound and feel, and that counterbalance really helps keep momentum on the downswing. You'll be happy with this one!
Best Value Pick
The Cobra LTDx Max… I am still blown away at how impressive this club is. To put up competitive numbers against the likes of Callaway and Titleist, and come in at almost $100 cheaper, "value" is the first word that comes to mind.
If you aren't 100% committed to the game of golf yet, I would suggest the LTDx Max. Big distance, BIG savings.
---
Final Thoughts on the Best Drivers for Beginners
New players need a lighter club to help increase their swing speed.
A club with more weight in the bottom, AND as far back as possible to produce a higher launch angle.
A club with an adjustable center of gravity weight and hosel so you can make changes to the club… NOT your swing.
I want more people playing this great game and if the game is too hard, people will quit. The manufacturers know this, and it's why they're producing such amazing products for the beginner golfer.
If you can swing your swing and see the ball fly straighter, higher, and further, it's a win for everyone.
Consider these new drivers, get one in your bag, watch your handicap go down, and enjoy many years of happiness on the golf course!
For Some Beginner Golf Tips…
If you're looking for general tips on how to get started, golf 101, etc check out this article here.  We basically cover EVERYTHING you need to know to get started playing this great game!
For our review of the Best Golf Drivers…
If you're not a beginner or high handicapper, we actually have an entirely separate article geared more towards golfers who already have been playing a while, have more accuracy and control, and have higher swing speeds with their driver.
I'll warn you though, the drivers in that review are more advanced and may be a little more difficult for golfers who can't control their shot shape or hit the sweet spot somewhat consistently.
But if you think you're ready, go ahead and check out our best golf driver reviews.
---
FAQ – Golf Drivers for Beginners and High Handicappers
Note – Some of these FAQs were covered throughout the article, but I still get these questions a lot… so here are the "short and sweet" answers to the most common questions:
Does a golf driver make a difference?
A golf driver makes a HUGE difference. Being able to keep the golf ball in play off the tee is the most important aspect when starting out.
What is the hardest club to hit in golf?
The driver is usually the hardest club to hit in golf. This is mostly due to the following:
Longest club in the bag – the physically longer the club, the harder it is to control the club face at impact… simply because it's that much further away. Imagine trying to swing a club that's 10 ft long!
You're hitting it much further – you're going to be hitting your driver further than any other club. This means that a small error in ball striking has much more time to propagate through the ball's path. A slice with a 100 yard shot may only take you off line a few yards… the same exact slice with a 250 yard shot could very well leave you in the woods.
Lowest lofted club in the bag – the lower the loft, the harder it is to actually get the ball up in the air. We've all hit those dreaded low grounders before that only go 100 yards at best.
Swing arc and impact position – typically with the driver, you're going to be hitting UP on the ball vs down on the ball with every other club (fairway woods could be either, depending on if you're teeing up). This is a hard concept for beginner golfers to understand, at least after they learn to hit down with the irons. It's not a terribly different swing per se, you're just contacting the golf ball later in the swing arc.
Should high handicappers use a driver?
High handicappers should be using a driver in my opinion. But it depends how well you can already hit it, your goals (are you going for long term progress, then learn to hit the driver), or if you're trying to post a score (then maybe stick to 3 wood if you know the driver is a struggle for you).
What is the best driver for beginners?
I believe the best driver for beginners to buy is the Tour Edge Hot Launch E521. It's forgiving on miss hits, has good distance and accuracy, cures a slice, AND it's cheap!
What is the easiest driver to hit?
The easiest driver to hit in 2022 is the Callaway Rogue ST Max in our opinion. There is just so much forgiveness on strikes that miss the sweet spot, you almost can't hit a bad drive with this club.
How far does a beginner hit a driver?
A beginner golfer can hit a driver usually around 170 – 225 yards. But it depends on your swing speeds, ball speed, ball flight, shot shape, and ability to hit the sweet spot. If you can do this consistently (and you're just starting out), then you're doing great! The key word is CONSISTENTLY.
Should beginners hit a driver?
If you're a complete beginner golfer, I would recommend NOT hitting a driver yet. Stick to 3 or 5 wood off the tee, or even a 6 or 7 iron if that's all you can hit. It will make the game much more fun for now.
BUT, you should be practicing with the driver and adding it to your arsenal once you can hit it somewhat consistently.
Should I look at the most forgiving drivers?
There are a lot of similarities between beginner based drivers and the most forgiving drivers. But there are some differences as well. Check this out if you're specifically looking for forgiving drivers.
---
Discount Section – Our Picks from 2021
1. TaylorMade Sim 2 Max Driver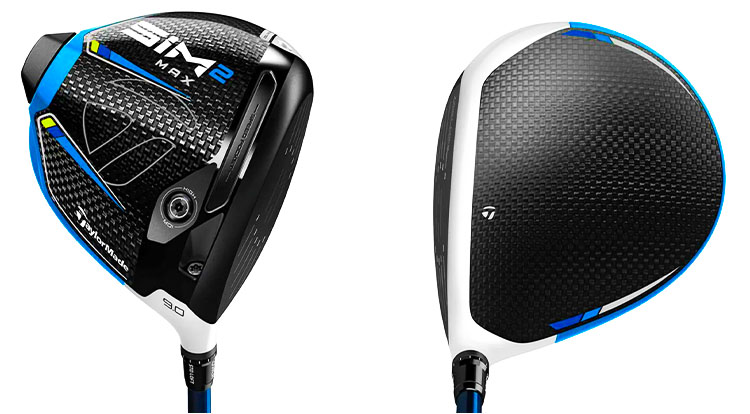 My Recommended Handicap Range: 12 and up
Lofts Available: 9°, 10.5°, and 12°     (12° is only available in the right handed version)
Adjustable Hosel: Yes
Colors: All models have the black base, but you can customize the blue trim to Chrome, Orange, Gold, Red, Black, Green, Light Blue
Average Cost New: $529.99
The SIM2 MAX is definitely a step up from the SIM MAX (last year's model). TaylorMade is marketing a new forged ring technology as their breakthrough for distance and accuracy. It has a 9 layer Inertia generator sole, which helps increase swing speed at the bottom of the swing, ultimately increasing ball speed.
Combine these features with a 24g back weight and you have a driver that's built perfectly for the beginner or high handicap golfers.
Due to the movement of the weight, it has a 5% increased sweet spot from the SIM MAX. One thing beginners do a lot of… miss-hit the center of the club (or sweet spot)! So finding clubs with larger sweet spots is super important.
Note – these photos are of the SIM 2, not the SIM 2 MAX. However, those custom colors are available for both drivers.
Looking down at the driver is a little weird to me. The club head is no longer all white like the previous M series, but a black carbon crown with a white club face wrapped around the top of the club.
It has become TaylorMade's look over the last several years, so once I got over the colors, the results followed.
It's indeed a very long and accurate driver. The launch angle in the Taylormade SIM MAX 2 was higher, but perfect for the player just starting out.
A higher initial launch with more forgiveness on miss-hits gives this club the five star review it deserves.
Note – If you're considering this driver, but you want to check out the other models offered in this series, we've done a full write up on the TaylorMade SIM2 driver review family here if you want to give it a read.
Pros
The feel and sound are exceptional!
Tremendous distance with both solid strikes and miss-hits outside the sweet spot
Cons
The shape and color scheme
No movable weight
The Bottom Line
TaylorMade continues to be a leader in golf club technology.
The TaylorMade SIM 2 MAX is a very forgiving driver. Miss-hits traveled a good distance, and the ball stayed within the tree line. Keeping the golf ball in play is very important and this driver definitely helped me keep the ball in play.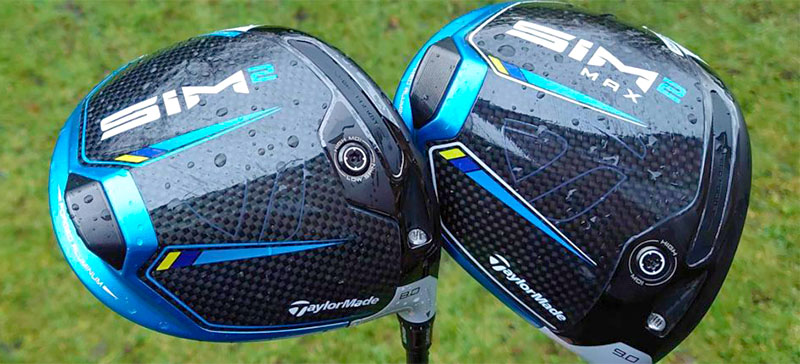 The shape and color scheme didn't bother me after a while so my swings became a little better…. and the results followed.
I liked the high launch compared to the SIM. Seeing the golf ball take off higher is very helpful for beginners with slower swing speeds so it's definitely a club that focuses on you. It should definitely be a final contender during your search.
2. Callaway Epic Max Driver
My Recommended Handicap Range: 10 and up
Lofts Available: 9°, 10.5°, and 12°
Adjustable Hosel: Yes
Average Cost New: $529.99
Callaway drivers continue to lead the industry in almost every category. Their technology is always one step ahead of the rest… and my results proved it.
They use artificial intelligence (AI) to help create this new line of drivers. The Epic Max has a new Jailbreak Speed Frame, which provides optimal ball speed and more stability during miss-hits outside the sweet spot.
The frame also has vertical stability bars which increase the sweet spot, resulting in more distance and accuracy on miss-hits.
The Epic Max also leads the competition in movable swing weights. It has a 16 gram adjustable weight, along with an adjustable opti-hosel.
This driver was flat out fun to hit! It has an exceptional feel and look to it, and my ball speed was much higher with this club than the rest.
My miss-hits didn't wander off line all that much, so again, keeping the ball in play should be the primary focus… and this driver did just that!
I also enjoyed seeing the ball maintain its distance on miss-hits. That's another great advantage for Callaway.
Playing around with the weight and hosel was also fun. Callaway claims you can shape correct the golf ball 16 yards! If you combine that with the opti-fit hosel, it could be up to 20 yards. This is huge for beginners who normally hit the dreaded slice.
Just making adjustments to the club and not your swing is important so this club will help straighten the ball out without a single swing change. It was built to keep the ball in play so another exceptional product from Callaway that you must consider.
We also have a full in depth write up of the Callaway Epic Max Driver review here.
Pros
The feel, look of the club head, and sound are exceptional
Miss hits didn't travel far offline
Adjustable weight and hosel
Cons
Not as much overall distance as competitors
The Bottom Line
I love the look, feel, and sound of this driver! It's as good as anything on the market. When I hit a shot I thought would wander off into the woods, it didn't. When I miss-hit a shot that I thought would lose a lot of distance, it didn't.
When you can have the confidence to swing a club knowing it won't travel far offline and not lose much distance, it's a club you WANT to hit.
Callaway always finds a way to impress the masses and they did so again with the Epic Max. Include this driver in your search because it's definitely one of the best drivers for beginners and high handicappers on the market.
3. Tour Edge Hot Launch E521 Driver
My Recommended Handicap Range: 16 and up
Lofts Available: 10.5°, 12°, and 15°
Adjustable Hosel: No
Average Cost New: $229.99
Tour Edge continues to surprise more and more golfers each year.
I knew that since this testing/review session was geared towards the best golf driver for beginners, I needed to try Tour Edge, and I'm glad I did!
They have the C521 for better players, the E521 for beginners… and there's a noticeable difference. The E521 was designed with an offset club face. This means they designed a club that will help eliminate slices.
Another key design difference was the size and length of the club head. It's longer from front to back. This is also good for the new player because Tour Edge can transfer the center of gravity weight more towards the back of the club, helping the golf ball get in the air.
They also have something called the Houdini Sole. This puts more weight on the bottom of the club (again, more center of gravity tweaking) which also helps get the ball in the air easier.
Combine these attributes, and you get a driver that is really easy to hit and great for beginners.
Pros
Cost to performance ratio
Weight distribution
Offset club face
Cons
Lacks the technology the bigger players in the market have
The Bottom Line
This driver is a must try for the beginner. I'll be honest, when trying value drivers, you don't expect much on miss-hits or distance, but I was pleasantly surprised by the E521.
It has shockingly great feedback. The distance was definitely there, and when I missed the sweet spot, the accuracy and distance didn't suffer too badly.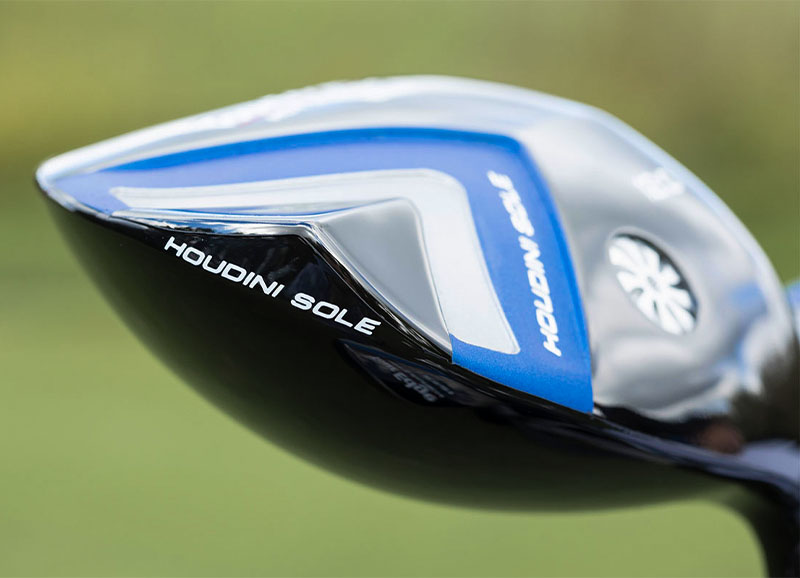 With the offset face, beginners will love NOT seeing their ball slice into the woods every other hole. And with a heavier sole and lower center of gravity, they'll love seeing the ball get airborne with ease.
When searching for the best driver for beginners, this golf club deserves to be in the conversation with the big players. And with a much lower price, that's why I think it will be the right driver for many new golfers just starting out.
And the 2021 Winner was…
I honestly think each of these drivers will work depending on your swing type, swing speed, and budget… but there was a clear cut winner in my eyes for the beginner and high handicap player.
Best Overall (and the easiest driver to hit in 2021)
So the winner of the best golf driver for beginners and high handicappers is… the Callaway Epic MAX.
I do think all of these drivers will find plenty of homes, but this driver has it all. Being able to change the weight and hosel settings is the new norm, and Callaway really has it figured out with this driver.
From the launch angle, to help you get the golf ball airborne, to the adjustable center of gravity weight helping fix a slice upwards of 20 yards! To swinging something so light, it's no wonder Callaway has a huge stable of PGA and LPGA tour pros playing their products.
I loved the sound, feel, distance, and accuracy of this club. And because it's so light, my swing speed increased, increasing my ball speed and distance. Who doesn't want a higher swing speed!
Callaway has made a driver perfect for the new player. It's the easiest driver to hit for 2021, and I'm sure it will impress you the second you try it and hopefully find its way into your bag.
Runner Up
A close second pick for the best driver for beginners and high handicappers is definitely the Ping G425 Max. Like I said in my write up, this driver is so much fun to hit!
And with the adjustable-hosel + huge 26 gram center of gravity shifter, you can miss-hit with no worries… AND fix the dreaded beginner slice no problem.
I really do think a ton of beginner golfers (and even decent mid handicap players) will end up with this one in their bag this year.
Best Value Pick
This may be a surprise to most, but again, we're talking about a driver for beginners and players who are just starting out.
Because of that, I'm giving the best drivers value pick award to the Tour Edge Hot Launch E521.
The biggest error a beginner makes is slicing the golf ball. This club with the offset face and weighting will help correct that problem so easily.
Combine that with a high launch angle and extremely low price tag, and you have a winner for many many new golfers. Definitely a great driver for beginners.