Author: Jamie Lewis – PGA Teaching Professional
---
With the current golf boom brought on in large part by our worldwide pandemic, it is more important than ever to carefully consider equipment before purchase.
A little education goes a long way. If you're new to the game or a veteran golfer who has never thought much about it in the past, it's important to know that equipment is NOT a one size fits all proposition.
Just knowing the strengths and weaknesses of your game can go a long way to determining what equipment to purchase.
TaylorMade is one of the biggest names in golf. A pioneer in the field of metal woods and drivers, they're a company that produces a quality product while having a great customer service record.
They also offer several different types of drivers, each with a degree of adjustability and customization available.
TaylorMade SIM 2 Drivers Review
---
The Series Line as a Whole
Tech Through the Years
The TaylorMade SIM2 drivers are full of new tech. Frankly, high tech phrases like SIM Inertia Generator, Speed Injected Twist Face, Thru-Slot Speed Pocket, and Split Mass weighting are just fancy marketing terms.
BUT, the tech behind those fancy marketing terms is real… and it works!
Many of these pieces of tech were carried over from the M5 and M6 series of drivers and placed into the head of the original SIM (Shape in Motion) series of drivers introduced by TaylorMade in early 2000s.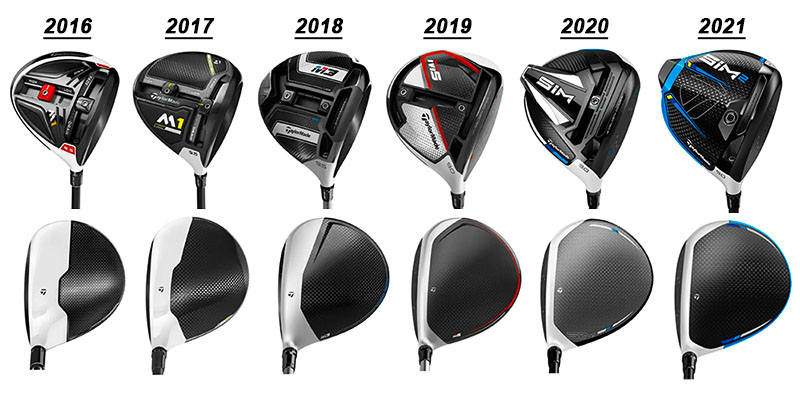 A big difference though was the SIMplification of the intricate track system found in prior drivers produced by TaylorMade going back to the SLDR model.
By reducing the weight of this system and then carefully designing an asymmetrical sole, called a 'forged ring construction', TaylorMade engineers had much more discretionary weight to play with to help increase clubhead speed and forgiveness.
The use of a full carbon sole, a lighter metal to begin with, has added to this capability.
(Check this out for a complete review of all the TaylorMade Drivers by Year)
New this year – SIM vs SIM 2
Compared to the original SIM version, the TaylorMade SIM2 drivers' exterior tracking was completely removed, creating even more discretionary weight to be used in the rear of the club for the SIM2 vs SIM.
The combination of the through slot speed pocket, SIM inertia generator, and forged ring construction create additional clubhead speed, while the speed injected twist face and split mass weighting features help with forgiveness.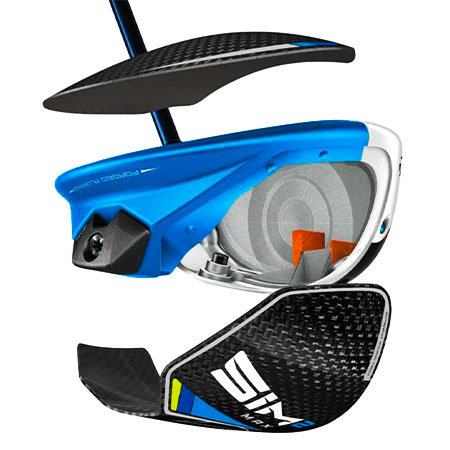 Forgiveness in golf is measured by something called MOI, or moment of inertia. The higher the MOI, the greater the forgiveness. These are high MOI drivers!
Another extremely important facet in the speed injected twist face technology is that it's used to bring each club head up to the legal limit allowable under the current USGA rules. According to TaylorMade this provides a lethal combination of ball speed (Distance) across the face (Forgiveness).
Alternate Colors
Ok this has nothing to do with performance obviously, but it's pretty cool that they offer all 3 drivers in the SIM 2 series in customizable colors (for a little extra money of course):
---
TaylorMade Driver Model Comparison – SIM 2 vs SIM 2 Max vs SIM 2 Max D
Now let's take a look at each of the TaylorMade SIM2 drivers individually. As we do, honestly assess your own game and consider which of the attributes mentioned fit best for you and your game.
The three driver models offered in this series each perform differently in regards to the amount of spin generated and launch angles created. I'll go into that in greater detail below.
Also, the SIM2 driver and SIM2 MAX driver models come with two stock shaft options that will be discussed as well (I will go on record here that I'm not a big fan of a 45.75" shaft length though).
More on shaft length and how long of a driver you should be playing if you want to check that out here.
---
1. TaylorMade SIM2 Driver Review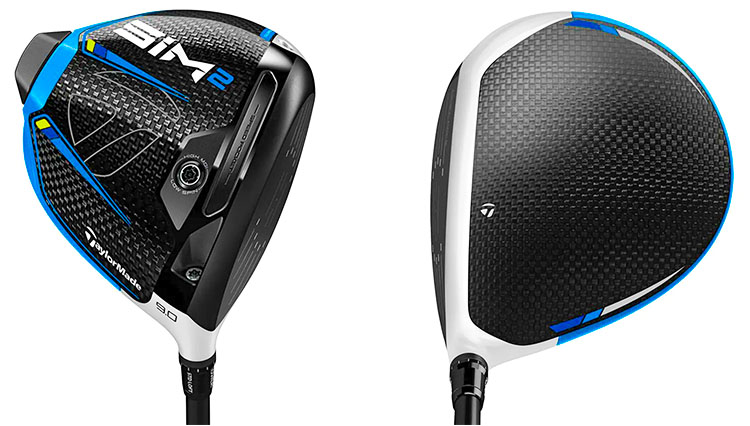 Recommended Handicap Range: 0-12
Please note that handicap ranges are deceptive things. Because it reduces spin and comes with heavier shaft options, the SIM2 driver head is considered a better player's option.
A quick look at the TaylorMade tour staff however, reveals a split between this head and the more forgiving SIM2 Max.
Your swing is your swing. Certain swing types may benefit from a spin reducing heavier shafted driver, even though the player may hold a mid or higher handicap.
With all that said though, I would recommend the SIM2 driver for those in the handicap range of 0-12.
Lofts Available: 8°, 9°, 10.5°  (8° only available for the right handed version)
Each SIM2 driver head comes with 4 degrees of adjustability. Whenever you adjust the head down, it promotes a fade and reduces spin.
If you adjust up, the opposite occurs.
So for example, if you struggle with over drawing the ball, it might be best to start with a 10.5 degree head, and then click it down a notch or two.
Additionally, each swing speed and type has an ideal driver launch angle for maximizing distance and accuracy.
In general, the slower the swing speed the higher the launch angle and the greater the spin rates need to be.
For example, the average male golfer has a driver swing speed of around 90 mph. His ideal launch angle will be 15 degrees with a spin rate of around 3,000 rpms. Someone swinging 100 mph may need 14 degrees and 2,500 rpms of spin to max things out.
Long drive guys who swing 140 mph plus launch the ball around 10 degrees and have spin rates under 2,000 rpms.
Technical Review
There's a good deal of info about tech in my general TaylorMade SIM2 drivers series review in the earlier section above. So here I'll focus on the difference between this head and the other two, as well as the stock shaft offerings and what that might mean for your game.
A big tech difference in this head compared to the other 2, is that the "TPS weight" moves the center of gravity more towards the front of the clubhead. In general, lower back weighting produces greater forgiveness, while front weighting (and especially front higher weighting) produces greater ball speeds and more distance.
This also may require more loft in order to keep the ball airborne for maximum carry… so keep that in mind.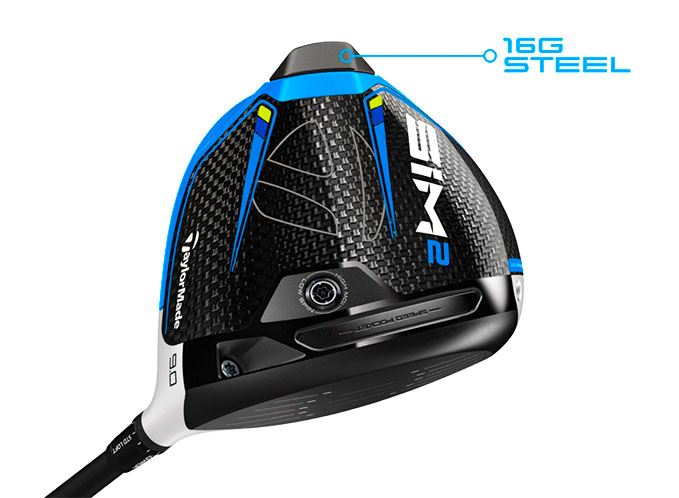 Shaft Options
The shaft options for this club head are heavier than the others in this series. Again, this is to reduce spin (and to some extent, launch angle). Faster swinging players tend to launch the ball too high with too much spin.
A word of caution on all shafts found in "on-the-rack drivers" from the leading OEMs…
They are most frequently made for the OEM, and not the exact same one as you would find as an aftermarket shaft (if you go to the Mitsubishi website the offering there will be a Blue 65 rather than 60 offered by TaylorMade).
While much will be written to the contrary, normally by internet trolls with no data to back their claims, this is not necessarily a bad thing.
It's not in TaylorMade's (or any other OEM's) interest to produce a bad product. At the same time, they are trying to produce a driver at an affordable price point for most golfers.
These "made for" shafts are carefully tested with their paired driver heads to produce the best possible results at a reasonable price point.
Mitsubishi Tensei AV Raw Blue 60
The first stock shaft option is the Tensei AV Raw Blue 60. It produces a mid-ball flight at a moderate spin rate and has a reputation for being easy to "turn over" or draw… something that most non-professional golfers are going to want.
The 60 means that it will weigh approximately 65 grams (plus or minus) depending upon the flex selected. It comes with the option of R, S or X flexes.
HZRDUS Smoke RDX Black 70
The other option is the heavier HZRDUS Smoke RDX Black 70. This is a stout shaft designed for someone with a fast tempo. It's ultra low launch and low spin. The 70 indicates that it will weigh around 75 grams.
Pros
Spin reducing, produces higher ball speeds (longer distance)
Tons of tech (reviewed in an earlier section)
Decent forgiveness
Shaft options
Cons
Less adjustability (than some)
Shaft length (too long for most)
The Bottom Line
The SIM2 driver is a very good club, but it's not for everyone.
More than likely a mid to high handicapper who struggles with a slice should stay away.
For a better player or the right slower swinger who needs to reduce spin, this driver is a great choice.
Usually, reduced spin means less forgiving, but that is not entirely the case here. Having personally hit this head, I've seen firsthand that there is a good deal of ball speed retention all across the face.
The TaylorMade SIM2 drivers' long and straight with a degree of workability that better players will truly appreciate.
The best golf drivers that are in this same class…
If your skill set fits in the category for the TaylorMade SIM 2, but you're interested in checking out some other brands in this class, definitely give this a read.
I've done a VERY IN-DEPTH test, review, and write up of the best golf drivers in the advanced class (like the SIM2 driver), as well as a thorough Buying Guide that covers all the criteria you need to analyze before pulling the trigger.
---
2. TaylorMade SIM2 MAX Driver Review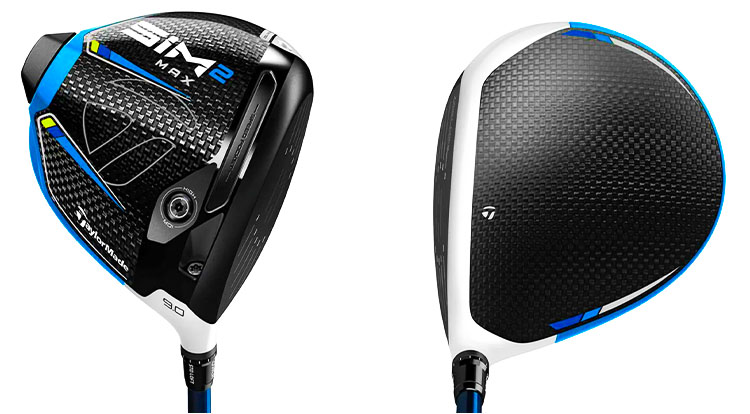 Recommended Handicap Range: 0-15   (See SIM2 driver review above for commentary)
Lofts Available: 9°, 10.5°, 12° (RH only for the 12°)   (See SIM 2 driver review above for commentary)
Technical Review
The tech in the TaylorMade SIM2 Max driver is Similar to that found in the other SIM2 drivers.
But there are some notable differences though…
Including the different loft offerings, and that the discretionary weight is distributed in such a way that the club's center of gravity is lower and further back (almost always a prescription for greater forgiveness).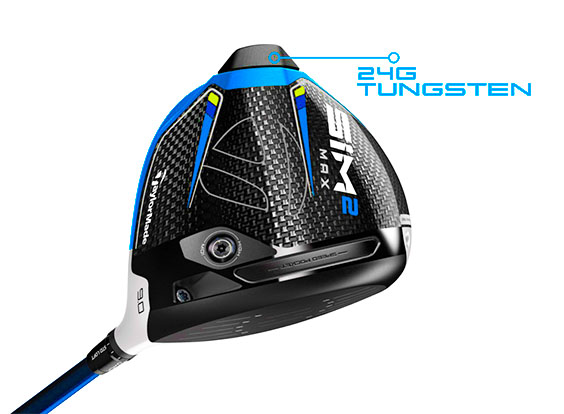 Despite that fact, this club has substantial tour use… most notably, by Dustin Johnson.
Shaft Options
Because of the differences in the head, and a target audience that generally wants a higher launch and a bit more spin, there is a different set of stock shafts as well.
Mitsubishi KuroKage Silver
In keeping with the wide variety of player types that would fit into the SIM2 Max, the first shaft offered is the Mitsubishi KuroKage Silver.
This shaft is a fast swingers delight, although it's being offered in all four profiles A, R, S, and X. It's unlikely that players requiring A or R flexes would choose this shaft though.
Fujikura Ventus Blue
The other shaft is the more neutral Fujikura Ventus Blue. Both shafts weigh around 55 grams and will produce a mid to high ball flight with a moderate amount of spin.
Pros
VERY forgiving
Long (lots of distance)
Loft and loft setting options
Cons
Lack of 12 degree option for LH
Less adjustability than the original TaylorMade SIM Max
The Bottom Line
This is my current driver! So I better have good things to write about it right?.
And I do! I've been a fanboy of another brand for much of my life having gamed a total of five of their models going back to the old wooden headed driver days.
My first metal driver was a TaylorMade and I also gamed the SLDR… which for me, was a long driver, but not forgiving enough.
The TaylorMade SIM2 Max driver has been a surprise in regards to forgiveness from the very first swing, particularly when mishits are low in the club face or on the heel.
The combination of forgiveness and distance, along with all of the available loft options and settings makes the SIM2 Max a driver that fits most golfers.
If you're planning to purchase one, I would highly recommend biting the bullet and customizing it for a shorter shaft length so that you get the proper swing weight right from the factory. In today's market that could mean waiting a couple of months, but it will be well worth it in the long run.
The Best Driver for High Handicap Golfers or Beginners…
And if your skill set fits in the class for the TaylorMade SIM2 Max, but you're interested in checking out some other brands in this category, definitely give our review of the best drivers for high handicappers a read.
It's a VERY SOLID test, review, and write up article on some of the best clubs in this class (like the TaylorMade SIM 2 Max).
---
3. TaylorMade SIM2 MAX D Driver Review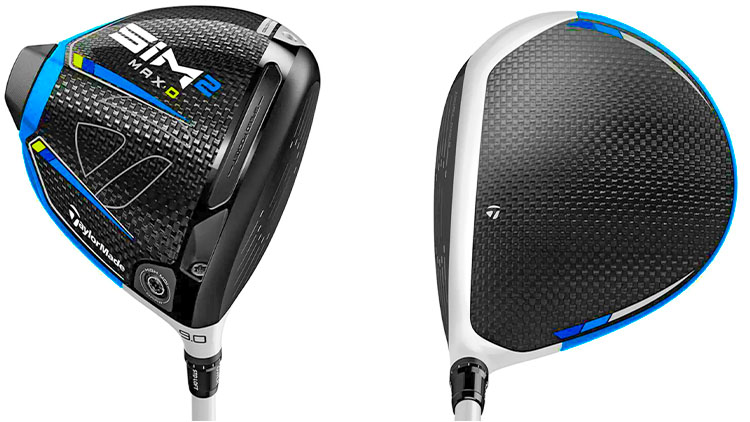 Recommended Handicap Range: 10 and up (see commentary in the SIM2 driver review above)
Lofts Available: 9°,10.5°, 12° (RH only for the 12°) (see commentary in the SIM 2 driver review above)
Technical Review
In the Draw version (the SIM2 Max D driver), TaylorMade has moved the placement of the SIM Inertia Generator from the center on the SIM 2 Max, towards the heel of the club.
According to TaylorMade, this promotes a draw bias ball flight while preserving forgiveness. Weighting the heel, or using a head offset, are the two ways that companies attempt to mitigate a slice. TaylorMade chose the former.
In the past, the trade off has been a lack of forgiveness in draw bias drivers… not a great quality since the target audience for these clubs is generally mid to high handicappers who mishit a lot of shots.
TaylorMade addresses that lack of forgiveness by eliminating its old exterior track system and putting the saved weight in a position that moves the clubhead's center of gravity lower and and towards the back.
Shaft Options
Fujikura Air Speeder
The lightweight (mid 40 grams) Fujikura Air Speeder is the only available stock shaft for the SIM 2 D model. I continue to question the 45.75" length and even more so for the D version than the other TaylorMade SIM2 drivers.
Pros
Heel weighting (for draw bias)
Forgiving (low back center of gravity)
Lots of options
Cons
No 12 degree for lefties
Stock shaft is too long (imo)
The Bottom Line
If you struggle with a slice you've probably noticed that the easiest clubs for you to hit straight are your fairway woods off the tee.
The reason for that is that the smaller head, shorter shaft, and higher loft are just much easier to square up.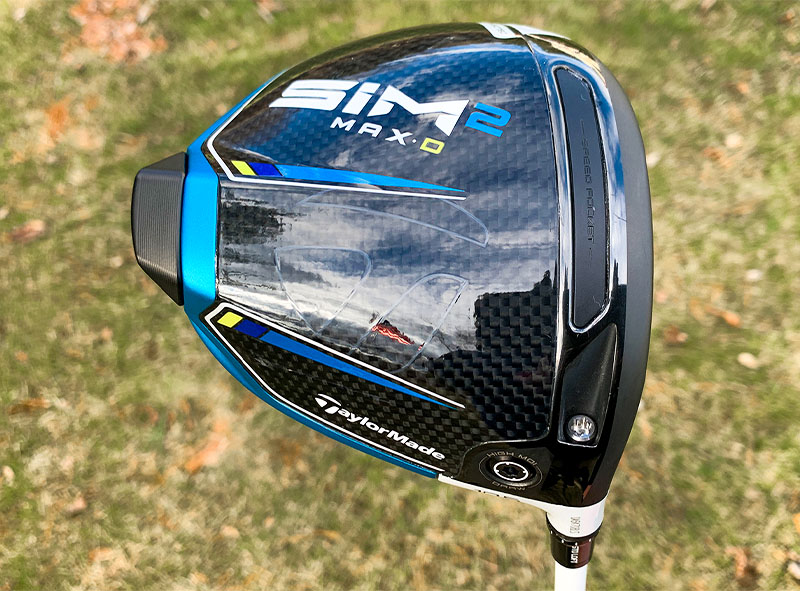 The heel weighting of the TaylorMade SIM2 MAX D driver is a great start for those who struggle to square the face.
Heel weighting, greater loft (12 degrees, or better perhaps 10.5 adjusted up to 12) and shorter shaft length will give most golfers the opportunity to straighten that slice out and gain significant distance. The SIM 2 Max D driver offers all of those options.
The Best Driver for a Slice…
In my opinion those who struggle with a slice should also consider a driver with a shorter shaft length.
If your skill set fits in the class for the TaylorMade SIM2 Max D, but you're interested in checking out some other drivers in this category, definitely give our review of the best driver for a slice a read.
---
Final Thoughts – TaylorMade SIM2 Drivers
All of the drivers on the market today are well made with a good deal of tech and flexibility built in.
Long gone are the days when you could walk into a store, grab a driver off the rack marked 9 degrees with an S shaft, and put it in play… because there is no industry wide standard for either of those markings.
AND, a new driver will likely set you back around $500 (the SIM 2's are all priced at $529.99), so it makes sense to find the right fit.
So knowing your tendencies is EVERYTHING when selecting a driver.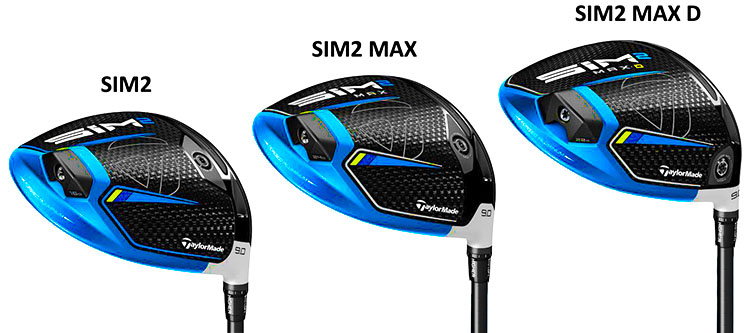 With its SIM2 drivers line, TaylorMade offers a model that will fit just about any swing profile. These clubs are long and surprisingly forgiving on mishits.
If you are in the market for a driver, some sort of SIM 2 driver is a must consideration.
Good luck and keep them in the fairway!  Cheers!
PS – For those golfers with a slow swing speed (including seniors)…
You may be in a category of your own. For the slower swing speed player and senior golfers (or those who just like to keep it nice and smooth, regardless of age)… I've done an extensive review of the best drivers for you and your swing category. Check that out here if you're interested.
---
Alternate Drivers to the SIM 2 Line
TaylorMade Stealth Driver Series (TM's 2022 release)
In 2022, TaylorMade decided to go out on a very bold limb and released the Stealth driver line… all having a carbon fiber face!
The carbon face (vs traditional titanium) supposedly makes it go further and hit straighter than ever before.
Read our full review on this series to see if our test results proved or busted TM's bold claim:
Callaway Epic Series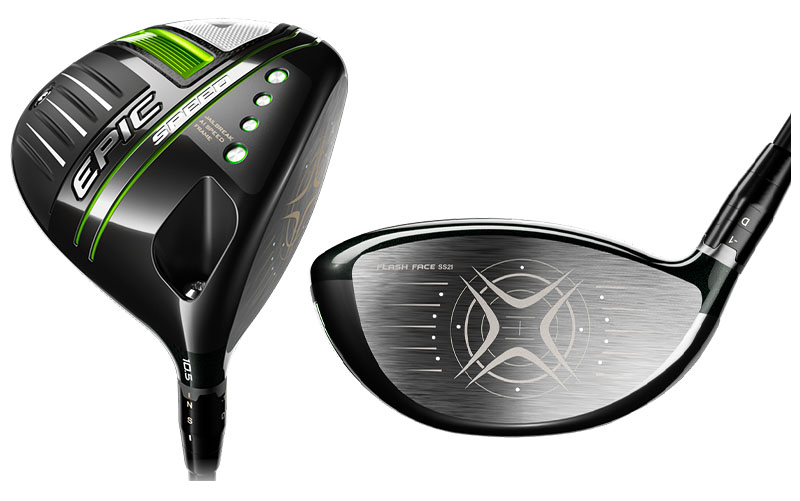 The Callaway Epic Speed is going to be most similar to the SIM 2 in the family.  The Speed is a fairly advanced level driver. Check out our review of the Callaway Epic Speed here if you're interested.
Callaway also has the more forgiving Epic Max which is more comparable to the SIM 2 Max, offering maximum forgiveness on miss hits not quite in the sweet spot of the club face.
And finally, they also offer a Low Spin version in the Epic Max LS.  I'd compare this one to the SIM2 simply because it's low spin, but it's a little more forgiving.
Ping G425 Series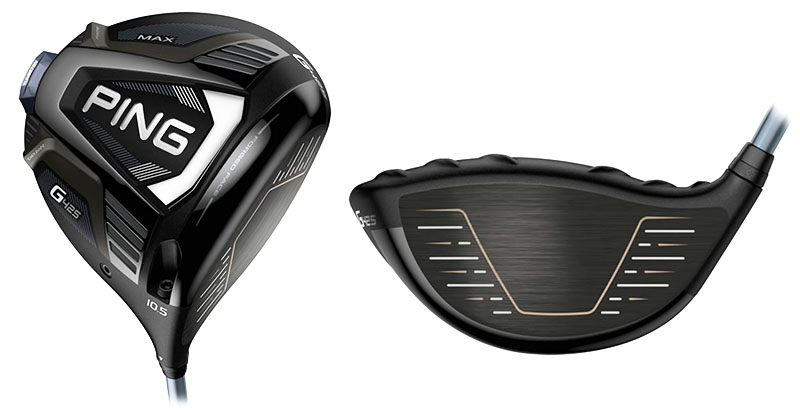 Ping has 3 drivers that are very similar to the SIM 2 line as well. The G425 Max is going to be their most forgiving, the G425 SFT is their draw biased driver, and the G425 LST is their low spin (and highest skill level) driver.
Cobra Radspeed Series
Cobra's Radspeed driver line is set up pretty similar to TaylorMade's. They have the Radspeed driver as their low spin option, the Radspeed XB is the most forgiving option, and the Radspeed XD for their draw biased option.
---
FAQ
Note – Some of these FAQs were covered throughout the article, but I still get these questions a lot… so here are the "short and sweet" answers to the most common questions:
What is the difference between the SIM 2 and SIM 2 max?
The difference between the TaylorMade SIM 2 and SIM 2 Max is mostly in the forgiveness of mishits.
With the SIM2 Max, the center of gravity is more towards the lower rear of the club, which is what allows for the extra forgiveness.
This does come at a slight sacrifice however. With the added forgiveness comes a loss of ball speed and distance.
The TaylorMade SIM 2 (not the Max) has the opposite… a center of gravity more towards the front top, adding ball speed and distance. But, without the extra forgiveness, it's a harder club to hit consistently.
Is the SIM 2 max forgiving?
The TaylorMade SIM 2 Max is VERY forgiving in my opinion. The added rear/bottom weight to the center of gravity allows for a better distance and accuracy dispersion on mishits. The loft options are a little bit higher as well, allowing for a more consistent trajectory. If you want to seek out more options, check out our most forgiving driver list for 2023.
Are the SIM 2 Drivers Adjustable?
Yes, the TaylorMade SIM2 Drivers are adjustable to an extent. The adjustable hosel can directly change the loft up or down 2 degrees in either direction, which indirectly changes to left/right shot shape bias, as well as the spin loft.