Author: Britt Olizarowicz - Britt first picked up a golf club at the age of 7. Now almost 30 years later, she has been a Division 1 college golfer, golf teaching professional, membership director, and golf writer.
A golf club set for senior ladies may not look much different than something for younger women. However, there are certain clues you can look for in a golf club to know it is a perfect choice for a senior lady golfer. 
After combing through all of the equipment on the market this year, these are the best clubs for senior ladies.
---
Best Senior Women's Golf Clubs – Test Results and Rankings:
1. TaylorMade Kalea Premier Complete Set
The TaylorMade Kalea Premier Complete Set is one of our favorite choices for senior women golfers. This is, without a doubt, built for a slow swing speed player.
The clubs are high launching, have tremendous ball speed, and the forgiveness is impressive. In addition, you get everything you need in one package set that is perfectly loft gapped and has an impressive feel throughout.
WHY It's One of the Best Golf Clubs for Senior Women
Senior women golfers need fewer irons, more fairway woods and hybrids, and short game tools that work well. The wedge in this set has a great spin and feel.
However, the premium Spider putter with pure roll insert is truly one of the best on the market. Although this may be a bit of a splurge for some women golfers, these are truly some of the best golf clubs for senior women.
The Bottom Line
Senior lady golfers that are ready for a golf club set that has the ultimate combination of distance, feel, and precision will love what the Kalea has to offer.
I was really impressed with these clubs and especially how easy it is to have a complete set already put together for you. They're definitely one of the best senior ladies golf clubs.
---
2. Cobra Air X Complete Set
Cobra makes several different golf club sets for women golfers, but this brand new Air X Complete is our favorite option for the senior woman player. This set is filled with offset golf clubs that have tremendous feel and great speed technology and are lightweight enough to be used by even the slower swing speed players.
If you know anything about Cobra and their Baffler technology, the new Air X has made some revisions to it that make it even higher performing.
WHY They Are Great Senior Ladies Golf Clubs
The set makeup here is a great choice for women players; with two fairway woods and a hybrid, you should have the long game covered.
I would probably add in a blade style lob wedge for tricky bunker shots that need to get up and down fast. I also found that this blade style putter had a tremendous feel and was an excellent choice for senior women golfers.
The Bottom Line
As a senior player, if you are starting to lose accuracy, these women's golf clubs are a strong choice. They have a great feel, plenty of forgiveness, and enough power to help be some of the best senior women golf clubs.
---
3. Ping G Le2 Women's Combo
Ping typically has more than one golf club choice for women players. The Ping G Le2 Women's Combo is for the slower swing speed players who need more forgiveness and control.
We love the option here to have the hybrids blend into the iron set so seamlessly. In addition, the hybrids have just enough spin on them to help golfers stop the ball on the green a little easier.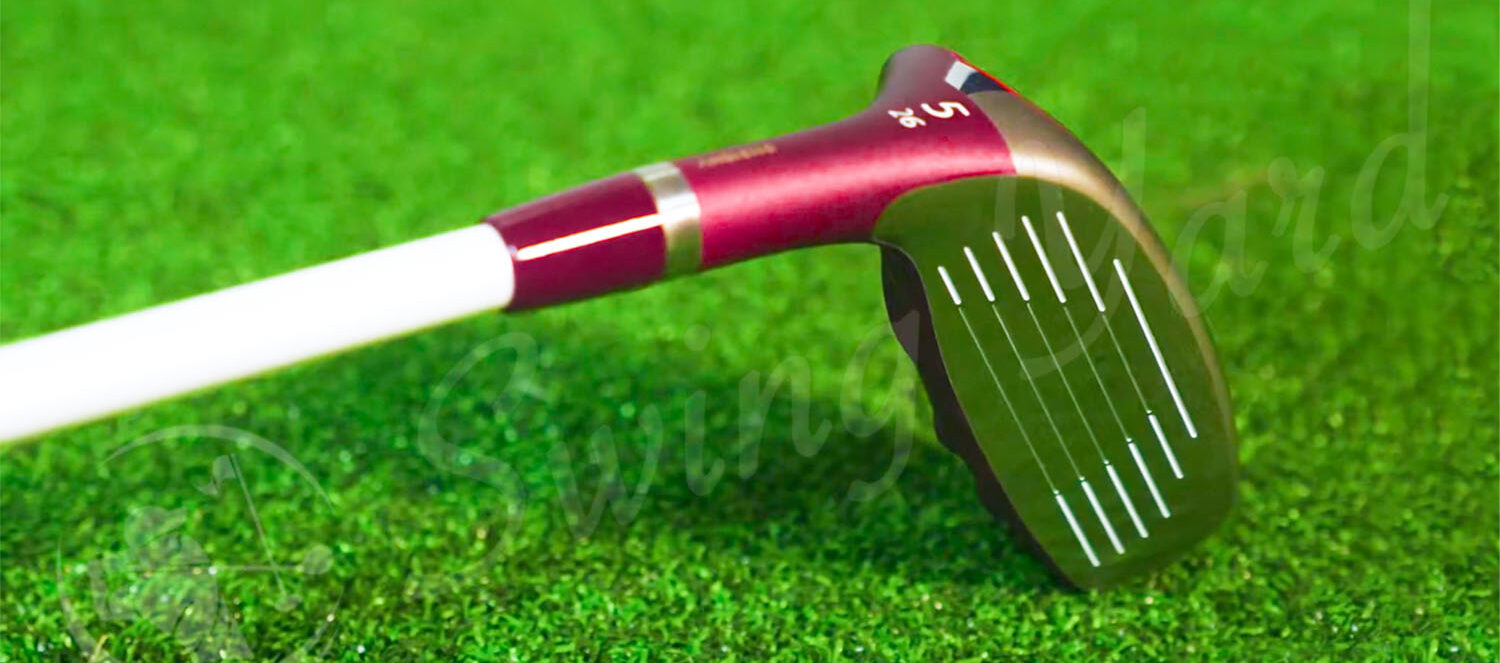 The face on both the hybrids and irons is considerably thinner and, therefore, faster than other golf clubs for senior women. In addition, lighter shafts and grips are in place to lower the chance of fatigue as you make your way up to the 18th green.
WHY It's One of the Best Golf Clubs for Senior Ladies in 2023
For women golfers playing a standard swing weight Ping golf set, the Ping G Le2 will feel lighter and have higher launching. This is very important when making that change to senior equipment. In addition, every detail was taken to ensure lighter weight in the clubs to improve overall speed.
The Bottom Line
If you don't plan on buying too much more golf equipment in your career, we recommend Ping as one of the best golf clubs to consider.
Although I do not always play with Ping clubs, every time I put one in my hand, I'm impressed by the sound and feel. As you age, these factors become crucial to look for in golf clubs, and the Ping G Le2 is one of the best senior women's golf clubs for sure.
---
4. Odyssey White Hot OG 2 Ball Putter
The putter is one of the most important golf clubs in the bag for the senior women golfer. Although you may notice as you play golf more than your distances decrease, and it gets harder to keep the ball straight, you can beat anyone at putting.
When I was teaching golf, I would work on the short game and putting with senior ladies as they are truly the most important in the ladies' complete golf set. When buying golf clubs, focus on a high quality putter like this White Hot OG 2 Ball putter with stroke lab shaft.
With a milled surface PVD finish, the white hot insert, and the Stroke Lab Shaft, the combination of feel, distance control, and forgiveness makes this one of the best women's golf clubs designed in the last few years.
WHY it's good for Senior Ladies
Confidence on the putting green is the only way to get a lower final score. You can have oversized golf clubs with lightweight graphite shafts and grip, but without the club to get the golf ball in the hole, it's impossible to shoot the low numbers.
The Bottom Line
The Odyssey White Hot OG 2 Ball putter is not just the best for senior women; it may be one of the best for any woman golfer this year. Consistency in the roll of the putt, as well as its impressive feel, set this putter apart.
---
5. Callaway Reva Golf Driver
The Callaway Reva Golf Driver is an AI Designed golf club head with a Flash Face SS21 Super Strength Titanium Face. This club features Jailbreak technology and a very lightweight graphite shaft built explicitly for women golfers.
The Reva Driver is a great choice if you don't need a set of golf clubs and simply need to modernize some of your equipment.
This club was built with an internal draw bias that improves the overall launch angle and promotes a longer ball flight. You are correct if you have noticed that slower swing speeds don't hit the ball as high. With the Reva in play, I saw much higher ball flights.
(if you're looking for just a driver, check out our complete ranking list of the best women's drivers in 2023 in this article)
WHY it's good for Senior Women
With the Callaway Reva, you benefit from a low center of gravity that makes the club more forgiving and easier to get distance with.
I love that this club was designed specifically for women, and when you hit shots with it, you can quickly see that it's specifically set up for the woman player.
The Bottom Line
If you are looking to get the distance back in your golf game, this driver could make a big difference. With the impressive AI-designed club heads from Callaway, there is nothing that is impossible for the senior woman golfer. In addition, this club recently dropped in price, so it's a very fair value.
---
And the Winner for the Best Golf Clubs for Senior Ladies are…
We tried to show you all the clubs that women golfers can use to help with the lack of distance and consistency they may notice as their swing slows down. Luckily the senior lady market is filled with great equipment this year.
So what are the best golf clubs for senior ladies?
Best Overall Senior Women Golf Clubs
The best option for a senior woman golfer is the TaylorMade Kalea golf set. This strong set makeup offers maximum distance, a large sweet spot, and some of the best lightweight graphite shafts on the market.
Although the initial price tag on this set may seem alarming, when you start pricing out individual clubs, you will see why it's actually a great value. The mallet putter Spider design is one of our favorites across all women's golf club sets.
Best Value Golf Clubs For Senior Women
With the Ping G Le2 combo set, you won't get a very low price to start out, but these hybrids and irons should last you for many years. Ping has some of the highest resale values on the market, and you can see that the quality of these clubs sets them apart from others in the industry.
Best Distance Women's Senior Golf Clubs
If the distance is what you are lacking, give the Callaway Reva a try. With the lower center of gravity and slight draw bias, more distance happens naturally.
This club also has some of the lightest graphite shafts on the market, making it an excellent choice for all women golfers.
---
What To Look for in Senior Womens Golf Clubs
As we mentioned, there are not enough distinctions between women's golf clubs and senior ladies' golf clubs. The key is to find something that is at least lighter and a bit more forgiving than what you are currently playing with. Here are a few of the things to keep in mind.
Weight
The average senior woman golfer needs some of the more lightweight golf clubs on the market. With a lower-weight golf shaft, it's easier to generate more club head speed and increase total distance.
One of the first things to go as we age is the total distance, and you can help control that by choosing clubs that are a bit lighter in weight.
Shaft
There is no senior ladies' golf shaft. Ladies' golf shafts are already manufactured to be as lightweight and easy to swing as possible, so manufacturers don't have much room to grow here.
Luckily you should be fine with a standard ladies' golf shaft, but looking for something that claims to have the most lightweight graphite shafts, is undoubtedly the smartest option.
Club Set Makeup
When purchasing an entire set of ladies golf clubs, you may end up with something that has a carry bag, blade putter, wedges, irons, fairway woods, etc.
However, this is not the only way to buy golf clubs for senior ladies. The ideal set makeup for a senior woman golfer would be something like this.
Driver
2 Fairway Woods
2 Hybrids
7-PW
Gap Wedge, Sand Wedge, and maybe even Lob Wedge
Putter
This will vary a bit based on your game, but I strongly encourage senior women golfers to focus more on the short game than the long game; it will pay off when it comes to scoring.
---
FAQ – Best Senior Women's Golf Clubs
Buying the right golf clubs for senior ladies can feel overwhelming. There are a lot of choices out there, and nothing is specifically labeled as being for the senior woman golfer. Here are a few questions that should help you understand which are the best for your game.
How do you choose women's senior golf clubs?
The best way to choose women's golf clubs is to analyze your golf game and realize what it is that you need to improve upon. For some women, that is distance; others need help with forgiveness or control.
Every manufacturer picks something they want to improve upon for players, and you can pick that out pretty quickly when shopping for new golf clubs.
What is the difference between ladies senior flex golf clubs and regular flex?
The difference between senior flex and regular flex is a slight variation in the ability to bend the golf shaft. The regular flex is stiffer. Unfortunately for women golfers, there is no such thing as a senior flex golf shaft; there is simply just the ladies' flex.
What clubs should a senior lady golfer have?
A lady golfer should have a mix of a driver, fairway woods, hybrids, irons, wedges, and a putter. We highly recommend at least three wedges and at least two hybrids. 
There are 14 total clubs allowed in a golf bag, and it makes sense to have a good variation. This allows shots to be played from a variety of locations with ease.
What shaft should a senior woman golfer use?
The majority of women golfers need the standard ladies' golf shaft. However, there are plenty of women in the golf world that have very high swing speeds. These women should consider a man's regular shaft to maximize their total distance.
---
Final Thoughts – Best Senior Ladies Golf Clubs
Hopefully, you now feel a bit more confident in your ability to choose the best golf clubs for senior ladies.
This is a bit more challenging than purchasing men's senior golf clubs. If you're smart about what your strengths and weaknesses are, you will end up with a great set of senior ladies' golf clubs.
Pay close attention to the TaylorMade Kalea as this is genuinely a set with the perfect club head technology and loft to work for a woman golfer that is getting into her senior years.