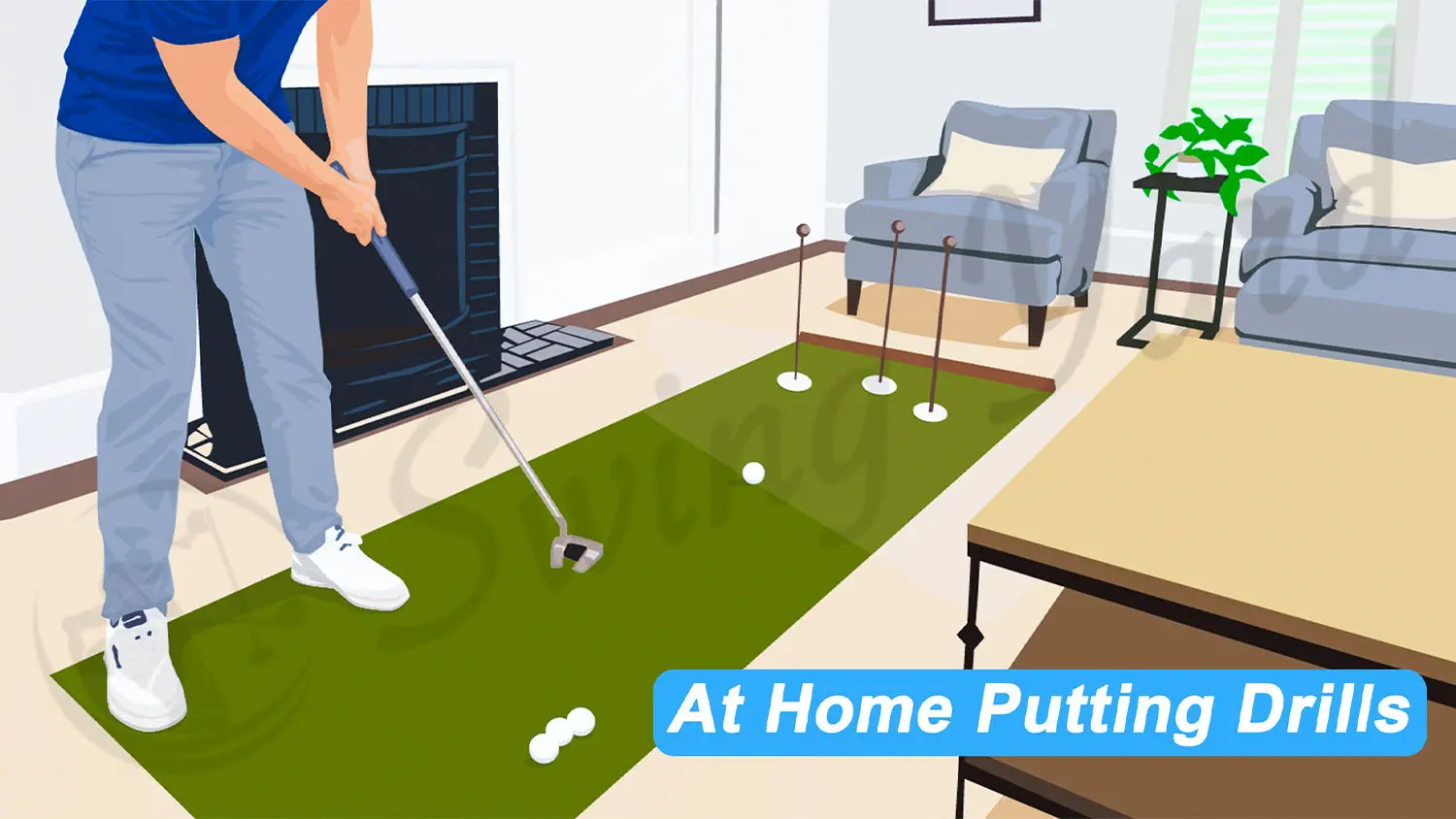 Author: Britt Olizarowicz - Currently playing at a +1 handicap, Britt first picked up a golf club at the age of 7. Now almost 30 years later, she has been a Division 1 college golfer, golf teaching professional, membership director, and golf writer.
Key Takeaways – Putting Practice at Home
Any time you can spend practicing putting will benefit your game in the long run
Don't be overly concerned with the speed of your carpets or mats; learning distance control and improving your stroke are most important.
If you can improve your putting, your scores will almost certainly lower on the golf course; it is the part of the game that is most overlooked but has the most significant impact.
There is no better place to practice putting than at home. If you are smart about how you work on your putting stroke at home, you can make a large impact on your abilities on the golf course.
I've been practicing putting at home for most of my life, and I have certain drills and games to help me stay interested and make good progress. Here are some of the best indoor putting drills at home that you will find.
---
My Top 5 At Home Putting Drills
1. Eyes Closed Putting
Practicing putting with your eyes closed is a fantastic way to develop a better feel and greatly increase the effectiveness of your putting game. When you focus on feel as opposed to getting too hung up on the golf ball, it becomes much easier to control distance, especially when lag putting.
For this drill, you won't need to do much. Set up a target that is a few feet away from you on a carpet. If this is a fancy putting apparatus or cup, that is fine. If it's simply a Tupperware container, that works too!
Stand over your golf ball and look over at your target. Make sure you are set up to hit a putt and then look over at the target and back at your ball. Finally, before you take your stroke, close your eyes. In addition to helping to improve feel, eyes closed putting gives you more confidence.
Think about how powerful the "I can do this with my eyes shut" line can be the next time you head to the golf course.
2. Ladder Putting Drill
The ladder putting drill is not only one of my favorite at home putting drills, it is also something I like to do when I'm on any putting green. I've never really liked standing in one spot, hitting the same putt over and over again.
After a while, if I can't make that putt, it's pretty sad! However, on the golf course, you only get one shot at each putt you have to take. Why would I want to hit putts from the same location over and over again? It just doesn't imitate the course enough.
Regarding putting drills, it makes sense to set up your putting practice from different distances and angles. I start by making a putt about three feet from a target, then move back to four feet, five feet, etc.
I keep going as far back as the indoor space will allow. Each time I miss a putt, I start back over at the beginning. Whether your problem is keeping the putter square or controlling the distance, the ladder putting drill will help.
3. Alignment Stick Putting Drill
The alignment sticks putting drill is more about keeping the putter path straight than on making sure you have putting distance control figured out.
Take two golf alignment sticks and lay them on the ground just wider than the length of your putter head. This creates almost a track on the ground that you can swing your putter through. If you are a straight-back straight-through putter, keep the putter face square to the target the entire time.
You can do this drill with or without a golf ball.
For those with an arc stroke, this is not really the best drill out there to work on unless you have more of an arc-type putting tool that you can set up on the carpet. We do recommend using alignment sticks, but if you have a meter or yardstick around, it can do the same thing.
4. Around The World
Around the world is a famous golf putting drill focused on putting accuracy that can carry over from practice to the golf course. For this drill, setup with a target in the middle of the room.
Then, put golf balls all around this target, creating a large circle. I like to do this drill from about four feet away, but you can work on whatever distance is most important to your golf game. Next, you will move around from one putt to the next, making sure that you go back to the start if you miss one.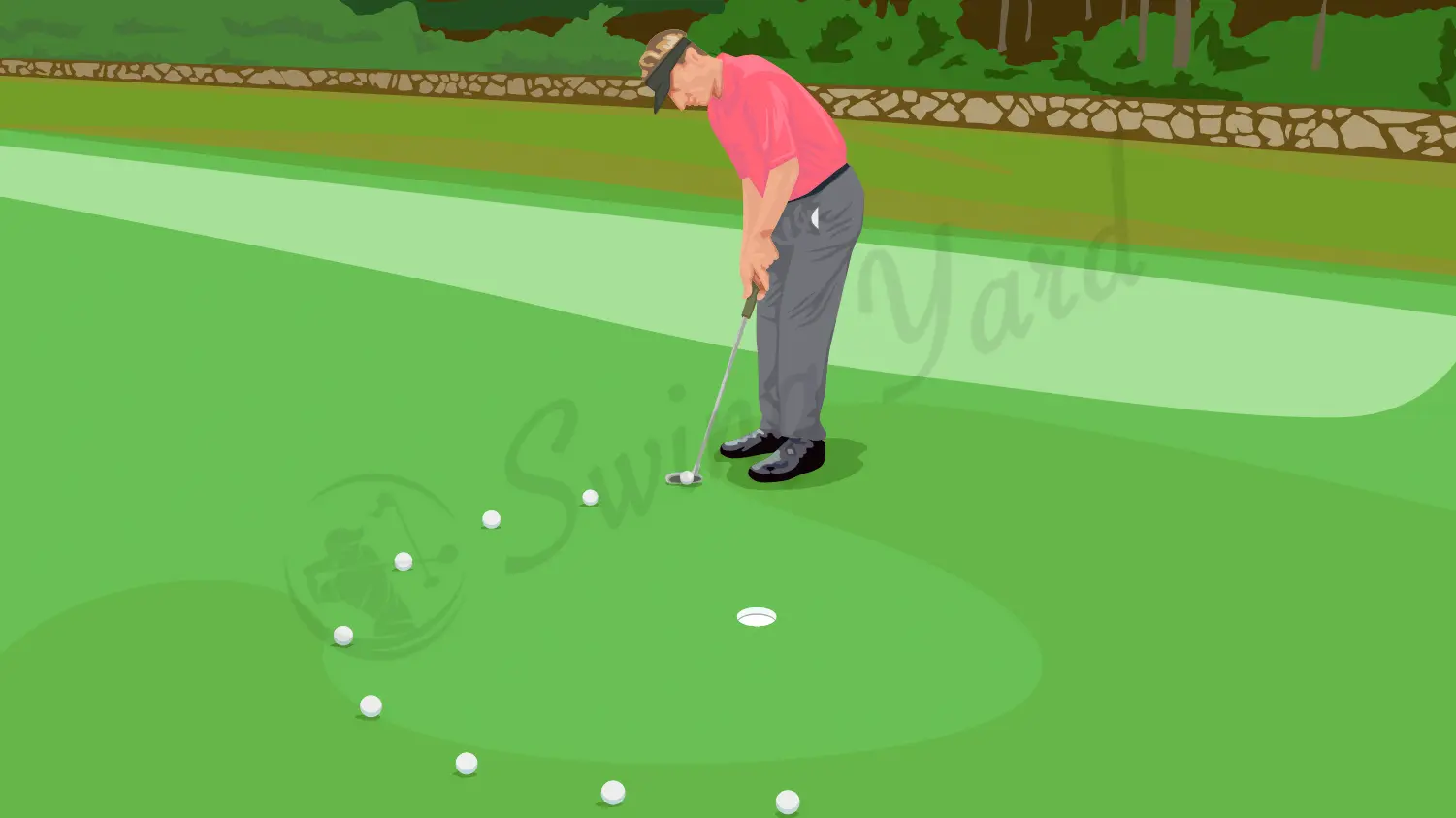 The whole idea is to go all the way around the world without missing a putt. If it is too hard, maybe give yourself two chances at each location.
My favorite part of this particular drill is that practice strokes focusing on the same putt over and over again tend to get a little sloppy. If you are trying to make your way around the world, you have no choice but to stay sharp as you putt.
5. Mini Golf At Home Challenge
Miniature golf may seem like a silly concept for a golfer that is serious about the game. However, on a rainy day when your tee time gets canceled, you can have quite a bit of fun doing an at home mini-golf challenge.
The great thing about this kind of putting practice at home is that you can do it with a friend or family member to make it even more entertaining.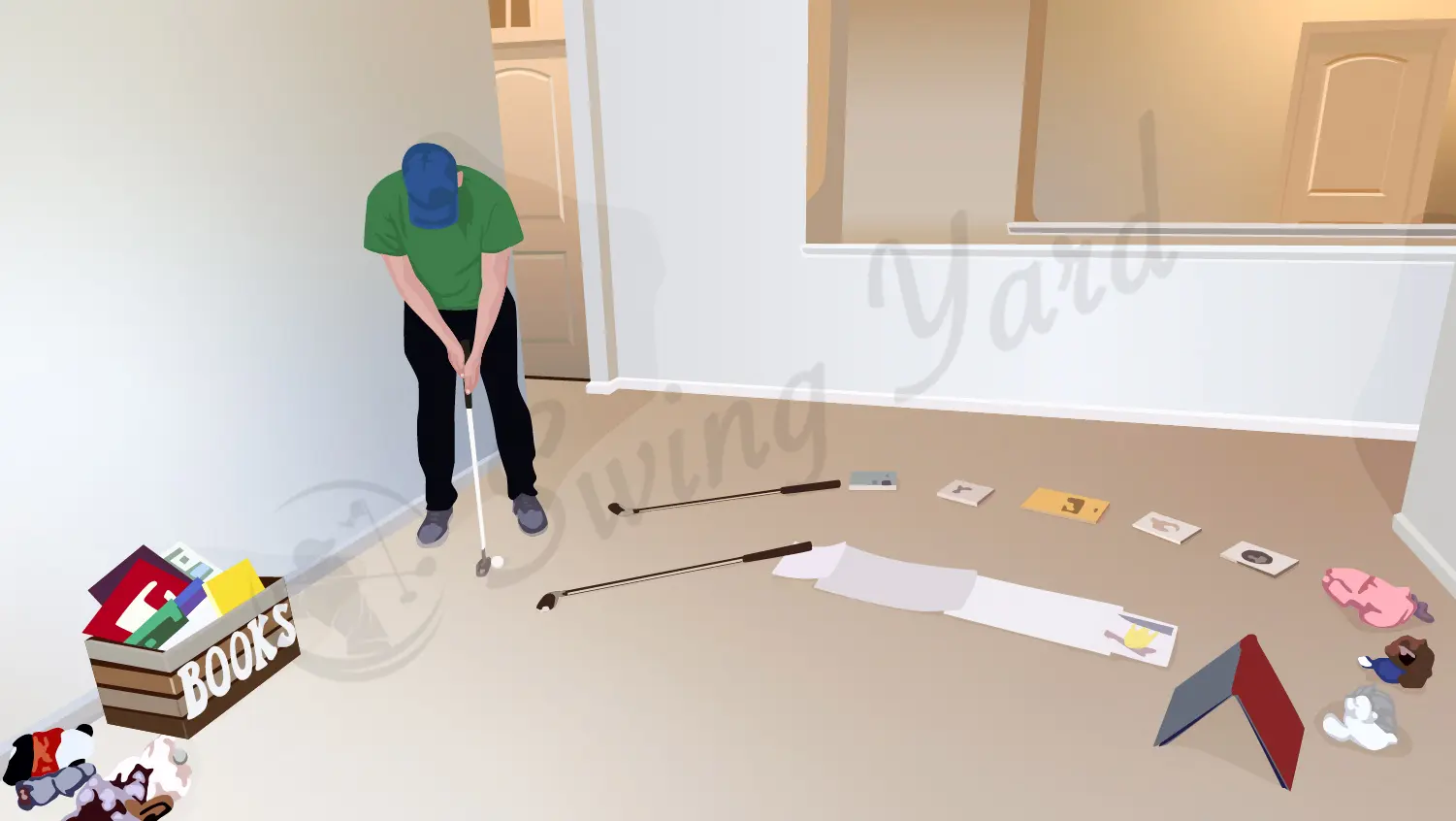 My best advice for this is to get creative. For instance, I know the living room area rug and the carpet in the guest bedroom have two different speeds. This means that I have to adjust my stroke to make putts in these two areas.
Each time we set up an at home mini-golf challenge, there are golf holes on different surfaces to make it more of a challenge. Keep things fair and as close to actual golf course conditions as possible.
---
How to Practice Putting At Home – What Do I Need?
Now that you have some basic putting drills to work on your putting at home, you may be curious about what supplies are really necessary for this. Luckily, it's pretty simple to practice putting at home. In fact, you really don't need much to be successful, but here are a few things that can help…
Putting Mat
For homes with mostly wood or tile floors, getting a great mat or putting green can make a big difference. The putting mat will help you work on your game and have it feel more like the greens at your local golf course.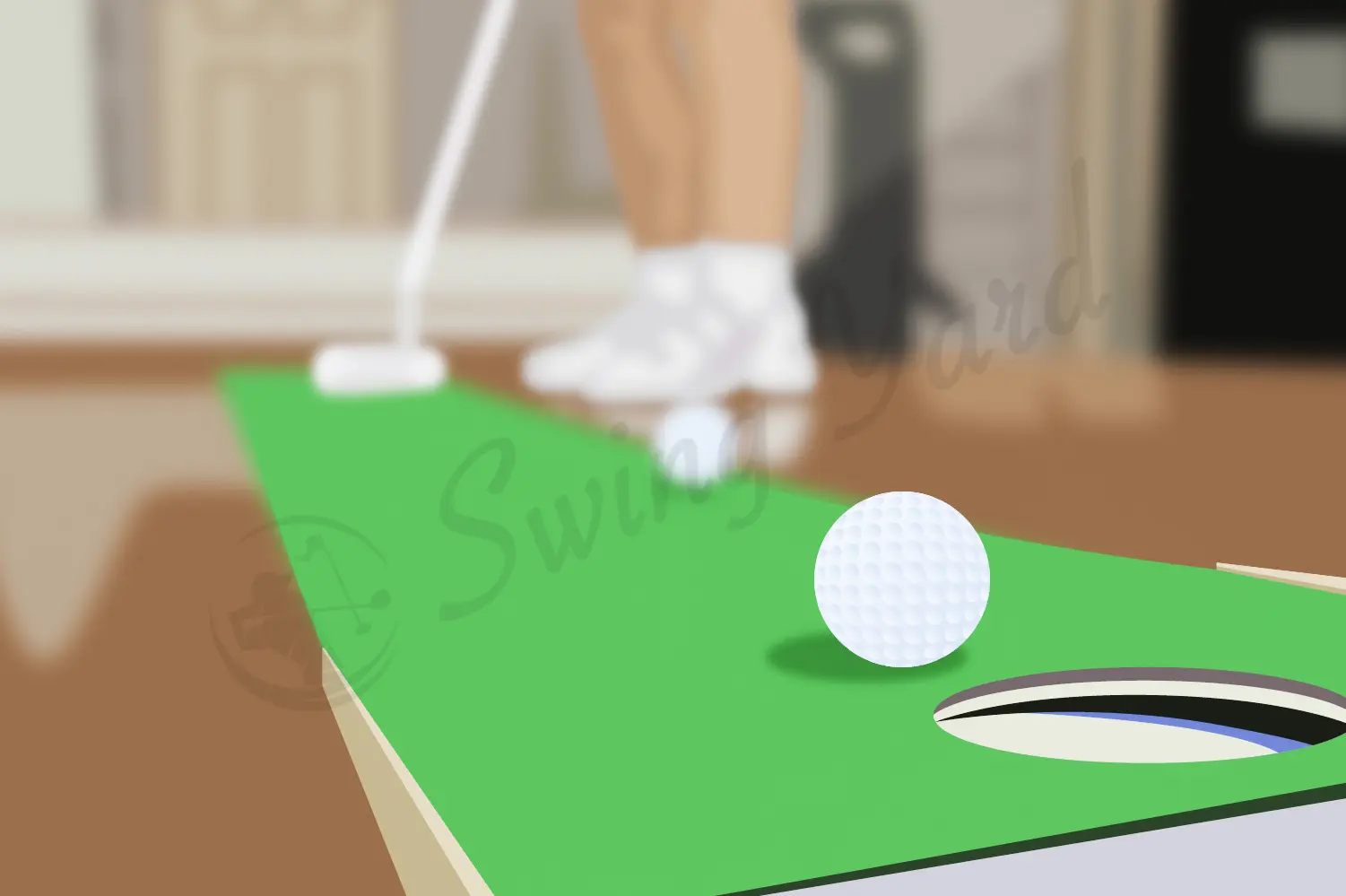 If you're going to get a putting mat for your home, or even an office putting set, pay very close attention to the quality of the material that the mat is made out of. Higher-quality material almost always feel more like a traditional putting green.
Real Golf Balls
Try to use actual golf balls wherever possible. If you use foam or plastic golf balls, it's challenging to transfer the feel back out to the golf course. Real golf balls that are new and clean won't do damage to your carpets if you keep them specifically for indoor putting.
Alignment Sticks
Alignment sticks are helpful when working on putting path. There are other devices out there that have mirrors and options for golfers with arc-style strokes; those are another good option if you have the extra money to spend.
Putting Cup
I like having a putting cup to practice with. However, at times I've used a regular cup or even just a piece of paper that I try to make the golf ball stop on. You can get creative here, but there are products on the market for those that like golf gadgets.
Hone Your Grip
Whichever putting grip style you use, you can always dial it in at home, even without doing any actual putting. This is ESPECIALLY important if you're going through a grip change. Make sure your new way of holding the putter gets plenty of reps to make it feel natural.
---
FAQ
Putting at home seems like a foreign concept to some, but it shouldn't be. There are some great things you can learn from working on your putting stroke in the comfort of your own home.
What is the best way to practice putting at home?
The best way to practice putting at home is to choose a target and vary the length of the putts you take to that target. There are plenty of indoor putting drills that help you work on both accuracy and putting distance control.
How can I practice putting on carpet at home?
A short carpet is a great way to practice putting at home. Stay away from something really shaggy, as it tends to hold the ball a bit too much and make it challenging to take a smooth stroke.
Are indoor putting mats worth it?
Indoor putting mats are worth it for golf enthusiasts with a long winter season or lots of rainy weather. Even practicing for 15 to 30 minutes a week can make a big impact on your ability to make putts.
How much time do pros practice putting?
Professionals practice putting for many hours each week. All professionals have their own practice schedule, and some find that spending most of their time on the putting green is the most effective way to practice.
Is it worth practicing putting on the carpet?
Although practicing putting on a carpet will not be the same as the course, you can still work on your putting stroke and your ability to get the ball in the hole. In fact, learning to adjust speeds is an excellent skill to have.
---
Final Thoughts
We hope you now have a better idea as to what it takes to practice putting at home.
If you want to improve your putting, you have to put the time in; there is no way around this. However, you don't always have to be at the golf course when you work on your putting game.
I have always loved practicing putting it at home as it truly makes it so much more convenient. My last putting tip is to leave your putting setup accessible as often as possible; you never know when you might walk by and make a few putts.