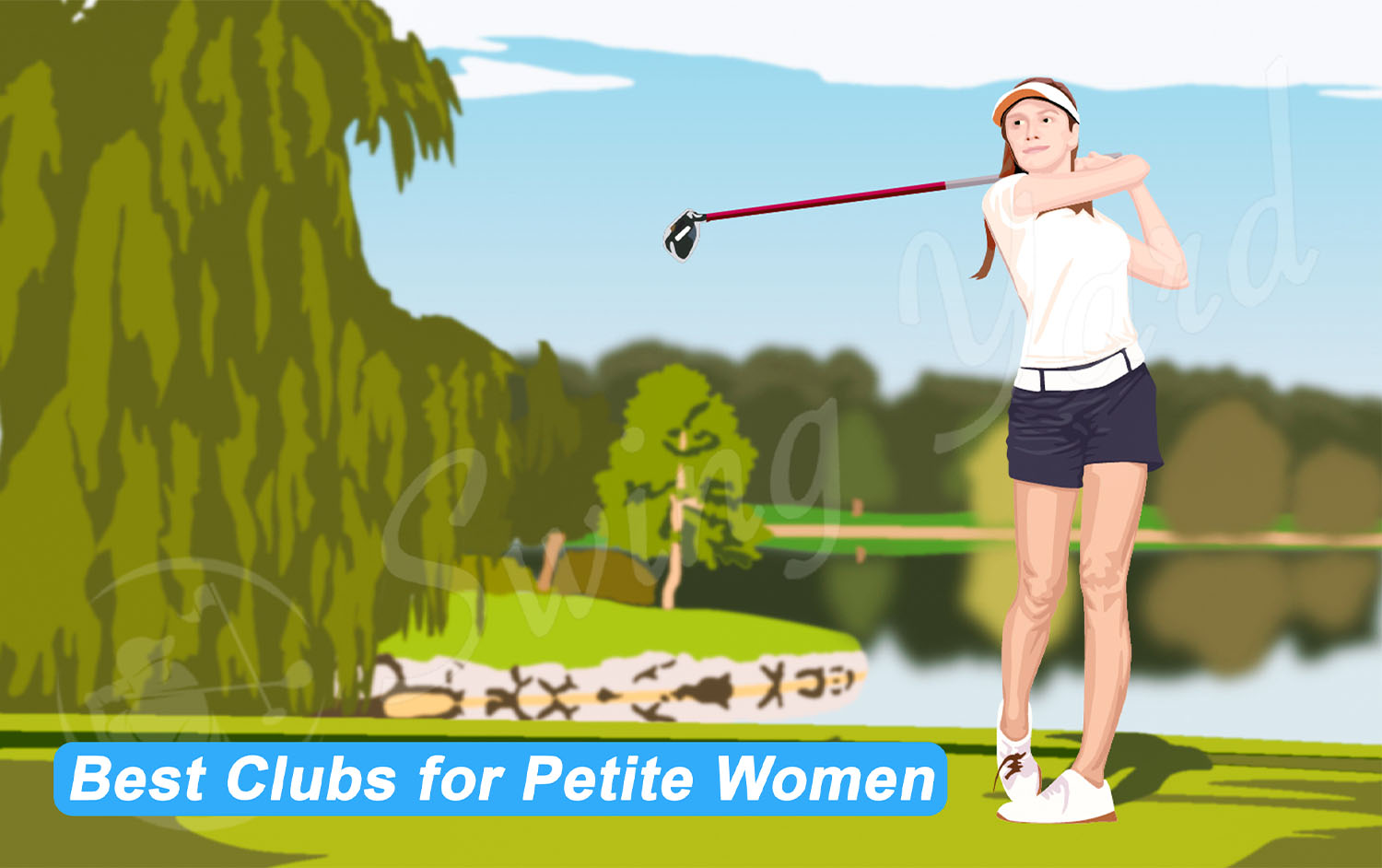 Author: Britt Olizarowicz - Britt first picked up a golf club at the age of 7. Now almost 30 years later, she has been a Division 1 college golfer, golf teaching professional, membership director, and golf writer.
The great thing about these petite golf club sets is that you won't need to have a custom set built or take a trip to a custom club builder and have them retrofit a set for you.
Here are the best women's petite golf club sets that we tested; we tried to pick options for all budgets and skill levels.
---
Best Women's Petite Golf Clubs Set – Test Results and Rankings:
#1. Cobra Women's Fly XL Petite (Best Overall)
The Cobra Women's FLY XL Petite is the best overall option for a womens petite golf club set. With so many options on the market, there are only a select few of them made in the smaller petite size.
In addition, many petite golf clubs are not all that high quality, but the Cobra Fly XL has a premium feel, distance, and performance in my opinion.
With this particular set, you get three fairway woods, something that is nearly unheard of in these complete sets for petite golfers. There is only one hybrid included, but you can always add an additional hybrid if you notice a gap in the distance in the set.
The Cobra FLY XL golf clubs are highly forgiving with perimeter weighted golf irons that are high launching and lightweight. Ladies petite golf clubs can't be overly heavy, or it becomes too difficult to swing them quickly.
WHY It's A Good Petite Womens Golf Club Set
The Cobra Fly XL makes it easy for shorter women to generate higher clubhead speeds and launch the ball up in the air a bit quicker. The traditional cavity back irons also have a great feel. We love the inclusion of the sand wedge in the set makeup, as this club is straightforward to use out of bunkers and will significantly impact your scoring around the greens.
The Bottom Line
I've always loved the feel of the premium Cobra golf clubs, as they are very stable at impact. With this complete set, they didn't sacrifice on feel and precision to put this affordable golf bag full of clubs together.
---
#2. Callaway Reva 11 Piece Petite Golf Clubs Set (Best For Feel)
The Callaway Reva 11 Piece golf club set was my favorite option for feel. It doesn't matter if you are a new player or have been in it your whole life; it's essential to play with golf clubs with excellent feel.
With the Callaway Reva 11 Piece Set, expect a premium feel at impact, easy launch, and great performance from the rough. 
Callaway makes several different sets for women golfers, and the Reva has considerably better performance than the value Starta sets I have tried. One of the things that really helps this set stand out is the premium Stroke Lab putter. This tour-proven model can help petite women get the ball in the hole considerably faster.
WHY It's a Good Petite Women's Golf Clubs Set
We love the impressive distance from these irons and fairway woods. In addition, with the maximum forgiveness, petite women golfers will have no trouble pulling off the golf shots that they want.
This entire set is designed with the woman golfer in mind, and it was noticeable the whole time I tested the clubs.
The Bottom Line
Callaway was working with the Solaire golf clubs for petite golfers for many years, but these new Reva sets have a better feel, more stability at impact, and in my opinion, much better overall performance.
If you are a Callaway fan and have been looking for an upgrade, this is a great choice.
---
#3. Tour Edge Lady Edge Half Complete Set (Best For New Player)
The Tour Edge Lady Edge Half Complete Set is my favorite option for the newer woman golfer. So many women that are new to the game make the mistake of purchasing a bag full of 14 clubs, only to find out that they barely use half of them.
Tour Edge took this concept and put together a perfect half complete set for players to benefit from. This set includes a driver, fairway wood, and hybrid, so you are getting a good variety in the clubs you get to hit. There are three irons and a putter to round out the set.
As we mentioned, there are some limits to the options for women's golf clubs for petite women, but this set is a great option. The smaller set comes with a lightweight stand bag that can be used for walking the course.
WHY It's One of the Best Golf Clubs for Petite Ladies
Petite women that are new to the game can sometimes struggle with getting enough clubhead speed. The clubhead speed is necessary to see a difference in the distances you can hit each club. Therefore the half-club set may be all that many petite women players need.
The Bottom Line
If you are new to the game, this is a great golf club set for the money. The clubs are easy to hit, they are one inch shorter for the petite golfer, and they can make the game of golf considerably more fun.
---
#4. Wilson Magnolia Navy Package Petite Golf Clubs (Best Set Makeup)
The Wilson Magnolia Navy Package is an excellent option for those looking for a unique set makeup. I loved the option for three hybrids in this golf club set. The hybrids blend into the iron set really well, helping with consistency for petite women golfers.
Overall, Wilson is known for game improvement type clubs, but I was impressed with the overall feel and distance performance that the Magnolia Navy Package offered. These clubs are lightweight and easy to swing, and the petite golfer should have no trouble launching them.
My favorite feature of the Women's Magnolia Navy Package set is the Harmonized Wedge that you get for the sand wedge. The sand wedge is such an important club not just when talking about petite ladies' clubs but for all women golfers.
With this sand wedge, you should have no trouble controlling spin and getting the ball to stop on the green appropriately. Women golfers that struggle with scoring will find these to be some of the best golf clubs on the market.
WHY it's good for Petite Women
Petite women golfers tend to do really well with hybrid golf clubs. Hybrids are shorter than a fairway wood, and female golfers tend to have an easier time squaring them up at impact.
The three hybrids in this set take it from an average golf club set to something perfect for a petite woman golfer.
The Bottom Line
Overall the Wilson Magnolia set is an upgrade from many women's golf clubs that Wilson has put on the market.
These petite clubs should help you increase club head speed and improve your overall greenside performance at the same time. Definitely one of the best women's petite golf club set s available today.
---
#5. Tour Edge Moda Silk Petite Ladies Golf Clubs Set (Best Value)
The Tour Edge brand tends to fly under the radar when put up against brands like TaylorMade or Callaway. However, one of the things that Tour Edge does best is create golf clubs for taller or shorter players. Tour Edge still offers some of the most inexpensive petite ladies' clubs around.
This particular set has always stood out as one of my favorites because of the feel, the lightweight graphite shafts, and the overall performance from the club heads.
I particularly like the way the ball jumped off this 460cc club head. The driver does have 15 degrees of loft, I would have preferred 14 or 13, but it still produced plenty of distance.
Having both the 3 wood and 5 wood as well as the 5 hybrid and 6 hybrid makes the long game completely covered with the Tour Edge Moda Silk. I liked the feel and responsiveness of these hybrids better than some in other sets.
WHY They're Good Petite Womens Golf Clubs
Women golfers don't always care about the brand or manufacturer as long as the golf clubs work! If that describes you, give these Moda Silk a try. The petite woman will find the value to be incredibly fair, and the club set makeup to be a great option for petite ladies' golf clubs.
The Bottom Line
The Tour Edge Moda Silk golf club complete set is the best value petite womens golf club set. A full set of women's golf clubs can be a lot of money, but this set gives you great technology, feel and distance performance for years to come, and it won't break the bank.
I'm always impressed with the Tour Edge golf clubs and what they are able to offer women golfers for the price.
---
And the Winner for Best Ladies Petite Golf Clubs is…
The best ladies' petite golf clubs help to improve ball speed, increase forgiveness and make it easier for petite women players to score on the golf course. I was impressed with the sets I tried this year and the ability of these golf manufacturers to get women the equipment they need for a fair price.
Best Overall
The best overall women's petite golf clubs are the Cobra Fly XL. Petite ladies will find these golf clubs to have a great feel, impressive launch, and easy control around the greens.
If you are a new player or you have been around the game for a long time, I have full confidence that the petite version of the Cobra Fly XL will improve your performance on the course.
Best Value
The best value women's petite golf clubs are the Tour Edge Moda Silk. I know this is not the cheapest set out there, but we have talked in the past that value is about what you are getting for the money. For the money, the number of clubs, the quality of the bag, and the overall performance are quite good.
Best For Feel
The best women's petite golf clubs for feel are the Callaway Reva. Callaway took some of their best technology in the game and put it into affordable high launching, and pure-feeling golf clubs on the market.
The face of the Reva is hot, and I noticed the ball jumped off it, but I still felt in control. That's not an easy thing to accomplish in a golf club, and I was impressed that Callaway could get it done.
---
How To Choose The Best Women's Petite Golf Club Sets
Choosing the best womens petite golf clubs set can be a bit difficult. I'm 5'2″, so I understand the importance of getting golf clubs in your hand that are the right fit for your game.
Aside from purchasing a complete custom set of clubs, these petite ladies' sets are the best choice. Here are the ways in which you can narrow down which one is best for you.
If you're looking for the best overall sets that are NOT for Petite women, then check out our article on the best golf club sets for women for 2023.
Length
Most of the time, a petite ladies' golf club set is one inch shorter than a standard ladies' golf club. However, you need to check the individual specs of each set of clubs. Generally, women's golf clubs are one inch shorter than men's, but each manufacturer has its own specifications.
In addition, women's golf clubs are graphite shafted, and almost all graphite shafts are ¼ inch longer than their steel counterparts. When comparing several sets of petite women's golf clubs, take a look at the specs and compare one 7-iron to another.
Club Set Makeup
The club set makeup is the most important part of buying women's golf clubs. Some golf club sets are going to favor players who like irons, while others cater to those that enjoy hybrids or fairway woods. The clubs in the complete golf clubs set will be the tools you have to work with on the course.
I think it's very important for a female golfer to choose a golf set with at least one fairway wood, one hybrid, and a sand wedge. These are three clubs that will vary from one set to another, but in order to have a well rounded club set makeup, you will need all of them.
Performance
All women's petite golf clubs will come with lightweight graphite shafts to help increase club head speed and make it easier to generate power. However, some sets are built with more feel in mind, while others cater to distance and forgiveness.
Instead of choosing a golf club set based on your handicap, think about the specific performance you are looking for and what you expect from the golf course. Most female golfers want a mix of performance, and that can be found in something like the Cobra complete set.
Pricing
Most complete golf club sets for petite golfers will range from around $400 to more than $1000. The price you choose is a personal preference. However, typically speaking, you will get higher quality golf clubs and more of them at higher price points.
For women golfers that play golf several times per week, the best petite golf clubs will likely cost more than $700, but this is still a deal when compared to a non "set" makeup.
---
FAQ – Women's Golf Club Set Petite
Here are a few of the most commonly asked questions about the best ladies' petite sets on the market. If you get the right set, it could last for the next several years, so it pays to adequately research before purchasing.
What height are women's Petite golf clubs for?
Women golfers that are shorter than 5'4″ should at least consider the petite golf clubs. However, some women with shorter arms may not need the petite golf clubs as they will have to bend over too far to reach the club's grip. The proper club length should feel comfortable to take a regular stance.
Should shorter women golfers use shorter clubs?
Most shorter golfers should use shorter clubs. The exception is those with very high swing speeds that can still square the golf club up, even though they are playing with something a bit longer than what they should for their game.
What size golf clubs do I need for my height?
One of the best ways to tell what size golf clubs you need for your height is to use the Ping Fitting Chart. Ping has been one of the top producers of custom golf clubs for many years, and they have developed a fitting system that is highly accurate. The great news is you can use this even if you aren't purchasing Ping golf clubs.
How long are women's Petite clubs?
Women's petite clubs are about one inch shorter than standard women's golf clubs. Some companies will choose to make the petite ½ inch shorter, so you must check the specifications of the clubs you are purchasing.
Do ladies' golf clubs come in different sizes?
Ladies' golf clubs can be offered in three sizes. These sizes are standard, petite, and tall. The womens tall golf clubs are sometimes the same length as the standard men's golf clubs.
Do shorter female golfers need a flatter lie angle?
Shorter golfers typically need to have a lie angle that is slightly flatter. However, if you purchase a complete ladies' petite set, chances are the lie angle has already been adjusted for your needs, and you should notice no ball flight issues.
---
Final Thoughts
Hopefully, you now feel more confident in your ability to choose a complete golf club set for women golfers. These lightweight golf clubs all come with a golf bag, ladies' flex shafts, and a variety of high-performing clubs to help you make your way around the golf course.
Sometimes stock on ladies' petite golf clubs is depleted faster than standard. If a new set comes to market, be sure to take advantage of it as soon as possible.