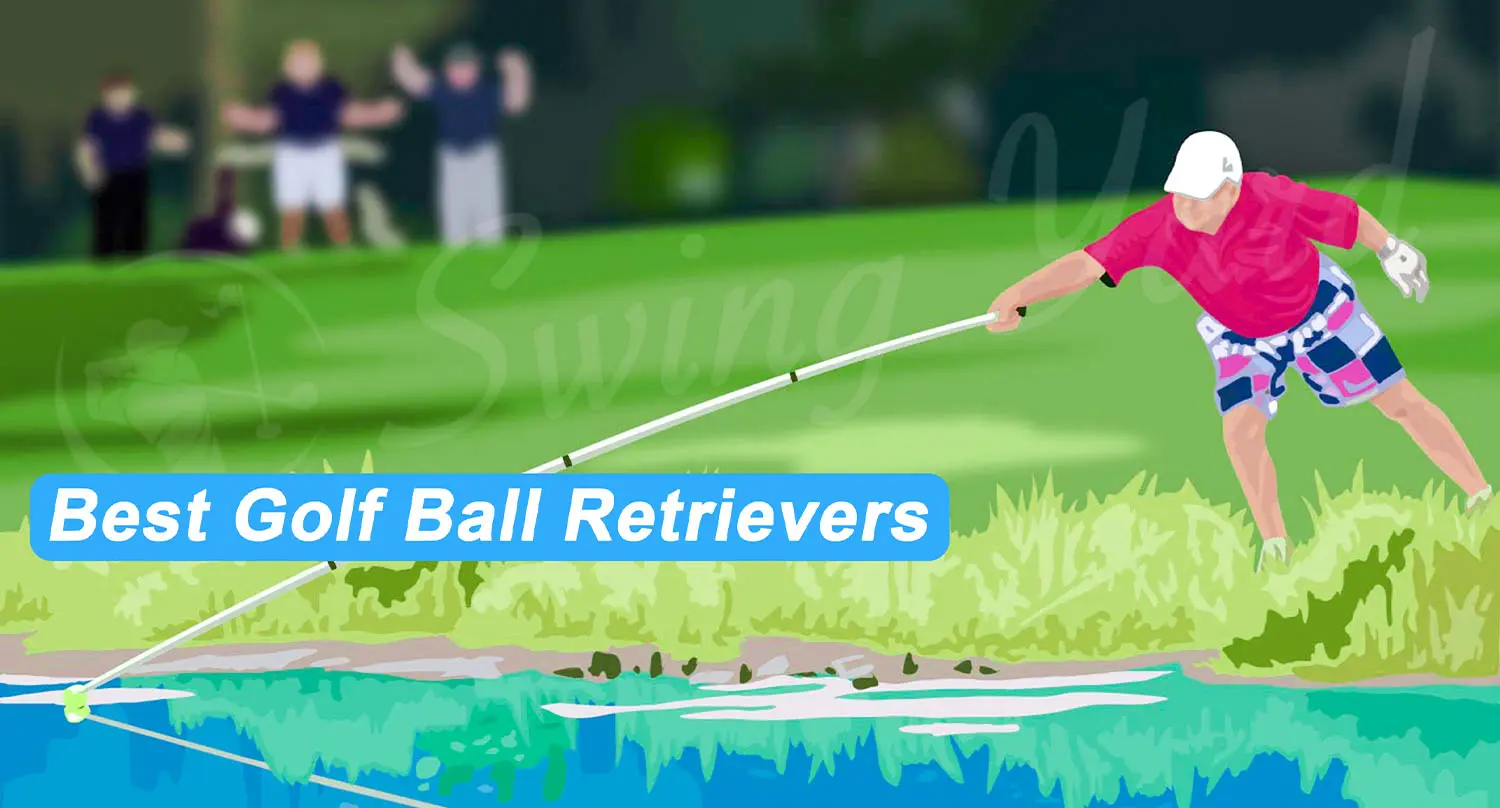 Author: Matt Callcott-Stevens - Matt first picked up a golf club in 1994 and has never stopped swinging. As a junior, he played competitively and eventually represented his school and Country at the 2007 World Schools Golf Challenge in Christchurch, New Zealand.
This list features a range of medium and longer retrievers to help you recoup golf balls from the water, trees, and deep in the bush. You will also learn a retriever is the most affordable as golf equipment gets, and can help you reduce your ball expenditure.
---
My Experience and Rankings of the Best Golf Ball Retrievers
1. Callaway 15th Club Golf Ball Retriever
Best Premium Option
Callaway 15th Club Ball Retriever
Length (extended): 15 ft
Length (retracted): 45 inches
Pros:
Ergonomic handle

Easy grabbing action

Retracts to 45-inches to store in your golf bag
Cons:
Expensive compared to other golf ball retrievers

The durability of the latch is questionable
CHECK FOR LOWEST PRICE »
My Experience:
I enjoyed the reach offered by this Callaway golf ball retriever. Despite a 15-foot extension, I managed to rescue golf balls up to 18 feet away. It reaches a fair distance into the pond and shrubs to reduce your lost ball count every round.
I also appreciated the design of its ergonomic handle, which made it easier to control the rod at full extension. In addition, it offered superb traction for a steady hand during the recovery process.
The Callaway 15th Club carries a stainless steel ball retrieval mechanism designed to scoop your ball in a snap. On the downside, I found that the latch failed to activate when I did not apply sufficient pressure.
The Bottom Line
Overall, the Callaway 15th Club ball retriever offers golfers ample reach to recover golf balls from the drink or bushes. On top of its impressive extension, this retriever features a comfortable grip, making it easier to guide toward your ball. A steel retrieval mechanism also simplifies the entire process of scooping up your golf ball.
---
2. ToVii Telescopic Golf Ball Retriever
LONGEST on the Market
ToVii Telescopic Ball Retriever
Length (extended): 18 ft
Length (retracted): 44 inches
Pros:
Comfortable rubber grip handle

Easy press and turn technique prevents the ball from falling out
Cons:
The rod is flexible when fully extended

The locking rings that extend the retriever are a little loose
CHECK FOR LOWEST PRICE »
My Experience:
The ToVii golf ball retriever is an affordable option for golfers looking for a budget solution for recovering dimples on the golf course. In my experience, this no-frills, affordable, retractable golf ball retriever is exceptionally long and can reach more areas than its competitors.
The retriever is 44-inches when collapsed and can extend to an impressive 18 feet. I find this allows me to carry it in my golf bag, but it adds an extra 1.5 pounds to the total weight.
I felt the rubber grip handle was comfortable and helped me steady my hand when retrieving. The only gripe I have with this retriever is that the locking rings seem loose, and the extension does not always stay in place, reducing your control.
The Bottom Line
I found the ToVii 18-inch golf ball retriever provided exceptional reach thanks to its 18-foot extension capability. In addition, I appreciated not needing to bend to collect my ball once I hauled it in, which seniors may enjoy.
---
3. Champkey Two-Sided 12-Foot Ball Retriever
Best Value
This Champkey golf ball retriever features a genius, two-sided design, enabling you to recover errant golf balls with the closest side. I could see Champkey transferred their grip expertise to this product, as the polyurethane handle provided optimal comfort and traction.
This telescopic retriever does not offer the length found in other options on this list, maxing out at 12 feet. However, I still managed to add a few extra feet to boost the golf ball retriever count.
I found the Champkey retriever surprisingly affordable compared to its peers and faired well against branches, debris, and rocks. Finally, these retrievers are constructed to save you from bending over to collect your golf ball. Reel in the shaft until the retriever is close enough for you to grab your ball.
The Bottom Line
The Champkey Two-Sided telescopic golf ball retriever is a suitable option for golfers on a budget. However, the reduced price leads to a shorter reach when compared to other constructions, but 12 feet offer adequate assistance in your quest to grab golf balls.
---
4. IGotcha Executive Golf Ball Retriever
Editor's Choice
IGotcha Executive Golf Ball Retriever
Length (extended): 10 ft
Length (retracted): 17.5 inches
Pros:
Thick handle to optimize control

Spring release system makes it easy to trap ball

Fits into your apparel pocket when retracted

Only weighs 10 ounces
Cons:
The shaft is flexible, making it somewhat difficult to control at full extension

Shorter maximum length than competitor products
CHECK FOR LOWEST PRICE »
The first IGotcha ball retriever to grace our list in 2023 is the Executive construction created with a hassle-free spring release. Align the head over your golf ball and press down to activate the release and secure your urethane.
In addition to a painless recovery process, the telescopic ball retriever sports a thick handle to limit wrist movement while recovering lost balls. The principle is the same as the grips on golf clubs such as your putter, where you must restrict wrist action for optimal stability and control.
The biggest downside of this model is that its maximum length is 10 feet, significantly less than other products on this list. I feel the silver lining in this scenario is its 17.5-inch collapsible length, short enough to fit in your golf bag apparel pocket.
The Bottom Line
The IGotcha Executive Ball Retriever stood out for its wider grip and easy trapping action, which secured the ball with a press. The negatives show that it provides less length than other golf ball retrievers, and the shaft was too flexible for my liking when fully extended. However, if you struggle with a steady hand, you will appreciate the jumbo grip that offers you more surface area.
---
5. IGotcha JAWZ 14-Foot Ball Retriever
Best Overall
IGotcha JAWZ 14-Foot Retriever
Length (extended): 14 ft
Length (retracted): 20 inches
Pros:
Can pick up golf balls with both sides

The grip promotes optimal stability

Rubberized head surface keeps the ball secure while retrieving
Cons:
Expensive for a ball retriever

Not the longest golf ball retriever
CHECK FOR LOWEST PRICE »
The IGotcha JAWZ Ball Retriever gets its name from the co-molded rubberized contraption, which resembles a set of teeth. This design helps the retriever secure your ball as you reel the shaft in.
I feel the JAWZ simplifies lifting a ball out of the pond or bushes as you push the head over your dimples to secure it. In addition, JAWZ equipped this retriever with a multi-directional headpiece, enabling you to pick up a golf ball on either side.
This golf ball retriever reached 14 feet at its peak, and while not as much as other products, it made it too hard to get to golf balls. I also appreciated the thicker handle because it restricted movement in my wrist to boost stability.
The Bottom Line
The IGotcha ball retriever features a robust handle that encourages limited wrist movement to keep the rod stable while fishing balls. I find golfers with shaky hands operate better with these grips and reclaim a higher percentage of golf balls. Finally, it's an easy pick-up thanks to the multi-directional headpiece and the 14-foot extendable rod.
---
6. Prowithlin Golf Ball Retriever
Longest Option
Prowithlin Golf Ball Retriever
Length (extended): 18 ft
Length (retracted): 45.6 inches
Pros:
Rustproof design

Collapses to 3.8-feet to fit in your bag
Cons:
The cup does not appear to be highly durable

The technique to capture and lift the ball takes some practice
CHECK FOR LOWEST PRICE »
The Prowithlin golf ball retriever offers golfers exceptional value for money, maximum reach, and is rust and waterproof. The 18-foot extension impressed me and allowed me to reach golf balls deep in the drink and high in the trees. In total, I could retrieve golf balls over 20 feet away.
Naturally, the extended length of the retriever means it does not collapse to the level of its competitors. However, at 3.8-feet that it can fit in the back slots of your golf bag. Prowithlin equipped the retriever with a comfortable midsize handle to boost your control.
Lastly, I found it easy to zero in on a ball and lift it thanks to a basic telescopic design. I just pushed down on the ball and turned the retriever's head to secure the dimples as I reeled it in.
The Bottom Line
The Prowithlin golf ball retriever stood out for its length and affordability. The extra feet that it offered allowed me to rescue balls from out-of-the-way places, and its comfortable handle provided increased control. The Prowithlin golf ball retriever is affordable, efficient, and long.
---
And The Winner for the Best Golf Ball Retriever of 2023 Is…
In my quest to find the best ball retriever, I focused on the maximum length of each product, the ease of pick up, the handle, and durability. Our finalists excelled in one or more categories however, the following mentions are in a class of their own.
Best Overall
The best overall retriever in my opinion is the IGotCha Jawz 14 foot. It's 2 sided, compact, sturdy when fully extended, and the rubberized grip holds onto balls really well. It's also a little bit cheaper than the Callaway option.
Best Premium
The Callaway 15th Club Golf Ball Retriever is the best premium selection in 2023 for its length, comfortable handle, and easy-grabbing action. I found the 15-foot telescopic design was easy to control and allowed me to reach out-of-the-way places. Overall, it is durable and essential to help you recoup more balls than you lose.
Longest
My research and testing proved that the ToVii Telescopic Golf Ball Retriever offered the farthest reach. This moderately affordable construction extends up to 18 feet, reaching balls its competitors can only dream of.
Best Value/Budget
The Champkey Telescopic Golf Ball Picker won the prize of the best budget ball retriever for 2023. It does not offer the reach of its competitors, but the two-side retriever and comfortable grip make up for it. Plus, I feel this construction suits seniors who wish to avoid bending down to collect their balls.
---
What to Look for In Golf Ball Retrievers?
#1 Length
Your first step is considering the optimal length for your desired ball retriever. Think about the areas at your home course where balls are likely to land out of reach. How many feet do you need to reach these areas?
Golfers looking for maximum length should focus their eyes on extendable golf ball retrievers that reach 18 feet. However, if you are lucky to have limited trouble at your golf course, you may find a 10-foot retriever sufficient.
#2 Retriever Head Piece
The best golf ball retrievers carry head designs which assist in securing your golf ball and returning it to you. If you are clumsy like me, you'll want a head with a snap closure that traps your ball once you push down on it.
Alternatively, you can consider a single-piece design without a snap closure. These designs give you the luxury of a multi-directional headpiece enabling you to pick up the ball with either side. In addition, I find that single-piece construction lasts longer, as there is no spring to wear away.
#3 Firm Pole
Retrievers with firm poles are easier to control and guide toward your ball. As you extend a longer ball retriever, you require stability to execute an accurate recovery mission. However, if your pole flexes excessively, it is challenging to zero in on the ball and scoop it up.
#4 Ergonomic Handle
I also suggest acquiring a retriever with an ergonomic handle to provide optimal comfort and traction for superior control during the recovery process. If you struggle with shaky hands and need support to stabilize the retriever, think about a thicker grip to reduce wrist movement.
---
FAQ
Do you need a golf ball retriever?
You do not NEED a golf ball retriever, but it can reduce your expenses on ionomer construction (expensive) balls. With a retriever, you can reach deep into a pond, the bushes, or the high tree tops. It is a small investment that will pay dividends as you recoup the lost golf balls of other unfortunate players and of course, your own.
How do you get your golf balls out of a pond?
In my experience, there are three simple ways to get your golf balls out of the pond. The first and most effective is to use a golf ball retriever. However, if your ball is sitting close to the edge of the drink, you can guide it towards you using a golf club.
I have also heard some players suggest using a bunker rake, which can work, but only if a sand trap is nearby. Otherwise, it slows down play and holds up the players behind you.
Who makes the longest golf ball retriever?
Several golf ball retriever manufacturers produce constructions that extend to 18 feet. Our top, longest designs in 2023 are the ToVii Telescope and Prowithlin golf ball retrievers which lengthened to 18 feet and provided a few additional feet to minimize lost golf balls.
What is a good length for a golf ball retriever?
I find that 14 feet is a suitable length for a ball retriever, as it provides adequate reach and they are easier to control than the behemoth 18-foot constructions.