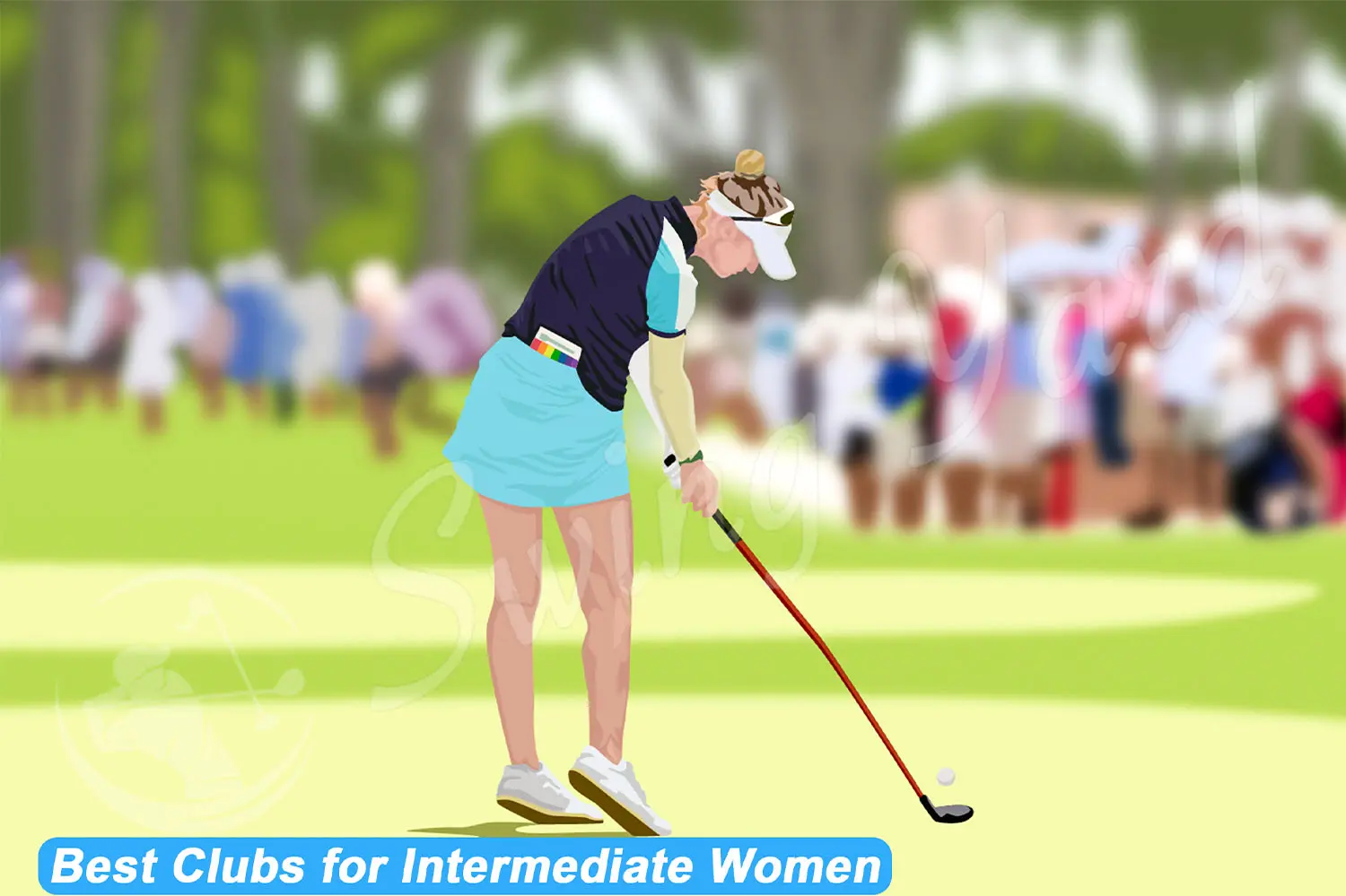 Author: Britt Olizarowicz - Currently playing at a +1 handicap, Britt first picked up a golf club at the age of 7. Now almost 30 years later, she has been a Division 1 college golfer, golf teaching professional, membership director, and golf writer.
However, there is an entire group of women golfers that shoot between 80 and 100 that are considered intermediate players.
The equipment that works for you will be different than what works for the highest handicappers, or the best golf clubs for beginner ladies. I have recently put together some of the best women's golf clubs for intermediate players.
For each one that I tested, I looked for feel, precision, and workability in addition to distance and forgiveness.
After all, these are the things that the intermediate woman golfer will benefit from.
---
Best Women's Golf Clubs for the Intermediate Player – Test Results and Rankings:
1. Cobra Fly XL (Best for a Complete Golf Set)
The Cobra Fly XL is a women's golf clubs complete set, and is the perfect option for the woman golfer that likes to purchase all of their clubs at once. Ladies' golf clubs sold as a complete set tend to be a very fair value and will ensure that you don't have to worry about golf club loft gapping.
The problem with some complete sets is that they can sometimes have a poor set makeup, a lack of essential clubs, and sometimes a cheaper feel to them. Luckily with the Cobra Fly XL Complete set, that is not the case.
This set features a 460cc titanium driver with an oversized shape and heel biased weighting. The result is longer and straighter drives. The good news here is that the driver is not overly offset, causing trouble for a golfer that knows how to square up the club head.
I really like the set makeup here as it includes three fairway woods. Many women's golf club sets have just one or two fairway woods, and the option for the 3, 5, and 7 wood makes this a top performer. You won't have to add much to the set aside from a lob wedge and maybe another hybrid.
Why It's Good for Intermediate Women Golfers
The weight and design of the clubheads help the Cobra Fly XL stand out as one of the best women's golf clubs for intermediate players. Many women's golf sets are designed to be as lightweight and forgiving as possible.
Although Cobra Fly XL has forgiveness, we are more impressed with the feel and the ability to create such great power.
The Bottom Line
If you are looking for women's golf clubs that are fairly priced but are not necessarily built just for beginner golfers, the Cobra Fly XL is a perfect choice.
These golf clubs for women are impressive when it comes to feel and precision, and they are one of the best set makeups of any of the golf club sets for women players.
---
2. Callaway Rogue ST Max Driver (Best Driver for Intermediate Women Golfers)
The Callaway Rogue ST Max Driver is my favorite choice for the Intermediate woman golfer looking to replace the driver in the bag. Although I have tried quite a bit of the new releases to the market, this is the one that has the most consistency and best overall feel for intermediate golfers.
If you hit the ball relatively straight but could always benefit from a bit of extra swing speed and control, this is the club for you.
With the new Rogue ST Max Driver, the Jailbreak Speed Frame has AI incorporated into the technology to improve upon distance and overall feel. The Jailbreak technology essentially works like a trampoline, and we expect it to be on the market for quite some time.
This is one of the higher MOI heads from Callaway, meaning there is plenty of forgiveness. In addition, they added 26 grams of tungsten to make it even more forgiving. However, as far as lightweight golf clubs for women are concerned, I noticed that I still got plenty of power from the club clubhead.
Why It's Good For Intermediate Ladies
Intermediate women golfers need a driver that they feel they can go after. Something that has enough stability, as well as club head speed, is a much better fit for an intermediate golfer.
When testing out the Rogue ST Max fairway wood and driver, I noticed increased confidence in my long game, and attributed it to Callaway's impressive design.
The Bottom Line
Golfers that don't want a women's golf club set need to try and piece together the best women's golf club options on the market.
The Callaway Rogue ST Max driver checks the box for exactly what you would need for one of the best golf clubs from the tee box. I loved the feel, precision, and options for different graphite shafts in this particular club.
---
3. TaylorMade Stealth Women's Combo Set (Best Intermediate Set)
TaylorMade has caused quite a stir in the market this year with the TaylorMade Stealth golf clubs. These women's golf clubs designed with input from professionals are there to make the game more enjoyable and considerably longer.
I was impressed with the new look of the TaylorMade Stealth irons; I preferred it quite a bit when compared to the SIM 2 Max.
The new cap back design has been changed a bit, and a 450SS face with a large sweet spot makes it considerably easier to get higher ball speeds. In addition, there is a low center of gravity that increases over launch.
TaylorMade golf equipment is, without a doubt, designed with speed in mind. I did notice more distance when using the Stealth. However, I also found it to be one of the more forgiving clubs I tried. The combo of getting two hybrids as well as the irons will ensure that you will be well on your way to a complete golf set.
Why It's Good For Intermediate Women
I found the TaylorMade Stealth combo to be one of the best women's golf sets because of the feel that I got from both the irons and the hybrids. The echo damping technology allows intermediate women golfers to feel in control of the golf ball.
In addition, the ladies' flex shafts that have very little vibration and the large sweet spot all combine for a high launch and incredible overall distance. Not only did this win one of the best golf club sets for women, but many men are also finding this to be a great solution to their game.
The Bottom Line
If you have the money and know you will be playing golf for quite some time, the Taylor Made Stealth golf combo set is a great option to consider.
The club heads look better than the SIM2 Max, and the lightweight graphite shafts promote consistent launch and feel.
---
4. Callaway Mack Daddy Jaws 5 Wedge (Best Wedge for Intermediate Women)
There is no nice way to say this; the wedges on the market for women players are terrible. The options are essential to order a custom pitching wedge, sand wedge, or lob wedge and have a woman's golf shaft put into it. This is a bit more complicated than many women golfers are going to go for.
Therefore we highly recommend looking at the Callaway Mack Daddy Wedges, complete with graphite shaft options specifically for women golfers.
Pitching and sand wedge choices are available, as are gap and lob wedges. You can build a perfect set of golf wedges for your game with ultra-lightweight construction.
One of the things that stood out the most about these golf wedges is their ability to spin. There is no trouble getting a short shot around the green to stop in its place as long as you use the proper golf ball and technique and you have the Mack Daddy Jaws wedges in place.
Why It's One Of The Best Women's Golf Clubs For Intermediate Players
The Callaway MD5 Jaws wedge is one of the few blade-style wedges on the market for a woman golfer. Whether you are looking for steel shafts or a graphite shaft, you will have the option.
In addition, the number of loft combinations allows you to build a nice set of wedges. For more control around the greens and a short game that can beat any golfer on the course, this is a great club selection.
The Bottom Line
If you are ready to take your game to the next level, you need the right clubs around the green. These Jaws wedges allow women to start playing better around the green and ensure the intermediate player can score. The wedges are your scoring clubs, and it's worth investing in great clubs.
---
5. Odyssey White Hot OG Seven Putter With Stroke Lab Shaft
When women golfers start to transition into intermediate golf clubs, one of the first things that need to go is the putter. It's time to invest in the club that actually gets the ball in the hole! So many players are under the misconception that any putter will do, but this is not the case.
The best women's golf clubs are the ones that make the game more enjoyable from all areas of the course; the Odyssey White Hot OG Seven Putter will do exactly that.
Odyssey has always had tour-proven success and a strong presence among the best players in the game. In large part, this is due to the White Hot Insert that these impressive putters have in place.
The original White Hot insert has made a pushback onto the market in these Odyssey White Hot OG putters, and they are perfect for the female golfer.
This putter also features a silver PVD finish and fine milling to promote a much more precise role. The Stroke Lab shaft is a combination of graphite and steel to allow for better feel. Although you may already have a premium Spider Putter or an option from Ping Golf, the Odyssey White Hot OG is worth trying.
Why It's One Of The Best Womens Golf Clubs For Intermediate Players
This putter is one of a few clubs in the short game area of golf equipment made specifically for women golfers. What I love about the White Hot OG Seven Putter is that it works for beginner and intermediate golfers, but you will often catch a professional with this club in the golf bag as well.
Check out our complete ranking of the best putter for women to see where this one ranked on the list.
The Bottom Line
As an intermediate woman golfer, it's time to invest in women's golf clubs that will help you succeed on the course. There is no denying or debating the fact that the Odyssey White Hot Seven can help you do that.
---
And the Winner for Best Women's Golf Clubs for Intermediate Players is…
The winners for the best ladies golf clubs for intermediate players varied between several different brands as well as golf sets and individual club choices. Here is a brief recap of who took home the prize!
Best Overall
The best overall golf club set for women golfers is the Cobra Fly XL. These lightweight golf clubs still help with distance and precision; they come with a lightweight golf bag with plenty of storage, and the overall price of the golf set is incredibly fair.
Best Driver
Our favorite driver was the Callaway Rogue ST Max. Of all the clubs on our list, this was the one that helped me feel the most confident in my ball flight and overall consistency from the tee. Also, check out our complete list of 2023's best women's drivers.
Best Wedge
The women's golf wedges on the market are not the best options out there. Finding something like the Callaway MD5 Jaws can be rare. Even though the blade-style wedges are less forgiving, learn to play with them, and you will benefit greatly from the performance they bring.
---
What To Look for In the Best Ladies Golf Clubs for Intermediate Players
Women's golf clubs for intermediate players are a bit different than they are for those that are beginners or low handicap players. Here are the specifics of what to keep in mind when shopping for intermediate women golfers.
Feel
Many intermediate female golfers have started creating impressive distance and precision in their game. Looking for something that goes beyond just lightweight shafts and lightweight materials and takes into consideration the feel of the club is very important.
Giving up maximum forgiveness and looking for something designed specifically for control and a soft feel, maybe the better club type for the intermediate.
Ball Flight Control
Greater distance is achieved by keeping the ball up higher in the air. However, depending on your swing characteristics, sometimes the low center of gravity irons can be a bit more difficult to control from a ball flight perspective. This is what you will usually find with a budget set.
Instead, look for a club with a mix of workability and stay away from an offset iron with a very low center of gravity. If you find you need more forgiveness still, stay with the club designed for the beginner golfer.
In addition, make sure you're playing with the right ball for you!  Check out our list of the best ladies golf balls to help with your selection.
Personal Preferences
By the time you are an intermediate golfer, chances are you have an idea of what your ideal set includes, a great brand you may enjoy, and whether you need more speed to hit the ball higher or more precision.
This is the time in your game to start getting picky about things like grip sizes, easy launch, and more control. If you want to make it to the level of advanced players, your equipment has to start working for you.
Individual vs. Complete Set Makeup
The package set can be an excellent value for some players, but finding a good balance of performance and value in the same set can be hard.
Although the Cobra Fly XL is good for this and will allow you to hit better shots, most women intermediate players at this skill level look to put together a complete set.
The complete set will likely still be game-improvement golf clubs with a high MOI, but they won't necessarily be sold as a set. If you purchase a set, make sure you get something with a stand bag option if you like to walk the golf course.
---
FAQ – Best Women's Golf Clubs for the Intermediate Player
Here are a few of the most commonly asked questions about the best women's golf club choices for intermediate players.
What is the best intermediate golf club set for women?
The Cobra Fly XL is the best intermediate golf club set. This set has three fairway woods, an impressive mallet putter, and lightweight and forgiving clubs. The only thing we wish is that Cobra would offer these as womens petite golf clubs in addition to the standard length.
What is considered an intermediate lady golfer?
An intermediate golfer is also considered a mid-handicap golfer. These players tend to shoot in the mid 80s to the mid 90s. 
What irons are best for intermediate women players?
The best irons for intermediate women golfers were the TaylorMade Stealth irons. These are an excellent choice for distance, forgiveness, and easy-to-launch golf irons.
The whole set combined with the hybrids is not the most affordable choice on the market, but it will certainly hold up well over time.
---
Final Thoughts
New players and intermediate players have some things in common, but not enough that they should be playing the same equipment.
Make sure that you are purchasing golf clubs specifically designed for your golf game. As an intermediate player, you have earned the right to be a bit picky about what your set includes and whether or not it is the right choice for your game.
Whether you choose Callaway, TaylorMade, or Cobra this year, there are some really strong options out there for women golfers to choose from.