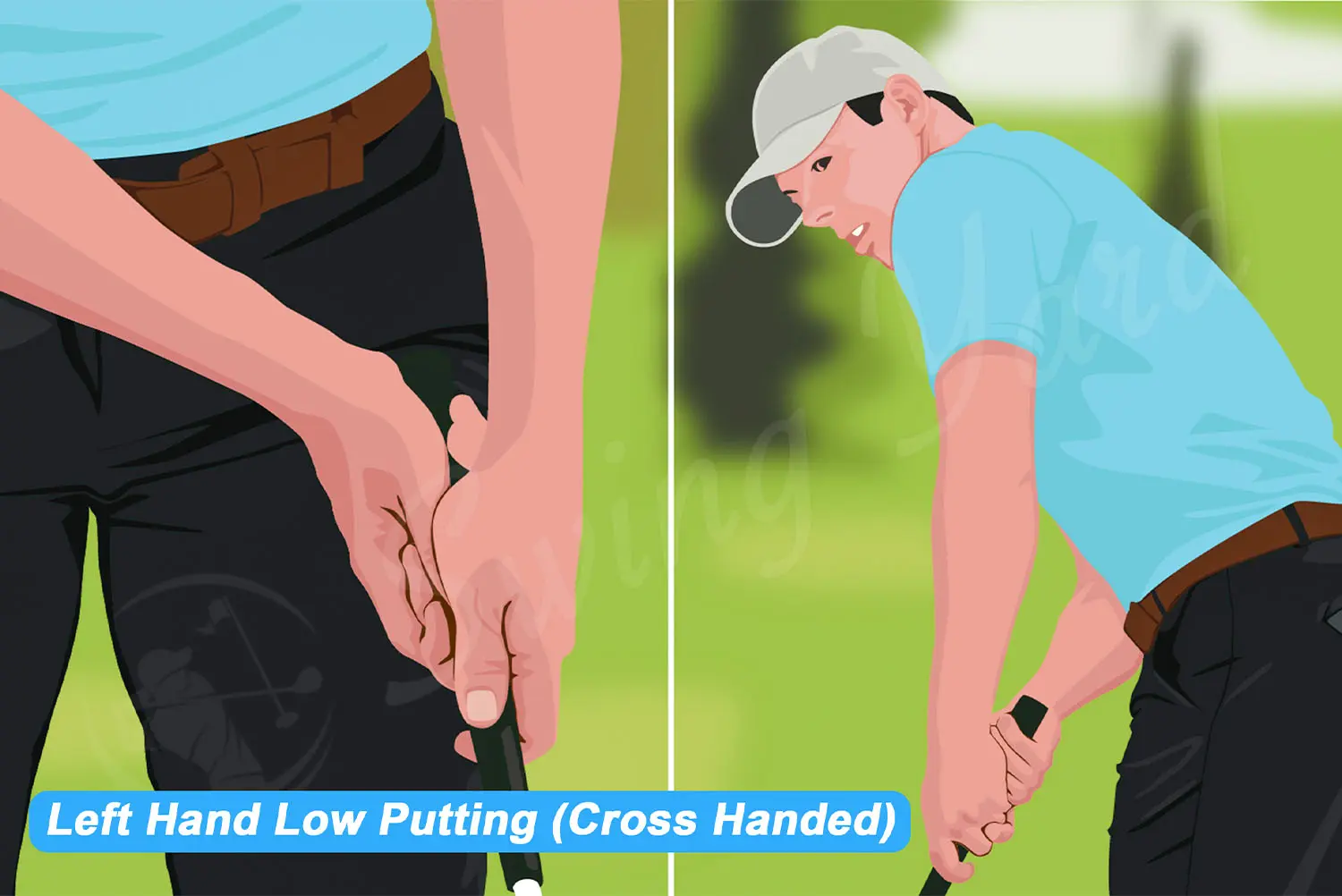 Author: Britt Olizarowicz - Currently playing at a +1 handicap, Britt first picked up a golf club at the age of 7. Now almost 30 years later, she has been a Division 1 college golfer, golf teaching professional, membership director, and golf writer.
Why?
The cross handed putting grip, or left hand low, is just so stable. If you want to learn how to putt like this and think your putting stroke may need a quick and simple solution, stick with me as we look at what the left hand low putting grip is, and who should use it.
Key Takeaways – Putting Cross Handed
The left hand low grip is quite common in the game of golf and is often called a cross handed grip
With this type of crosshand putter grip, the body can stay very still and stable, and there is much less movement in the hands and wrists
Many golf professionals have used this grip, and it can work for both blade and mallet style putters
---
What Is The Left Hand Low Putting Grip?
The land hand low grip is where the left hand is under the right hand on the club. Most grips for putters have the player using their left hand near the butt end of the club and the right hand below it.
It's certainly not standard to switch them, but the consistency of this stroke has made it more common to see golfers using the left hand low.
If I had to teach someone how to putt from scratch, I would start them off with cross handed putting – Jack Nicklaus on left hand low putting
---
Who Should Use a Cross Handed Putting Grip?
There are a few things about the cross handed putting grip that can make it a great fit for your golf game. Here are the players that will benefit from it the most.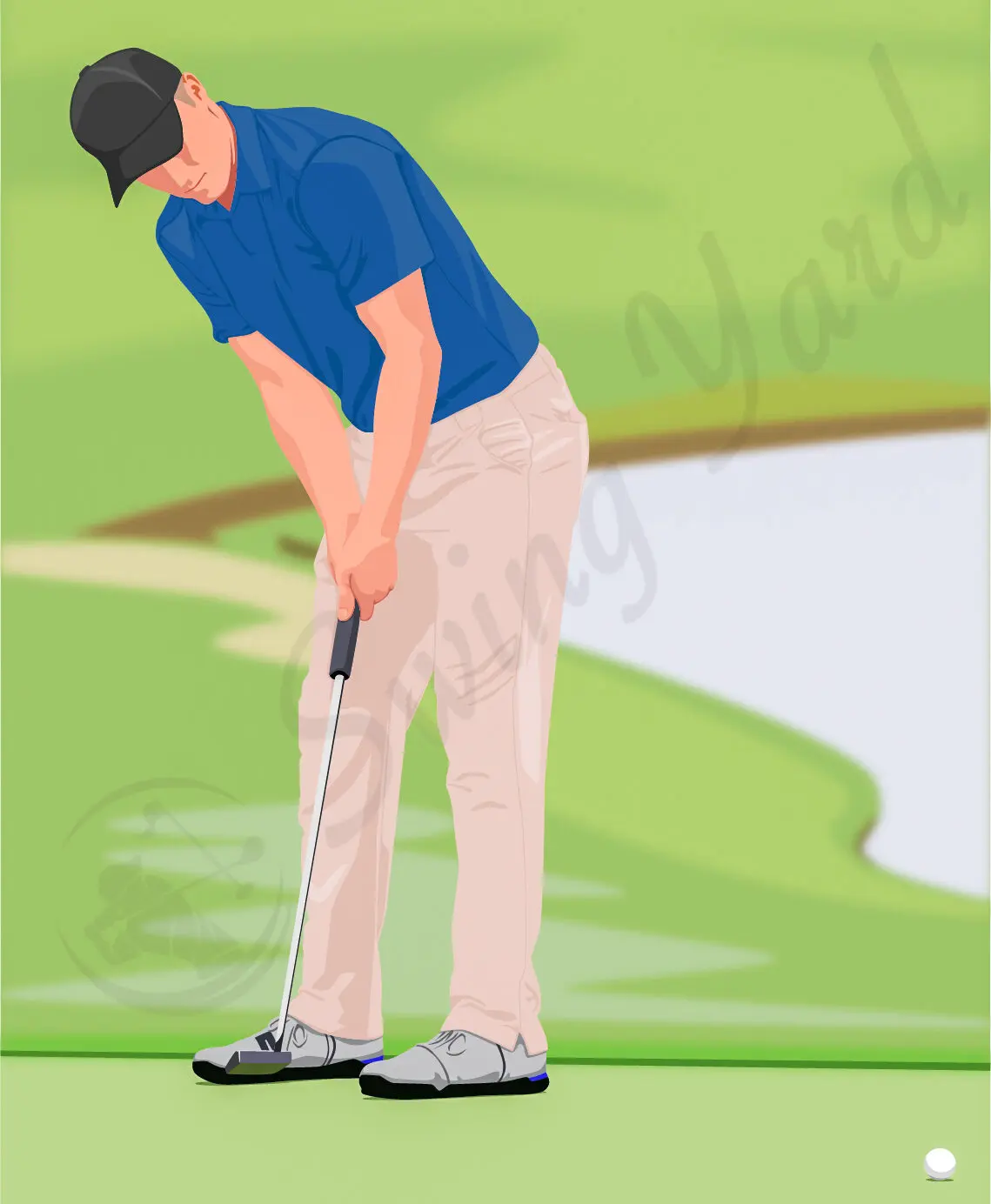 Golfers That Have Trouble Squaring Up The Face
If it's difficult for you to feel as though you square the clubface at impact then the cross handed putting grip can be a great solution. The cross handed putting grip ensures the left shoulder stays square and on the proper line (similar to how the prayer putter grip works).
Players Who Need Help With Alignment
I had always found that keeping my putter head aligned could be difficult when I used a conventional or reverse overlap grip. However, when I switched to my left hand low, the putter face always felt more square.
Wristy Golfers
If you tend to get your wrists overly involved in your swing, chances are the left arm needs to take a bit more of an active role (for the right handed golfer). In addition, distance control and consistency will be better when you take your wrists out of it. Another one to try if you're in this category is arm lock putting like Bryson DeChambeau.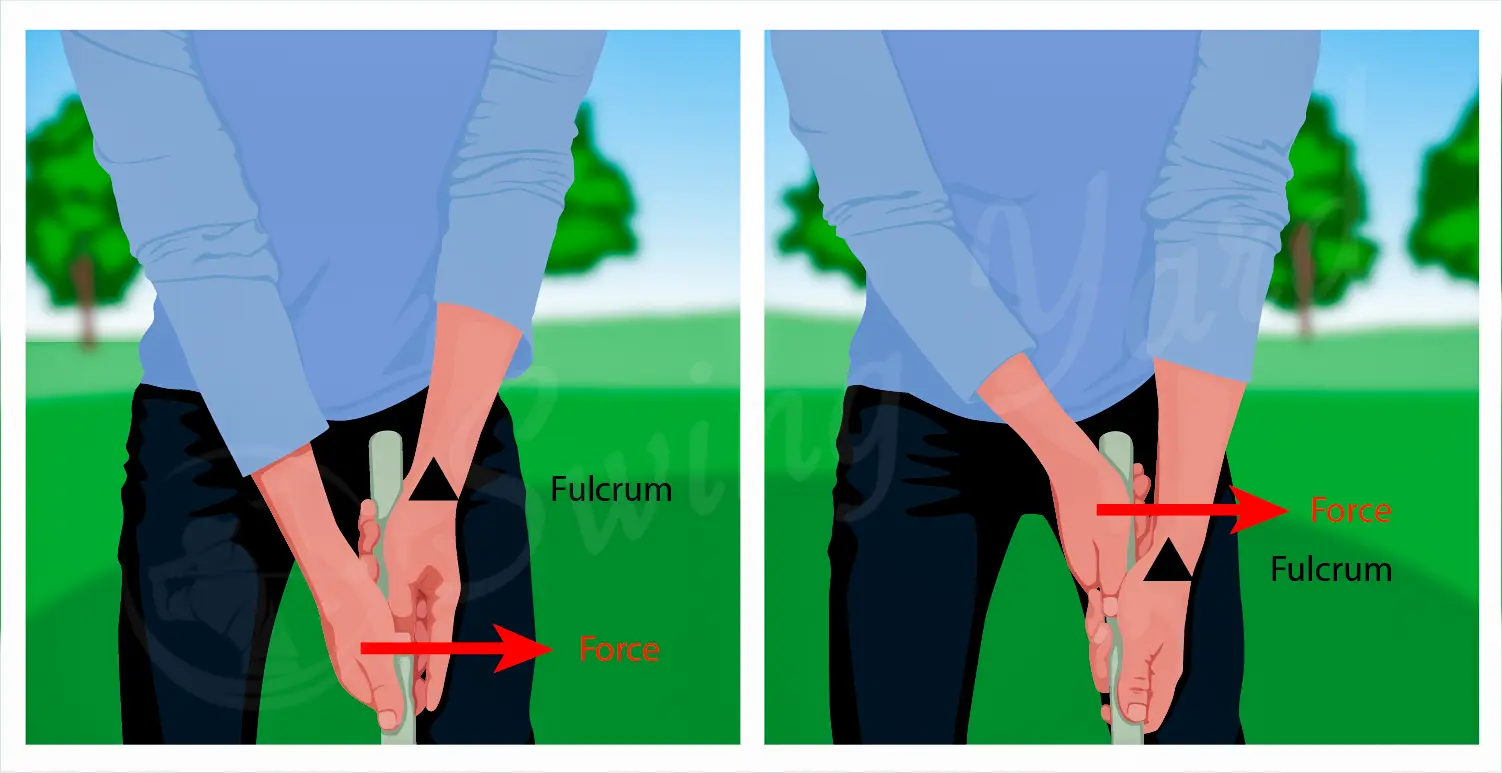 If the left hand low method doesn't seem like it's for you, here's some other putter grip styles we recommend.
---
How To Use Left Hand Low Putting Technique (and Tips)
Now that you have an idea of the benefits of this left hand low putting style let's take a look at what you need to know in order to implement this into your game.
Setup
Of course, we call this the left hand low because most golfers are right handed golfers with a dominant right hand. If you are a lefty, this would be a right hand low grip.
The idea is that you essentially just switch your hands on the club.
Take your right hand and put it at the top of the putter; take your left hand and place it below the right hand. This position means your left arm is more extended down the putter shaft, and that is perfectly fine.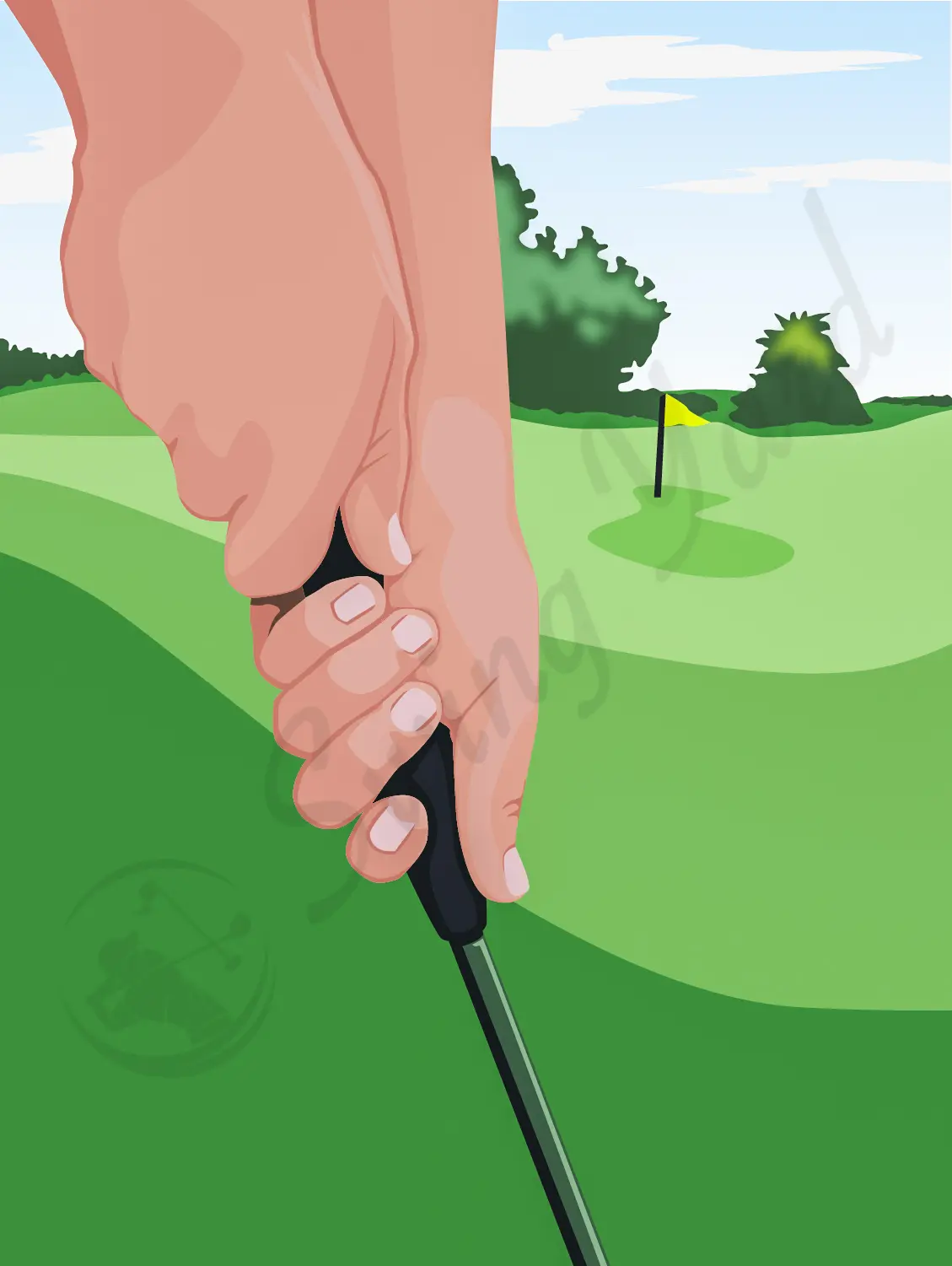 Make the grip is positioned in the center of your forearm, not under it. See the image below: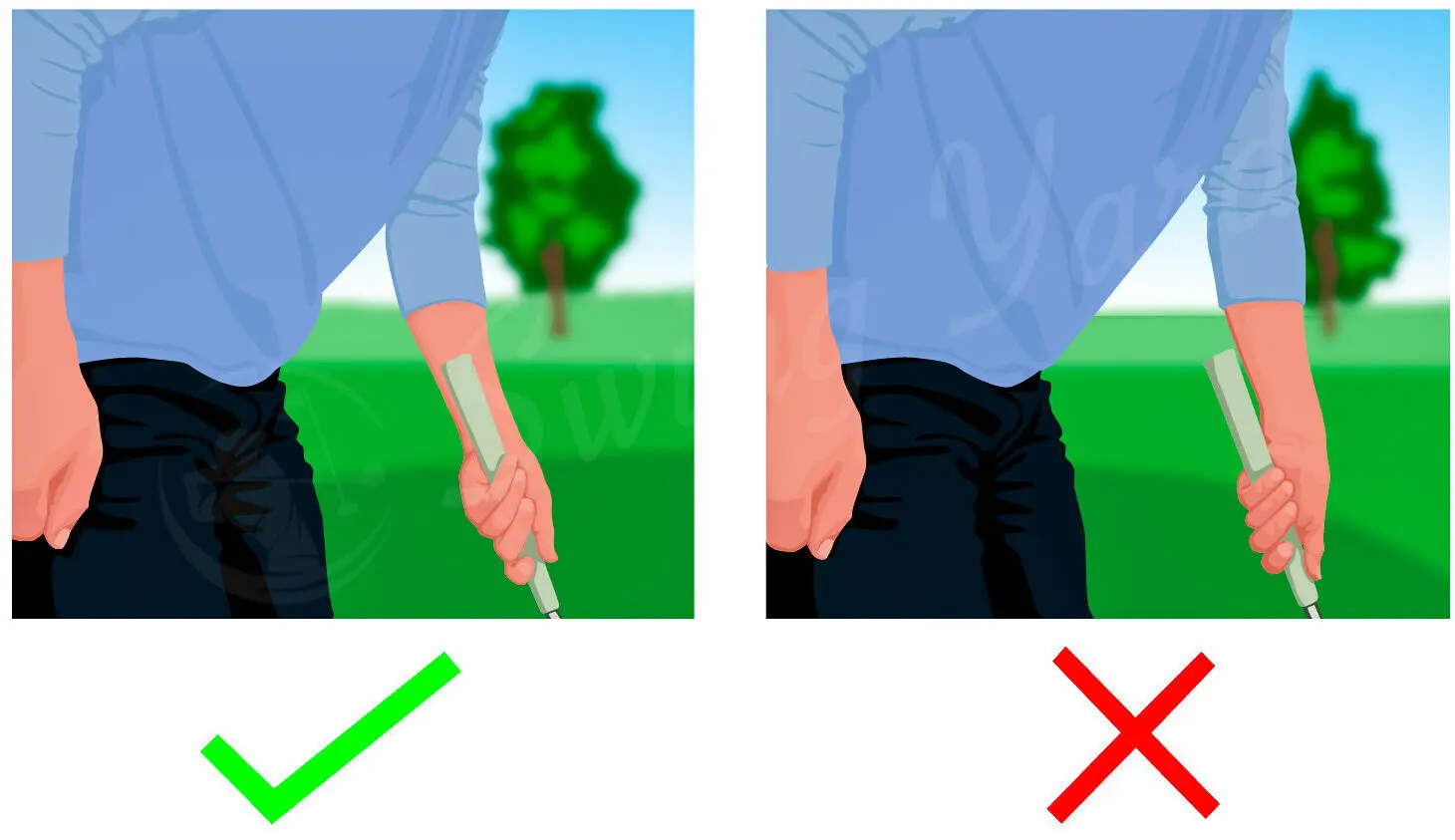 In the back of the club you can keep your hands slightly separated, or simply revert to the reverse overlap. Whatever feels the most comfortable to you is still considered acceptable for the left hand low style.
Left Hand Low Putting Stroke
One thing to check before you strike the ball is your shoulder alignment. I have always felt that when switching from the conventional grip to the left hand low, the right shoulder sometimes feels tucked back and away.
Make sure your shoulders are in a straight line, as well as your hips and your feet.
The cross hand putting grip works well for both the arc style and the straight back straight through putting style. Always make sure that you keep your wrists locked, as they should not be bending even in this particular grip.
Grip Pressure
Anytime a grip is new, players have a tendency to hold the club with a bit more pressure and force. If you can avoid this, you should!
In fact, having a light grip pressure is one of my best putting tips (more of these here) I teach to my students.
Try to keep your hands on the club enough that the putter head is not loose, but also make sure that you are not gripping the club to death. The left hand is perfectly capable of controlling the golf club with very little pressure applied.
Testing
When you head to the putting green (or using an office putting set like these) to test out this new cross handed grip, make sure you practice both long and short putts.
One of the things I love most about this style is the way that you can stay so stable on the shorter putts. However, when you move to lag putting, the stroke feels a little different. It's not hard to get used to this concept; just practice putting cross handed before you head out to the course.
Variations of the Crosshand Putter Grip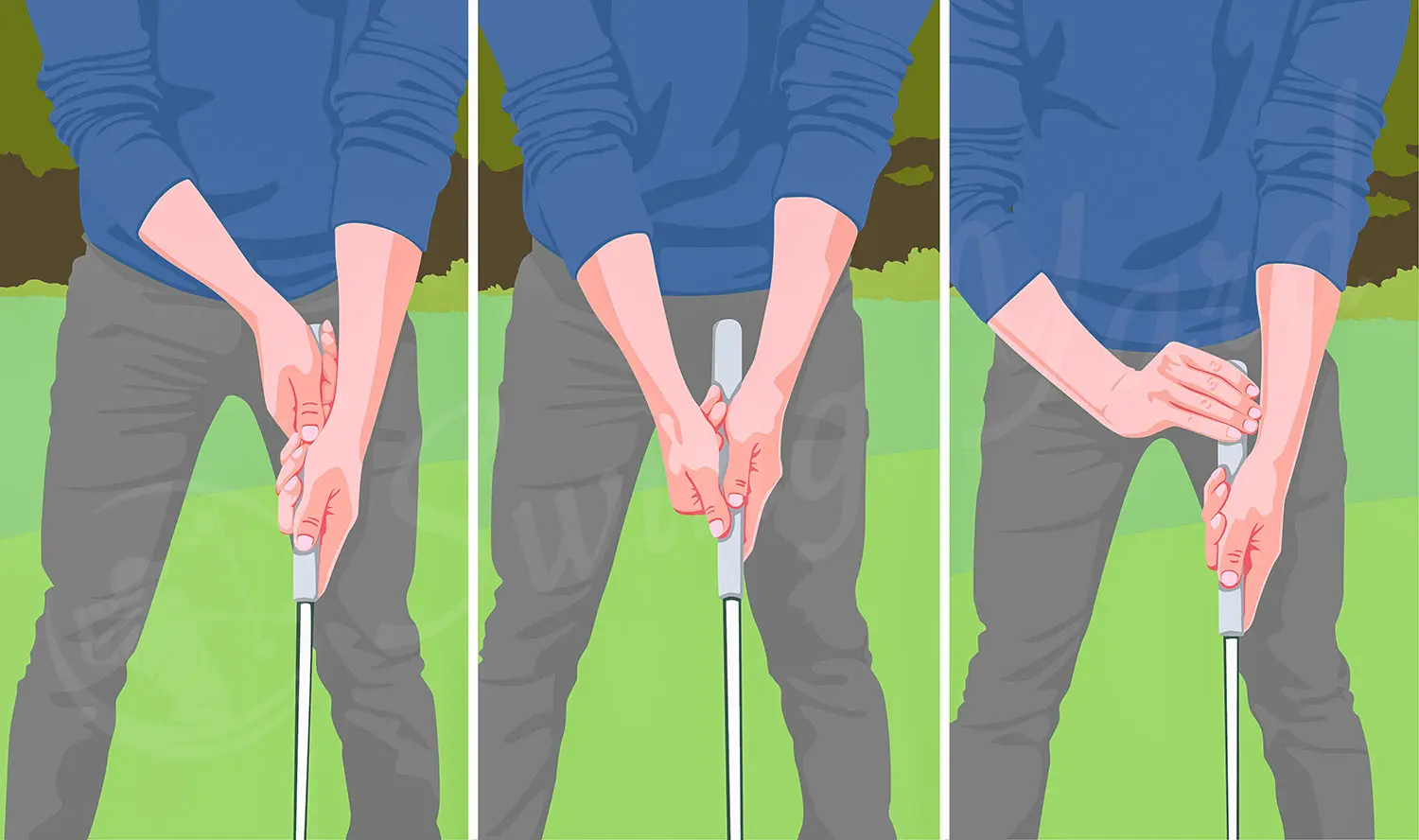 ---
Pros and Cons of the Crosshand Putter Grip
Most of the data about the left hand low grip and cross handed putting show that it is really an impressive way to grip the club and ensure that you are getting the golf ball to travel down the appropriate path. Here are the pros and cons you should know.
Advantages of Putting Left Hand Low
Better alignment
Increased stability
More consistent on shorter putts
Can work with both straight back straight through, and the arc style stroke
Disadvantages of Putting Left Hand Low
Less feel
Bigger swing arc
At first, the left arm position may feel awkward
Some golfers complain of having a hard time getting the distance they need on longer putts
---
Professional Golfers Using the Left Hand Low Putter Grip
As I mentioned, the left hand low grip is a good selection, even for those on professional tours. The left hand low grip is preferred by the following golf professionals. (Keep in mind these guys change their style from time to time.)
Jordan Spieth
Dustin Johnson (sometimes)
Ricky Fowler (in 2023)
Kevin Chappell
Billy Horschel
Pat Perez
Nelly Korda
Here's an interesting conversation with arguably the greatest putting guru of all time Dave Pelz discussing Jordan Spieth's left hand low putting grip:
---
FAQ – Cross Hand Putting Grip
Here are a few of the most commonly asked questions about the left hand low putter grip and whether or not it's worth making a switch.
Is left hand low a good putting grip?
Putting left hand low, also known as cross handed putting, is a very good putting stroke that is well-known on the PGA Tour. Golfers of all abilities are using this putting grip and seeing more consistent results on the putting green.
Which hand should be dominant when putting?
It's best to have a little dominance in the left hand when putting; the left hand low grip allows this to happen and makes it easier for golfers to stay more stable and consistent.
What is the best putting grip for a left handed golfer?
The cross handed putting grip, or right hand low for a lefty, is a good selection because of its stability. However, many golfers also do quite well with the standard reverse overlap putting grip.
What is the left hand low claw putting grip?
The left hand low claw putting grip is a combination of the left hand low grip discussed in this article, and the claw putting grip. It's much less popular, but if it works for you then why not use it? Another similar one is left hand low saw grip, which combines left hand low with saw grip putting.
---
Final Thoughts
At this point, you should have a bit more confidence in your ability to putt with the left hand low method. The great thing about this is the quick learning time. Most golfers can switch to this stroke within a matter of minutes and really perfect it over a couple of rounds. You can even work on it in your living room using our at home putting drills (found here).
If you struggle with consistency in your putting game, especially in the shorter putts, then the left hand low grip is likely one of the best possible options out there for you.
Remember, this works with both blade and mallet-style putters, so there is no need to change your putter or reinvent the wheel; simply learn to switch the hands, and the rest is done for you.